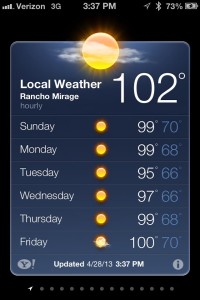 This weekend, with our balmy spring weather I decided to go searching for palm trees — or rather palm oases to be exact. And to be more precise, I already knew where they were, since I have hiked the area extensively over the years. I also explored a few side canyons I had not been in before.
The high temperatures were over 100F, which is okay as long as you have plenty of water. When visiting a palm oasis, plan on there being no water available unless you can verify water from a reliable source ahead of time. Palm Trees do not rely on surface water to survive and the water can be dozens of feet below the surface.
In the temperatures I encountered, most people need at least two gallons of water per day, so plan accordingly.
Anyway, it was a fun trip.