A New Car For Joyce
From the Merriam-Webster Dictionary:
genesis

noun: the beginning of something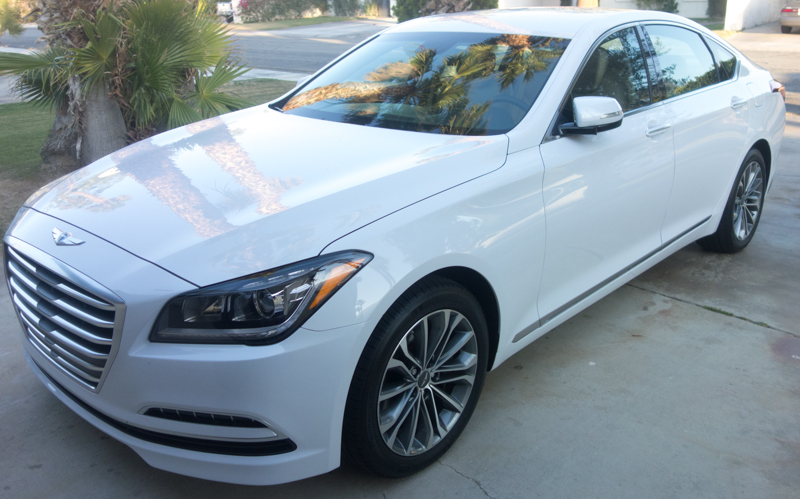 Joyce has worked all her adult life. She wanted to reward herself with a luxury car. Our plan is it will be the last car we will own. Since I have been in the car business for over 40 years and Joyce worked at a new car dealership for 13 years, I'd like to share some thoughts on the subject and also provide some tips on how to purchase a new car.
For Joyce and me, cars are appliances. They are transportation. We also need a vehicle to tow our travel trailer, which is currently a 2012 Ford Expedition. Joyce had been driving the same car for 17 years.
The most important factor in selecting a vehicle should be safety and reliability. Over the years, the quality of every manufacturer who sells cars in the U.S. has gotten very good. If someone wants to buy a new car today, the best advice is to pick the vehicle that has the features and benefits you want. Most of them are well built and reliable.
LUXURY VEHICLES
Many brands market their products as luxury vehicles; luxury being driving enjoyment or anticipated features and benefits beyond simple transportation to get one from point A to point B. It also implies increased expense to purchase it.
Normally luxury vehicles include better build quality and equipment, improved performance, and to convey image, brand, status, high personal income, or prestige. Often the conveyance attributes are driven by marketing and conspicuous consumption. Another factor to consider with a luxury product is a higher level of service from the car dealer. These can include more personalized service, luxury loaner cars, and in-dealership amenities such as coffee bars, manicure and shoe shine, computer work stations and other comforts to make a visit more enjoyable. All of these come at additional cost to the customer.
For Joyce and me, the only pertinent and desirable features of a luxury car are improved safety, reliability, performance, and comfort. Image and status mean nothing to us. We take this approach to everything we buy. We make our purchases for the best products available that are within our budget. That is why I bought a McHale backpack and a Milan travel trailer. Better build and quality than most of the competition.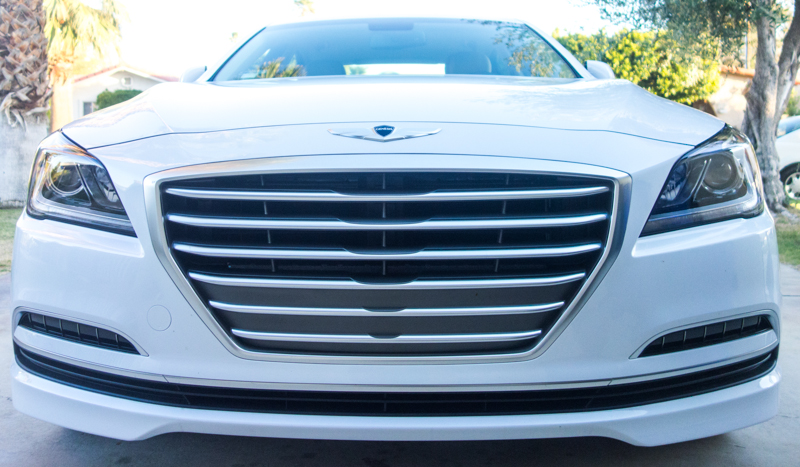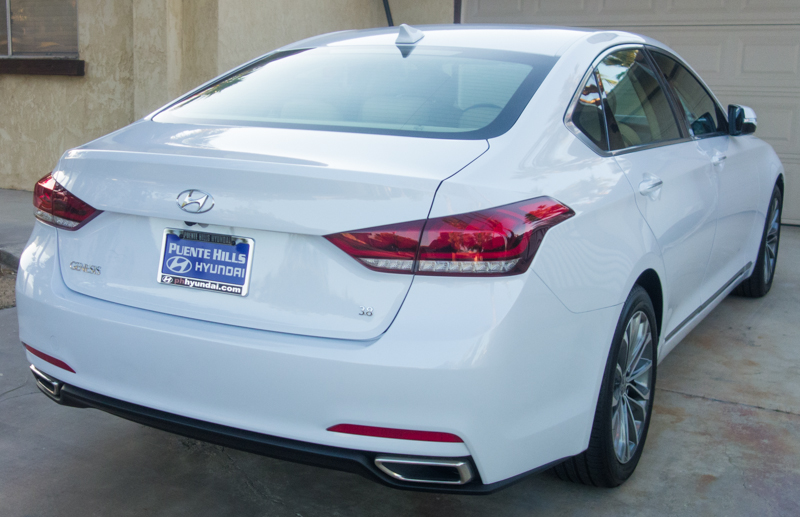 Most people, when considering a luxury car purchase, are going to shop the familiar nameplates that such as Acura, Cadillac, BMW, Lexus, Lincoln, Mercedes, Infiniti and others.
Hyundai Motor America
The company I work for provides consulting and training services to most of the car manufacturers in the U.S. In my position, I have managed several projects for Hyundai. So I am going to let you in on a little secret – Hyundai makes two of the best luxury cars in the industry, the Genesis and the Equus – both at a significantly lower cost than the competition. When Hyundai released its first luxury car, the Genesis, in 2009 they did not create a separate brand to included separate dealerships. Many manufacturers create a separate brand because they feel their potential customers are too snobby to mingle with the ordinary folks who buy their mainstream vehicles. Well, Joyce and I are ordinary people, and we like to mingle with ordinary people – we have no time for snobs. So a Genesis may not be a luxury car to us. It is a premium car.

So how good is the Genesis? Last year JD Power and Associates rated the 2014 Genesis as the #1 Quality Mid-Size Premium Car. And you can buy a base level Genesis for what a nice mainstream car costs. Not to mention the suggested retail price is $10,000 to $15,000 less than comparable brands and trim levels.
The 2009-2014 Genesis is considered the first generation. For 2015, Hyundai has done a complete re-work of the vehicle to include a longer wheel base. Size-wise, the Genesis is a full size car, although Hyundai markets it as a mid-size. One might want to compare the Genesis with other full size luxury vehicles where the price difference is even greater. Hyundai has positioned their more expensive Equus as their full size offering.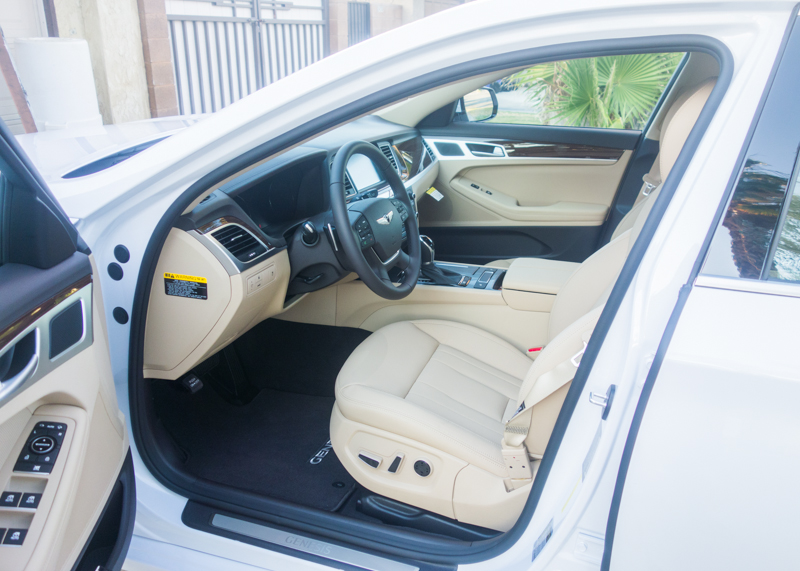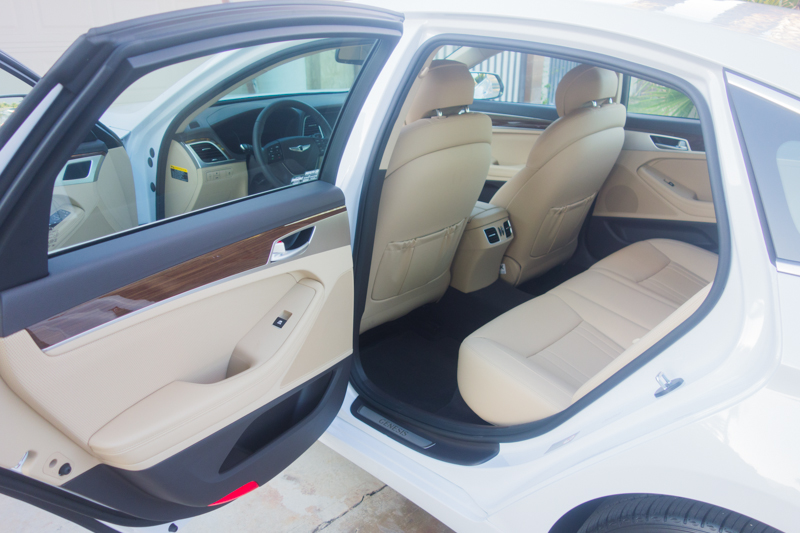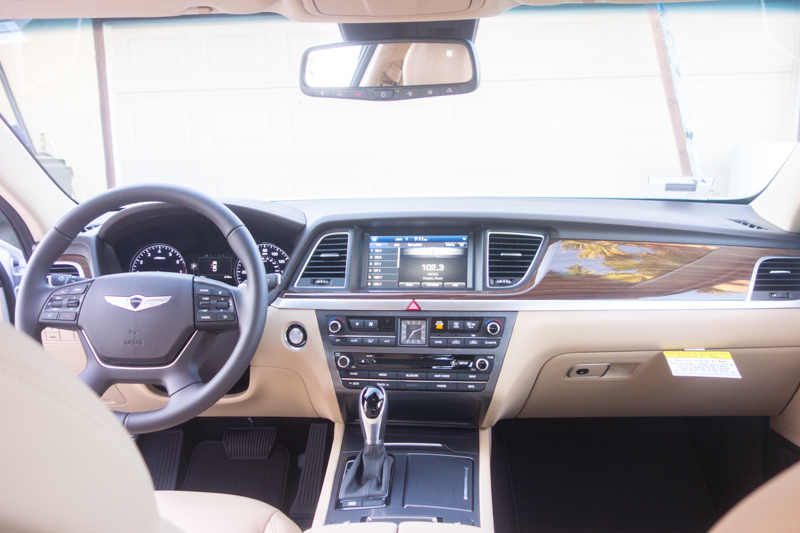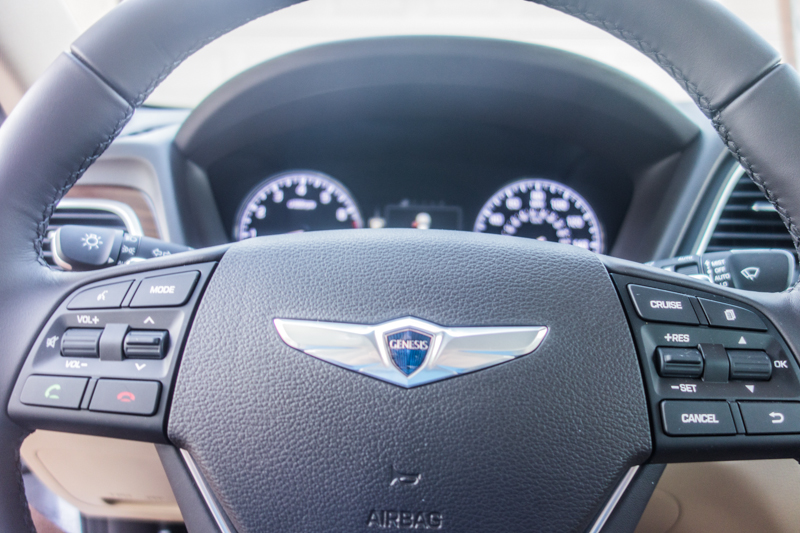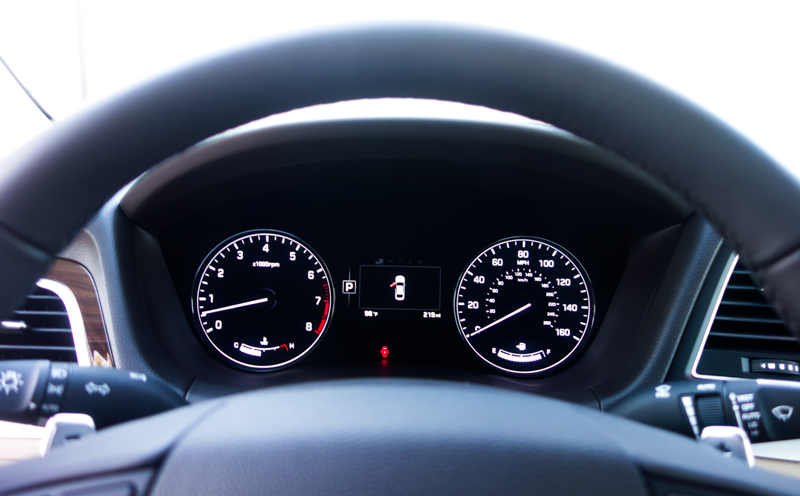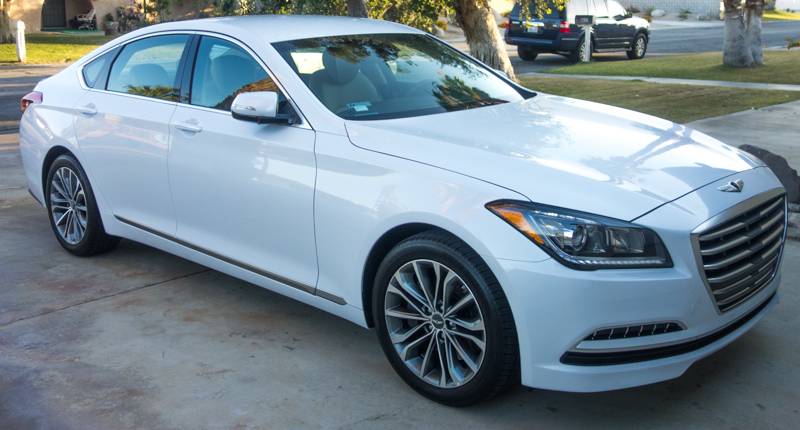 What's not to like the Genesis? There is nothing to dislike about it, unless you are an elitist or are worried about your status among your acquaintances – which I consider a character flaw.
Our New Car Dealer Selection Process
Since I work with many Hyundai dealers, it might put me in a uncomfortable situation if I favored one dealer over another in my purchase. So what I did is contact several several dealers via the Internet. This way I would be able to let them compete for our business. I set a radius of 90 miles (approximately 1.5 hours drive) as the maximum distance I was willing to travel. Then I contacted them via their Website requesting a price quote or via the car buying service True Car.
The dealership first to call me back was from a True Car inquiry and they ended up quoting the lowest price of all the dealers. It was also a dealer that a Hyundai employee recommended. Not only was the price a factor in our decision, but the dealership made the whole purchase process enjoyable.
How To Buy A New (or used) Car
There is a saying that a new car is the 2nd most expensive purchase a person will make, the first being a house. So of course, the best approach is to pay cash. But most folks are going to get a car loan.
Credit and FICO
If you do not have good credit, you shouldn't be borrowing money. The method most lenders use to determine the credit worthiness of a borrower is the FICO score.  If you don't know what FICO is, then Google is your friend. Here is the bottom line – if your FICO score is not in the good to excellent range, you shouldn't be borrowing money. Poor credit puts you at a disadvantage and many car dealers often end up charging you more money for the purchase price and at a higher interest rate; meaning you are paying too much money for the product; the extra money you could be investing or saving.
Critical Point
It costs a dealer a lot of money to operate the business. They are in it for a profit (that is a good thing), and they need to make money on each car they sell. They cannot stay in business if they sell cars for a couple hundred dollars of profit. Never lose sight of that. But as a smart and informed buyer, you need to seek the best deal. Keep in mind that buying a car is a negotiation. You can negotiate the best price and the trade-in if you need to trade in your old vehicle.
During the sales process the dealership can make money on the car itself, the trade-in (which they will sell), the car loan if you finance through the dealership, any insurance products, and add-on sales such as accessories, extended warranties, and product protection services. If you need of these things, they are also negotiable. But it is rare you would need any of them.
Trade In Value
You will get the most money for your current vehicle if you sell it yourself. For some people this causes a couple of problems. One is the vehicle is needed for transportation. The other is the hassle and time it takes to sell a car. If you sell it yourself, you need to know what it is worth. It is worth a lot less as a trade-in, because the dealer needs to sell it at a profit. You can Google Edmonds or Kelly Blue Book for calculators and further advice.
MSRP
The Manufacturer's Suggested Retail Price (MSRP) is just that – suggested price. The dealer can charge more or less. You should include the shipping destination cost with the MSRP. Unless the vehicle is a high demand, limited production vehicle that you feel you must have, you should never pay MSRP or higher.
Dealer Invoice
This is the price the dealer pays for the car. There is a lot of Internet babble about dealer invoice, but it is the price all dealers pay for the car and it is the same for all dealers. Destination charges to ship the vehicle vary, based on the dealer's location.
After the dealer actually sells the car, most manufacturers pay the dealership an additional incentive, usually around 3% of the MSRP. Dealers may get additional incentives based on customer satisfaction scores, facility upgrades, new car sales volume and other criteria.
Often a buyer can get a vehicle for around $500 below or above the dealer invoice, but often is dependent upon current incentives available to the dealer. Usually the selling price is dependent on the other profitable items that are included in the sale (accessories and add-ons, dealer financial and insurance products).
Typical Sales Process
Many dealerships are going to focus on 4 key points in the sale process:
Monthly payment
Trade-in value
Down payment
Purchase price
If they can get the buyer to focus on the monthly payment, then they can manipulate the other three to maximize the total profit. Additionally most buyers get emotionally involved with the vehicle they want, and quickly lose all objectivity. At this point, they only thing a buyer has to lose is his money, which the dealer will gladly accept.
A Good Purchase Process
The buyer does not have a trade-in. Purchase price has been researched. The buyer has contacted their credit union or other lender, and has been pre-approved for a loan amount, has determined how much the down payment will be, and has a firm quote on the interest rate. Interest rate is the important component here.
Once at the dealership, the sales person will:
Meet and greet you. Use your gut instinct. If you are not comfortable with the sales person, stop the process.
A good sales person will do a "needs assessment" that will help him or her select the right vehicle for your needs. Hopefully you have done your research and know exactly what you want. The only options up for consideration might be the exterior and interior colors. If the dealer does not have exactly what you want, they can trade with another dealer to get it or you can order a new one to be built.
Once a vehicle has been picked out, you need to road test it. You may not like it after driving it, or the drive will confirm it is the right fit for you. Don't skip this step. The sales person usually will insist you drive it, in hopes you get emotionally attached to it making it easier to sell it for more than you want to pay.
Before you fill out any paperwork, you need to negotiate the terms. If you fill out a credit application first, the dealer will run a credit check, and running a credit check lowers your FICO score.
There are only two things you need to focus on:

The purchase price
The finance interest rate (I am assuming you have good credit; if not, you shouldn't be buying a car).
If the sales person asks what monthly payment you are looking for, state that you can calculate the payment yourself, you just need to know the interest rate. If they can beat the interest rate, which is unlikely if you are going through your credit union, there is nothing to negotiate other than the purchase price. Keep in mind that sometimes the captive finance arm of the manufacturer (their own credit department) will have loan incentives on certain vehicles they want to move out of inventory. These incentives and current rebates are usually posted on the manufacturer's website. If you can't figure out the monthly payment, you shouldn't be buying a car.
At this point, there is nothing to negotiate, other than the price. Stay alert so the sales person cannot confuse you. If you get involved with monthly payment discussion, trade-in discussion, down payment discussion, and purchase price discussion all at once, you are probably not going to get the best deal – you have now started negotiating on the sales person's terms and they are good at this.
Our Purchase
First of all, the price had been determined before we ever stepped foot on the dealer's property, using the True Car service. There is always some apprehension that a dealer will not honor the quote once you get there or they will twist things all around. This did not happen. Actually after the dealer received the True Car quote inquiry from us, they called and emphasized the price and the amount of discount would be honored, and the person mentioned the buying process would not take long.
Our purchase experience was truly outstanding!
There was no negotiating price, there was no dealer loan involved, and we did not purchase any additional financial or insurance products, or add-ons. It takes a little skill to decline these offerings, so think about this ahead of time and know what to do. To be honest, we had fun buying this car. We got exactly what we wanted, for the price we wanted to pay. There was one glitch – they did not have the exact car we wanted in stock. While we were going through all the paperwork, the dealer drove 125 miles each way to pick up our exact model from another dealership. So we went to lunch and did a little browsing at Best Buy. One last point: I had worked with their service department a couple years ago, so I knew that part of the business was excellent in terms of providing good customer service. I did a little internet research on the sales department and most of what I read was very positive. You shouldn't skip this step either. One last thing to talk about is True Car.
TRUE CAR
This is a 3rd party company that contracts with dealerships to quote prices. I have heard a lot of good and bad about them. You can go directly to the True Car website and get a quote. The quote will be for a specific dealer and you will be required to provide your contact information so the dealer can contact you. At this point the True Car Quote is displayed in your web browser and you will receive a quote certificate from True Car via email. You can get quotes from several dealers. Just make sure you have already completed your research for the vehicle you want and that you are financially able to afford it. You will get phone calls from the dealers. There is no charge to you for using the service.
Our credit union offers a discount of 0.75% off the interest rate if you buy a car through them using the credit union's link to True Car. The credit union probably makes a little money on this. Our dealer had the lowest True Car quote of all the inquiries we sent out. I can't speak for the dealer, but if they can generate more sales (and sales they wouldn't have made without the service), they can generate a higher sales volume and offer lower prices. At the end of the day, it isn't about how much money a dealer makes on each car, its about how much total money they make at the end of the month.
Most of the bad True Car reviews I read were really due to unhappiness with trade-ins and the loans offered to the customer by the dealerships – all of which could have been avoided with a little pre-work by the buyer. It seems a lot of these negative reviews were from customers with crappy credit.
There are a lot of good, honest car dealerships out there in the world. You just need to do your homework first and be prepared. Buying a car is often a 'painful' experience, but it doesn't have to be. It is up to you to determine how a purchase will go; and an informed buyer will normally have a good buying experience. Based on our experience, Joyce and I highly recommend True Car.
So the bottom line is: we got the car we wanted at the price we wanted.