In November and December of 2000 I backpacked from my house in Palm Springs to Lake Mead and back.
Part 3 can be viewed here.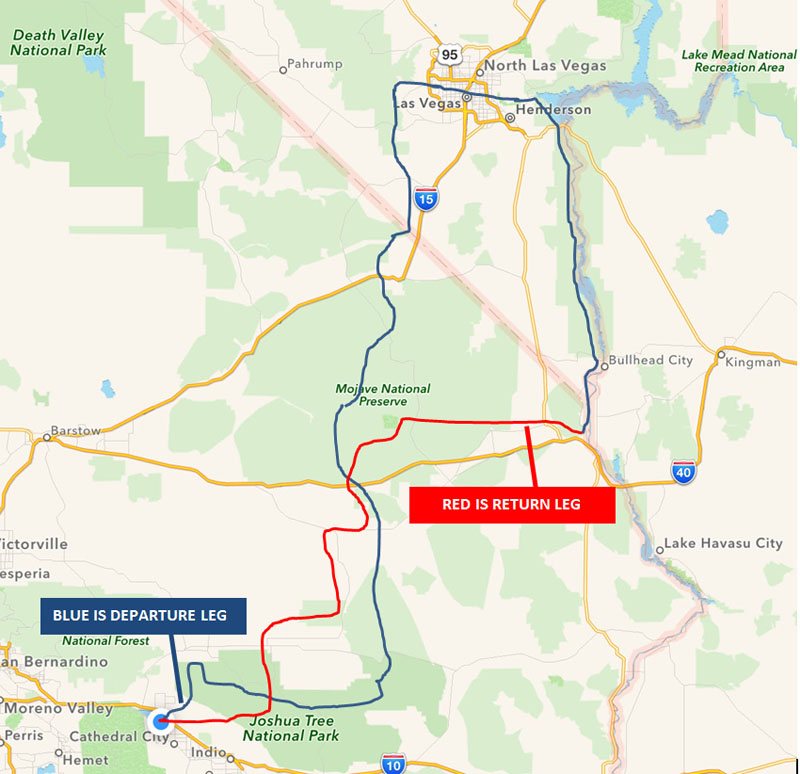 Rest day in Stateline, Nevada.
I checked into Whiskey Pete's Hotel. Rooms were cheap. Buffets were cheap and all you can eat. Besides cleaning up and doing laundry, I spent a day and a half eating pizzas, steaks, ice cream and just about anything that didn't move on its own. That is part of long distance hiking – the appetite begins to overwhelm your brain.
But I was soon anxious to move on. Being completely alone for 10 days gives you a different perspective of the world, especially the false reality of a casino stop. My last night at the hotel, I went over to the food mart in one of the gas stations, bought a bunch of instant and junk food, and packed up. I would get an early morning start.
This next section would be the best and worst of the walk.
DAY 11
I headed north from the hotel, the casinos, the outlet mall, fast food joints, and gas stations. Traffic on I-15 was soon behind me; not out of sight, but out of hearing — thankfully! Quickly I was at the edge of the Spring Mountains and I followed the terminus, sometimes close and moving away at times to minimize time spent crossing deeper washes. I was headed north towards Red Rock Canyon.
Soon I hit Goodsprings Valley, passing the small hamlet of Goodsprings. I guess one could call it a hamlet; really a bunch of old homesteads and ancient buildings. I passed the Pioneer Saloon. It looked like it was still in operation, but I continued on. Today I wish I had stopped, as it is a historically interesting place to visit.
I stopped just short of the Red Rock Canyon area for my night camp.
DAYS 12 & 13
Red Rock Canyon
The highlight of the entire trip.
I was totally unprepared for the beauty of this area. Since this first encounter, I have re-visited Red Rock Canyon many times.
The original plan was to just walk past the area and then head into Las Vegas proper. But I was blown away with the scenery. Although I was just about out of food, I decided to spend the late afternoon going deep into the area and spend the following day exploring, even though I did not have enough food to last me. A day without food in the Red Rock Canyon area was worth the hunger pains. Water was plentiful in little steams and a couple springs I found.
Red Rock Canyon is administered by the Bureau of Land Management. For the most part, camping is not allowed except for some climbing areas. A permit is required. But I often use the "don't ask, don't tell" stealth camping strategy.
DAY 14
This was the worst day of my trip. Nothing awful happened. Two things made it bad:
I had to walk through Las Vegas
In order to walk through Las Vegas in the shortest time possible, I would have to do 40 miles in a single day
I had never walked anything close to 40 miles in one day. Stopping midway to sleep at a hotel was tempting, and an option should the day's goal be too strenuous. There were a couple things in my favor. One, I didn't need to carry any food or water at all. I could simply stop at a store or eatery any time I was hungry or thirsty. Secondly, I would be walking on flat surfaces (sidewalks) and the route was almost completely downhill until the last few miles.
I must have stopped at least a half dozen times to eat. McDonalds, Taco Bell, KFC, Burger King, Del Taco, and Wendy's were the variety and spice of life this day.
To start the day it was well before dark and I hiked into Summerlin, Nevada via Charleston Blvd. It was a long continuous walk through Vegas: down Charleston, a right turn on Boulder Blvd, then into Henderson, Nevada making a left on East Lake Mead Parkway. I stopped in Henderson to get food for the next day. The last leg on Lake Mead Parkway was uphill.
It was dark when I got to Lake Mead and I camped at Las Vegas Bay Campground. Since it was late and dark, the campground was convenient with running water and restrooms versus hiking down to camp on the shore of Lake Mead.
DAY 15 
I slept in. It was probably noon when I left. My goal for the day was to walk a couple miles past Boulder Campground and stealth camp near the Alan Bible Visitor Center at the edge of Lake Mead Recreational Area. The reason for this stop was to get information about the Black Canyon Wilderness Area, which was next on my itinerary.
The hike from Las Vegas Bay Campground to Boulder Campground is about 8 miles. Today you can walk along a paved path set aside for hikers, bicyclists and runners. It was partially completed in 2000. Aside from pavement and a water treatment plant, it can be a scenic walk if you focus on the views. I stopped at Boulder Campground to get water, which was much easier than walking down to the lake and treating water.
As I walked away from Boulder Campground, I was walking away from Lake Mead. I was halfway through my trip. In less than an hour I found a suitable spot for a night camp.