In November and December of 2000 I backpacked from my house in Palm Springs to Lake Mead and back.
Part 5 can be viewed here.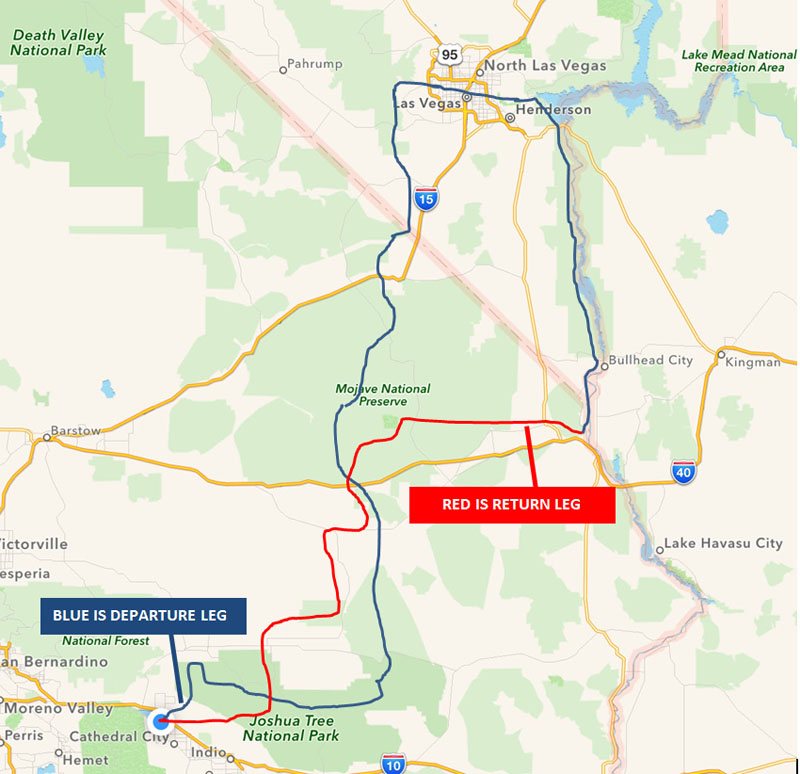 DAYs 20 & 21
It had been over a week since I had a shower and day off from walking. I had planned on spending a day in Laughlin to rest and eat. Fortunately the last two days of hiking had gone according to plan, so I checked into a hotel. Two nights were only $38 plus tax.
Laughlin is a pitiful place. Less than 10,000 residents, but over 2 million visitors per year, mostly people who come to gamble or recreate on the Colorado River. Laughlin is the 3rd most visited casino city in Nevada behind Las Vegas and Reno. It is situated just below Davis Dam. The River, from Laughlin all the way south to Lake Havasu, which is created by Parker Dam, is called the Parker Strip, a nightmare of speedboats and personal water craft. Actually, most of the people speeding up and down the river are called California Crazies – you should get the idea. As with any town that relies on gambling as its main industry, there are a lot of desperate and destitute people in the area.
For me, Laughlin's redeeming character was cheap hotel rooms, cheap food, and a chance to rest for a couple days. The next section, a walk from Laughlin to the city of Twentynine Palms, CA, which would be the next place to get food, was going to be a 8 or 9 day hike. There was a remote possibility that Roy's Café in Amboy, CA would have food and water. The problem with Roy's was sporadic operating hours and prices that are insanely high. The other problem was water. I would be able to get water at Hole-in-the-Wall campground, but there would be no other water source except maybe in Amboy – a risk I was willing to take, since there is traffic on Route 66, which passes the café. Bottom line: I would need to start out with 9 days of food, which would weigh around 25 pounds.
Day 22
Early morning start and I am soon away from human misery named Laughlin. I would carry little water this first day. I would generally walk close to the Colorado River, sometimes straying away and walking straight south. Few roads, lower desert, sand dunes at times, and some lands under irrigation was the lay of the land. This is typical lower Colorado River country, and it continues all the way to Mexico. But I wasn't going to Mexico. As soon as I reached the southern end of the Dead Mountains I would head generally east. But I needed to stay close to the river so I could make night camp close to water. This was my little strategy to lighten my pack for the day.
Weather was nice and I made good time covering 20, or maybe more, miles.
Day 23
When woke, it was windy. It is probably more accurate to say the wind woke me up. And the wind was cold. A precursor of what was to come my way over the next 3 days.  Soon I was walking east in the San Felipe Wash, with the Atchison Topeka and Santa Fe Rail to my left, and paralleling the tracks just south was I-40. Soon I walked under a bridge carrying the railroad tracks and headed in a northeast direction. Over the next two days I would crisscross the tracks sometimes walking over them and sometimes under them through small bridges. Sometimes I would walk along the rails. Other times I would move away from the tracks to avoid the large freight trains. Crossing HWY 95 (I think) I walked along, and sometimes, above San Felipe Wash, eventually connecting with the Sacramento Wash, which was always close to old Route 66. This section of 66 is rarely used these days and some parts are barely road. Although the area was mostly deserted, I felt I was still connected to civilization. The walking was almost dead east.
All day I was blasted by a frigid wind. Somewhat concerned it would slow me down, I trudged head, paying little attention to the things around me. It was not a fun day. As day turned into night, I hoped to get to the ghost town of Goffs, and I continued walking. Finally, I gave up on making to Goffs and finding a somewhat wind protected campsite I stopped for the night. Up went my tarp, to help deflect the wind, and a quick but hot dinner. I was tired; no I was exhausted; and soon fell asleep. Sleep was fitful as gusts of wind would periodically wake me up. On my mind: hopefully the wind would diminish by morning.
Day 24
The wind was worse. More powerful and colder. Nothing to do but keep walking, which would keep me warm. After a couple hours or so I passed Goffs. It looked like no one was living in any of the dilapidated houses, but in desert country like this you don't know. I didn't stop to investigate but plodded forward. Soon I was in the long but side-sloping Fenner Valley. I had hoped to make it all the way to Hole-in-the-Wall Campground, but crossing all the washes that flowed perpendicular to my forward progress slowed me down. At times I could walk along dirt roads, but it was mostly cross country hiking. If I couldn't make it to the campground that night, I still had enough water to last another day. To my left, most of the time, I could see I-40, but couldn't hear it. As day turned to dusk, I stopped to make camp. No need to keep pushing, it was about another 12 miles to Hole-in-the-Wall Campground.
Day 25
Another day. More wind. Another cold day. I had no choice but to go forward, or give up and walk to I-40 and hitch-hike home. I knew that the wind at Hole-in-the Wall Campground would be worse than what I was experiencing. The wind blows almost every day there, funneling through Black Canyon. However, there is always water at the campground. My plan was to fill up my canteens and then camp away from the campground in a sheltered spot, if I could find one.
I must point out that I was in no danger from the cold weather, it was an inconvenient nuisance. A nuisance that grinds on you, just like the sand that would get into everything.
There were a handful of campers at the campground. I noticed a vacant campsite that had a large pile of wood next to the fire pit that the previous camper had left behind. Now a campfire in the wind isn't the best kind of fire, but it would make the evening much more enjoyable. So I decided to spend the night there, knowing the wind will make for another sporadic night of sleep.
After dinner, I was sitting by the fire, when a couple who were camping in an RV stopped to say hi. Bob and Val were nice people, reminding me of a past friendship with another couple in Palm Springs years ago, who were also named Bob and Val. Good Karma. They offered to let me stay in their RV with them for the night. I politely declined, but after a couple more offers I accepted.
The camper was warm, as was the hospitality. We sat around and talked while consuming a couple glasses of wine. About 10 o'clock I retired to a nice soft bed and slept soundly for 8 hours.