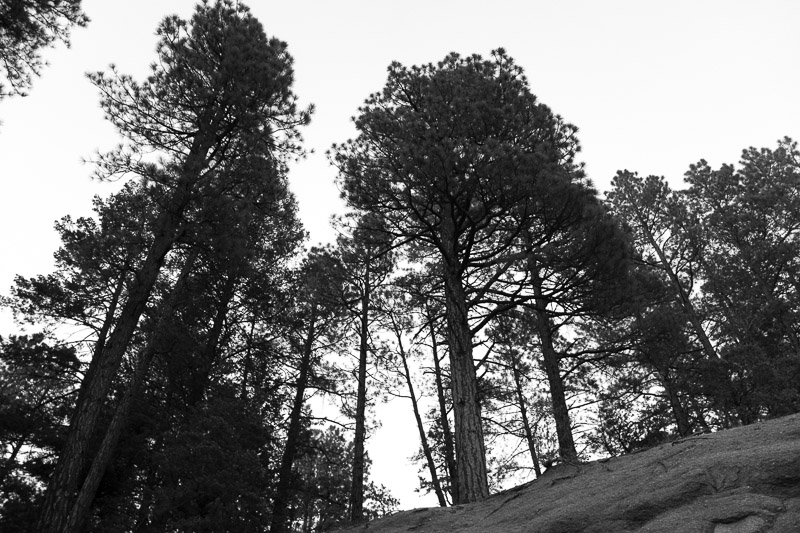 New Mexico is known as the Land of Enchantment, and although at first I didn't have high expectations that my hike would be anything close to enchanting, in the end it was.
A last minute business trip found me in Albuquerque, Monday morning, where I had very little time to plan a hike. Being that Albuquerque is desert and it was summer, I had thrown my typical lightweight summer backpacking kit in my suitcase figuring it would cover all contingencies.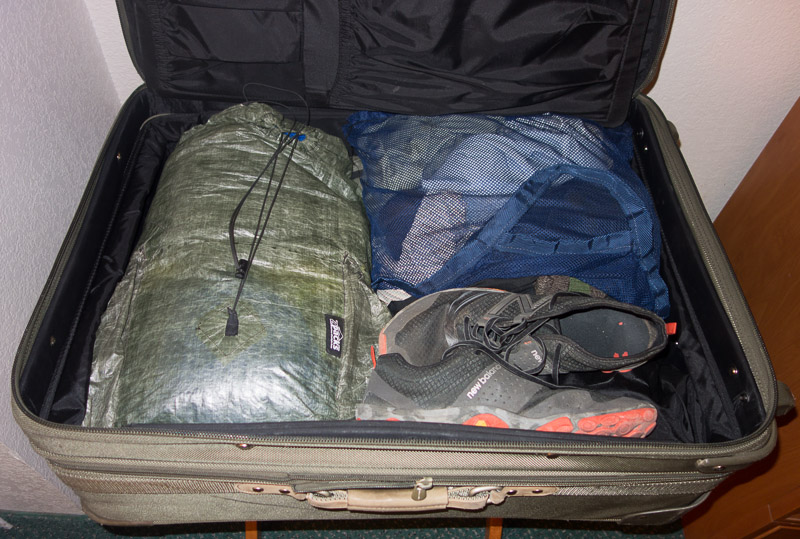 I have driven through this area before, but had never hiked in the vicinity.
Driving through an area and not getting out to experience it is problematic.
Sitting in the cocoon of a passenger vehicle causes one to wiz by with no concept of terrain or elevation.
Even a motorcycle trip through Albuquerque in 1979, on my way to the east coast, did little to register important information in my head.
Not to mention a summer backpacking trip years ago near Gallup, with an elevation of 6,700 feet, didn't send electrons to my brain about New Mexico. Compound this with six months of living and hiking in and around Flagstaff at 7,000 feet in 1999, which is only a day's drive from Albuquerque did not cause me to consider it might be a good idea to check the elevation of Albuquerque.
In 2005 I drove round trip from California to Rocky Mountain National Park for a week's adventure that entailed two segments through New Mexico via I-40 and then I-25. All of which registered only high desert in my brain – and the high desert registration clocked an internal altimeter of around 2,500 feet. I knew there were mountains just east of Albuquerque and they seemed like a good destination.
Getting off my plane and heading to the Hertz rental center, I saw the mountains. Although it was not yet noon, the temperature was close to 90F. My focus was on my meeting in the afternoon and food. I had not yet grappled with the steps required to plan a hiking trip.
A discussion of food is in order. I am not referring to backpacking food.
MEXICAN FOOD vs NEW MEXICAN FOOD
I like Mexican food. Probably my favorite food next to a plain rib-eye or Porterhouse steak, or a good cheeseburger is all things Mexican. Not that I am some sort of food expert, but I have found Mexican food to be regional with variations as one travels across Mexico or the southwest.
Of course I am not referring to the well known large restaurant chains (several whose food I enjoy), but small locally owned establishments. Draw a line, south to north through cities on either side of the border and the food is similar. Rosarita Beach, Ensenada, and San Diego are similar, but different than Tecate, which is different than El Centro, Calexico, and Mexicali, which is different than Yuma, which is different than Tucson and Nogales, which is different than Bisbee and Naco, which is different than Douglas and Aqua Prieta, which is different than El Paseo and Juarez, which is different than San Antonio and Laredo.
And different from all is New Mexican food. Now, I won't get into the specifics, you just need to go there to find out for yourself. But I will tell you that if you ask for chili, you aren't going to get a bowl of food; but a question, "Red or green?"
So finishing up the day's business I had two questions — where is the best "Mexican" restaurant, and by the way, what is the elevation here. Got a recommendation for dinner; and oops — we are at 5,500 feet above sea level and I had not packed an insulation clothing layer. Also my quilt was probably marginal.
TRIP PLANNING
From my vantage point it looked like the mountains were at least 5,000 feet above my current location. It was a good guess. Sandia Crest is 10,678 feet above sea level. My first thought was, my gear might be less than adequate for possible cold nighttime temperatures.
After a great meal I headed to my hotel for a little Internet researching. I really didn't want to stray too far from Albuquerque, as driving would just eat up potential hiking time. I live in a desert, so summer hiking in the desert didn't have any great appeal — I can do that at home.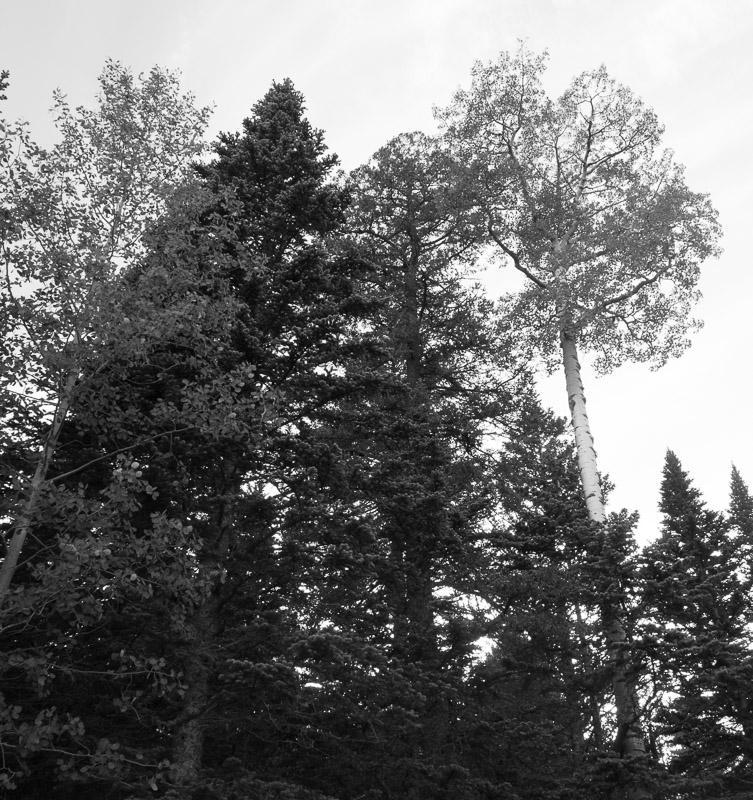 I knew that New Mexico has some high mountain ranges, especially in the north. But I was surprised to find there are 36 peaks over 12,000 feet and this is counting only the ones with a clean prominence of at least 280 feet. There are three peaks over 13,000 feet.
My research also found that the mountains just east of me were the Sandia Mountains, which are about 17 miles long. The west side is similar to the San Jacinto's near my house, to include an aerial tramway. With a metropolitan population of around 700,000 people in the Albuquerque area, the Sandia's are the most heavily visited mountains area in the state. Not a good start.
So I investigated the east side of the mountain — no camping allowed and a paved road that went all the way to the very top of Sandia Crest, which is the highest point in the mountain range. Double-double bad! Plus, no camping allowed. Before looking for a more distant place to travel to, I dug a little deeper.
There are two backpacking trails in the Sandia's; the 26 mile Sandia Crest Trail, which basically follows the entire ridge-line of the mountain range held some potential. The other trail, The Foothills Trail is at the base of the mountain on the edge of the city and is open to horses and mountain bikes. Looking at the map it even appeared that parts of the trail might be in the city. Ugh. I immediately scratched that one.
Another option would be to hike up the west side of the mountain and back. There are several trails up to the crest. I decided this option would have me spending too much time near the city and probably too many people given the close proximity of the tramway.
I was intrigued that the Sandia Crest Trail was designated as a backpacking trail, but I could find little useful information on the USFS Website, which is par for the course. So, as any intelligent person would deduce, overnight camping is permissible on a backpacking trail; despite the policy and posted signs declaring there is No Camping in the Sandia Mountains. And in the end, it was the correct deduction.
The Sandia Crest Trail posed two rather large problems for me — easy access via the tram and the Sandia Crest Byway (paved road) that dumps tons of people on the trail. For me lots of people on a trail is not a good attribute; meaning the area should be avoided at all costs.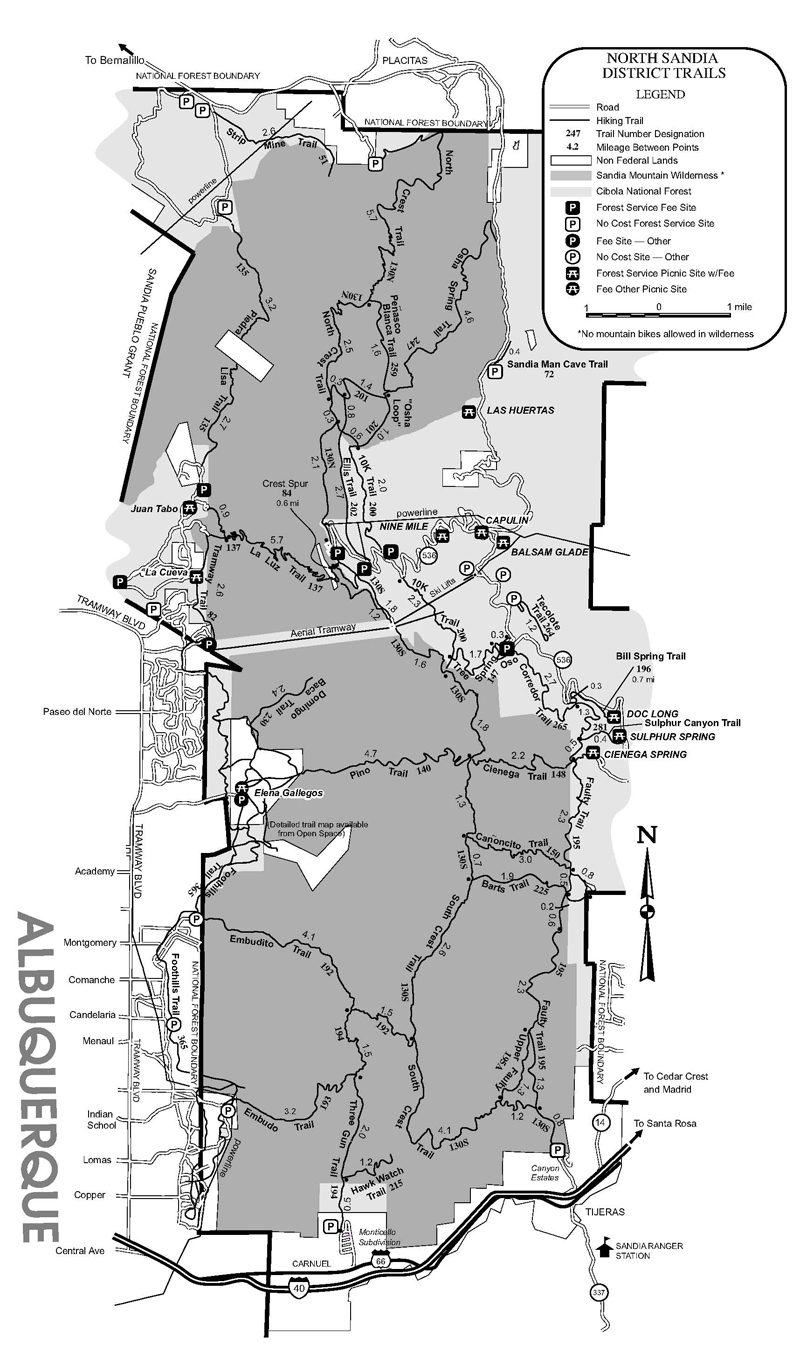 However, most of the Sandia Crest Trail and many hiking trails on the other (east) side of the mountain are in designated Wilderness, meaning foot traffic only. Plus many of these other trails were close to, or intersected, the Sandia Crest Trail. I was able to put together a loop and over a period of three days hiked through most of the wilderness area; hiking on the Sandia Crest Trail only when I really needed to be on it. Since I was on the trails during the week, I saw surprisingly few people.
My route included the Faulty Trail, Oso Corredor Trail, Tree Spring Trail, 10K Trail, OSHA Trail, Pensaco Blanca Trail, North Crest Trail, South Crest Trail, and the Cienega Trail.
ADVENTURE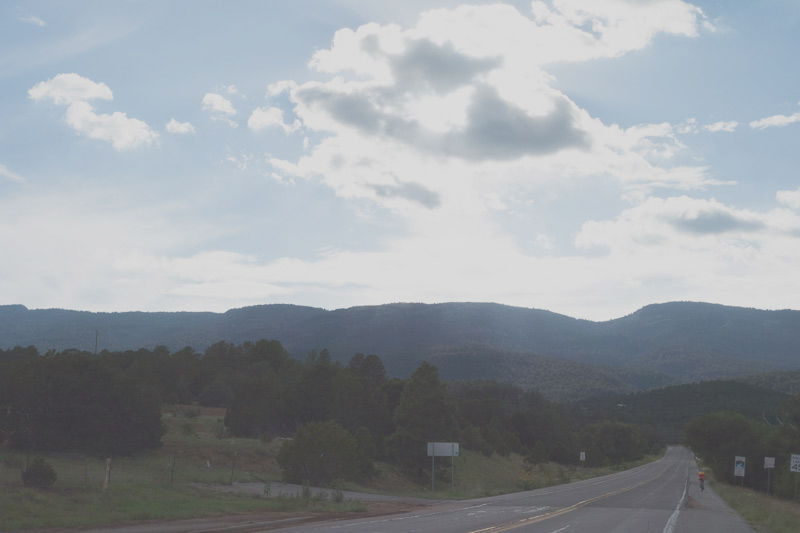 It was about a 20 mile drive to the east (back) side of the mountain via I-40 and, I think, Hwy 14. Passing through a couple of small towns I entered the Cibola National Forest. The mountains cover four climatic zones and I was starting in thick pinion and juniper forest.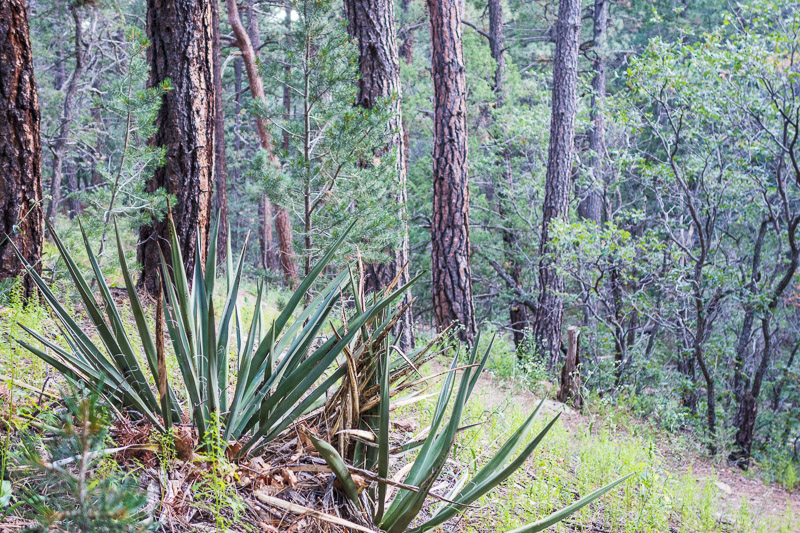 As I left the Pinion and Juniper forest, the area changed to a mix of desert plants, oak and pine trees.
Bark Beetle Infestation
As I got to around the 7,000 foot elevation level I started to see a lot of bark beetle damage, something that is familiar in Southern California. Bark beetles attack trees that are weak from drought, smog or disease. New Mexico, like Southern California has been suffering from drought conditions over the past few years. Thousands of trees in Sandia Mountains have died from the beetles.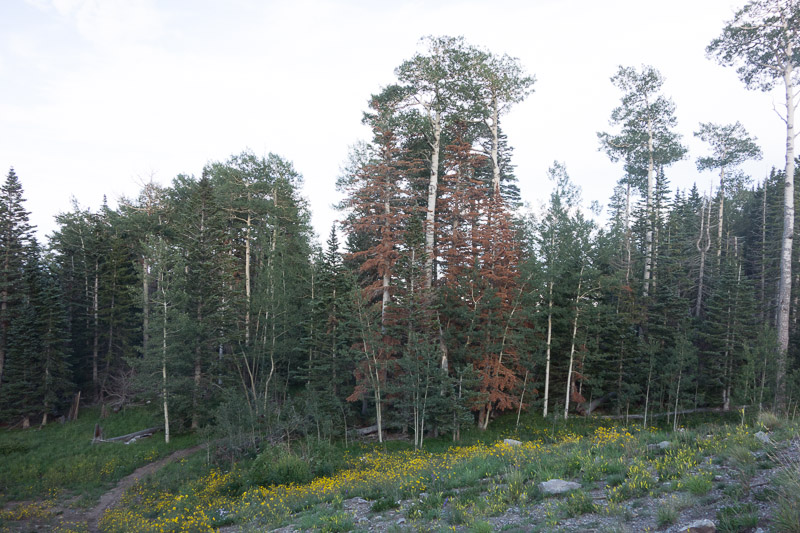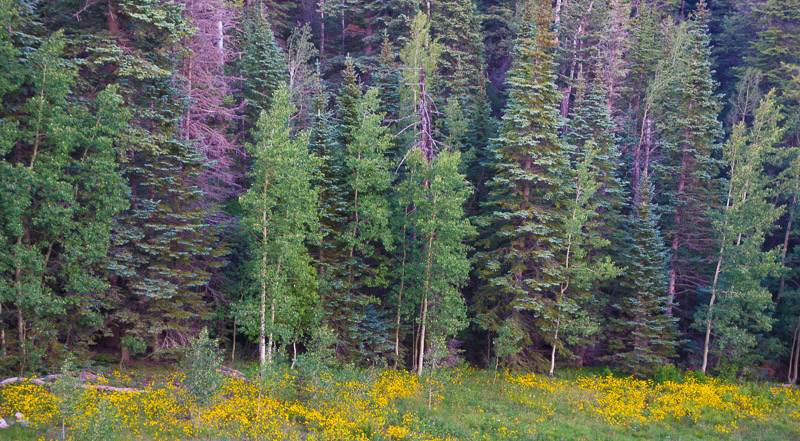 In the National Forest areas, the USFS typically will cut down and remove dead trees. In the designated wilderness areas, trees are left as they are as they are because it is a requirement of the Wilderness Act of 1964. In these areas hikers need to be careful of trees that may fall due to wind, snow, or decay. Trails in the wilderness area may be blocked by downed trees.
The Sandia Mountains are home to deer, bears, and mountain lions among others.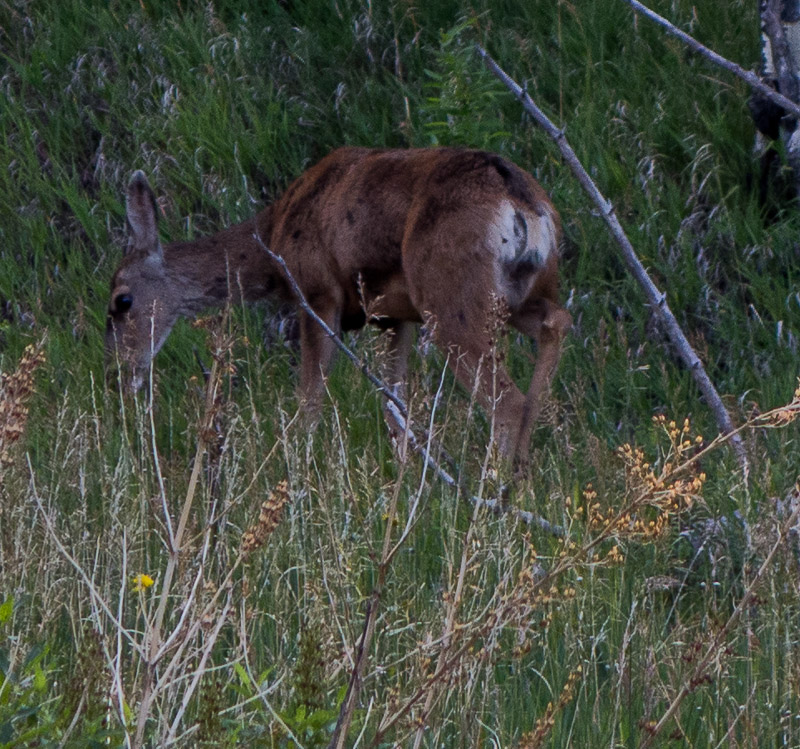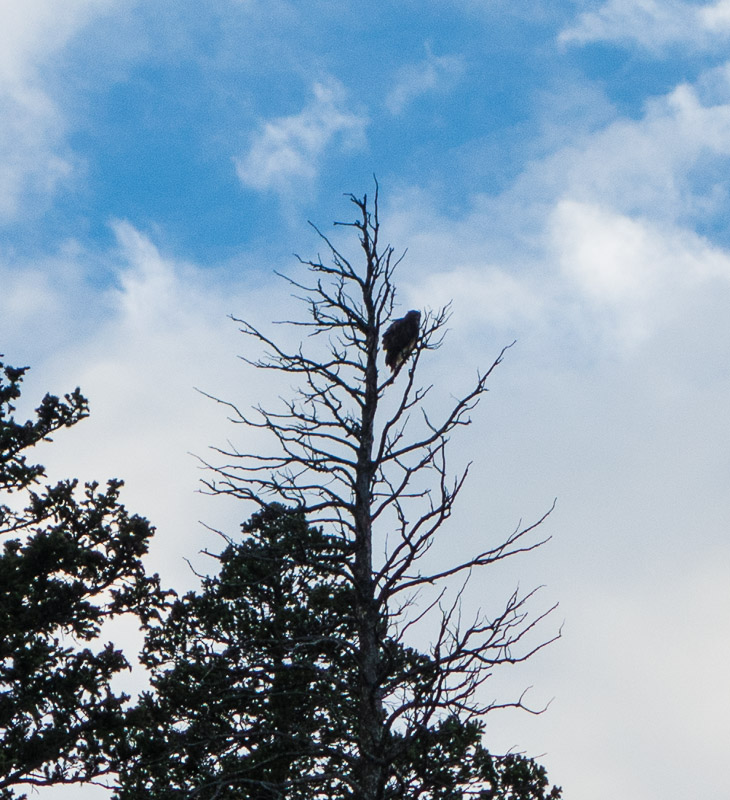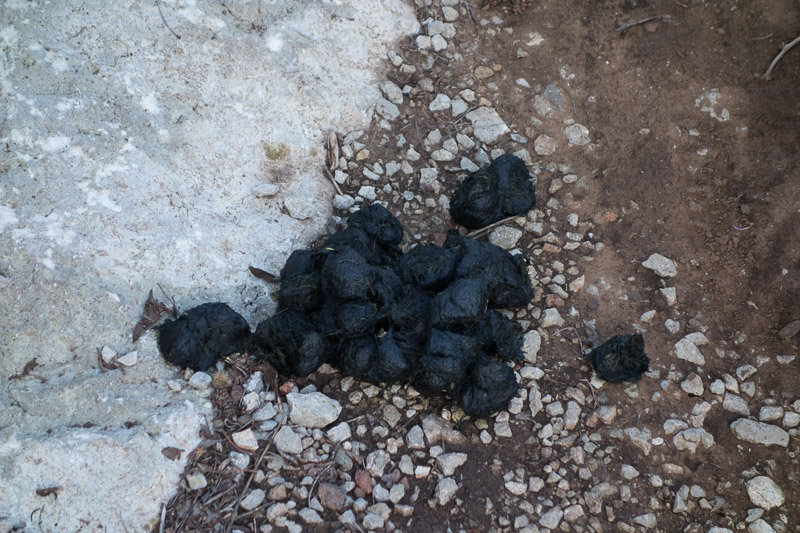 Most of the bear scat I have seen over the years has berry remains in it. Since I found few berries over three days, I am fairly certain this is bear scat.
Typical Mountain Stuff
View of Albuquerque at night from the Sandia Crest
SUMMARY
The Sandia Mountains are not on my list of backpacking destinations. But if you happen to be in Albuquerque with some free time during the week, and are willing to piece together a route using several of the small trails below the crest, you can really have a great time. Even in the designated wilderness areas, if you are near the Sandia Crest Byway or on the Sandia Crest Trail, you can occasionally hear vehicles, especially the motorcycles that race up and down the Byway. But for most of the time I found the forest quiet except for the wind pushing against the trees at times.
Elevation gain from the east side is about 4,000 feet, there is little water, and you will need to store your food so bears cannot steal it. Lows were probably in the high 40F range. I was warm enough.
For me it was enchanting trip.
It has been quite a while since I published a gear list for any of my trips.