At the end of 2010, I purchased the last backpack I would ever need, a McHale LBP 36. You can read about it here.
Well with a capacity of 59 liters before tightening things up with all the compression straps, the pack was a little large for some of my short trips. So I needed a new smaller pack that would hold up.
The goal of this pack would not be an ultralight pack, but a small volume that can comfortably carry a lot of water. A smallish pack that I can do a 7 day trip in 3 seasons, but with a real suspension. I like the options of my McHale LBP with a full double-buckle belt. Also his side pockets can hold a 64 oz Gatorade bottle. I have torn up most of my UL packs on brush and rocks and don't want a pack to determine where I can go, I want a small pack that can travel where I want to go.
So it was time to call Dan McHale again.
I wanted a pack with a narrow width (circumference). I can carry 128 oz of water in the McHale LBP side pockets, which is a little over 8 lbs at the bottom, so with a tall and narrow pack I can better distribute the rest of the weight.
In 3 seasons my other gear has gotten ridiculously light and small (Tim Marshall quilt, cuben Hexamid, z Packs cuben poncho/ground sheet, torso length foam pad, MB Ex UL vest, Houdini, Capilene 1 bottoms, FAK, and a Fosters Caldera Cone (cone and Esbit fits inside the can) is about all I carry on most trips. Once I get through most of the food and water I have to fluff up the down stuff to fill out my smallest UL packs.
After my call with Dan he came up with a brand new pack and it looks like it has been a good seller for him this year. It's a little pack called Bump 32 (32″ of circumference).
The McHale Bump pack thoroughly exceeded my expectations. Handles 35 lbs with ease, and the internal aluminum stays inside the pack are used as the frame, keeping the pack close to my center of gravity. This was an expense that was well worth the investment. The only difficulty through the entire purchase process was figuring out what material to make it from. Dan McHale wanted to make it from Cuben Tech fabric. I am leery of Cuben for the long term. The Cuben that Dan uses is a hybrid with a polyester laminate and he has tested it thoroughly. So I opted for Dyneema X Grid. The fabric Dan uses has the Dyneema threads spaced at 3/16" of an inch, versus the ¼" most of the UL manufacturers use. So his has about 25% more Dyneema thread in it. The pack has a full Dyneema bottom and the back of the straps is also made from full Dyneema. Dyneema is the strongest material known, and has replaced Aramid as the preferred material used to make military bullet-proof vests. The front of the pack has a mesh panel to help with sweat.
The back does not have compression straps or a front pocket. I did order the following options, which can be added or removed from the pack at any time.
Options (all can be removed)
Top Lid
Water Bottle Pockets (easily hold 2 Liter water bottle); 2 each
Hip Belt Pockets; 2 each
Shoulder Strap Pocket; 1 each
Specifications
Main Bag Volume (excludes any accessories) ~ 2,000 cu in or 33 L.
Main Bag Volume (including the 11" roll top) ~ 3,000 cu in or 49 L.
The stays and internal pad are removable. The padded double buckle hip belt is removable.
Weights
Stripped down without Stays, Pad, or hip belt = 25.15 oz (1lb 9.15 oz)
Note: stripped down you can add a simple web belt.
All Options Included = 51.92 (3lb 4.92 oz)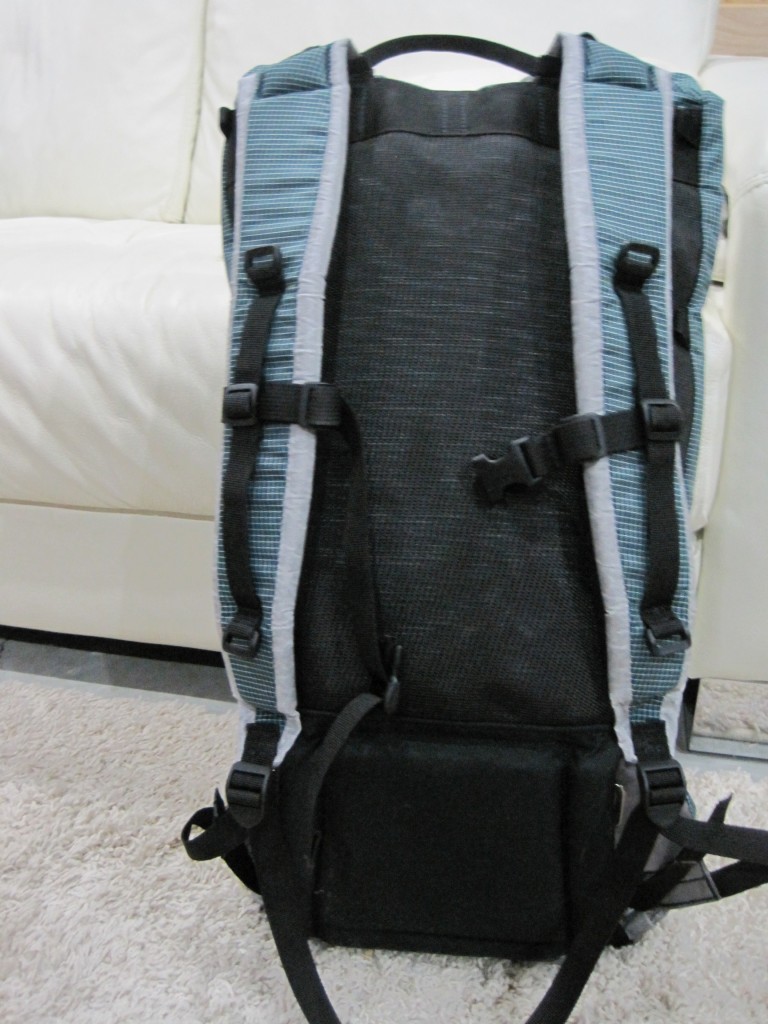 Back of pack (stripped).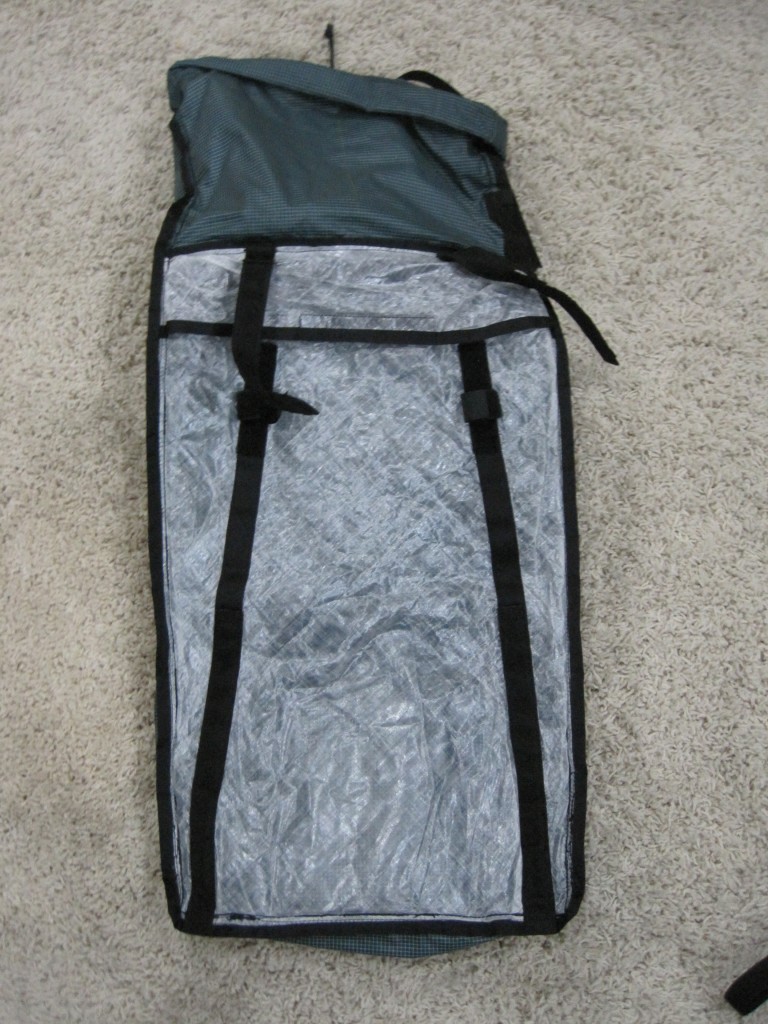 Inside of pack. Cuben pocket for foam pad. The black sleeves are for the aluminum stays.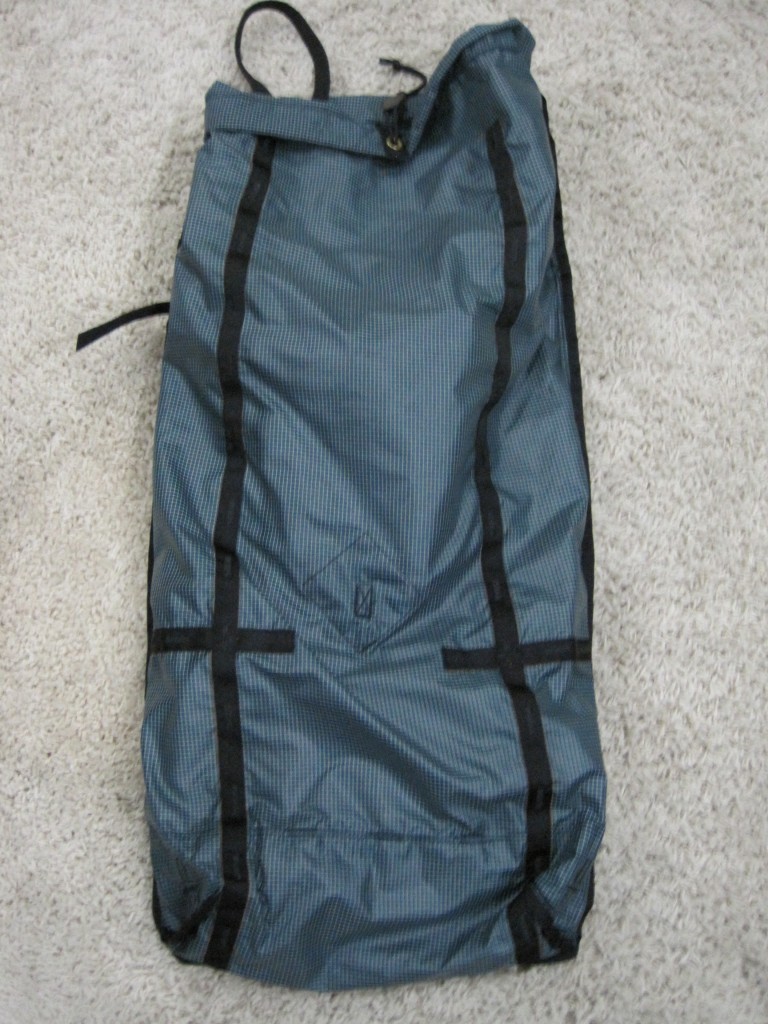 Inside of pack. Notice the robust backing Dan uses for the daisy chains and attachments. It is not sewn directly to the material only.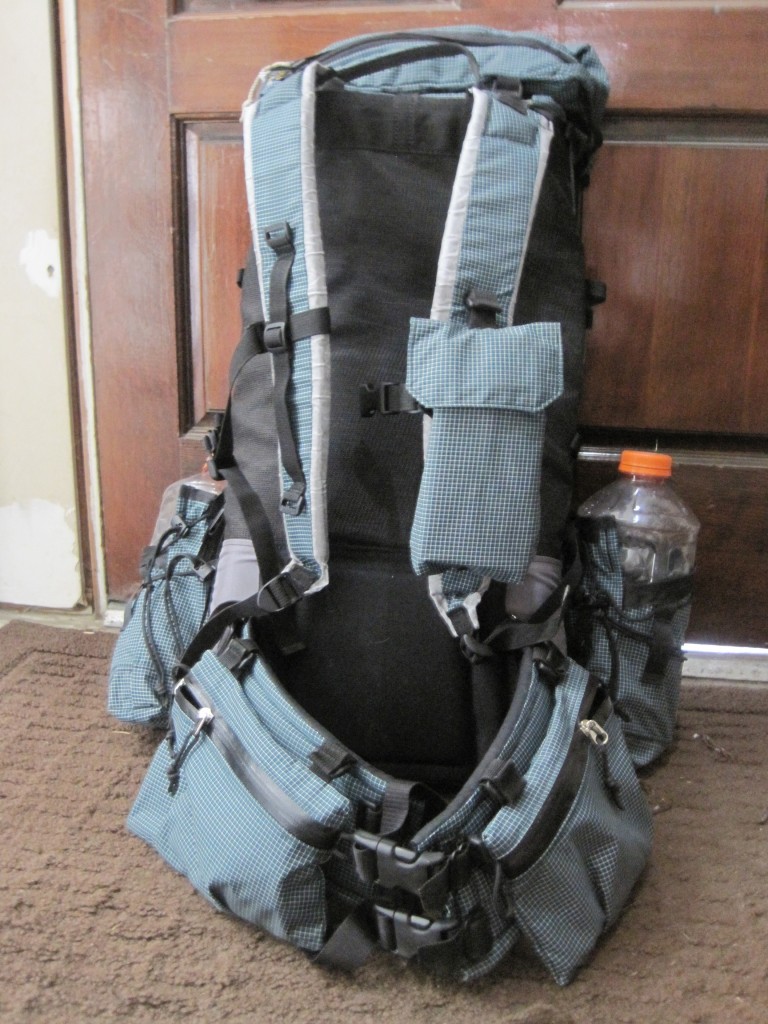 Bump with all accessories added.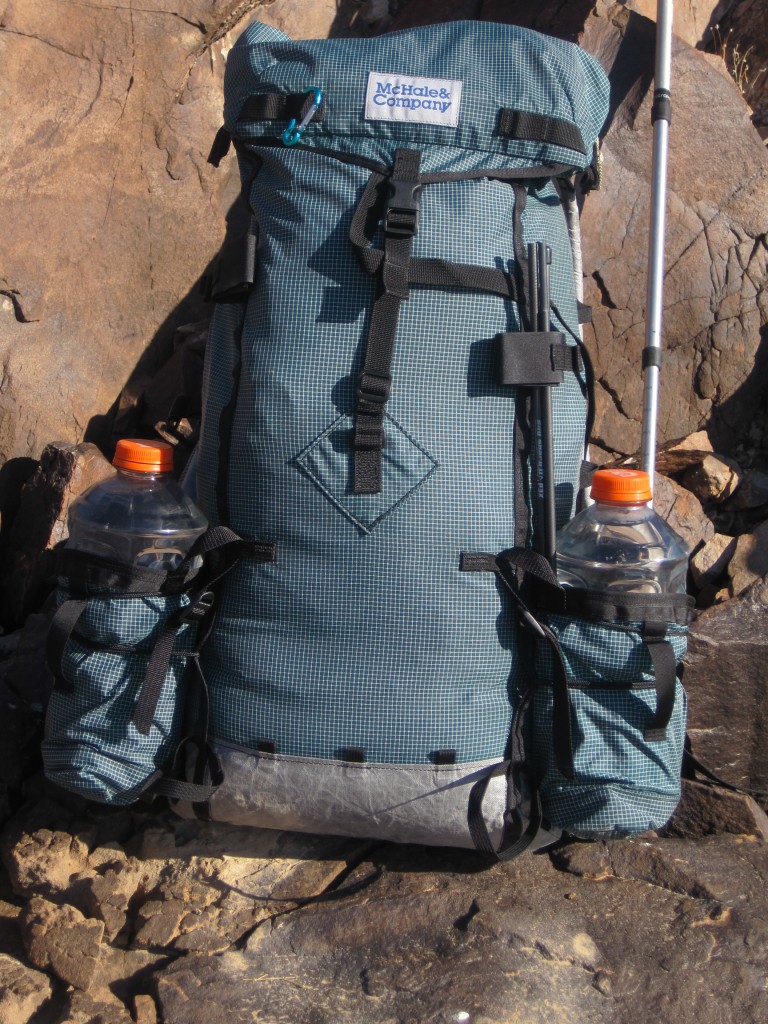 Bump in action.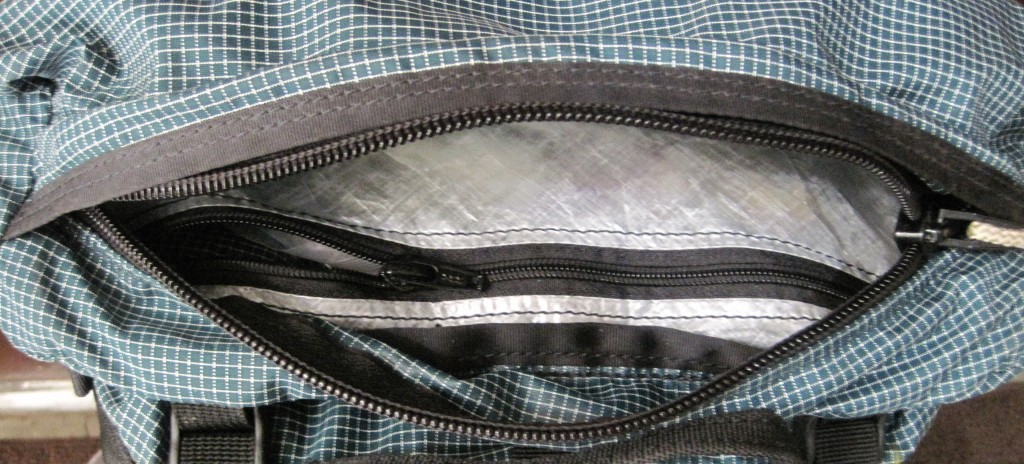 The top lid has a small cuben security pocket on the inside.