Last Thursday night I arrived home at the airport just before midnight. At the exit booth to pay my parking fee, I rolled down the window to the sound of grinding noise. The window motor was dead, and the window was stuck in the down position.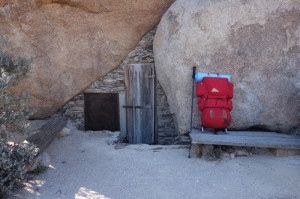 First thing Friday morning I took it to the shop. Later in the day the shop called and said it could not be repaired until Saturday. That eliminated any hiking for the weekend. Earlier in the week my friend, Ojas, had contacted me about doing some hiking in the next few weeks. After the bad news about the vehicle repair, Ojas inquired about us going hiking this weekend. Told him I would have to bow out – Joyce was gone for the weekend and I needed to stay at home and retrieve the vehicle when it was ready.
Saturday morning; 9 AM. Shop calls and says the vehicle is ready. Good news indeed – there would be time for a weekend backpacking trip. Since Ojas had probably already made plans, I decided to put a loop together that would include a trip to Carey's Castle in Joshua Tree National Park. It has been over 30 years since I had visited the castle.
1981 Trip to Carey's Castle
When I first located Carey's Castle, I wasn't looking for it. I had never heard of it.
I was spending some time near a spring in the vicinity observing a herd of Big Horn Sheep. When it was time to move on, I continued on my trip looking for a well, I found on my topographical map. As I trudged up a sandy wash, I came to an ancient road track that veered away from my planned route. Being sure it probably led to an old mine, I followed it for a few miles where it made a sharp turn in front of a small hill. To the left of this turn was Carey's Castle – I almost missed it. Very little is known about Carey. During my visit I found many, many of Carey's artifacts inside and around the vicinity. Also found some Native American artifacts. Of course, I left everything in place.
Curious about the house built under a boulder, I drove to the main ranger station and inquired. I was told it was Carey's Castle, and the NPS discourages people from divulging information as they did not have the resources to protect it. Good enough for me. I have never told anyone how to get there.
This Trip
Just like my trip last year to Chuckawalla Bill's rock house, I decided to take the same gear I used when I hiked to Carey's Castle in 1981. The only exception is that I no longer have the sleeping bag, and I used Aqua Mira tablets instead of iodine. Since I have extensively explored the area where the castle is located, for this trip I wanted to put together a two day loop, with the availability of water along my route. A quick look at some maps showed I could do a loop of around 30 miles and find water along the way. Perfect. There were a couple sections along my route I had not hiked before, so that would add some interest
The Route
Many of us who hike in this area are hesitant to share information, especially for sites of historical value. So I have no map to share with you. If you are diligent you could probably create the same trip. There is enough information on the Web to point you to the castle. That ticks me off. A place that was protected for decades by the hiking community has been over-run by the Internet hoodlums.
Here is an interesting quote from a twit who posted information on how to find it,
"Carey's Castle is not the sort of site that needs to be hidden from the public. It's not an especially sensitive environmental area (not a bighorn birthing place, for example), not especially dangerous (no crashed WW2 aircraft leaking fuel, for example), and it's not private property. The hike in is hard enough it should serve well enough to screen out the casual, beer-swilling, fire-starting idiot."
Really? Well… I think the author might be the idiot. What about all the artifacts that used to be there? I can now confirm that most are gone, probably snagged by souvenir hunters. And what about all the trash I picked up along the popular section of this route? Oh, Mr. Author, your Internet posting helped create this carnage! Luckily most of the rest of the route I hiked had little damage, so I shall not share that either.
Now to the next idiot – I shall not publish his name, because I do not anyone to buy his book and line his pockets with money. He is the same moron who published a hike to Chuckawalla's rock house. Oh, and he could not find that hike, this hike, or the Desert Skyline trail on his own. He asked local hikers to take him, without revealing that he was going to publish a trail guide. And those folks who were tricked by him, have publicly stated they would not have shown him these hikes had they know he was going to publish them.
If you want to hike to Carey's, see if you can construct a loop. I find traveling over the same real estate twice (out and back) to be boring. Go do the hike for the hiking opportunities, not some check box on a bucket list.
General Warnings
Usual disclaimer: Be prepared for earthquakes, boulder avalanches, landslides, flash floods, freezing temperatures, triple-digit temperatures, rabid rodents and mammals, poisonous snakes, poisonous insects and spiders, predatory packs of coyotes, man-eating tarantulas, nasty large biting lizards, no marked trails, probably no water, and GPS failures from activities at nearby Twenty-nine Palms Marine base.
Include maneuvering through boulder fields in the canyons to your hike route. You cannot avoid them unless you create a route north of Carey's Castle, and no one that I know of has posted anything like that on the Web – but that is what I did in 1981.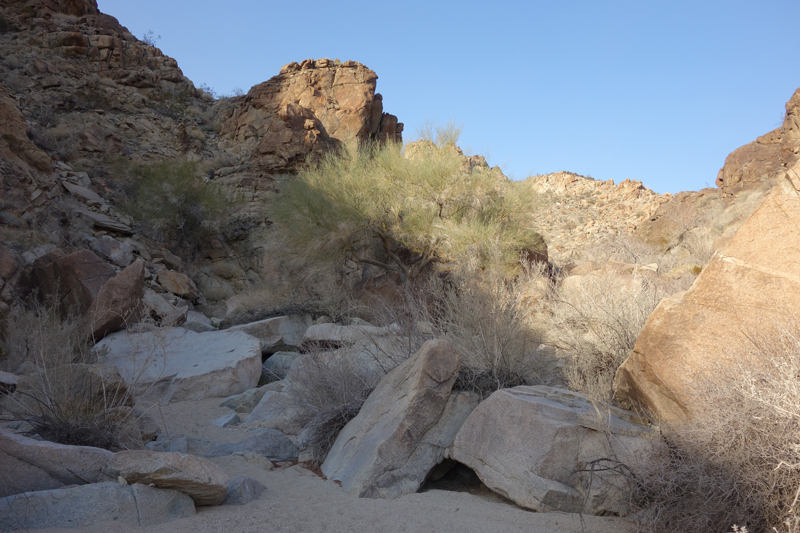 The bouldering above was a little more difficult than it needed to be, since I was using an external frame pack. Would have been much easier with an internal frame pack.
Carey's Castle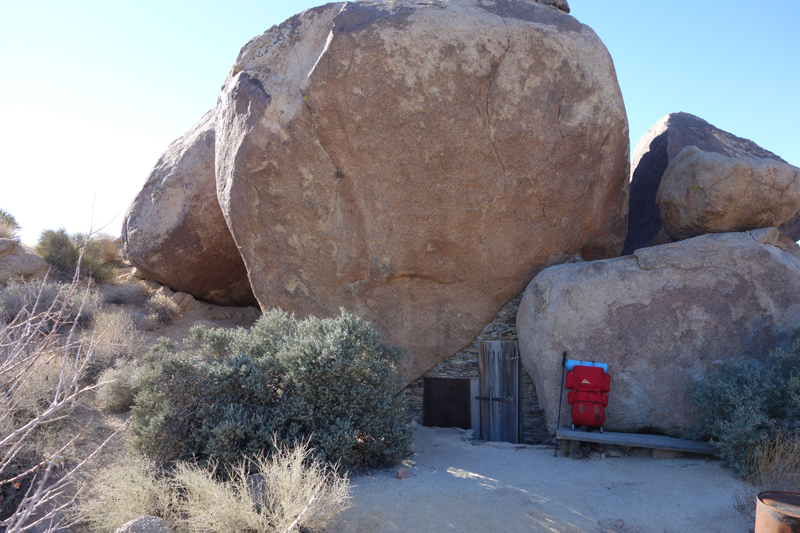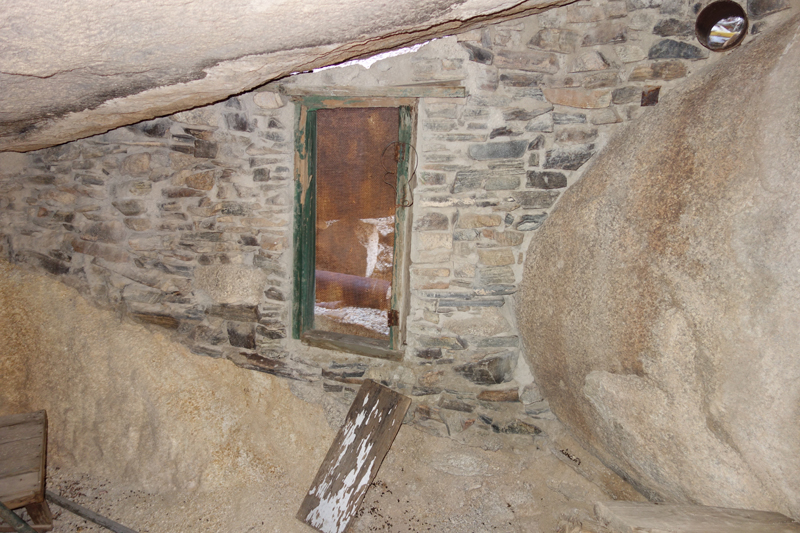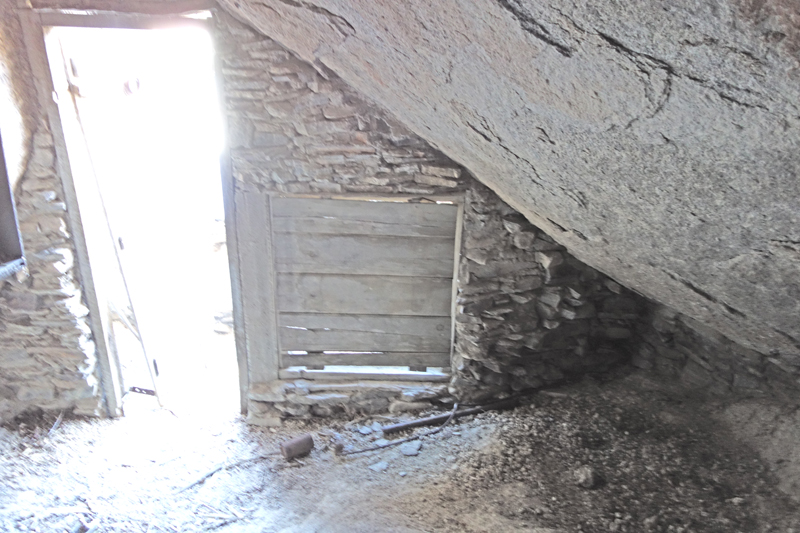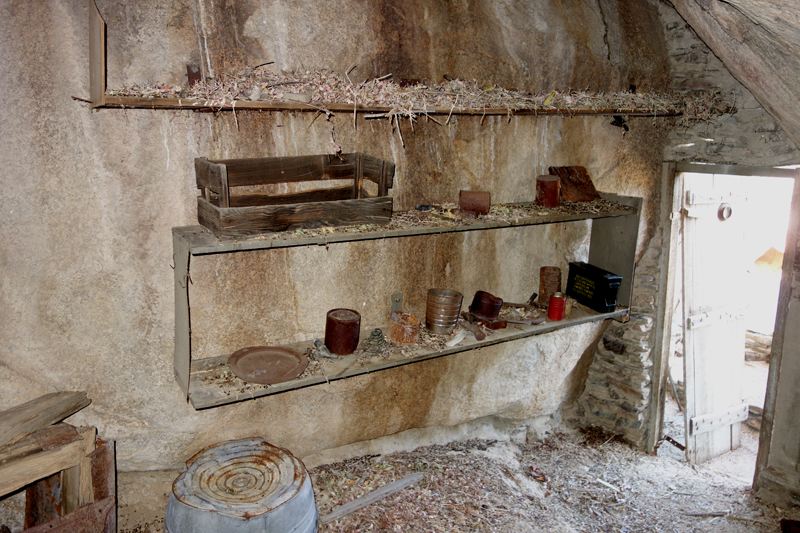 There is an ammo box with a couple journals dating back to 2005 on the lower shelf. Amazing how many people said it took them 2 or 3 tries to find the place. Lots of artifacts are now missing.
Other Stuff along the Way
Gear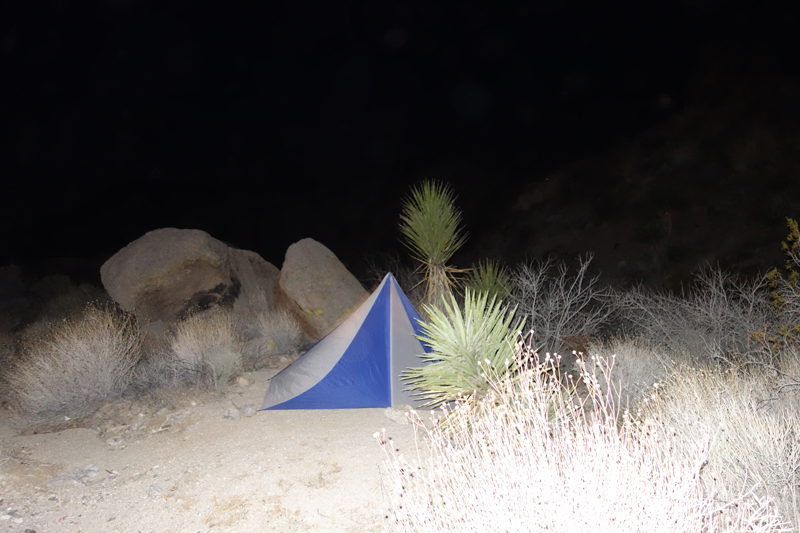 I was glad I brought this pyramid tent; it shed the high winds that blew most of the night.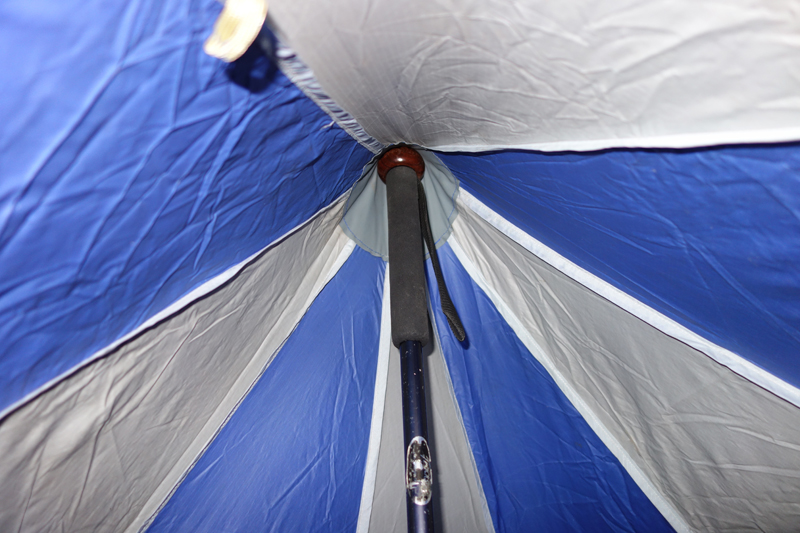 Hiking staff doubles as tent pole.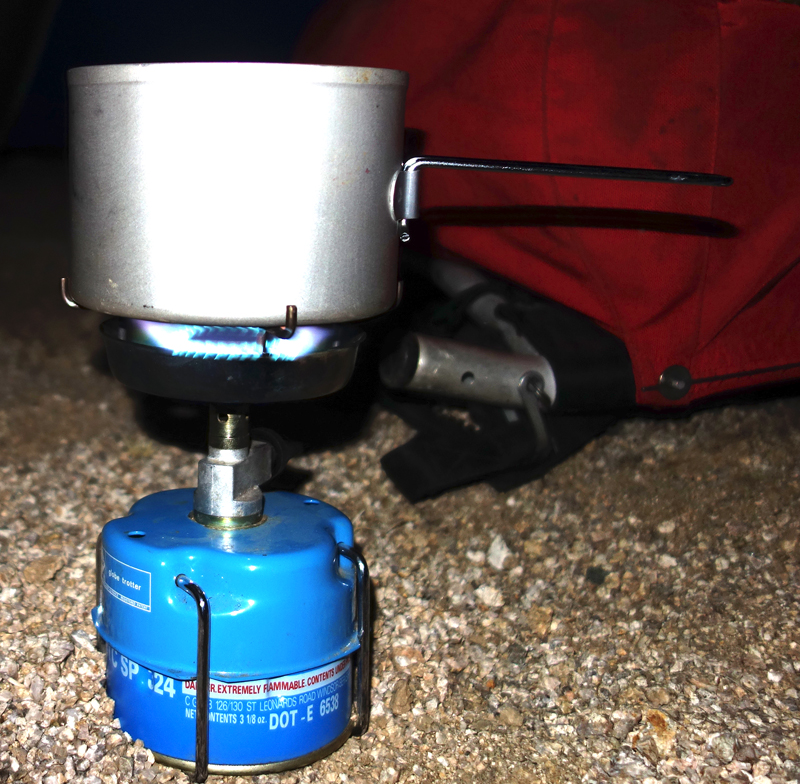 The tent is large. Ample space to cook inside (vent tent of course).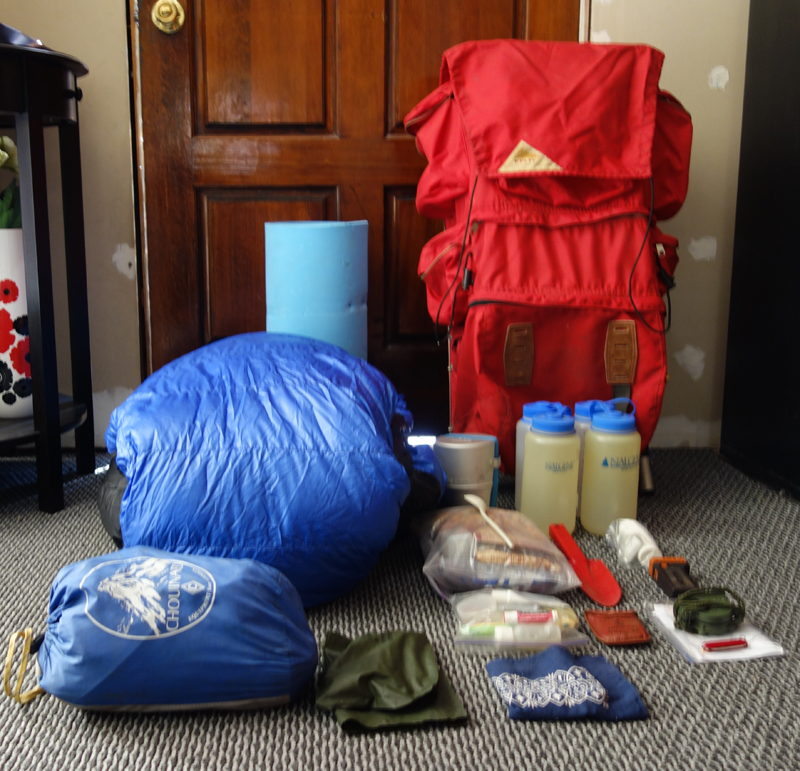 Left to right, top to bottom (sort of):
Traditional blue foam pad
Kelty Serac backpack with Mountaineering frame
Western Mountaineering Ultralite
Gaz Globe Trotter Stove kit
(4) Nalgene 1 quart bottles
Food with spoon on top, plastic trowel, toilet paper, Duracell Durabeam flashlight
Chouinard Pyramid Tent
Stuff sack for down jackets
First Aid Kit and Personnel Care items in Zip Lock
Chouinard Expedition Sewing Kit
Compass and Knife on top of Topo Map
Clothing Carried in Pack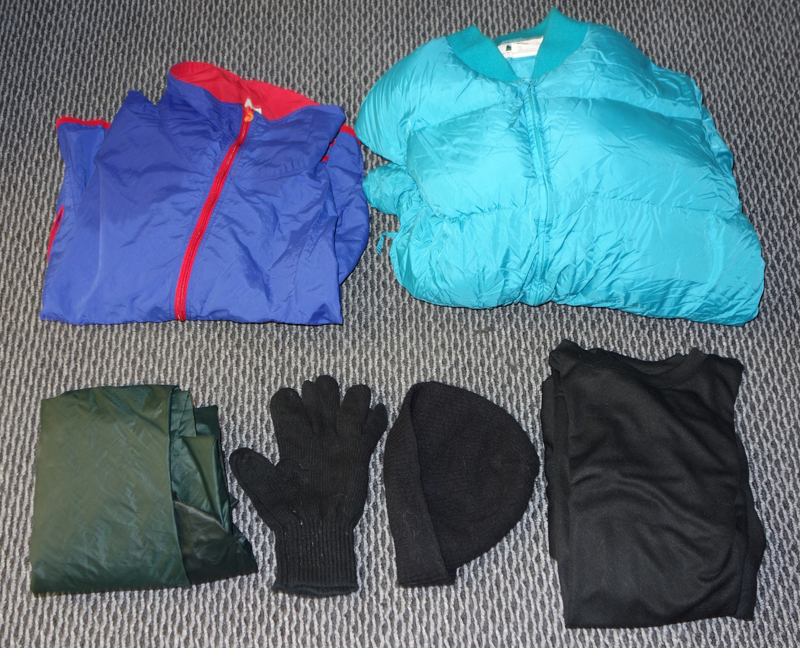 Sierra Designs Wind Jacket, REI Down Jacket
Poncho, military wool glove liners, military wool watch cap, polypro underwear
Worn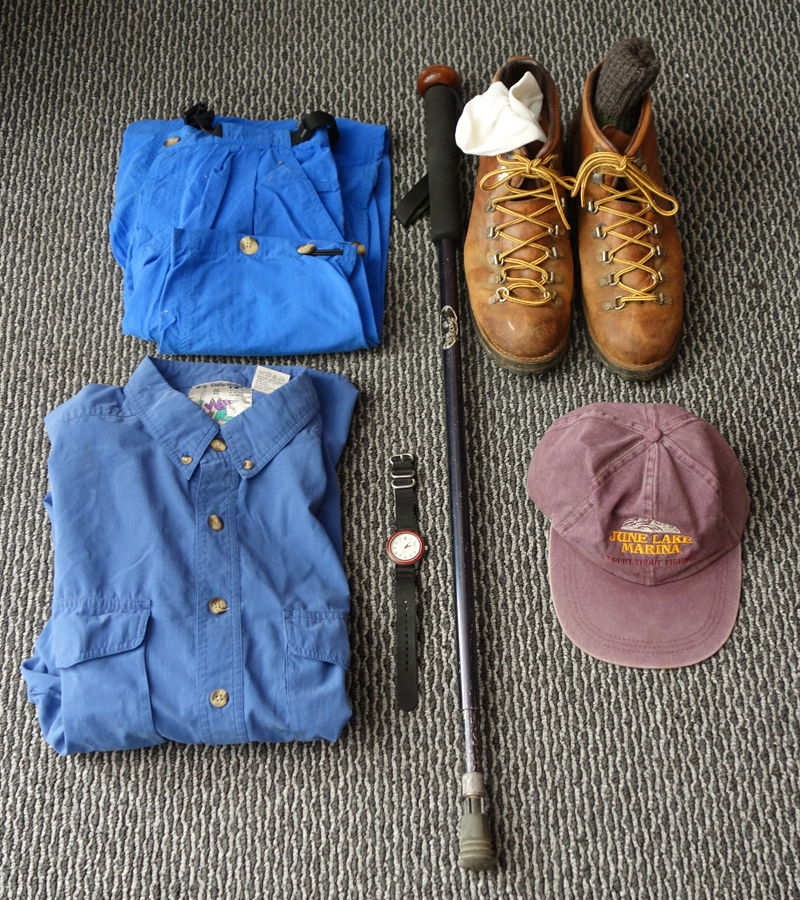 Ex Officio nylon trousers with built-in brief
Ex Officio long sleeve nylon shirt
Swiss Army Watch
Tracks Hiking Staff
Danner Mountain Light boots
Liner Socks
Wool Socks
Generic hat
 Gear Summary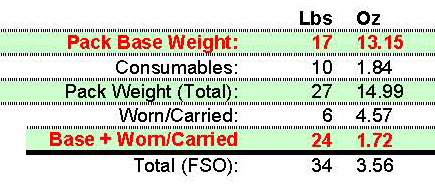 Itemized Gear List