DAD'S EXCELLENT MEMORIAL DAY WEEKEND ADVENTURE
Several months ago, there was an interest in Southern California hikers on backpackinglight.com getting together for a trip. Going on a group trip is something I have never done. But in the spirit of the BPL community, I offered to plan a trip that I had done last year. I wanted to limit it to 4 people max.
 Craig Wisner "signed up" for the trip right away. No one else from BPL asked to join.
The planned trip was:
Day 1: The desert floor in Palm Springs to the Summit of Mt. San Jacinto, then 1 mile down to Little Round Valley.
Day 2: Little Round Valley to Cedar Springs.
Day 3: Cedar Springs to Palm Springs where we left our vehicles.
The trip was planned in January, but due to a record snowfall, I decided to change it a little bit at the last moment. There was still so much snow on the ground that summiting Mt. San Jacinto might require an ice axe and crampons, extra gear I did not want to carry on such a long trip. So Craig and I agreed to skip the summit, shortening the trip by about 7 miles.
I also was not sure about hiking with someone I did not know personally. It seemed to me that personality could make or break a trip. Also, I am almost twice Craig's age, and he is in great physical shape, running 50K races as a hobby. My concern was that I would hold him back, possibly causing strife. Lastly, based on posts on BPL, we seemed diametrically opposites in regard to our politics and our view of the world.
But as we kept in contact via email during our planning for several months, I began to feel that he might just be a good fit as a hiking partner.
On Saturday May 29 we met at the Palm Springs Art Museum at 4:45 AM. After greetings and such, we hit the trail at 5:00 AM. The planned hike for the day would be to hike up to Long Valley (the area of the Palm Springs Tram), and then on to Wellman Divide for a night camp.  Camping in the State San Jacinto Wilderness is only permitted in specific campgrounds, but in winter snow camping is permitted outside of the designated areas.
It was a beautiful morning as we headed up the trail and the sun started to rise. We took our time and we stopped many times as I pointed out geographic points in the Coachella Valley below. The high temperature for Palm Springs was predicted to be in the 90's, but as we gained altitude we maybe had a high of around 80-85 degrees F.
The hike to Long Valley is 11 miles with an elevation gain of 8,000 feet. This is known as the Desert Skyline Trail. It is not an official trail, and the government agencies and Riverside County Rescue Unit do not like the trail, because the majority of rescues and deaths in the San Jacinto's occur on this trail. From Long Valley, it is another 3 miles to Wellman Divide, and 2 of those miles would be in snow. This 2nd section is a 1,000-foot elevation gain from the Tram Area. We both wore ultra light cross country racing flats, instead of boots or trail running shoes, and we carried plastic bags to be used as waterproof socks (ultra light!), in case we would need waterproofing for our feet in the snow. As it turned out, we never used the plastic bags.
During the strenuous Skyline hike, we had a great time discussing all kinds of topics and getting to know each other. I brought a camera, but was enjoying myself so much, that stopping to take pictures would have been a distraction. So I don't have many pictures to share. Sometimes a camera becomes a heavy burden for the mind.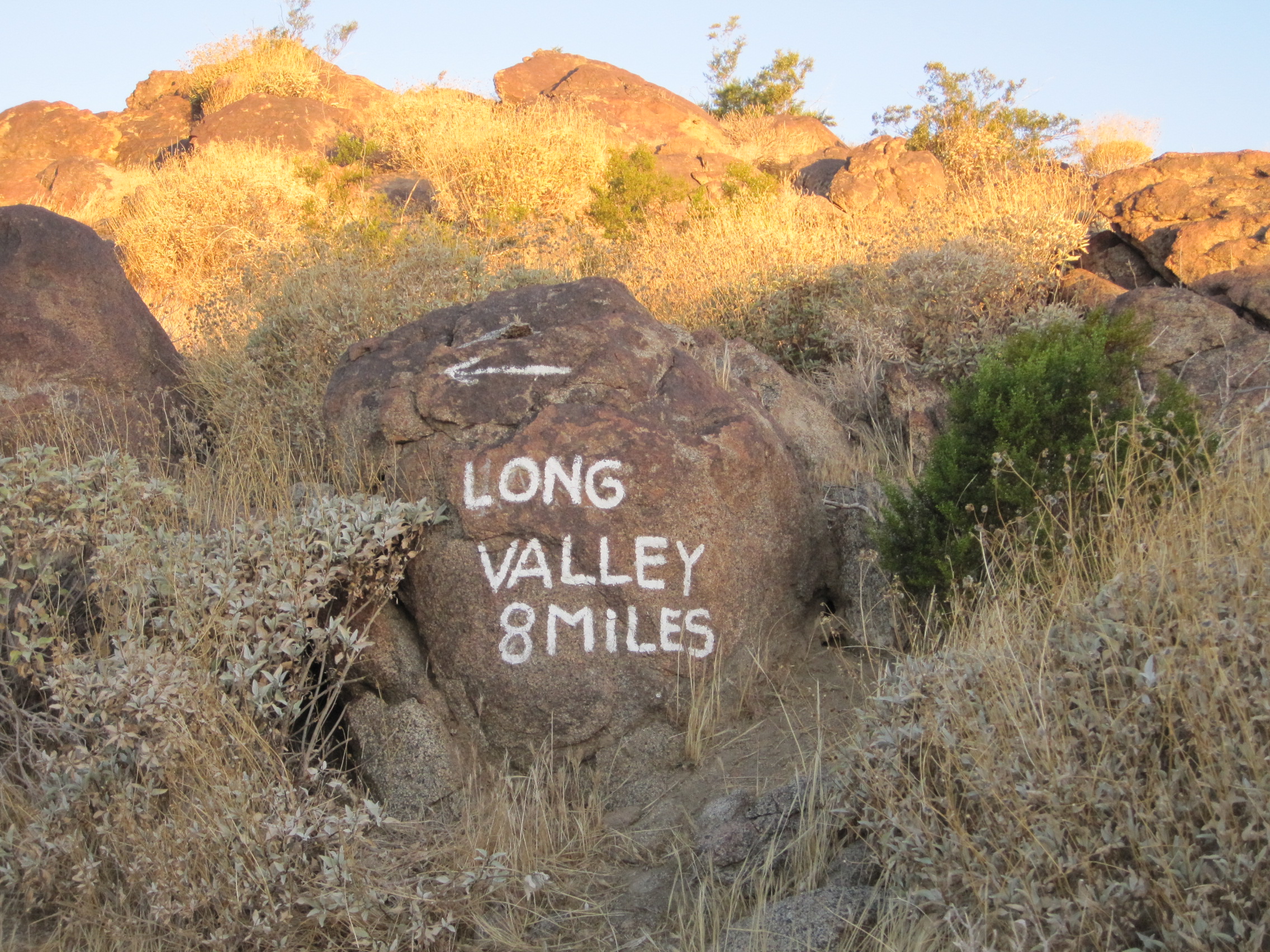 The "8 MILES TO GO ROCK"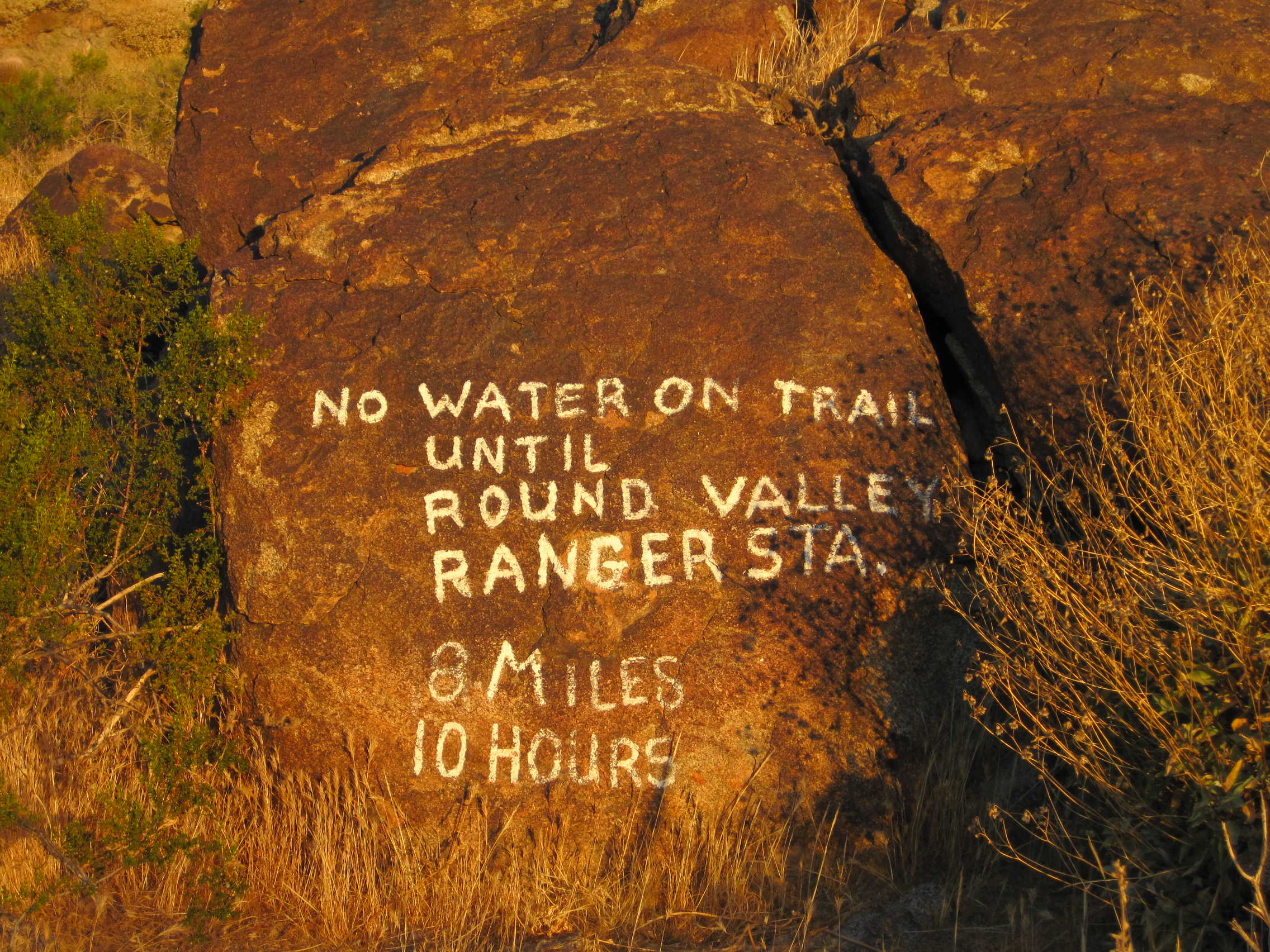 The "8 MILES THERE IS NO WATER ROCK"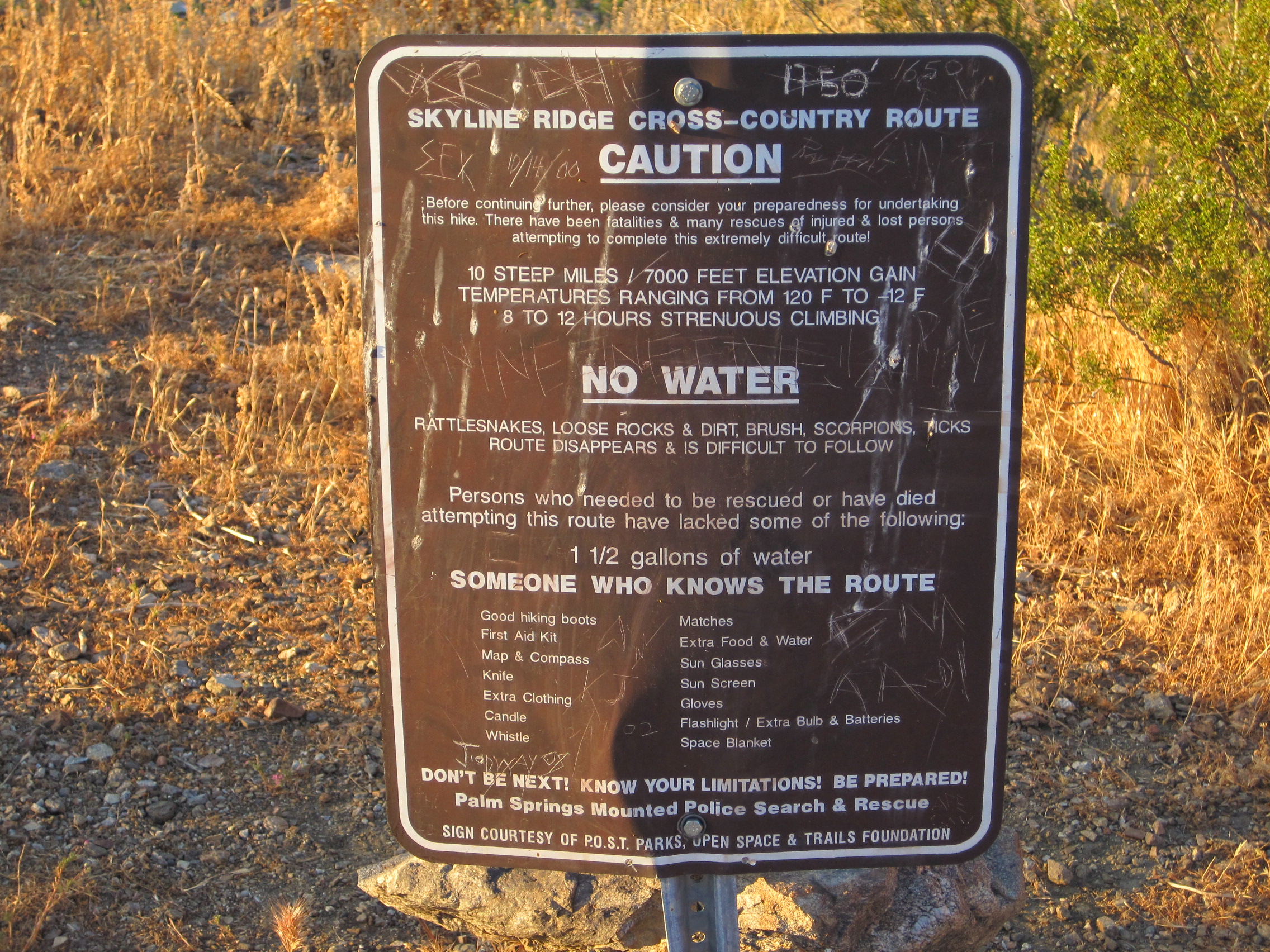 The "YOU MIGHT DIE SIGN" about 2 miles into the hike
We made fairly good time, finishing the Skyline Trail in about 8 hours. At about the 9-mile mark, I landed heavily on a pointed rock, and it felt like I had bruised the ball of my left foot. I mentioned it to Craig, and told him that it was bothering me, and wanted to stop to check it out, once we topped out near the Tram. Craig had forgotten his lip balm, so we agreed to take a break below the Tram station. I would check out my injury, and Craig would hike up to the Tram Station and purchase some balm. As we walked, it felt like I might have damaged the sole of my shoe, and it could have cracked it, causing the split to pinch my foot. These are light shoes, only weighing 7.4 ounces each. Once we got near the Tram, I stopped at the Ranger Station to refill one of my water bottles. I had already finished the last of my 4 liters when we got to the Tram Area. So while Craig was getting his balm, I inspected the shoe, and it was okay. I figured it was just a bruise, and did not look at my foot. Craig filled one bottle with water, as we would fill the rest of them at Round Valley, which would be about a mile from the area we would stop for the night.
About a mile after we left Long Valley, most of the trail was covered with snow all the way to Round Valley. We stopped in Round Valley to fill our water bottles for dinner, breakfast and drinking water for the next morning. Craig added purification drops to his and I used purification tablets. The water was ice cold, coming out of a piped spring. While we stopped, two groups of hikers arrived, all carrying humongous packs.
We now had one mile to go, with a 500-foot elevation gain ahead. No trail, all snow. At the top, in a saddle, we found a wonderful dry campsite among all the snow, tucked inside a ring of boulders and surrounded by trees.  Day one was now completed, 14 miles of some very hard hiking, gaining 9,000 feet in elevation. The sun beamed down on us until it set, and surprisingly also beamed down on us in the morning when we got up. I will attribute that to skillful site selection.
We quickly set up camp and cooked dinner. I had a freezed-dried Mountain House brand spaghetti dinner, and was jealous of Craig's Ramon noodles with fresh spinach and mushrooms. We celebrated the first day with a little whiskey Craig provided. During the night, the wind probably dropped the temperature down into the 30F's but we were warm and comfy. Craig in his Western Mountaineering SummerLite sleeping bag, and me in my Nunatak Arc Specialist quilt. During the night we were entertained by a full moon and of course a star filled sky. We slept on plastic sheets and pads. No shelter to hide our view of the world.
Craig is a get up and go without breakfast kind of guy, preferring to eat cold food while hiking. But he was fine waiting for me to cook my oatmeal and coffee for breakfast. We both have a similar backpacking style, and can pack up and leave in the morning in a matter of minutes. Before we left, I inspected my left foot, and the entire ball of my foot was one huge blister. Craig used to be an EMT, and is very knowledgeable.  We determined it was not a friction blister, but caused by trauma, and had grown during the previous day's impact and continued hiking. Since the blister was into the folds of my toes, I felt it was best to leave it and not lance it. So we hit the trail.
It took a few minutes to traverse some snow and boulders to find the trail down through Wellman Cienega and it was snow free for maybe ½ mile. But as we descended the route became all snow for about a mile or more. Our racing flats worked perfect, and Craig led the way kicking steps in the steep sections. The coolness of the snow soothed my foot, and I was able to keep a steady pace. We met a few hikers along the trail. Once we got near Saddle Junction (3 miles into our hike), we saw the largest pack I have ever seen, and strapped to the top was a huge bag of dog food. The owner was not around. There was no snow at Saddle Junction (8,500 feet).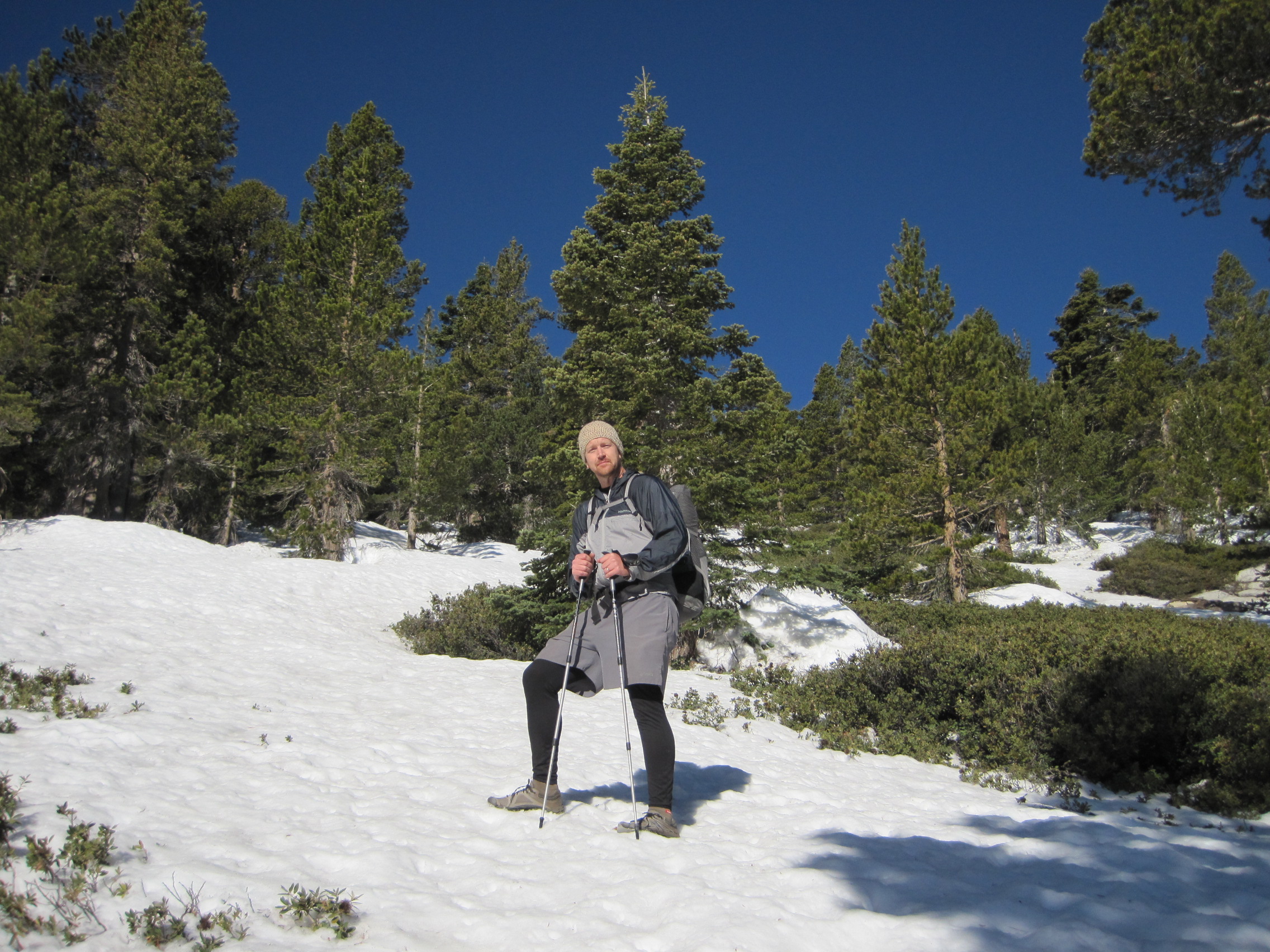 CRAIG LEADS THE WAY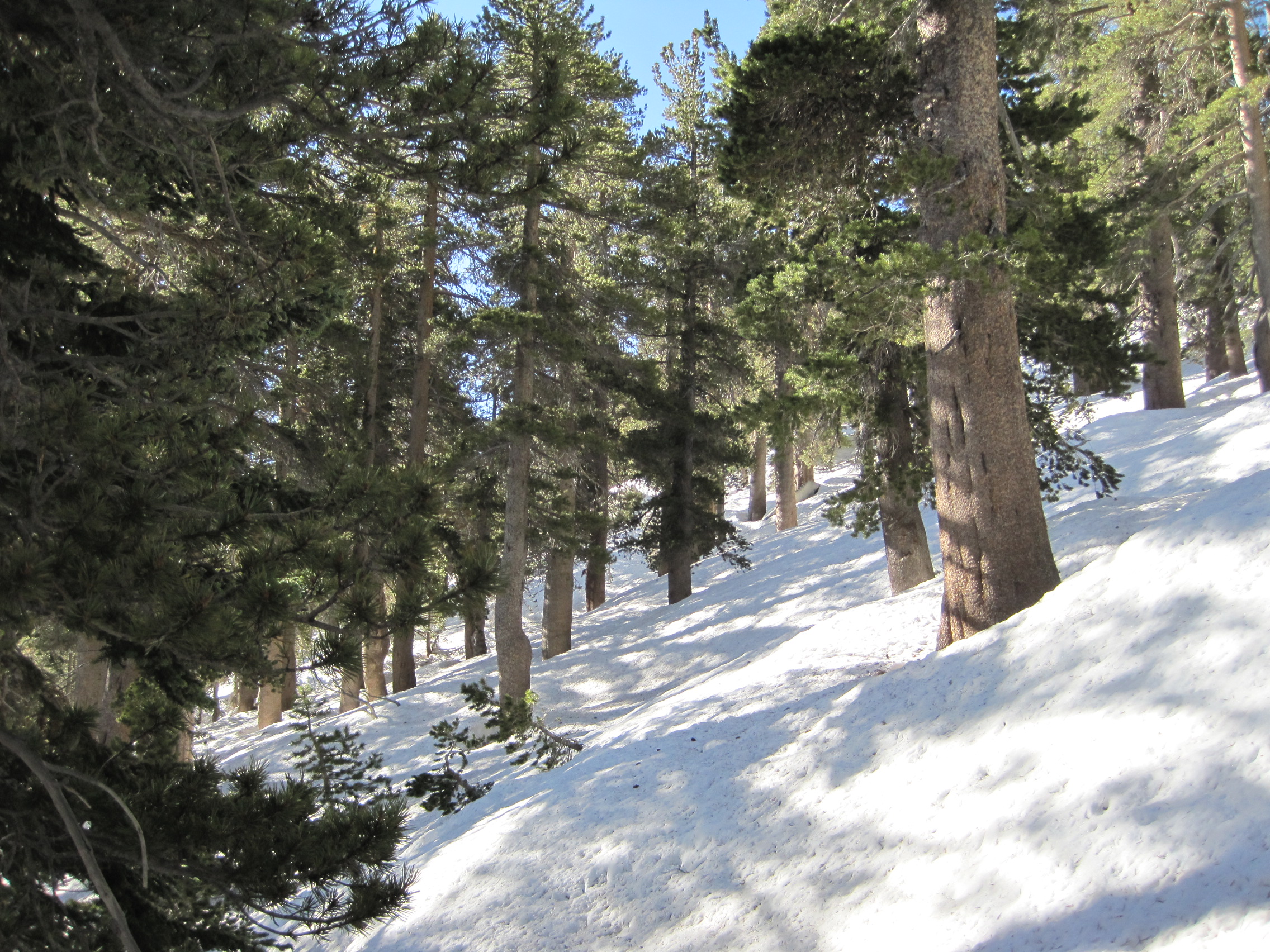 Hmm…. WHERE'S THE TRAIL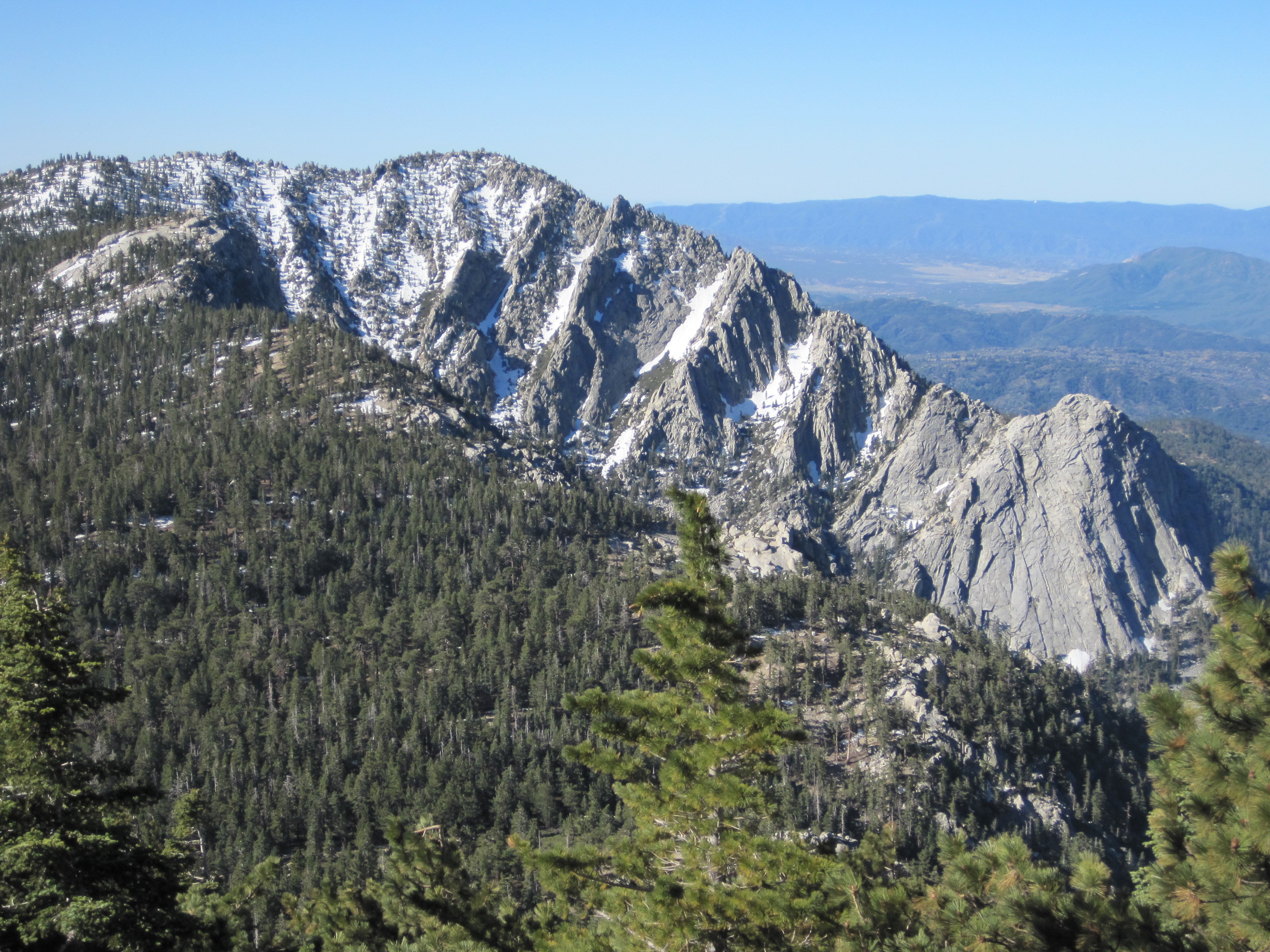 SOMEWHERE DOWN THERE IS SADDLE JUNCTION
As we hiked a wide trail side-by-side, we resolved most of the world's problems, and we missed our junction to the Pacific Crest Trail. My fault. I have been on this trail many times. When I finally realized we probably were on the wrong trail, and we turned around, it was a 6-mile mistake round trip!! So we turned around and headed back. I felt so bad, and kept apologizing, but Craig would hear nothing of the kind. On the way back, we passed the owner of the huge pack with dog food and his SAINT BERNARD dog. Wow, what a huge animal.
We got to the meadow in Little Tahquitz Valley around noon, and filled our water bottles, as it would be 15 miles to our next water source, and wewould be hiking many miles in the hot sun, when we dropped down to the Desert Divide section of the PCT. We had done 9 miles in 5 hours, including a slow-down over the snow.
As we headed out, we soon encounter a several miles of no trail but snow, some of it up to 4 feet deep, and at only 8,000 feet elevation.  Craig again led the way, and set the pace, kicking steps where we needed them on the steeper slopes. We finally cleared the snow and started down towards the Desert Divide and dry trail. My foot started to hurt, and we stopped for water, a check of the map, and a plan for the rest of the day. If I could not make it to Cedar Spring, we could take a one-mile detour to Apache Spring for water. But we would have enough water even if we had to camp before our next source. I felt I could make all the way to Cedar Spring, but knowing the trail, told Craig we might not get there until 8 or 9 PM. So, that being resolved, we enjoyed the view of South Peak, Spliter Peak, Anstell Rock and Apache peak; while snacking on Cliff Bars, junk food and enjoying our cold water. Most PCT hikers do this section from south to north, and often do not get to appreciate the view we would have for the few hours.
While we were soaking in the view, a group of hikers approached. The last hiker was Glen Van Peski, the founder of Gossamer Gear, a well known ultra light equipment manufacturer in Austin, Texas. I had met him a year ago on the same trail. Amazingly, he recognized me and even remembered my name. The guy must have a photographic memory. I own many pieces of gear made by his company. After a brief conversation of trail conditions they were heading towards, Craig and I got up and resumed our hike. Even with my sore foot, I was able to go non-stop with an occasional break for water and a snack. We had a wonderful time, other than the parts of the trail on the east side of the divide that are high desert and the sun that beat down on us. Amazingly, we would hike in high desert for a while, then traverse up to pine trees; over and over.
Once we passed the Apache Spring turn-off, we descended towards Fobes Saddle, a trail section that is mostly shade. We got to the Saddle around 6 PM, and my foot was rather sore, but not enough to stop me. I know the blister had popped, as there was no longer a hump on the ball of my foot. At Fobes Saddle, we met a couple of guys with large packs, who were setting up camp in the scrub oak clearing that is often used as a cache on the PCT. They were on a multi-day trip, with conventional heavy gear. Of course a talk about equipment ensued, and they were in disbelief when we told them each of our complete kits weighed less than one of their empty packs. I let one of them lift my pack, and then shocked them when we told them we were going on to Cedar Springs (5 miles away) that day. We quickly climbed the seemingly endless switchbacks out of the saddle, leaving the desert for a cool pine forest high above the desert to the west, and Garner Valley to the east. We saw some people stealth camping in the forest, as we approached the ridgeline of a manzanita forest. This section of the trail is mostly rocks, and I slowed as I tried to avoid as many rocks and stones as possible. We soon got to the Cedar Spring turn off, and descended the mile down to the spring. It is amazing that we were dropping down in elevation from high desert and into a lush forest of incense cedar. It was now 9:00 PM. I was almost out of water, and while Craig set up his site for the night, I filled my water bottles. For dinner I had one my favorites, freeze-dried Mountain House Lasagna with meat sauce. But what really looked good was the bean burrito Craig built for himself. We chatted for a while, and contemplated what our mileage for the day was. It was 24.3, as I determined later from the mileage markers on our Harrison Map. It was much warmer than the previous night, as a camp was at 6,400 feet elevation, more than 3,000 feet lower than the first night's camp.
The next morning was a quick cup of coffee, and a couple Cliff bars. Craig filled his bottles at the spring, and we started the last leg at 6:30 AM, which would be a 12.7 mile hike, and a 5,500 foot elevation drop. As we crossed Garnet Ridge into the West Fork of Palm Canyon, the temperature rose quickly. Traveling with no shade at all, the temperature was right around 100F when we arrived at the Agua Caliente Indian Trading post at around 11:30 AM. Craig got the Coca Cola he had been craving for 3 days, and I feasted on a Popsicle. From there we hiked about 4 miles in the heat of the day. Once we got into the business section of Palm Springs, we decided to take a bus the last two miles. No use hiking through the city, and Craig had a 100 mile drive back home, with the possibility of holiday traffic. The bus had a much-welcomed air conditioning system, and we were quickly near the starting point of our hike. Craig treated me to a Starbuck's Frappacino, and we hiked the last two blocks to our vehicles. And that was our Excellent Adventure, with an Excellent Hiking Partner.
My Gear List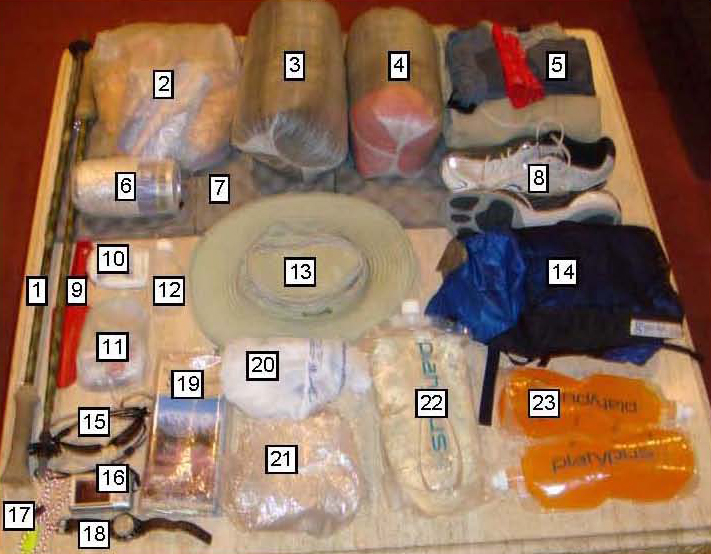 GG LT4 Trekking Poles
Food
Quilt
Spare clothes
Worn Cloths
Caldera Cone, Stove, Lexan Spoon
GG NightLight Torso Pad
Saucony Shay Racing Flats
Trowel (required by regulations
First Aid Kit
Personal Items Kit
Fuel Bottle
Tilley Hat
GG Murmur Pack
Maui Jim Bifocal Sunglasses
Camera
Micro Light and Whistle
Timex Watch
Map
Plastic Bag Water Socks
GG Polycro Ground Sheet
2 L Platy
1 L Platy (2 ea)
Pack Base Weight (all gear including the pack): 3 lbs 14.8 oz
Consumables (water and food): 12 lbs 7.3 oz
Pack Weight (Total): 16 lbs 6.0 oz
Worn Items:  3 lbs 8.4 oz
Total (From the Skin Out): 19 lbs 14.4 oz
Itemized Gear List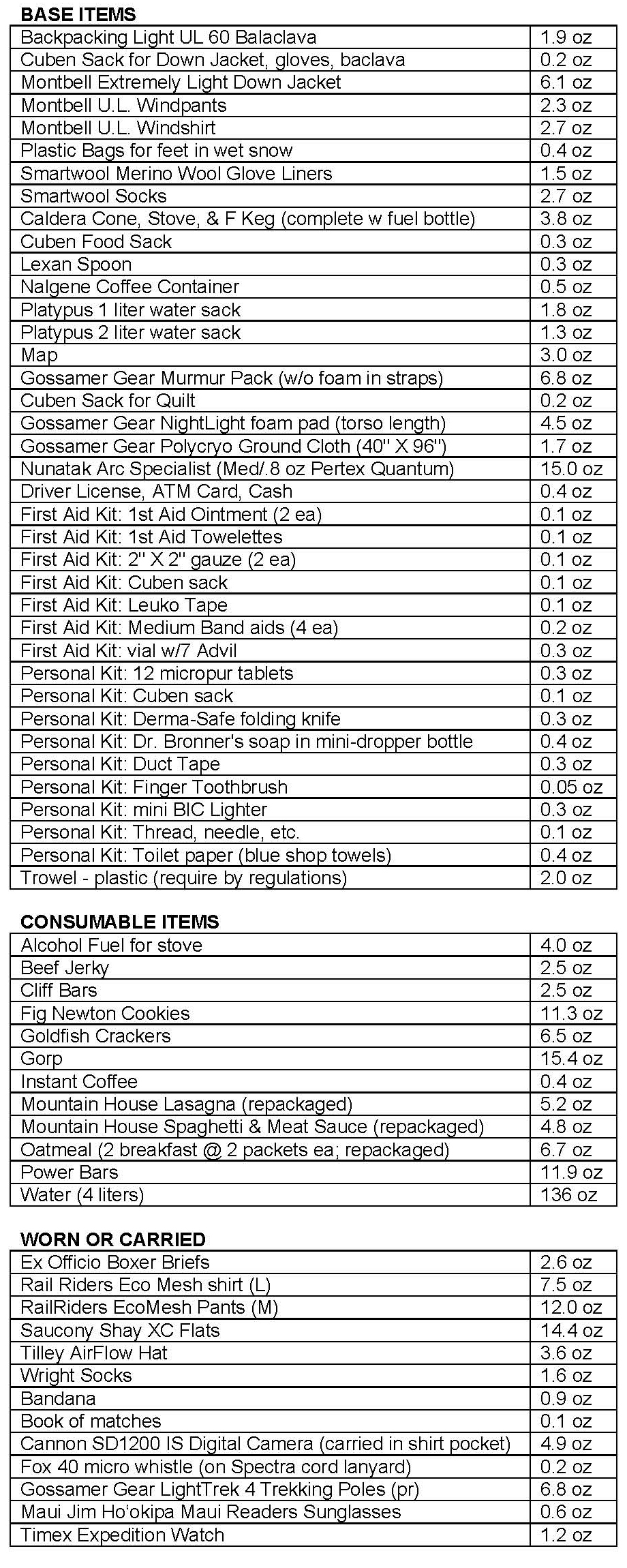 My Backpack On The Office Chair For A Size Perspective