My last post was a review of the book Grandma Gatewood's Walk. Toward the end of the article I mentioned that she was a founding member of Ohio's Buckeye Trail Organization. One of Emma's favorite hiking places was a section of the Buckeye trail in Hocking Hills, Ohio near a place named Old Man's Cave.
So not much more than a week after I read about Emma Gatewood, I decided to head to Ohio and do some Buckeye Trail backpacking. This, like many of my trips, was a last minute spur of the moment decision.
The Un-Plan
Unlike many people who spend weeks and/or months planning a trip, my trips are usually spur of the moment events. I landed in Cleveland with a general plan of driving towards Hocking Hills and hiking the section of trail there. I knew very little about the trail and somewhere in the cobwebs of my brain thought it ran north/south from Lake Erie to the Ohio River.
Once off the plane and in my rental car I did an Internet search on my iPhone for "Buckeye Trail Hocking Hills" and one of the first hits was this…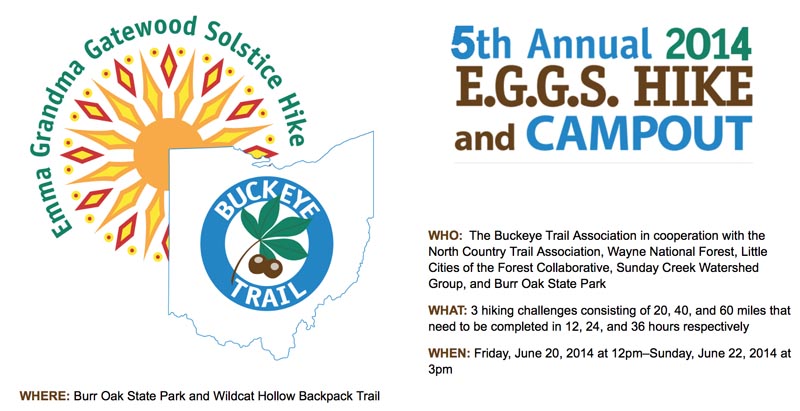 Oh, oh! Burr Oak State Park appeared to be close to where I wanted to go, and an organized hike, campout, and competitions sounded like hordes of people descending – the last thing I would ever want to do. But, I was in Ohio — so a new plan was needed — quickly.
The New Un-Plan
A Web search showed that the Buckeye Trail was actually a big loop within the state of Ohio. Not only was it a big loop, but there was a second smaller loop connected at the northeast of the main loop. I cannot remember any major long trail to be a loop.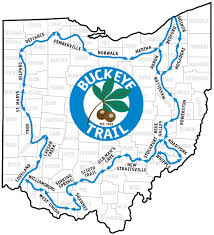 I also noticed the northern terminus of the trail to be far enough away from the organized thing-a-ma-jig at Burr Oak State Park. So I headed to the northern terminus at Headlands State Beach on Lake Erie. I would start at the northernmost tip of the Buckeye Trail and hike south on what is formally call the Bedford Section of the Buckeye Trail. My hike would end at the southern end of the Brecksville Reservation. Highlights of the trip were hiking through the swampy Mentor Marsh, the gorges, ridgelines, forests, rivers, and streams in the Bedford and Brecksville Reservation.
Ready, Set, Go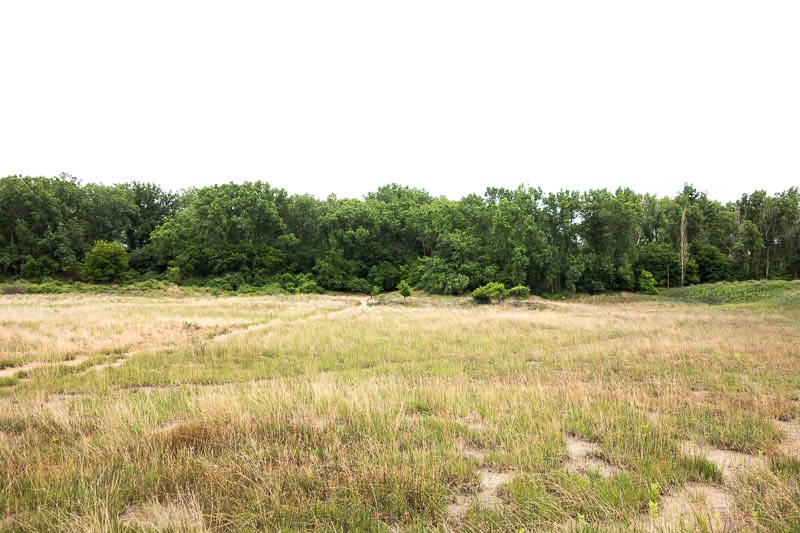 After dipping my toe in Lake Erie, I hike back across the grassy sand dunes, through the tress, across the beach parking lot, through some woods, down a street, past a pond, and finally entered the Zimmerman Trail, which is part of the Buckeye Trail (BT).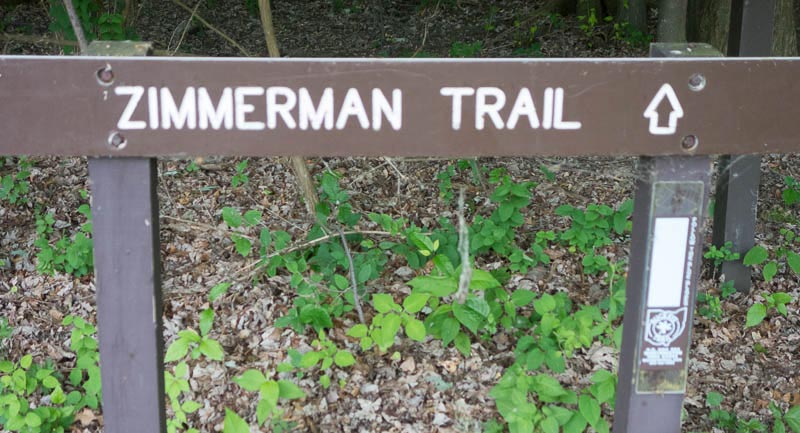 Navigating the Blue Blazes
Something not common in the west, but very common in the east, are the "blazes" on the trees to mark the trail. The Appalachian Trail uses white blazes, and I have seen blue blazes on some of the connector trails to the Appalachian.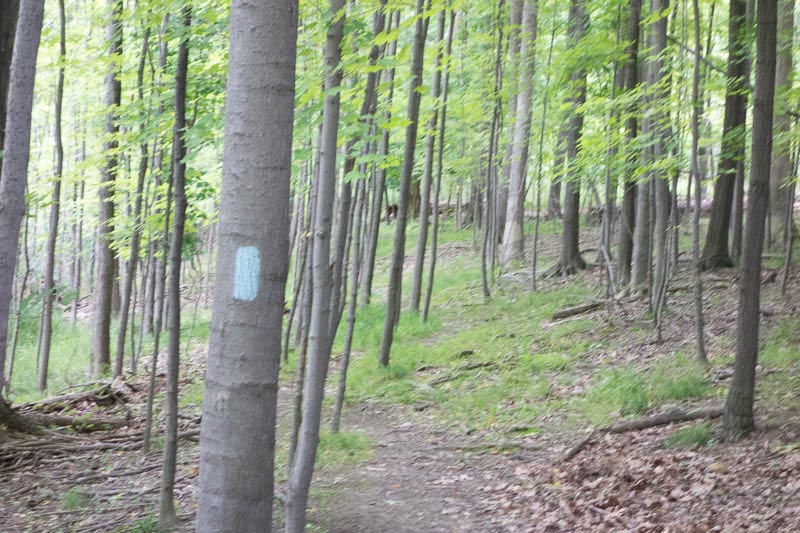 I found the BT very easy to navigate when I was in a forest, State or National Park, a nature preserve, or state reserve. No map or compass needed. But what I found particularly difficult was navigating when the BT entered a town, city, or developed road. In these places there were no blazes and signage was minimal. I perservered and found my route though.
West vs. East
Out west, where I normally hike, trails can be hundreds or even thousands of miles long without intersecting or venturing into a town or city. On these trails, going into civilization to re-supply is a detour and I like that it is. Last year when I started hiking sections of the Appalachian Trail, I quickly learned that the trail often is close to towns, cities, roads, and people.
And the Buckeye Trail is similar. Often the trail goes through towns and cities; man-made roads, asphalt paths, abandoned railways, and canal towpaths. But there is enough wilderness to make the trip worthwhile – at least on the Bedford section I hiked.
The BT often goes through towns. Also the BT many times will parallel a road, another trail, or even a paved biking/hiking trail. After a while I forgot about the close proximity to civilization and settled into a rhythm of simply enjoying the trail, most of which, was off road.
Apparently when and if there is a campsite available, one needs a reservation. Not a problem for this intrepid hiker; I am an expert stealth camper and my zPack Hexamid  kept me dry and comfy.
Rain and more rain
About an hour and a half into my hike, which was late in the day, I stopped to cook dinner before continuing on. In a matter of minutes the weather went from this…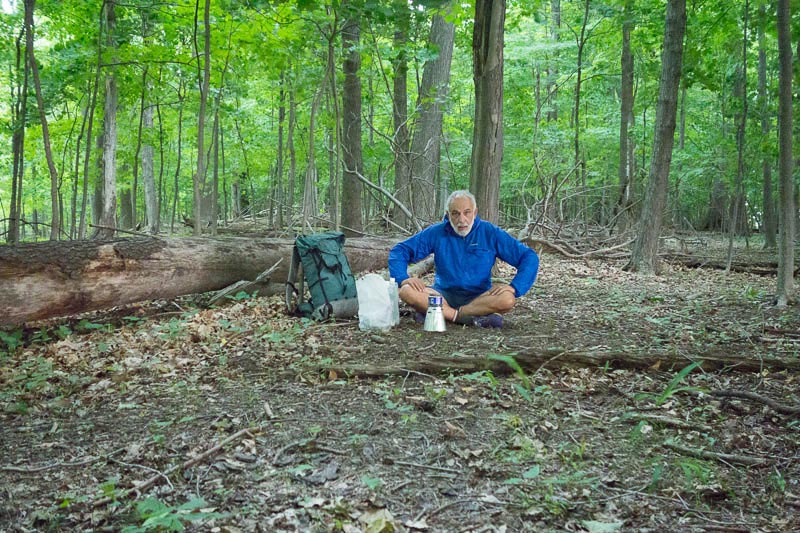 to this…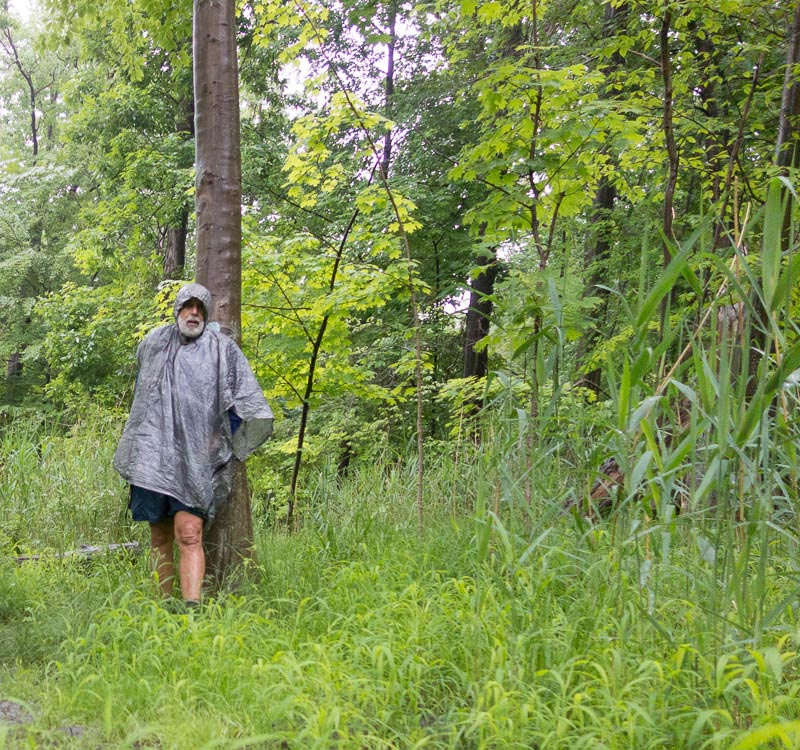 And in a matter of minutes a fierce thunderstorm turned the trail from this…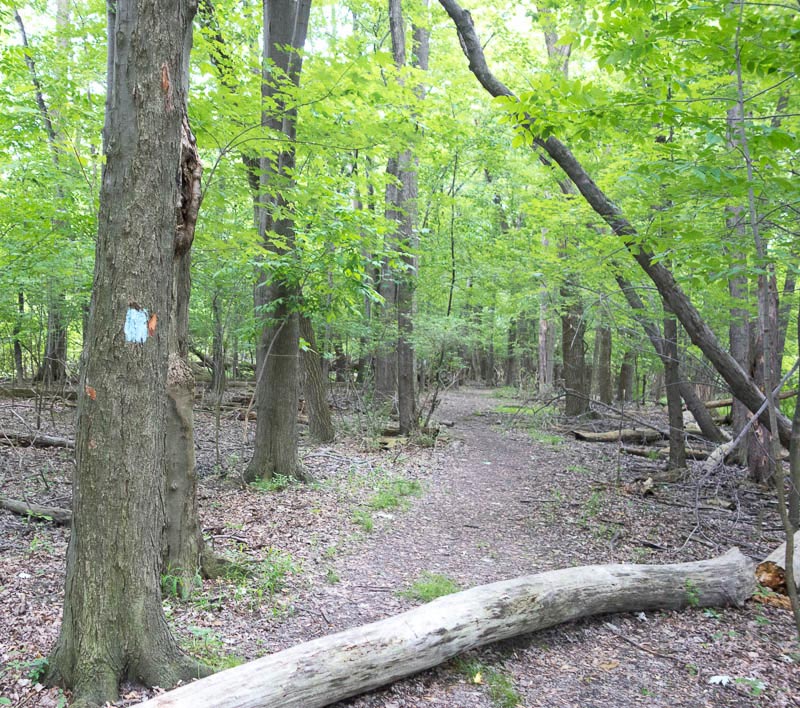 To this…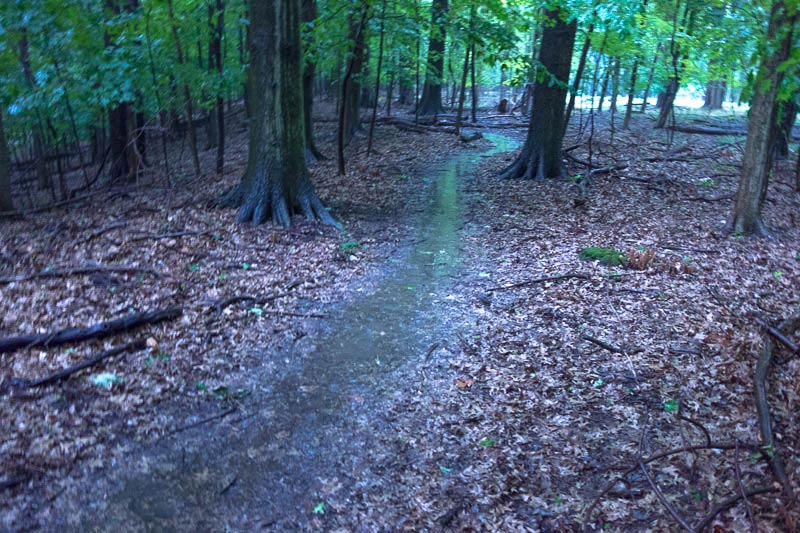 I did endure quite a bit of rain. Lots of rain. Rain that continued for nearly 16 straight hours. Rain that turned trail into streams. Trails that when not underwater were mushy slip 'n slide affairs. But I marched on with wet feet. Happy feet and Happy me. I rarely get to hike in this kind of rain and it was fun. I was cool, but dry.
 The Rest of the Story