Cooking in a camper is different than when on an ultralight backpacking trip. UL backpackers usually try to pare down the weight of every item, so small stoves and instant foods are the typical fare, not to say the backpacker can't get fancy and prepare some outstanding foods from scratch.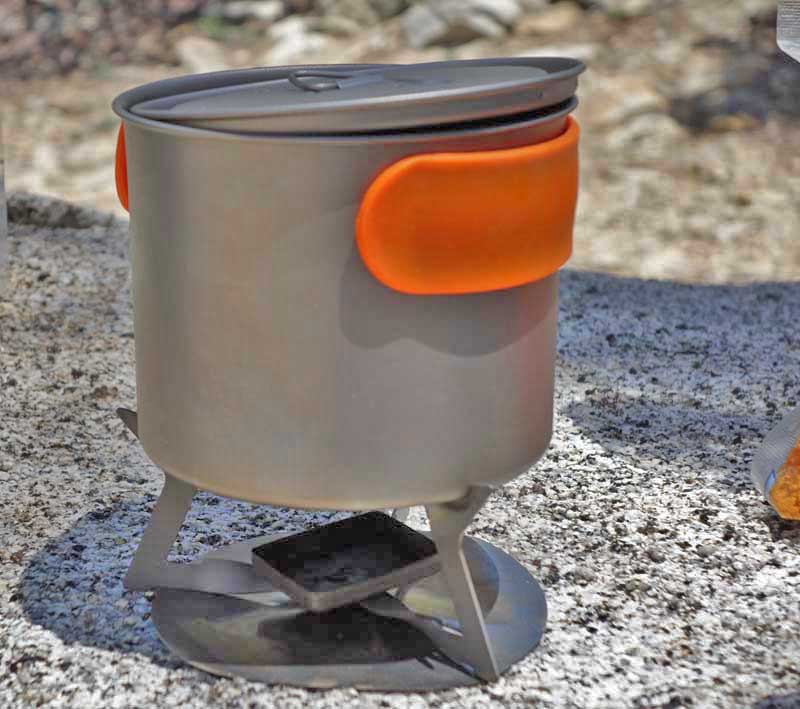 But camping lends itself to gourmet cooking.
First off, most RVs/campers have a refrigerator or the ability to store fresh foods in an ice chest. With the availability of fresh ingredients and much more storage space, the camper will usually opt for a stove that can handle meal preparation, just as you would at home.
For those who own a camper, often the easiest and most convenient stove is already inside the camper. But hey, you are camping and the best place to cook is outside. Plus you won't stink up the interior with food smells. At times we cook in the camper, mostly in winter when the temperature is below 40F.
STOVE SOLUTIONS WE USED IN THE PAST
1992 Starcraft Meteorite
Below, the stove in the foreground is the stove that came with the camper. It is portable and can be hung outside on the side of the camper. It was somewhat cumbersome, so we installed a permanent 3-burner stove and bought a typical propane camping stove. We always cook outside in conjunction with a Weber Baby Q grill.
2006 Fleetwood Niagara
This camper came with a built-in 3-burner stove.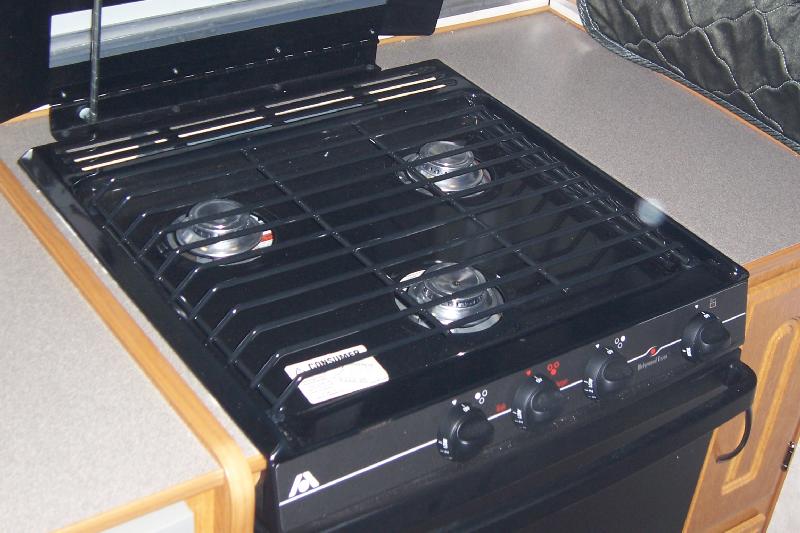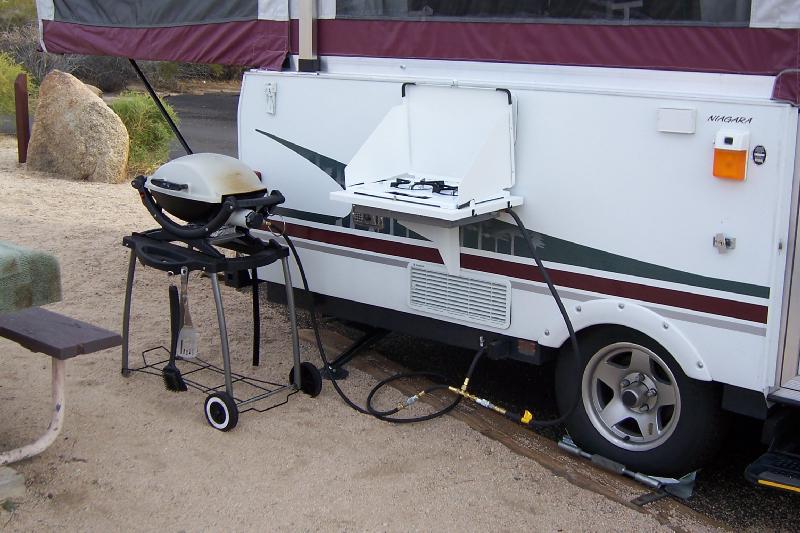 We complimented the Baby Q with a factory outdoor stove that was portable and could be hung on the side of the camper. It was anemic at best.
2014 Eclipse Milan 26RLS
This camper came with a stove that was nearly identical to the Fleetwood, but has a piezo-electric starter for the stove top burners.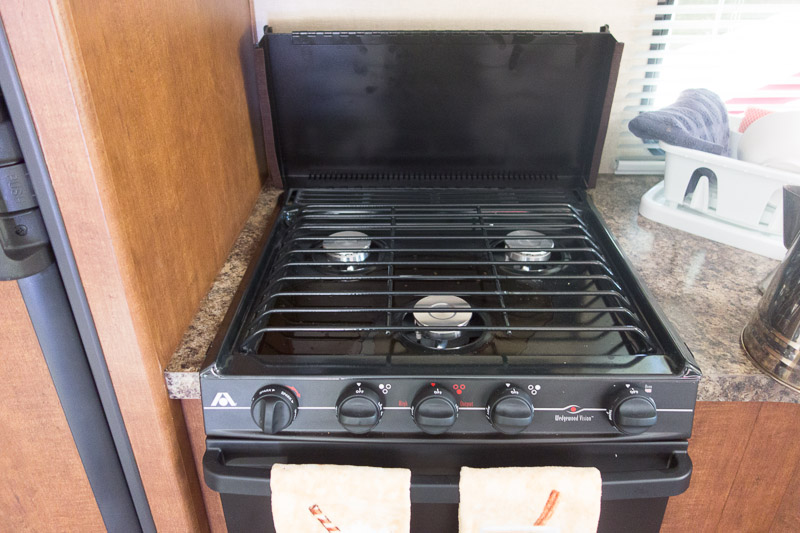 Again, we will use a Weber grill, but in honor of the new camper we bought a new one, a Baby Q 120.
CAMP CHEF STOVES
I first became aware of the Camp Chef brand of stoves in November of 2007 when I traveled to Algonquin Provincial Park in Canada to join some friends in the 4th annual guys only camping trip called FYBO IV (Freeze Your Balls Off). Temperatures never got above freezing and we used Camp Chef stoves to feed the hungry men.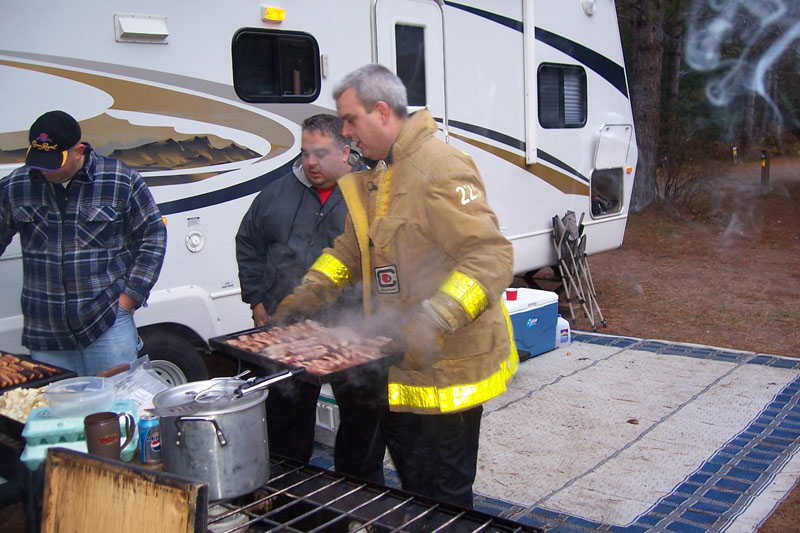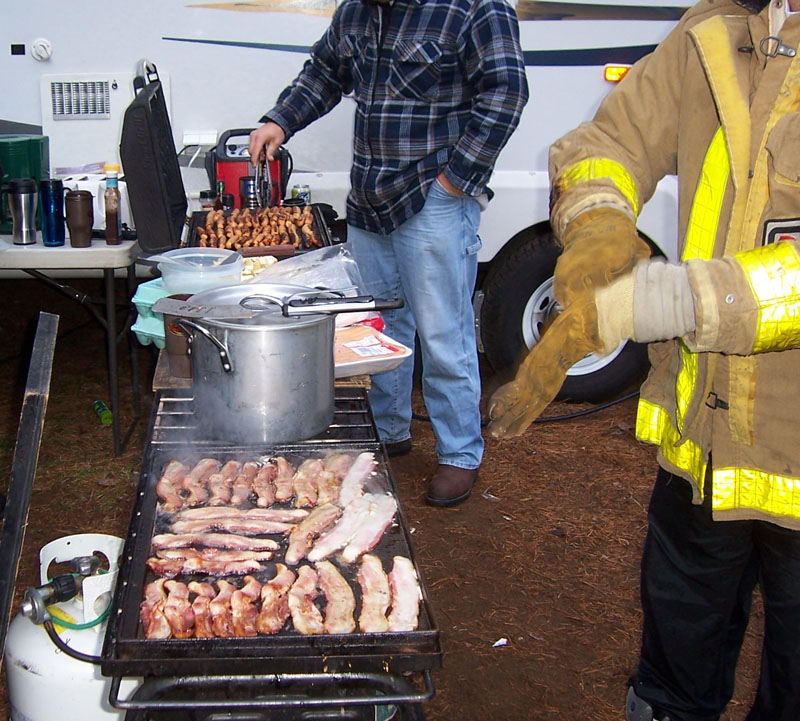 When I checked out the stoves in Canada, I saw they were connected to a regular BBQ propane tank and used a pressure regulator – meaning it would probably run off the low pressure, 11 inches of water column or ½ PSI found on most campers. A little research confirmed this.
CAMP CHEF PRO 60 DOUBLE BURNER STOVE
So I decided to get the Pro 60 model stove.
Consumer's Digest Best Buy
Two 30,000 BTU burners
Includes matchless ignition
Three-sided windscreen
Fully adjustable heat-control dials
Large cooking grate (448 sq in.)
Burner housing limits hot/cold spots and gives extra wind protection
Convenient cooking height
Folding legs and shelves pack up for portability
Regulator and 3 ft. hose included
Specifications
Cooking Surface Dimensions: 14″ x 32″
Total Output: 60,000 BTU
Weight: 45 lbs.
Warranty: One Year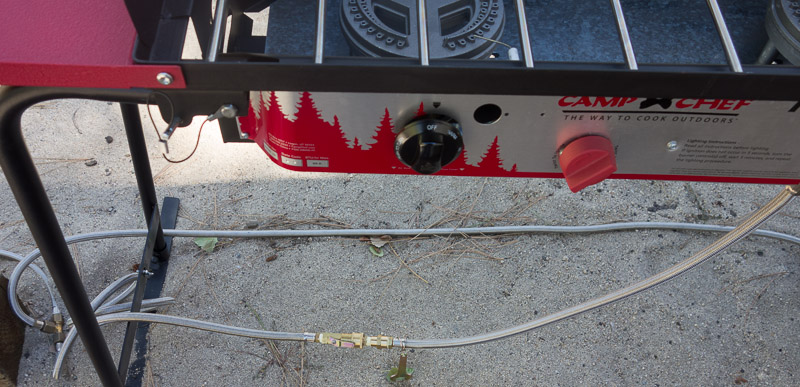 Since our camper came with an outside propane connection, I used braided steel LPG hoses and quick connectors for both the Camp Chef Stove and the Baby Q.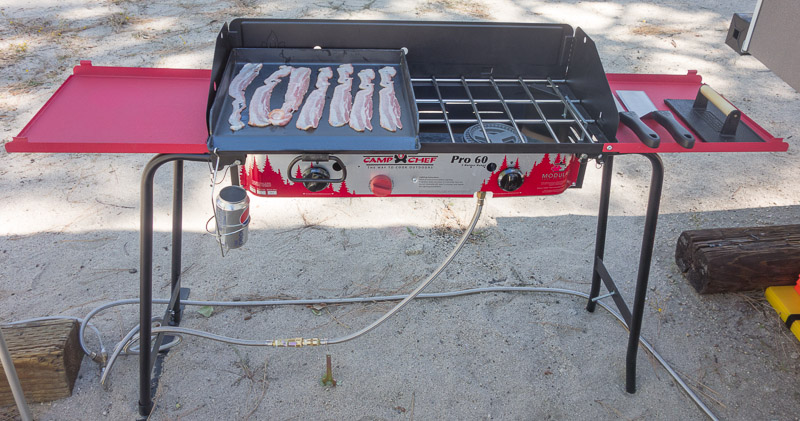 I also bought a Camp Chef Professional Flat Top Griddle.
Features
Large cooking area to handle lots of cooking
Heavy-duty steel construction
Built-in heat diffuser plate distributes heat, eliminates "hot-spots"
High sides and grease drain
Convenient carry handle
Covers one burner on Camp Chef 14″ Cooking System stoves
Specifications
Cooking Dimensions: 14″ x 16″
Overall Dimensions: 15″ x 16″
Weight: 18 lbs
Also purchased was a rolling duffle for the stove and nylon carry bag for the griddle.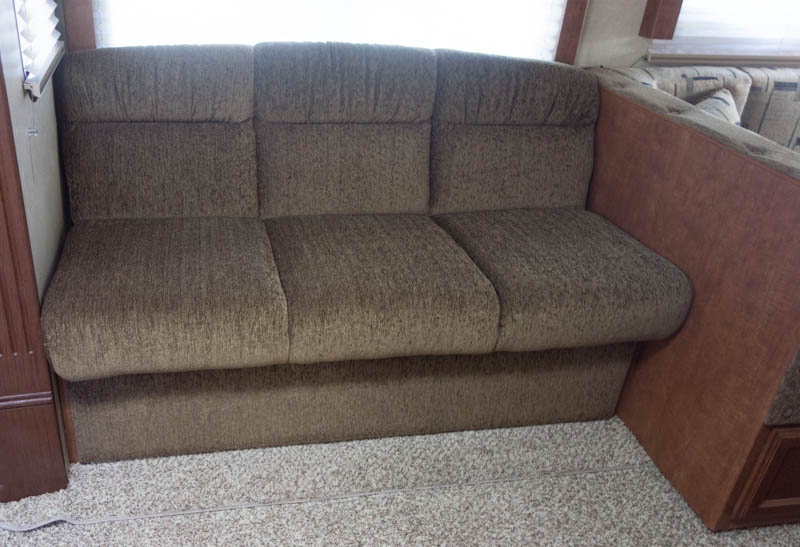 Then came the dilemma of where to store and transport them. I didn't want to use the front storage area because we have our solar system controls and inverter in that area, the area under the bed didn't seem like a good idea either. Looking at the trundle sofa bed in the front of the camper, it seemed that there should be storage under it, but nothing in the owner's manual indicated any storage. Looking closely at the sofa, I found a loop of nylon webbing and when I pulled on it, presto – extra storage!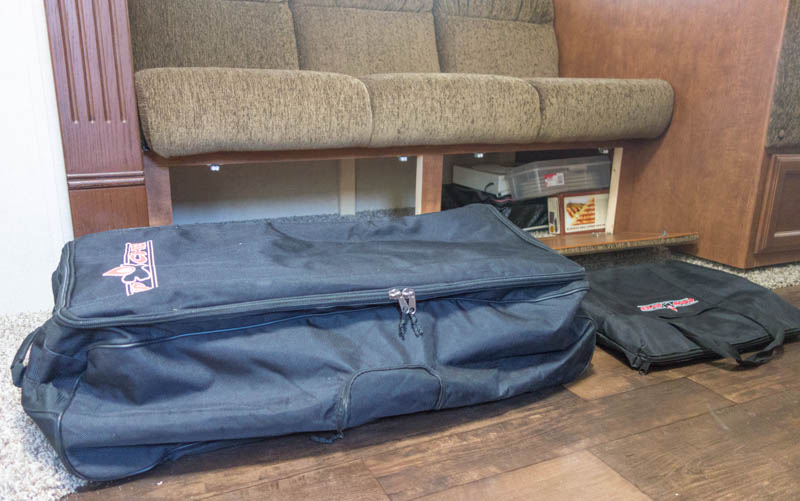 We store the Camp Chef under the sofa along with our Wave 8 heater and Endless Breeze 12 volt fan.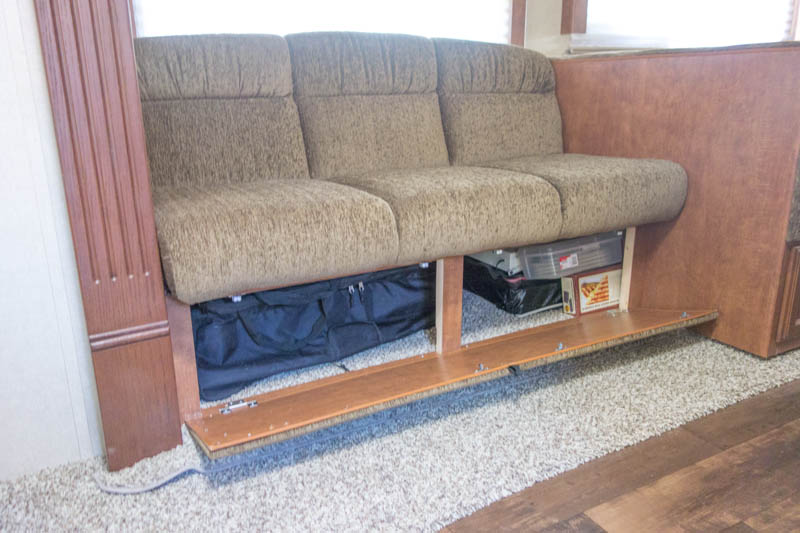 Performance
It is quick and easy to set up, has plenty of cooking area, and is generally just plain awesome. It is a little finicky in the wind, but I found that adjust the air vent levers behind the gas knobs solves this problem. The flame and heat output, well let's just say it is huge compared to any other outdoor cooking appliance I have used. We are thrilled with it.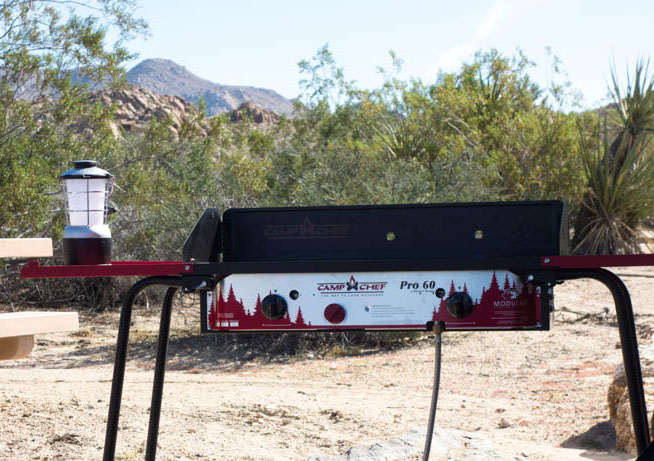 We bought our stove and accessories from Amazon
October 10, 2015: See our update and windscreen mod