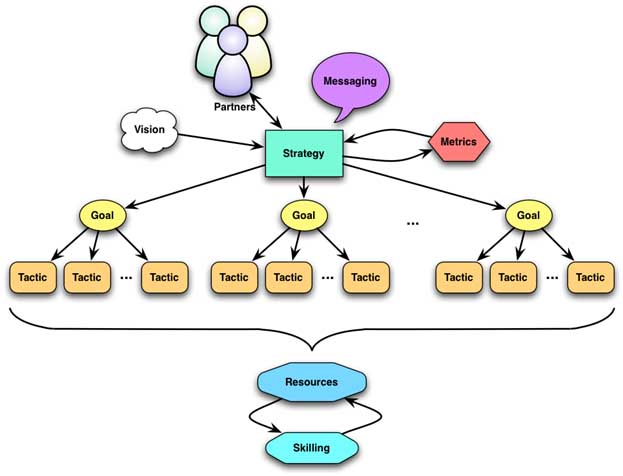 Some people might find it helpful to read about the strategies, planning, and activities we engage in when it comes to camping. Much of this can possibly be used for other pursuits also.
STRATEGIES
For me the goal in life is to spend as much time outdoors as possible. Camping or backpacking, it doesn't matter which it is. Backpacking requires that I go alone because Joyce isn't going backpacking. Joyce enjoys camping with me, so I camp more than I backpack, but I do get to backpack more than most hikers I know. What I do very little: is spending my free time at home. That is my main strategy.
There are campers and backpackers who do not attach as much importance to these outdoor activities as I do. That is fine. Everyone is, and should be, different.
Managing the Inventory of Recreational Time
A while back I wrote about managing our inventory of time. Many people tell me they want to spend more time outdoors, but they just get too busy doing other things; things which ultimately are not important to them, or they just can organize their lives and do what they want to do.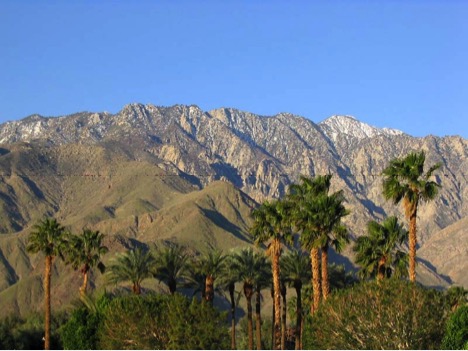 By design, we live in a place that affords us camping opportunities year round. There are dozens of places within 60 miles of our house where we can camp. This is key to my ability to spend over a hundred days a year camping or backpacking.
If one does not live close to the places they would like to visit often, then they just aren't going to be able get out frequently. If they asked me what to do, I would reply, "Move."
When I was a young man, I was in this predicament. After completing two 6-month backpacking trips, I found myself living in the Los Angeles area. Good backpacking or camping destinations were at least two hours away. That was unsatisfactory and I wasn't willing to spend 40, 50 or more years figuring out a way to get away – so I moved.
Driving Time
For a weekend trip, I am generally not willing to drive more than 2 hours one way for a weekend trip. Keep in mind that a 60-mile trip towing a camper can take up to 2 hours because we are not spending the majority of our driving on a freeway. Our trips to the Colorado River are mostly freeway, so that happens a few times each year.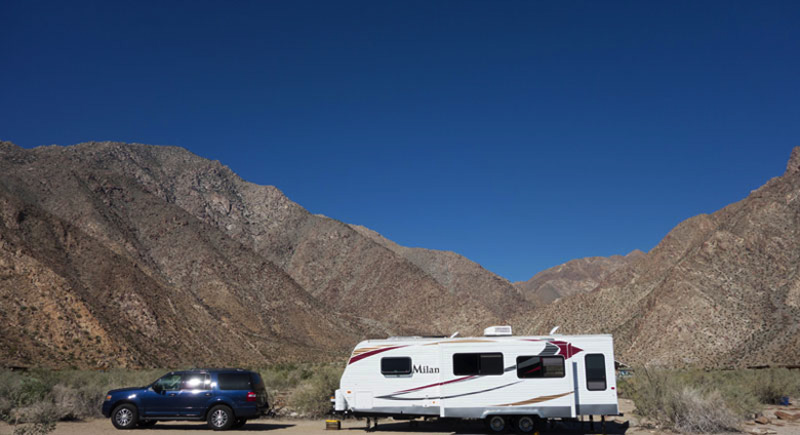 As the length of our trips increase – that is the number of days camping – I am willing to drive longer distances. For example, an 8-hour drive one way is acceptable if we will be camping for 6 or 7 days, but this isn't a hard and fast rule. If a drive takes more than a full day, then a two-week or longer vacation is in order. Ideally we would drive for a full day, camp for a week, drive another full day to a new destination and camp a full week; turn around and repeat. Of course it is better, and common for us to drive 5 or 6 hours to our camp and spend 2 weeks at one place. We have been doing that every year since we got married.
The train of thought here is to spend as little of our leisure time driving as possible.
Maximizing Our Available Hours
Joyce and I try to avoid letting life get in the way of living. The reason we bought a larger tent trailer in 2005 was it took too long to pack up for a trip with our '92 Starcraft Meteorite. We could not store all of our gear in the trailer – it was too small. And we could not store the gear in our SUV; that was impractical and left us vulnerable to possible theft. Most importantly, every trip wasted precious time loading and unloading our gear; time that would be better spent actually camping. We bought our 2006 Fleetwood Niagara because we could store all our camping gear in it. All we needed to do to prepare for a trip was buy some food and pack the clothes needed.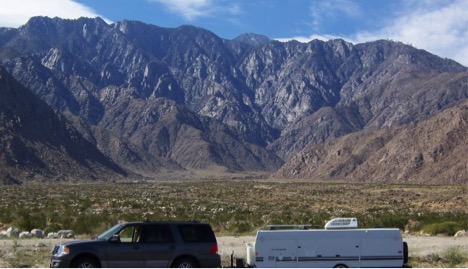 We organize our lives so we don't need to spend weekend time on the little things most people waste away the hours doing each week. For example, we don't have to spend any time on Sunday night getting "ready" to go to work on Monday.
Let's take a typical weekend camping trip. Joyce gets off work at 5pm, gets home at 5:05, and we are on the road by 5:10. We usually get to our destination by 6:30. If we stay at a campground, we see the majority of campers arriving at 8pm or later. Fast forward to Sunday. Most campgrounds require you to leave by noon or 1pm. Campers are up early and packing to meet the checkout time. So in essence, their weekend trip ends up being maybe 36 hours and about 16 of those hours are spent sleeping.
We always pay for Sunday night (if a fee is required) and leave around sunset or even later on Sunday. Our average weekend camping trip is 48 hours at our campsite, and we get home by 10:00pm Sunday night, which gives us plenty of time for a good night's.
So how does this work out financially?
Let's assume the camping fee is $20 per night. The 36-hour camper is spending $1.11 per hour for their trip (2 nights fee @ $20 each). We are investing $1.25 per hour (3 nights fee @ $20 each), but we are benefiting with 33% more time camping. It's a small price to pay.
Sometimes, since we are so close to home, we may spend Sunday night at the campground, leave early in the morning, get home by 6:30am and at work by 8:00am – well rested and ready to go. These trips significantly improve the return on investment of our camping fees! As you probably know, if you read my blog, we often camp in places that are free, which is even better.
To summarize our strategy: camp as often as possible and maximize every weekend to spend the greatest number of hours on camping related activities.
PLANNING
The more one goes camping, the less time required to plan a trip. In other words, experience should improve organization skills, making the individual more efficient and productive. There are so many places we have camped and we enjoy going back to our favorites. This means there is no time wasted trying to figure out where to go.
Where To Go?
Over the years we have compiled an inventory of favorite campsites. By not restricting (actually avoiding) campgrounds with full amenities such as electricity, water, and sewage dumps we have plenty of other destination options. These options include:
Dispersed Camping on Federal Land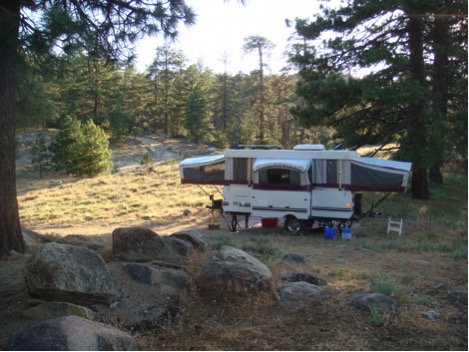 These are areas on BLM or Forest Service lands that permit free camping for up to 14 days on average – some places even longer. Sometimes a fire ring and picnic table is available. These are the best places. You have to do a lot of research to find the real gems, which is why I never share our special places.
National Parks, National Monuments, and National Forests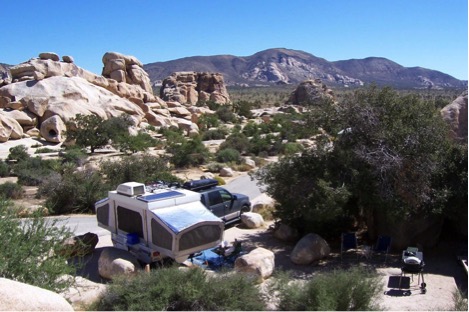 You have to learn which are the least crowded and when the off-season is, which often means good weather and few campers. We spend a lot of time in these places, and with my America the Beautiful Pass, most improved campgrounds cost us between $5 and $7.50 per night. These normally are campsites with a fire ring, picnic table, and usually water is available close by. Many have RV dump stations.
County Parks
Some are awful and there are a few gems. The two we go to most often charge $20 per night.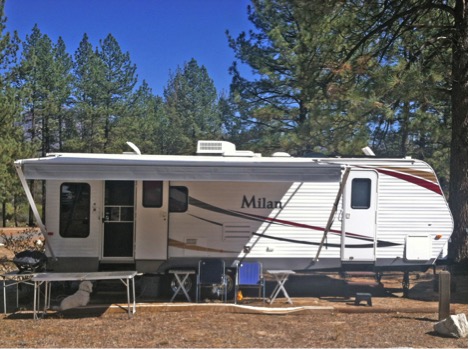 State Parks
In California, these generally suck. They are expensive, crowded, noisy, and usually close to cities and traffic. We generally avoid them. But there are a few good ones.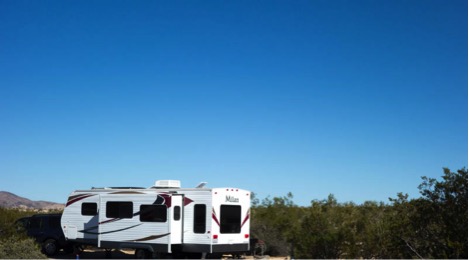 Private Campgrounds
We don't do private campgrounds except for twice in the past 13 years. Private campgrounds should be avoided in our opinion.
Preparation
With good processes and procedures, very little planning is needed for any camping trip. Here is how we "planned" for our last trip.
Previously, on a camping, we had made a list of some consumables that needed to be replenished. When we got home from that trip, I removed the condiments and other refrigerated items. I placed them in the bottom drawers of the camper's refrigerator and brought these drawers in the house and placed them in the refrigerator in the garage. I also brought the dirty clothes from the trip and put them into the clothes hamper.
The following morning I took the camper to the storage place before work. Remember we now have to store our camper due to our criminal activities.
Last Wednesday we decided to go to the mountains, and picked a county campground as our designation. I went online and made reservations. We made a list of food we would need in addition to the other replenishment items that had been recorded on our Camper To Do List.
Thursday night we went to the store and bought what we needed. All the food for the trip was placed in the garage refrigerator next the drawers. We both packed some clothes for the trip.
Friday morning before work, I went to the storage place and brought the camper home. I turned on the propane and the refrigerator, checked the tire pressure on the trailer and SUV, filled the water tank, and put the food and clothes in the trailer. By 7:45am I was done and ready for work at 8am. We were on the road at 5:10pm and BBQ'ing chicken at the campground at 6:35PM.
This is how every trip goes. Trips of a week or more take a little longer because more time is needed to create food menus, more food needs to be purchased, and more clothing needs to be packed. But we are talking more time in minutes not hours.
Campground Chores
I see many people spending enormous amounts of time dealing with the logistics of setting up and taking down camping gear. We have set procedures that change very little for each trip.
Here was our set-up last week
Pulled into the site
Viewed the level on the camper and determined the curbside wheels would need 3 Lynx blocks plus a cap under each wheel. We assembled the blocks and Joyce stacked them as I pulled the camper forward.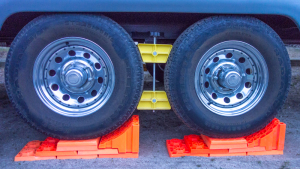 We then placed a locking wheel chock between the tires on each side of the camper.
The hitch was then disconnected and the SUV moved forward about a foot. We didn't drive the SUV while camping this trip, so no time was needed to align the hitch when we left. I just backed the SUV a foot and connected.
Using our electric tongue jack, I leveled the trailer front to rear.
We opened the camper door and extended the slide out using the electric button.
Water pump and water heater buttons were switch to "On."
The Weber Q120 Grill sits in the doorway in a plastic container. I pulled it out for access to the camper.
While I lowered the stabilizers with an electric drill, Joyce organized a few items inside the camper and took out the evening's food for cooking.
I set up the grill and turned it on.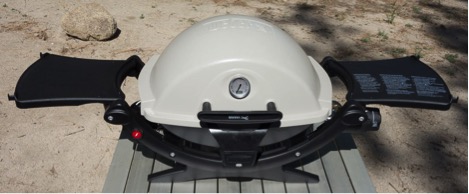 All of this took less than 10 minutes. There were a couple items we would not need right away, so I left those tasks for the following morning:

We normally cook breakfast on our Camp Chef Pro 60. I took it out and set up first thing in the morning, after my first cup of coffee and some good conversation with Joyce.
I placed the cast iron griddle on the stove and began cooking breakfast.
While breakfast was cooking, I opened the awning.
No other set-up chores were need for the rest of the trip.
Take Down
I try to do these things in little segments, so there isn't a big flurry of activity at the end of the trip. This is how Sunday went:
After breakfast I cleaned and washed the griddle while we did dishes.
Packed the griddle into its nylon-carrying bag.
The stove was left out in case we wanted to cook something on it during the day, although most cooking is done on the grill.
For dinner we had steaks. While the steaks were grilling I took down the awning as the sun was low in the sky and it was no longer needed.
I put the stove in its bag and then put the stove and griddle in the storage area under our sofa.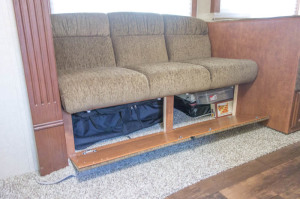 We sat down to eat at 5:45pm.
While eating dinner the grilled cooled down enough to pack it in the plastic container.
After dinner and some conversation, Joyce did the dishes while I packed up the grill and raised the stabilizers.
We then backed up the SUV, completed the hitching, removed the wheel chocks and then backed up the camper to remove the Lynx blocks.
We pulled out of the campground at 6:30pm.
We arrive home at 7:55pm.
I remove all the refrigerated items from the camper and placed them into the garage fridge.
We then watched a movie and then went to bed.
The following morning I drove the camper to the storage place, filled the SUV with gas, and took Corky for a walk. I was done at 7:45.
8:00am – I started the day's work since I was working my home office this week.
If I have to travel the day after a camping trip, we take the camper to the storage place directly from our camping trip.
Cooking, washing dishes and other camping related tasks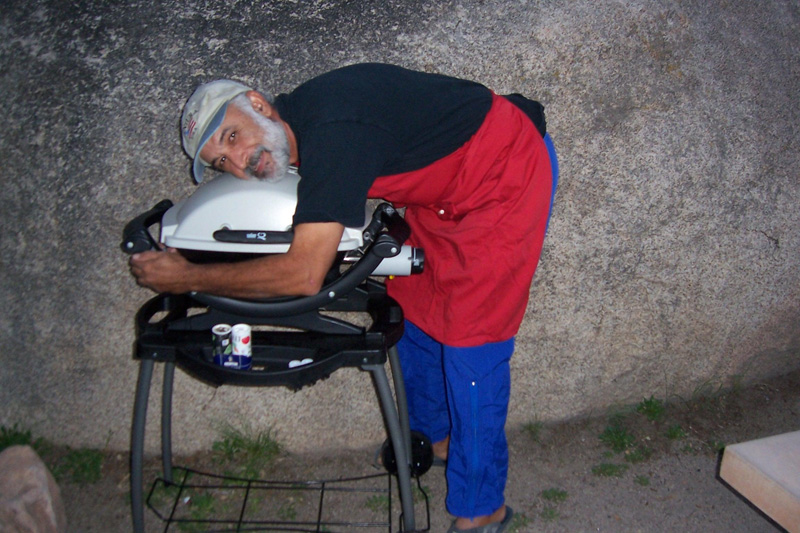 At home Joyce does the cooking and the dishes. This isn't because I am some sort of "macho man." Joyce prefers I don't mess up her kitchen. When camping, I want Joyce to relax, so I do most of the cooking and am willing to do all dishwashing, etc. If Joyce wants to do any of these tasks, she does.
ACTIVITIES
We don't sit in our camper on a trip. We are out doing things. Time spent at the campsite is usually outside and we spend a lot of time talking. Unlike some campers, a trip is not a food and liquor orgy. We eat healthy. This doesn't mean no hot dogs or hamburgers; those seem to go hand-in-hand with camping.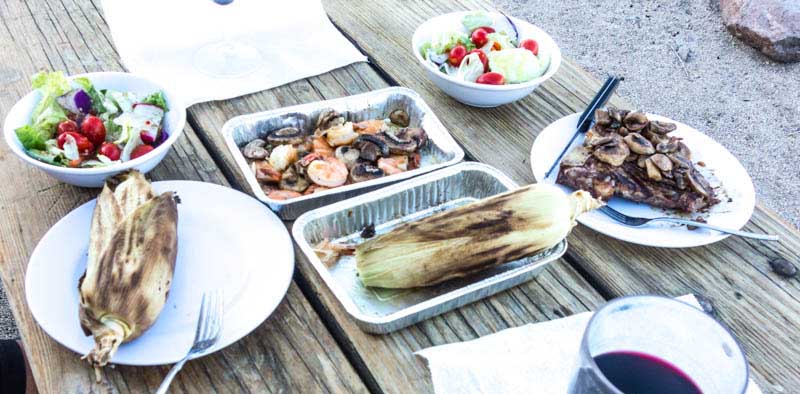 Since we camp so often, we usually avoid junk like potato chips. Meals include salads and vegetables. Snacks are often cheese, fruits and raw vegetables.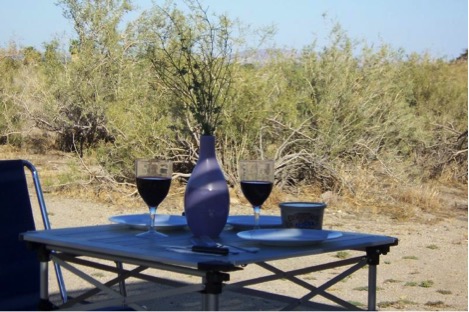 We mostly drink water or diet soda. A glass or two of wine at night is the limit of our alcohol consumption.
Dogs
Dogs are great companions. Corky goes for a walk about 3 times each day when we are camping, and these are long walks. It is good for him and good for us.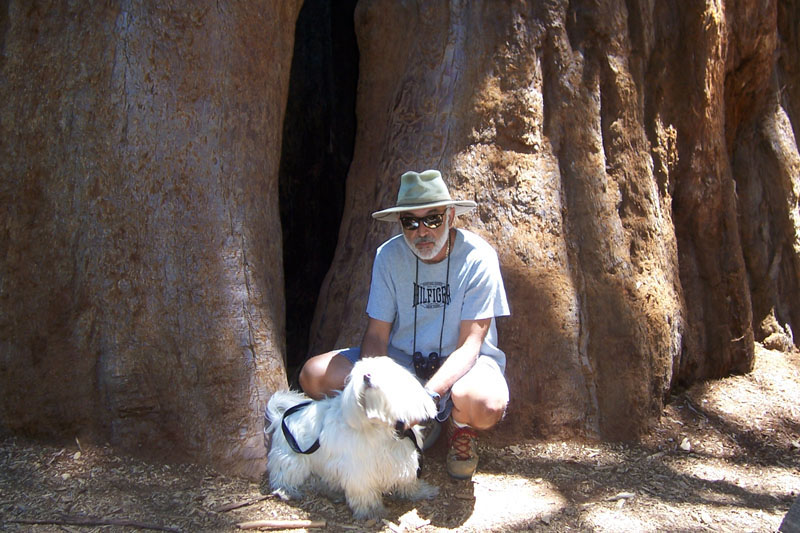 Some thoughts on dogs: my qualitative observations deduce that about 50% of dog owners who camp are mental midgets. They can't grasp or comprehend the rules. Dogs must be on a leash no longer than 6' when walking and must be secured at the campsite. Improved campgrounds normally do not permit leaving a dog unattended.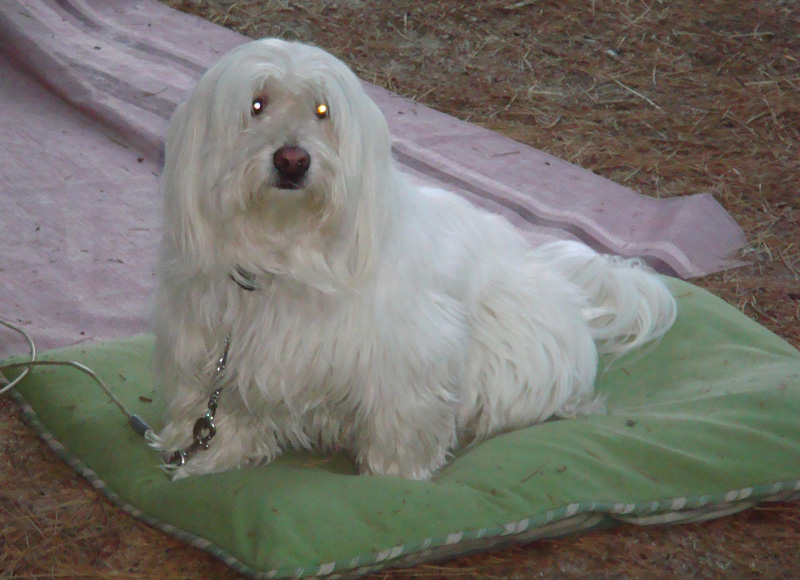 If you cannot follow the rules, don't bring your dog camping. We follow the rules and bring Corky on every single trip.
Hiking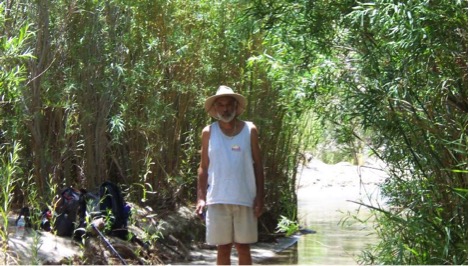 Most camping areas have trails nearby or cross-country hiking is permitted. We pick our destinations so we have access to hiking. We may do short day hikes and sometimes will tackle larger more difficult walks up to 18 miles long.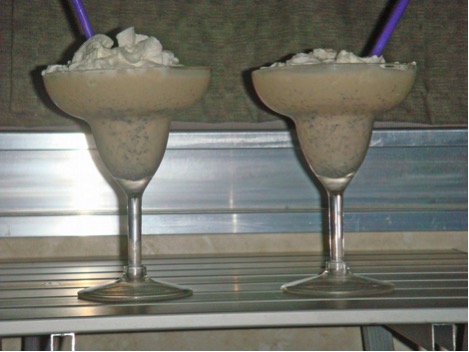 The treat for us at the end of a long hike is a shower and a blended margarita or some other exotic concoction.
Biking
We tend to camp where bikes are not allowed on trails, but many campground have trails close by where bikes are allowed.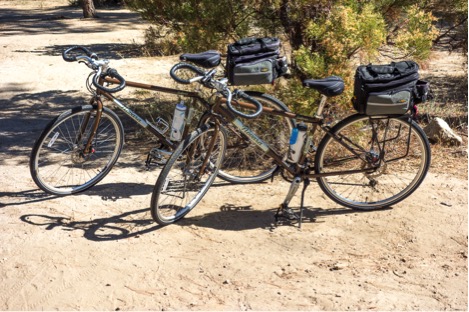 We generally keep to dirt Forest Service and rural roads.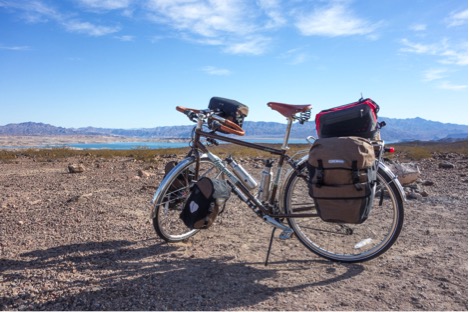 Last year I documented a bike tour that was integrated into a camping trip at Lake Mead.
Boating
Years ago we bought a small inflatable boat. We are not "boat people" but thought it would be fun. Because we are already pulling a camper, the inflatable was the only reasonable solution. I documented our adventures in the boat story.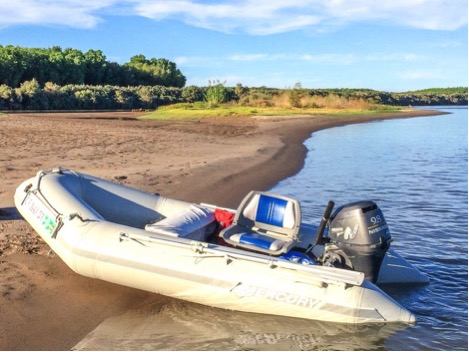 We like to take the boat to the Colorado River a few times each year. These river trips usually include small side trips into the many lagoons the can be found along the river. Our river trips are a blast.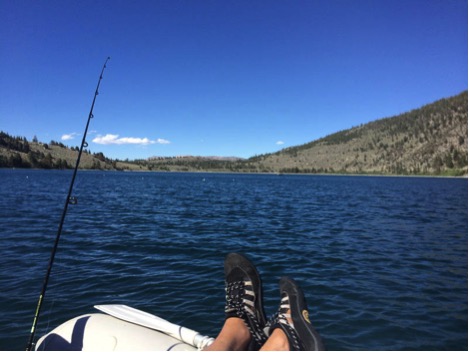 Every couple of years or so we take it to June Lake in the Eastern Sierras, which are long vacations for us. The boat is generally taken on the lake two or three times on these trips.
Fishing
We are not big on fishing. The only time we fish are on extended trips in the High Sierra, which we normally do at least once a year.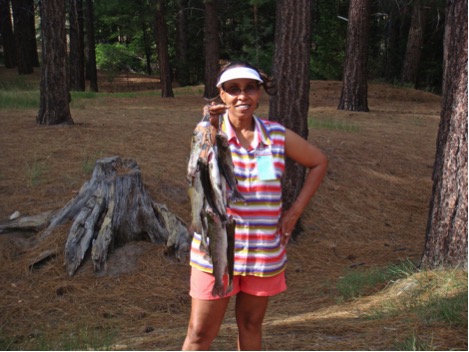 Joyce loves to fish, and for me it doesn't matter one way or the other.
Catch
Many campers play horseshoes, Frisbee, and various pitch and toss games. They are fun and everyone in the family can participate. We don't do any of the afore mentioned items, but we like to play catch.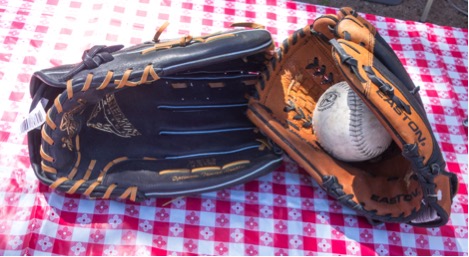 Joyce has a wicked fastball.
Board games
Normally I don't have the patience for board games like Checkers, Monopoly, or other well-known pastimes. However we often play Scrabble.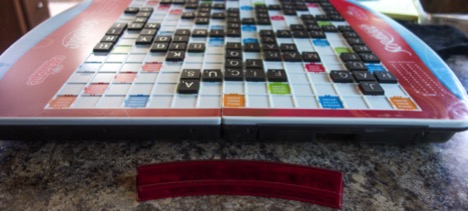 Scrabble requires some luck, good strategies, and improves vocabulary and spelling skills.
Music
I never take music on backpacking trips. But with the purchase of an iPod several years ago, we sometimes listen to music.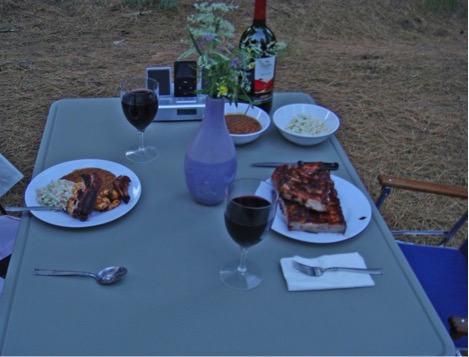 If you play music at your campsite, keep the volume down. Remember most people around you will probably hate your musical tastes. You should walk to the edge of your campsite and if you can hear the music, it is too loud; turn the volume down until you cannot hear it at the edge of your campsite. If you do not do this, then you are an asshole.
Some of my favorite pieces for camping are:
Jonathan Livingston Seagull, Neil Diamond (good breakfast music)
The Brandenburg Concertos, Bach
Incidental Music to "A Midsummer Night's Dream," Mendelssohn
Grand Canyon Suite, Ferde Grofe
Spirit Sojourn: Nature Quest
The Living Desert, Randy Peterson
Trout Quintet, Franz Shubert
Piano Concert #1, Tchaikovsky
The Four Seasons, Vivaldi
Symphonies 1 – 8, Beethoven
Several compilations of Christmas music for our end of year camping trips
Jesus Christ Superstar for our Easter camping trips
Movies
Once in a while, when the weather is cold outside, we may watch a DVD. Not very often, because we can watch movies at home.
Campfires
Most people like to sit around a campfire. Roasting marshmallows is a wonderful family activity – talk to your kids and listen to your kids.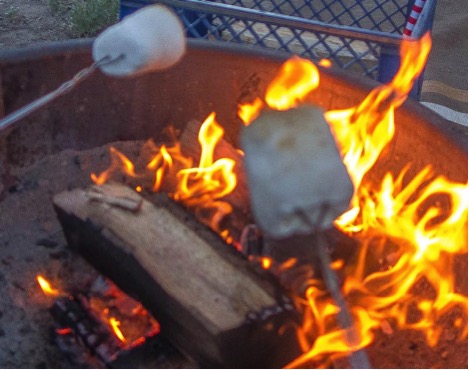 We do this once in awhile, probably less than 10% of the time, but it is fun. A campfire cuts you off from your surroundings. A better alternative is…
Stargazing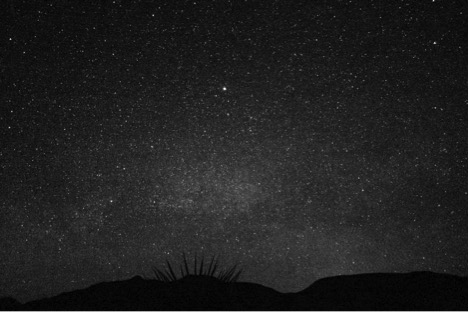 Jigsaw Puzzles
When my kids were young, we never did puzzles at home. But on our summer vacations I would often pick a puzzle with a theme reflecting where we were camping.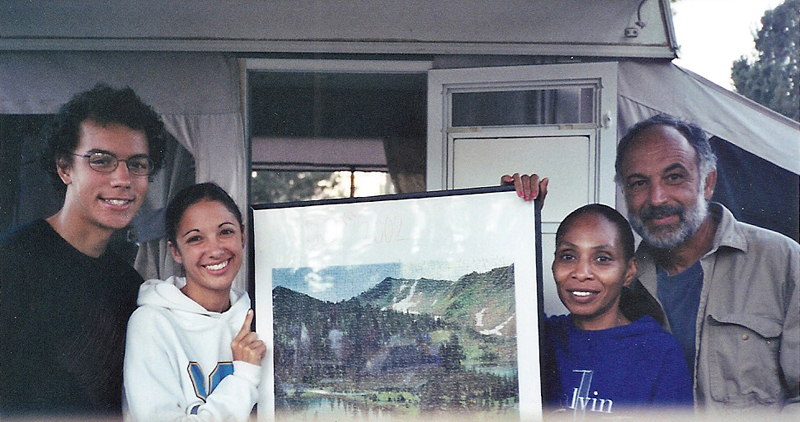 It was a fun activity and often we would frame the completed project.
Doing nothing
It is hard for me to just sit and do nothing.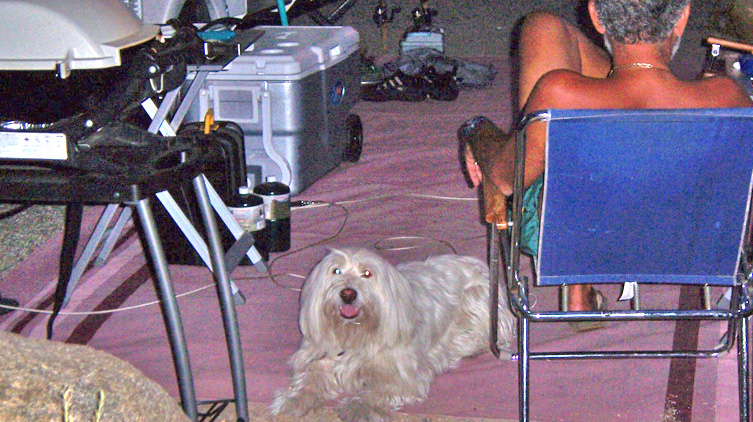 But I practice it on every trip and improve this important skill each time we go camping.