Even Joyce, who never has anything bad to say was happy to leave Yosemite Valley. We finally got to Tuolumne Meadows where a large herd of JMT and PCT hikers were corralled by the wooden rails. Rangers were roaming the meadow working another herd, trying to keep them on the trails and out of the meadow.
Finally we passed the Tioga Pass gate and soon saw Ellery Lake, meaning we were out of the amusement park, and close to our campground.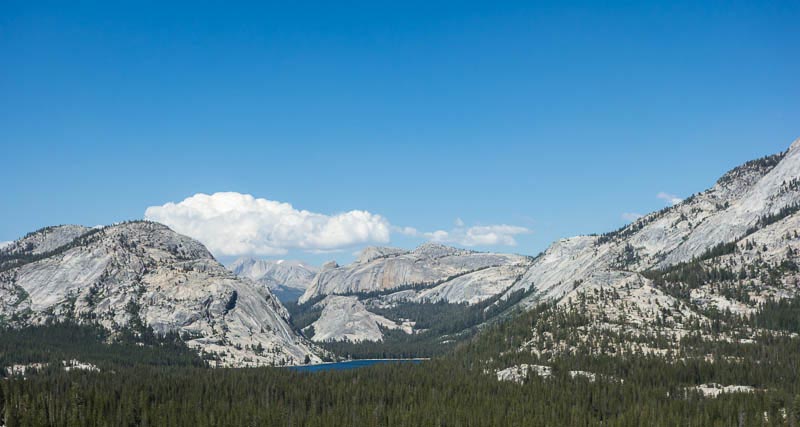 It had been a stressful day and I had a headache. That shouldn't happen when you visit one of our National Parks. Yosemite is overcrowded. Not just the Valley, but the entire park, to include the backcountry. There is such a demand for wilderness permits that an entire bureaucracy has been created to handle the backcountry demand. I agree we need to limit the back country use, but it should be done via natural selection, not the Government.
We Need Wilderness
Our truly wild areas are shrinking as we encroach closer and closer to wilderness, the population is growing, and demands on wilderness have put it at risk. We must act quickly to protect what is left, and it is in our best interest to return our public lands back into wilderness. If people need amusement, let them go to Disneyland or Universal studios. If they need entertainment, let them watch TV, movies, or do Facebook.
Yosemite Wilderness Plan
My plan to return Yosemite to wilderness.
Make it difficult to get to Yosemite.
That's the solution. Here is my 10 point plan.
Remove all roads in the Park. This means Hwy 120 first. It does not mean barricade the road, it means remove the pavement, bridges, tunnels and all other improvements.
Remove all roads within 20 miles of Yosemite. See #1 for particulars. This means hikers will have to walk 20 miles to get to any Yosemite border.
Remove all buildings, walkways, bridges, and anything man made.
Clean up the backcountry. Remove trail signs, cairns, and all navigation aids.
Allow no one to operate a business in, to, or out of Yosemite.
Make it a Federal Offense to maintain any trail. This includes trimming trees and shrubs, cutting blow-downs on any trail.
Ban all domestic animals to include horses, mules, and dogs.
Ban all mechanical equipment to include drones and helicopters of any kind.
Adjust, jam, or scramble our satellite system to prevent any GPS, radio, microwave, cell, or communication signal from reaching any area of the park.
The only job for any Ranger will be to walk the backcountry and enforce these rules.
<– Back to Yosemite Amusement Park                                       Next to Mono Lake –>