Over the years I have used all kinds of cookware for our camping trips in the pop-ups. From backpacking stuff to heavy Graniteware. Nesting pots work best for storage in a camper, and when I saw this set at Camping World a few years ago, I had to have it.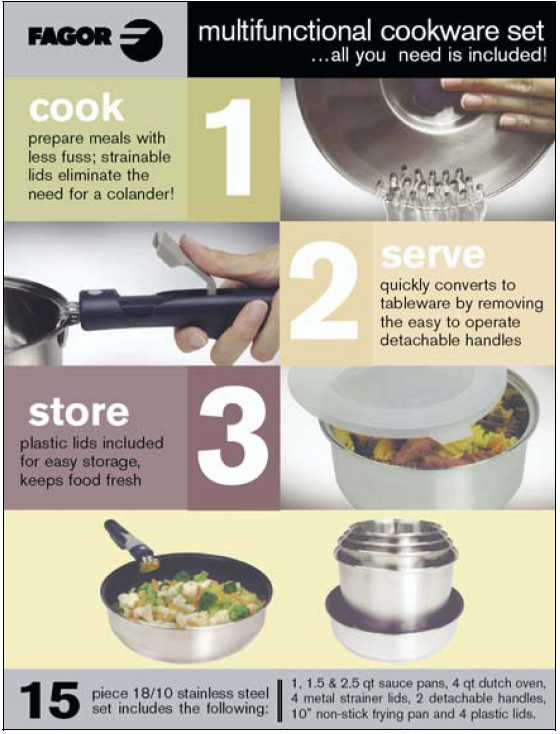 Unfortunately, Fagor no longer makes this kit (too bad — it is fantastic). Perhaps you can find something similar. Take a look at the MSR Cookware or similar offerings on the Web.
There isn't a lot to say about this kit, other than it has worked great for us over the years. Below is the text from an old Fagor brochure.
Fagor America, known as a trendsetter and leader in the consumer cookware category for many years, has introduced the 15 Piece Multifunctional Cookware Set.

Who says you can't have a high quality cookware set because your galley or kitchen space is limited? Commercial Multifunctional cookware by Fagor is offers the perfect solution to RV owners, boaters and campers, as well as college students and apartment dwellers. No longer will you have to settle for a less than ideal solution when shopping for cookware that meets your kitchen's space requirements.

Convenient, easy and versatile perfectly describe this distinctive and exclusive cookware set, whose contemporary features are quite unique. What truly makes this set stand apart from other cookware is how much space it can save in the kitchen. Specially designed for consumers with limited storage space, the cookware sets' multifunctional design reduces kitchen clutter and replaces the traditional cookware set with a sleek, compact design. The set includes: 1, 1.5 & 2.5 qt sauce pans, a 4 qt Dutch oven, 4 metal strainer lids, 2 detachable handles, a 10" non-stick frying pan and 4 plastic lids, each of which store inside one another for maximum space saving benefits. The pots all nest tidily, and the set altogether requires about a cubic foot of cupboard space. Made of 18/10 stainless steel with an aluminum-encapsulated base, this set is also perfect for everyday household use, as well as an ideal solution for boat and recreational vehicle kitchens with very limited storage space.

The secret behind this unique space-saving design is the two detachable handles that can easily be attached or removed to accommodate the user. The handles are made of a heat resistant plastic that is sturdy and easy to clean. The lids for each saucepan, also made of 18/10 stainless steel, feature holes that allow them to double as a strainer and easily discard unwanted cooking liquid from your food. And, in addition to metal lids, the set comes with four plastic lids for easy and convenient storage straight from the stove to the refrigerator.
The obligatory pictures are below 🙂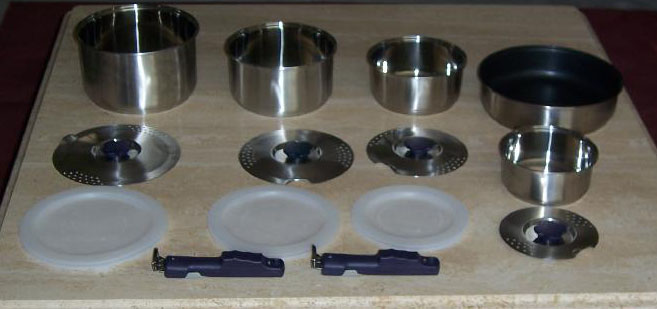 Above: All the pieces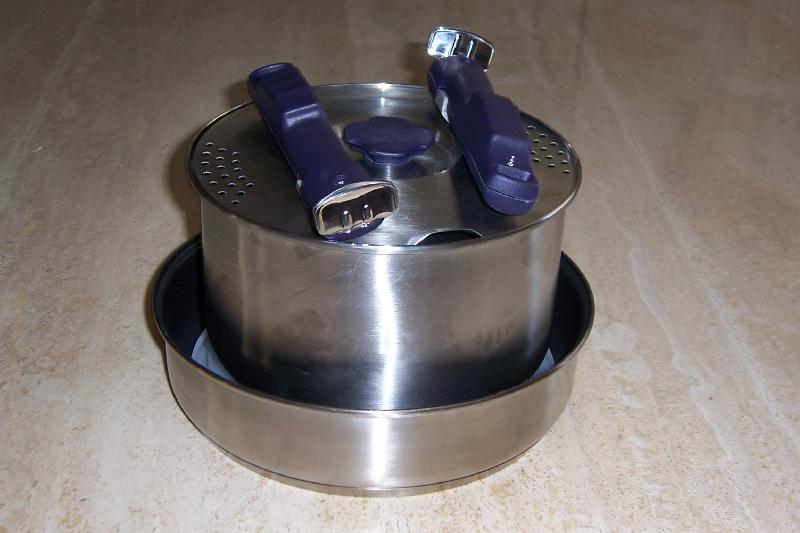 Above: Removable Handles Allow Nesting of Everything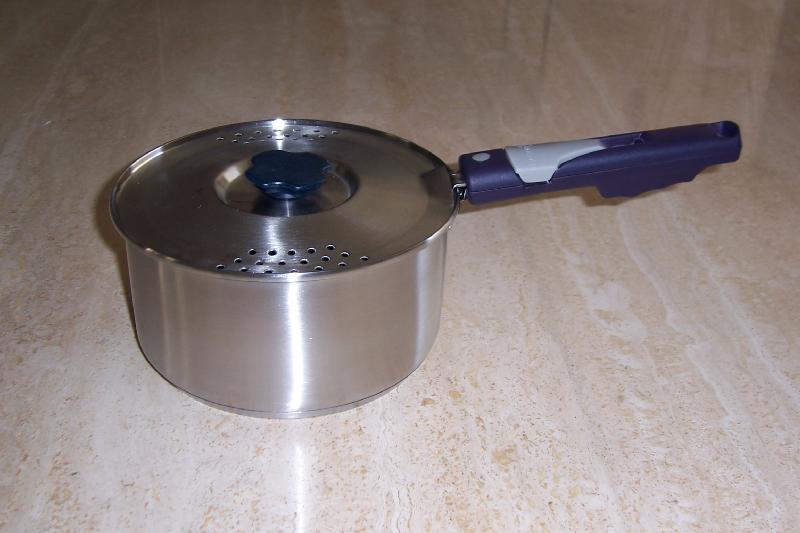 Above: Lids Allow Pots to be used as Colanders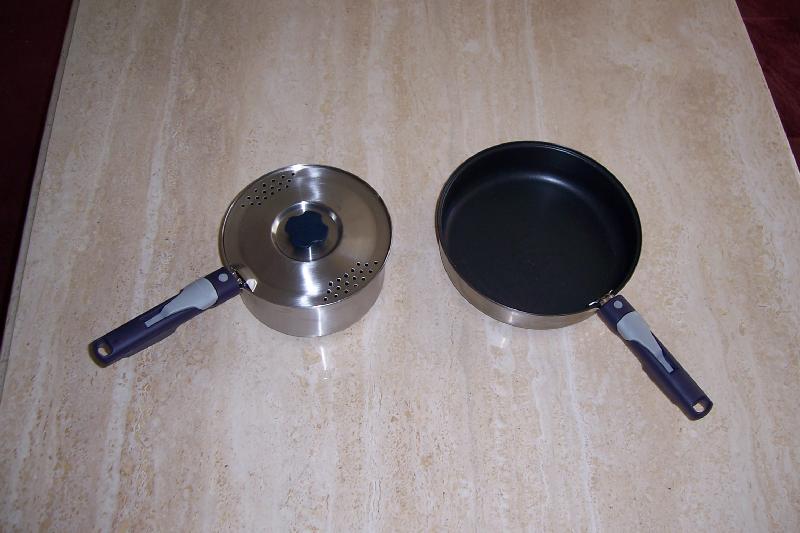 Above: Construction