Lately I have seen more than one question about getting water into the on-board freshwater tank while camping. We have been using a powered system for several years, but I never got around to posting pictures. I did not want to go through all the work of mounting a permanent pump and plumbing. Also, like many do, I did not need or want to replace our existing water pump with a ShurFlo Whisper King pump. Our mods have made the original pump plenty quite. So I bought an inexpensive pump, it only pumps about 1.5 gals per minute, which is fine. While it is offloading one 6-gallon jug, I have time to go fill the second one, if we are at a campsite with water. If we are boondocking with no water, we bring four 6-gallon jugs, and I have time to drink a beer while monitoring the filling process 🙂
Powered Fresh Water Transfer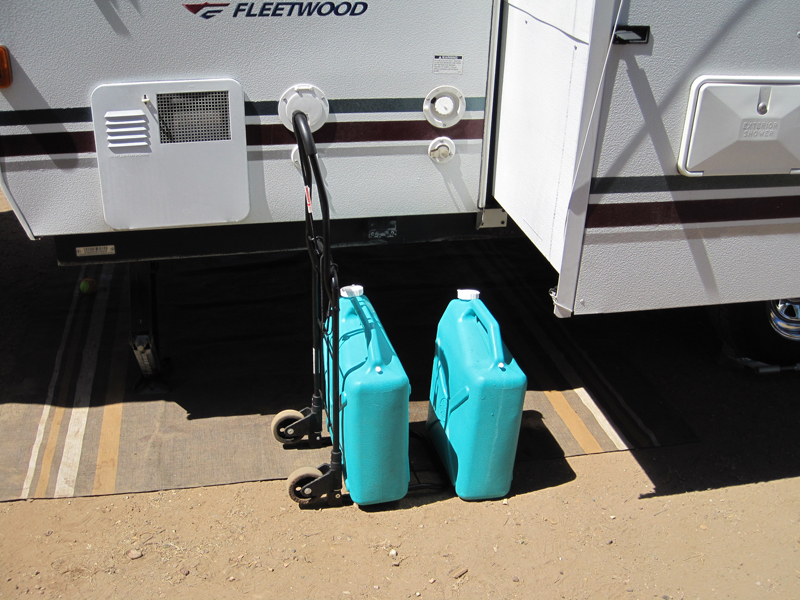 Above: These 7 gallon water containers are used for fresh water. If water is not close by we bring 4 of them.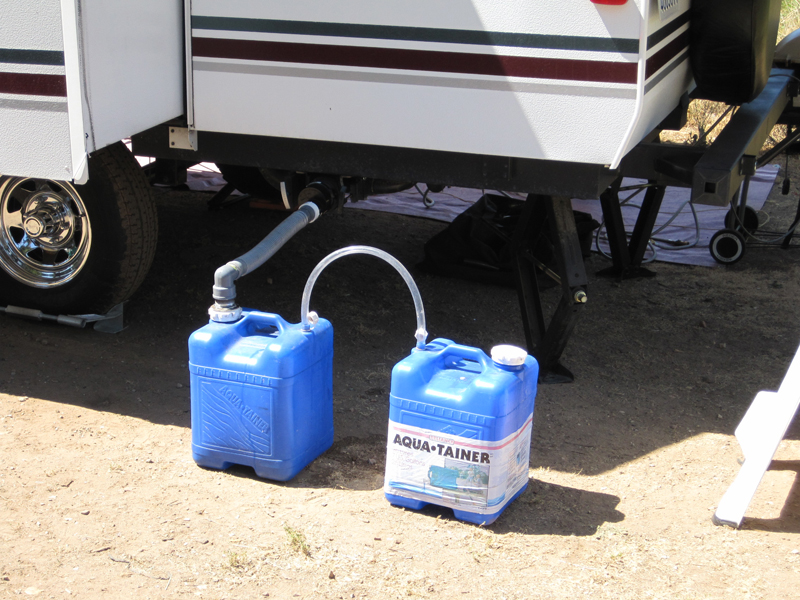 Above: The 7 gallon AquaTainers are used to collect gray water. Since they are different than our fresh water containers they cannot get mixed up.
Above: Components for the fresh water transfer system.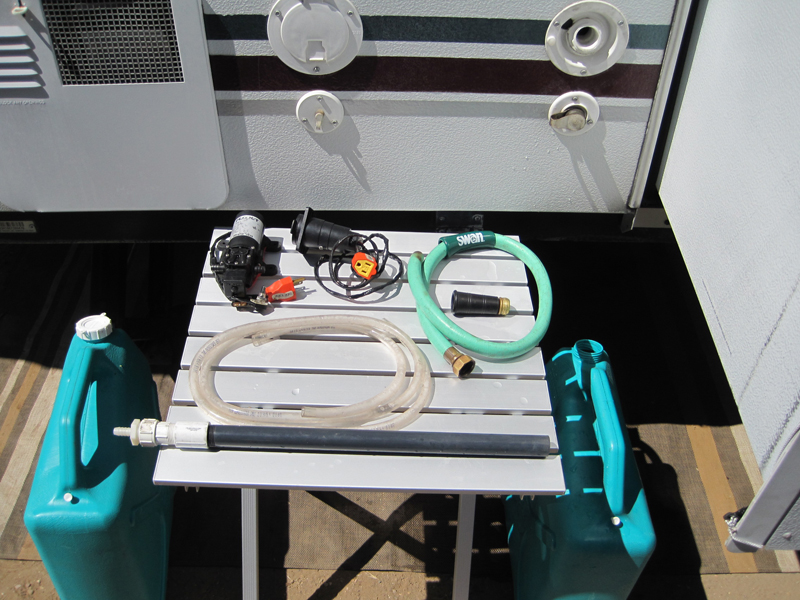 Above: On table (top to bottom, left to right)
Top Row: (water pump, electrical cords, water thief & hose to get water from faucets

Middle: transfer hoses (clear plastic)
Bottom: Pick up tube that inserted into water containers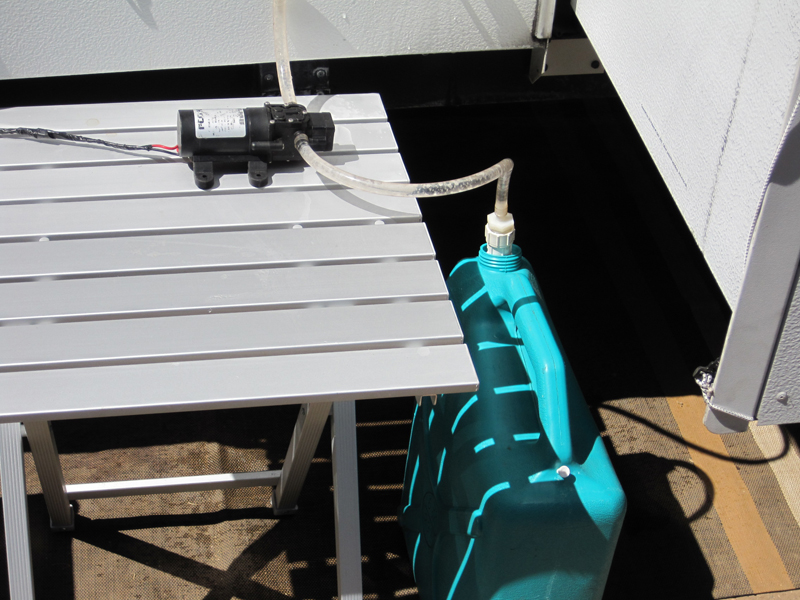 Above: Insert pick-up tube into water container, then connect water hoses.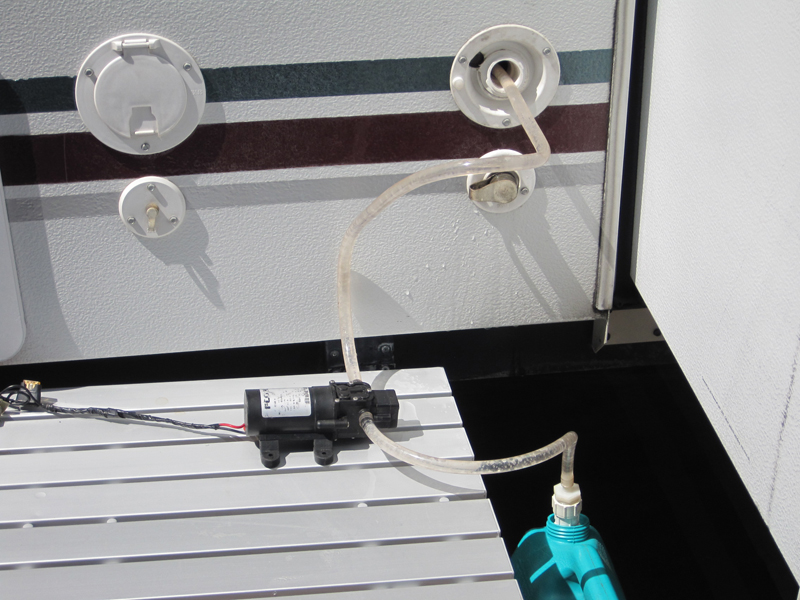 Above: run water hose into tank fill on side of camper.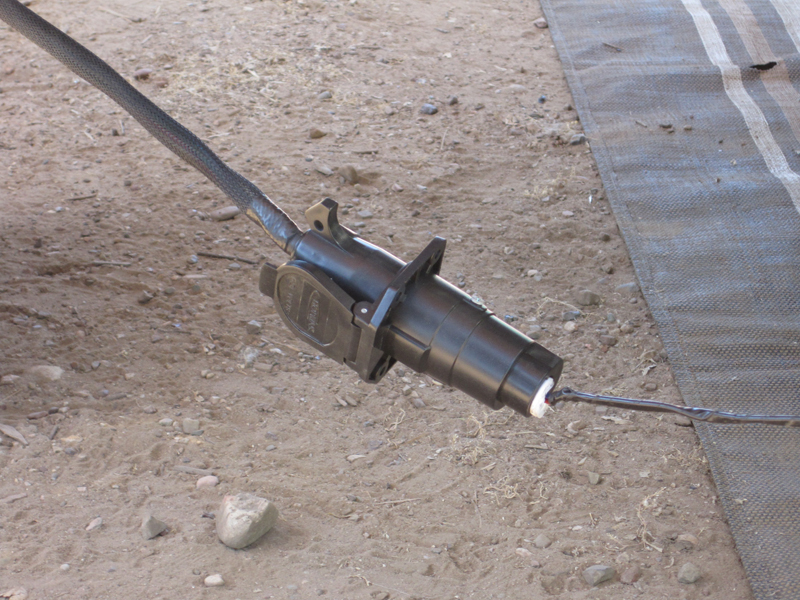 Above: Connect wiring to the trailer's tow vehicle connections. Power for the water pump comes from the trailer's batteries.
For those how do not want the powered route, here is the manual system we used with our 92 Starcraft.
Manual Fresh Water Transfer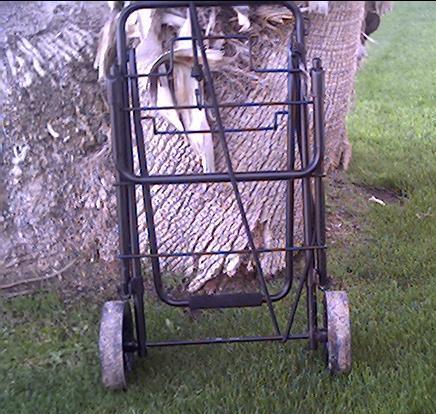 Above: This folding cart is used to move the water containers, which weight over 50 pounds when full (7 gallons).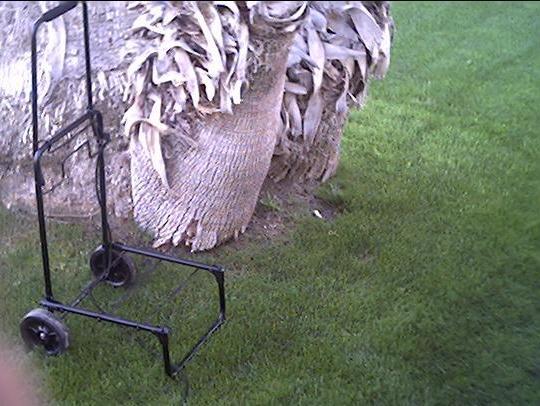 Above: Cart opened up.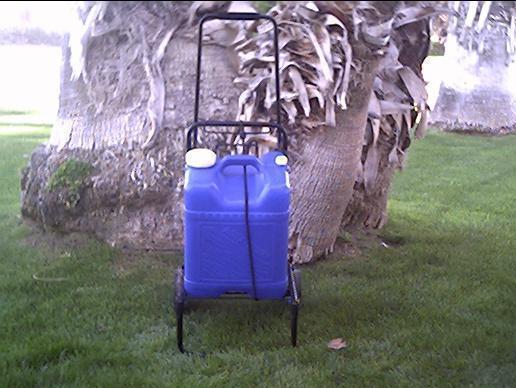 Above: A 7 gallon AquaTainer fits the cart perfectly.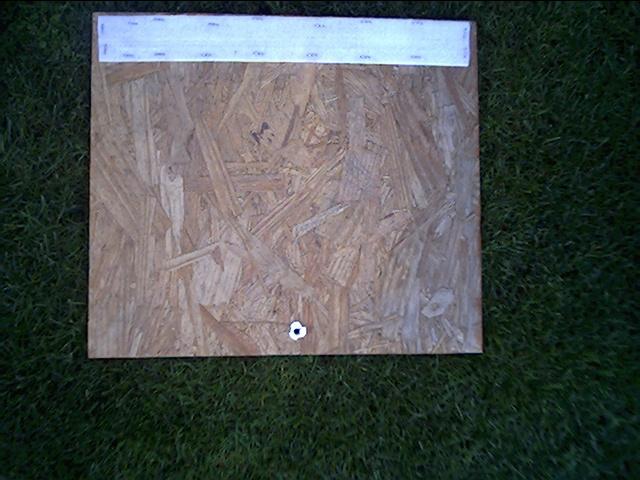 Above: This board is the platform to hold the AquaTainer. I later water-proofed and painted the board. Notice the Velcro strips and furniture nut attached to the board. Their purpose will be explained later.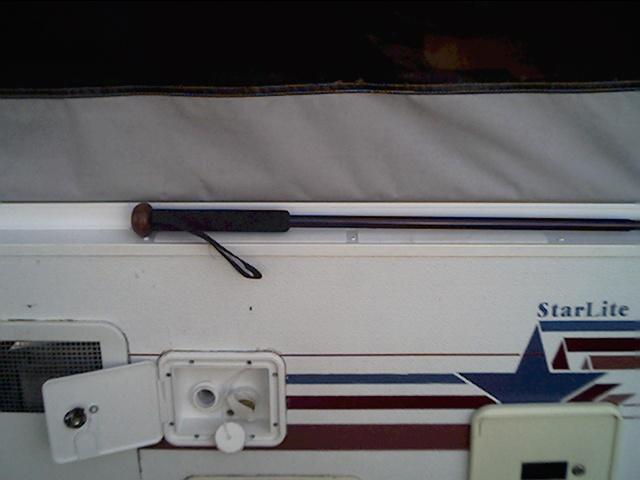 Above: Fill hole on the side of the camper. My walking staff is sitting on the ledge above it.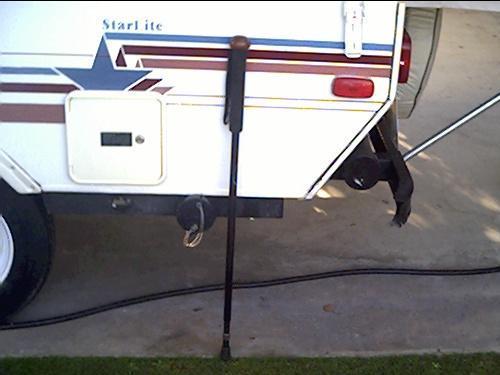 Above: walking staff is a multi-use item. I use it to support the wooden shelf that holds the AquaTainer.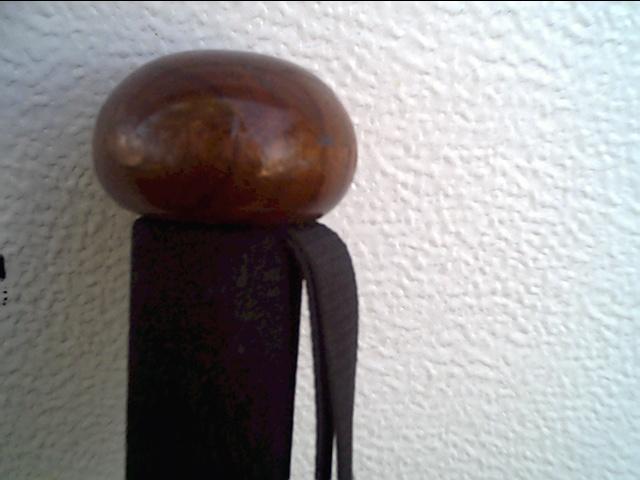 Above: The handle of the walking staff will be removed to gain access to the 1/4″ bolt that will be screwed into the wooden platform.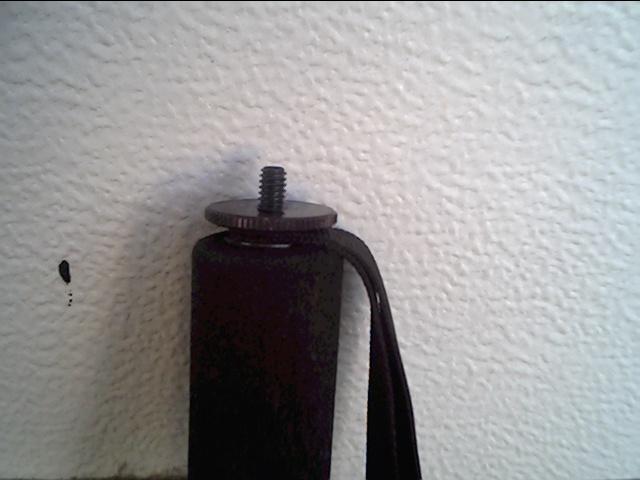 Above: Screw for platform. It also fits the bottom of a camera.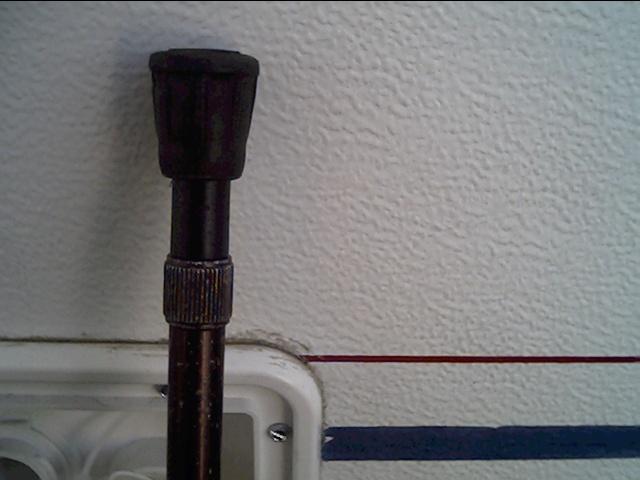 Above: Rubber tip at bottom of hiking staff keeps it secure on most surfaces. It can be removed if a sharp point is needed.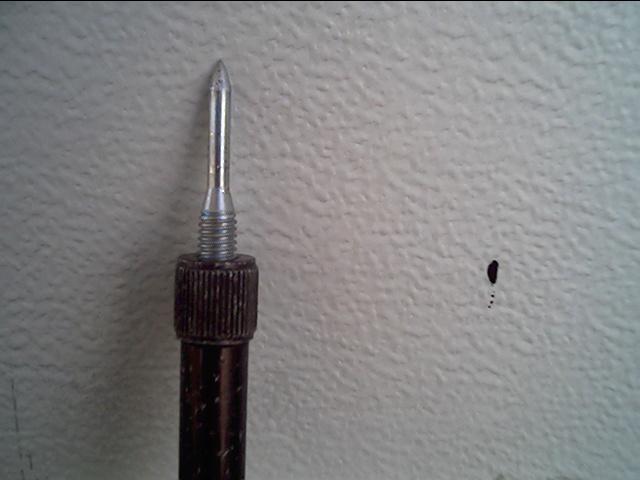 Above: Tip of staff removed.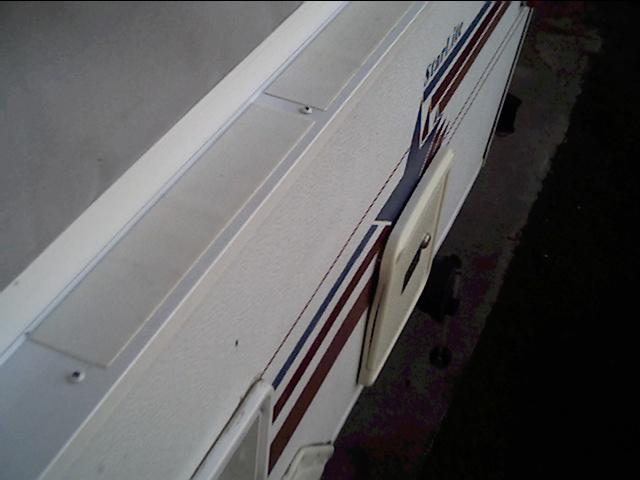 Above: I placed Velcro on the upper rail of the camper side to keep the wooden platform secure.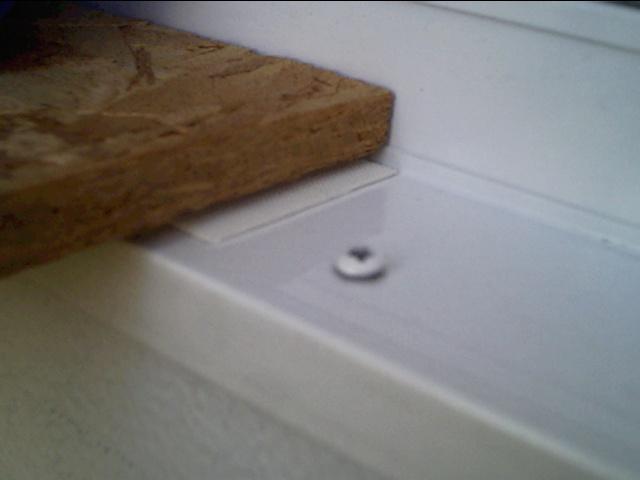 Above: Platform on camper rail held by Velcro.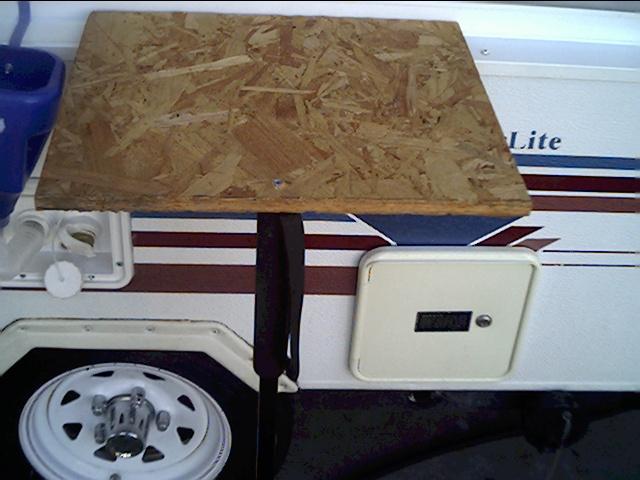 Above: hiking staff acts as a leg to support platform.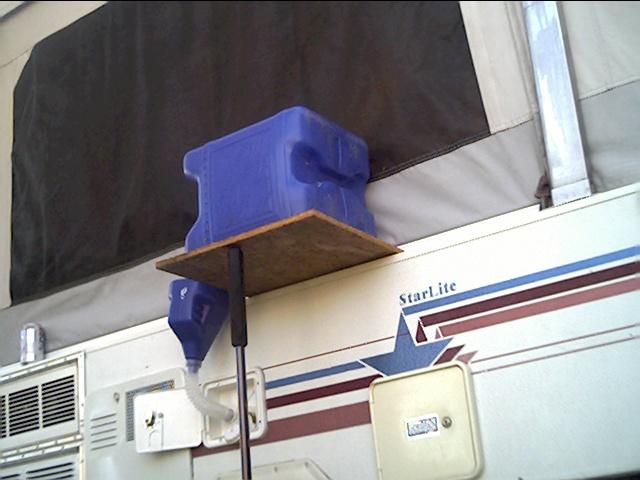 Above: Bottom view of platform.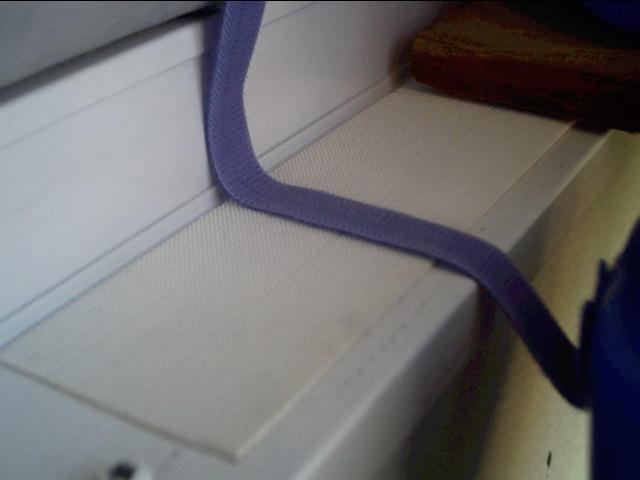 Above: This Velcro strap is connected to the funnel and the funnel is held in place by the Velcro on the camper rail.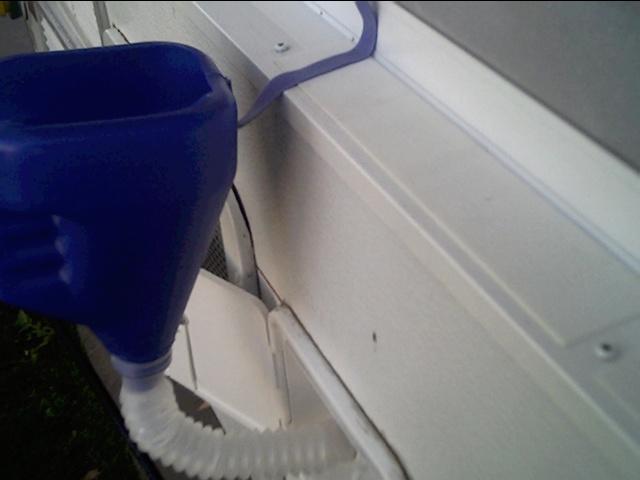 Above: Funnel held in place with Velcro.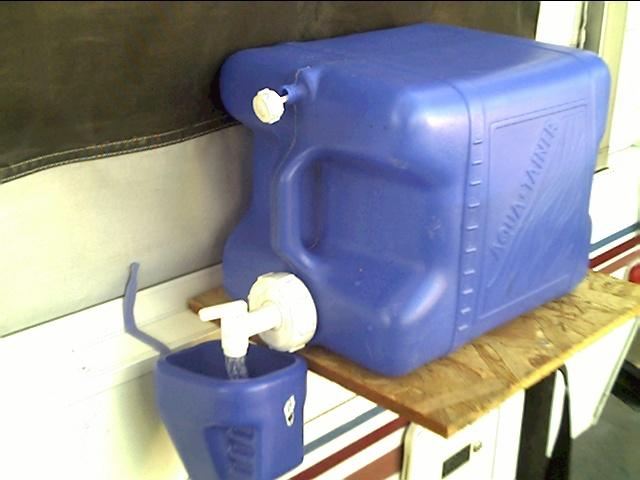 Above: Filling the water tank.
UPDATED AUGUST 22, 2014
These worked fine for our Starcraft and Fleetwood tent trailers, which had 20 and 26 gallon capacities (including the water heater).
Our Milan is a different animal. It has 100 gallons of fresh water capacity, plus the water heater. Not having to replenish the water has been a camping pleasure. We have gone up to two weeks without the need to add water.
But eventually on one of our long trips, we are going to run out of water. The small capacity solutions we have used in the past aren't going to be convenient. So I went searching for a new solution.
FOLD-A-TANK
I found this folding soft-side water bladder at Camping World that was on sale. Folds into a nice neat compact package and had good reviews from owners.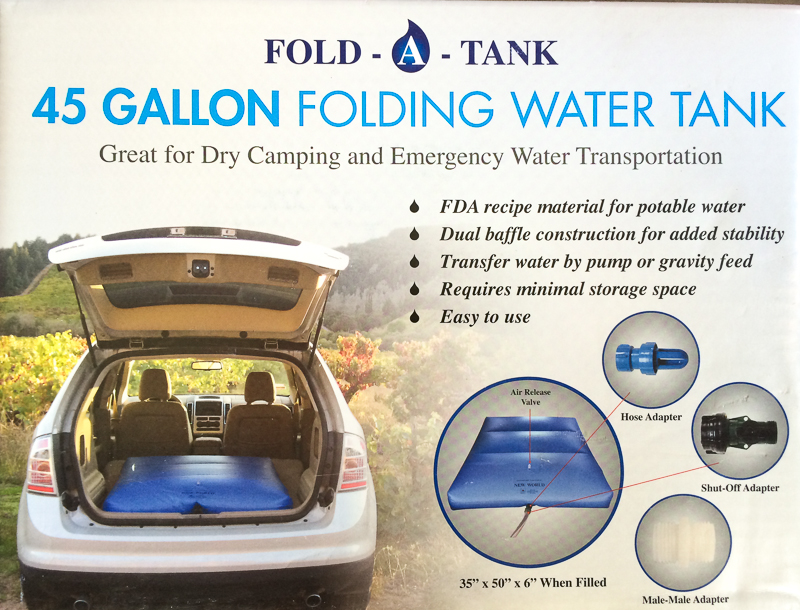 The bladder solved the fresh water tank solution. Now I needed a simple transfer method. Steps:
I picked-up a new RV water pump with the bladder and using some components I had sitting around wired up the pump.
I used a Bargman female connector, so I can just plug the trailers electrical plug into the Bargman connector and use the camper's battery bank to power the pump.
Next I filled the bladder with water and a little bleach to sanitize it (below).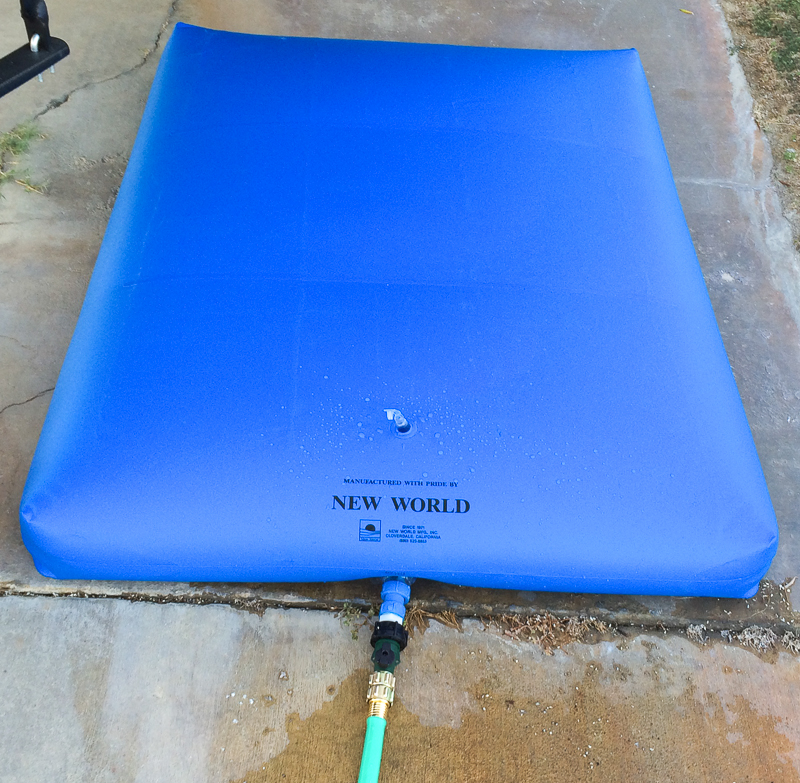 Next step was to connect the water pump and a long hose (black) to pump the water to the camper's water tank fill. Yes, I know that black hose is not for drinking water, but this was just a test. Since I took those pictures I have acquired a proper "white" fresh water hose.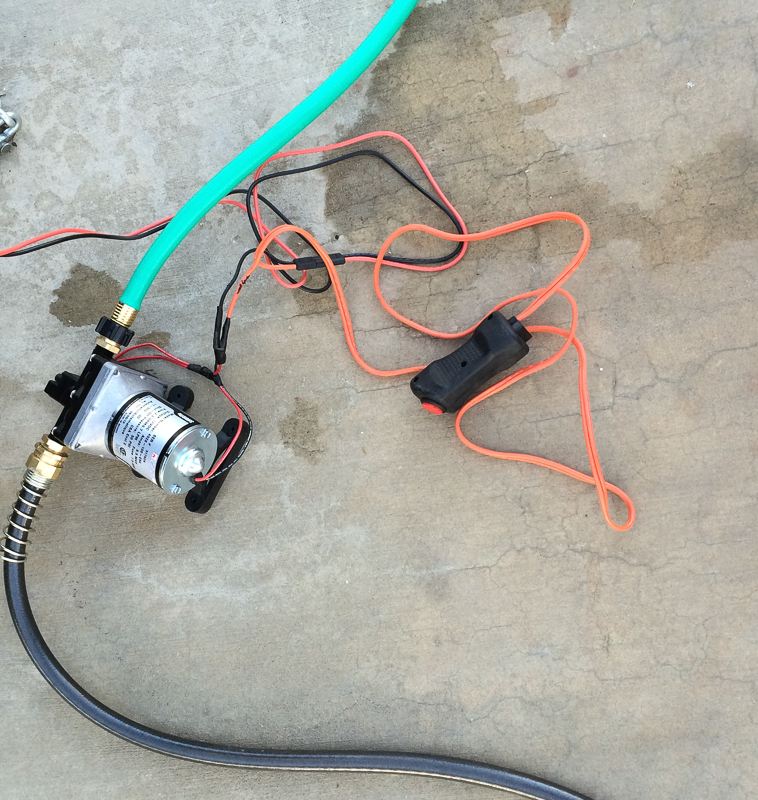 Success! The system works fantastic!