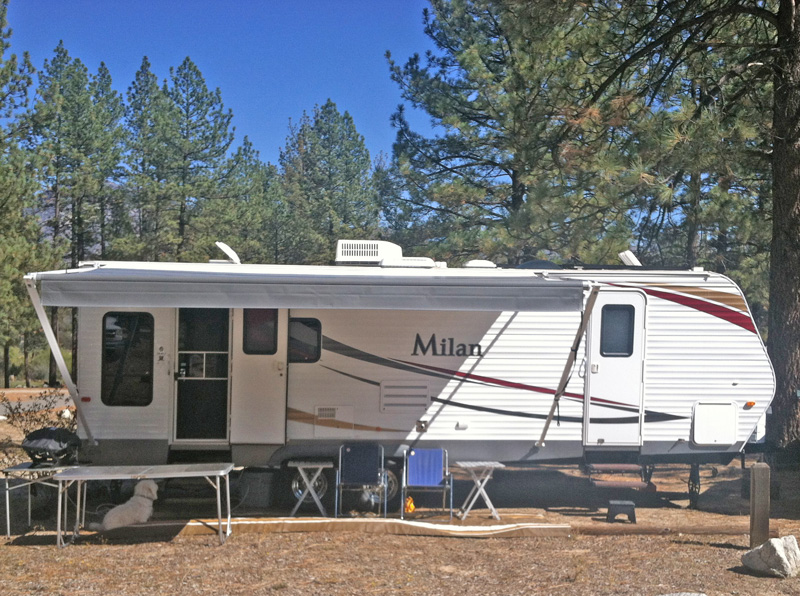 For us, a trailer awning is a critical piece of camping equipment. The awning extends your living space, or as it should, it limits the need to spend time inside the camper. When we are at camped, we spend most of our campsite time outside talking, cooking, working on a suntan (me), or just napping. If it is raining, you can sit under the awning staying dry and enjoying the percipitation, although the camping goal should be to spend most of the time hiking, biking, boating, or even fishing.
In our prior lives as tent trailer owners, awnings presented a unique challenge, which is the fact the camper roof is lowered for travel. This means one must have an awning designed to deal with the up and downs (of the roof) of camping life. Almost all tent trailers come with a pitiful awning, if they come with one at all! Our solutions for our tent trailers were:
Fiamma F-35 for our 1992 Starcraft Meteorite and a Shademaker Supreme for the 2006 Fleetwood Niagara. Setting up and taking down an awning on a tent trailer is a bit of a hassle, but as much as we camp, we got it down to a science.
Based on our experiences with OEM awnings, we weren't holding our breath when it came to the Dometic Sunchaser awning that came with our Milan, but we were willing to give it go, especially after our RV Dealer did a comprehensive walk-thru of the awning operation when we picked up the camper.
There was on thing I did not feel comfortable with – the squeeze clips that hold the entirely assembly secure while traveling. I envisioned the awning opening up while driving down the highway. A simple Velcro strap made specifically for these awnings was a quick and inexpensive solution.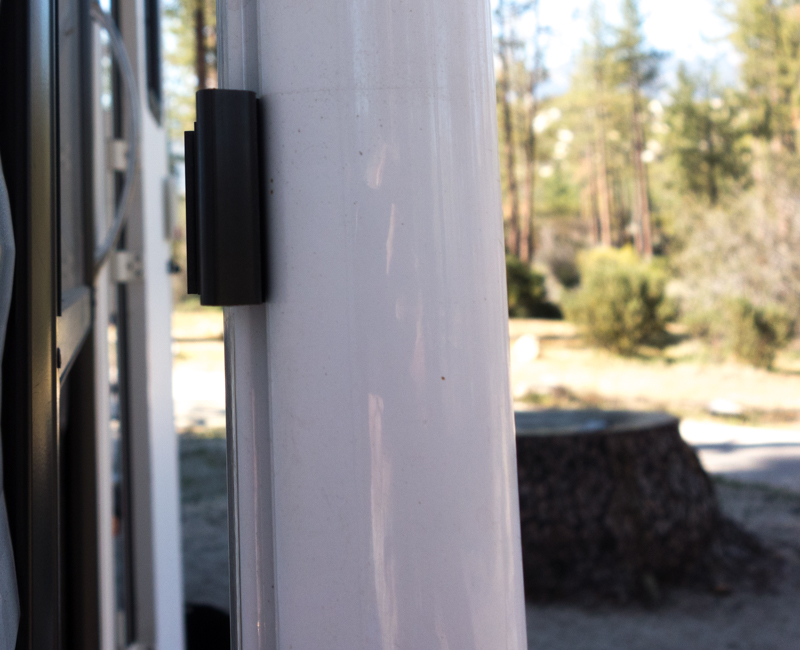 There are just a few steps needed to deploy the awning, and these steps must be performed in the proper order. Since we have practiced a lot with all our trips during the past 18 months, it only takes a minute or two to set it up or take it down. We are completely satisfied with the awning.
SPECIAL CONSIDERATIONS
Center Rafter Pole
Our Fiamma awning was only 7' 6" long, so there wasn't any need for a center rafter. However, the longer Shademaker on our Niagara at 13' 6" long required a center rafter pole. This was a little fiddly at times. Because the Dometic Sunchaser is much more robust in construction (and weight), there is no center rafter pole.
Wind
Wind is the enemy of RV awnings. A quality awning can be torn apart in seconds with a good gust of wind. For most tent trailer awnings, which accommodate the need to raise and lower the roof, they are not easy or quick to roll up with the roof in its extended positon. This was especially true with our Niagara after we raised the suspension – a ladder would have been required to take it down with the camper roof in the up position.
Camco Awning Hold Down Strap Kit

Our solution for wind with both the Fiamma and the Shademaker was to use a Camco Awning Hold Down Strap Kit. When the winds picked up, our awnings stayed secured while other campers around us incurred wind damage.
To avoid opening, closing, and again opening the Dometic awning on extended trips, I opted to purchase a Camco kit for our Milan. With all our camping, we have only needed to use the Camco kit once, a few weeks ago.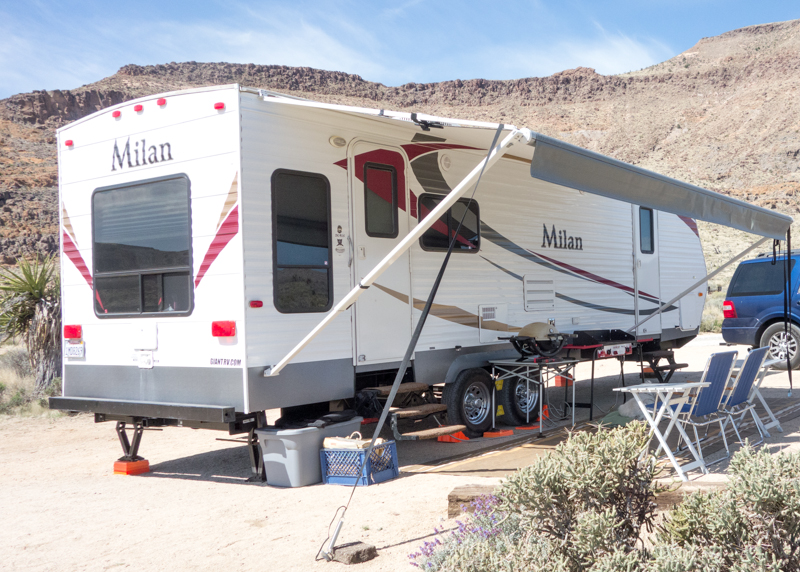 The kit comes with a rather long strap, two heavy duty stakes, and spring for one end to allow some flex in the wind.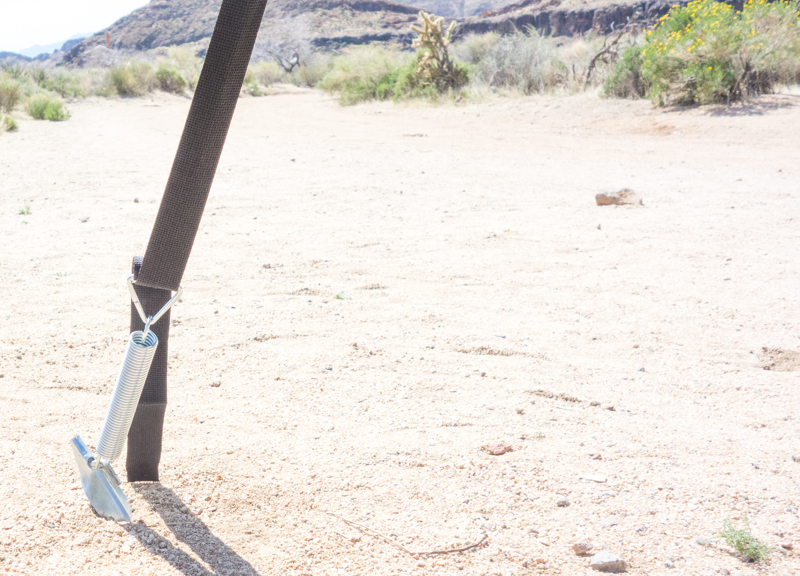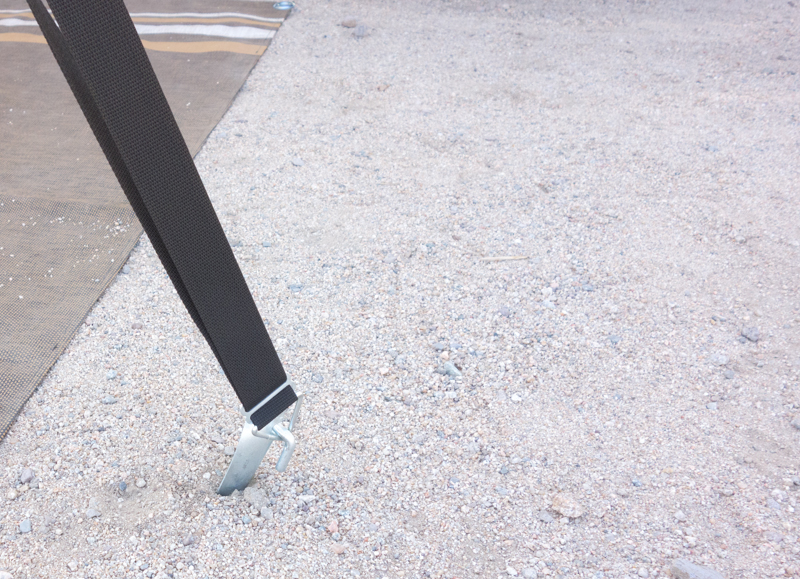 Any time you are using a stake, whether for the Camco kit, or even a tent, you want to drive the stake into the ground at a 45 degree angle. This will provide the greatest holding power.
Camco Awning De-Flapper Max
Without a center rafter, the Dometic awning has a tendency to flap in the wind or even in a slight breeze. The noise can be annoying. Our solution was to purchase a couple Camco Awning De-Flapper Max units.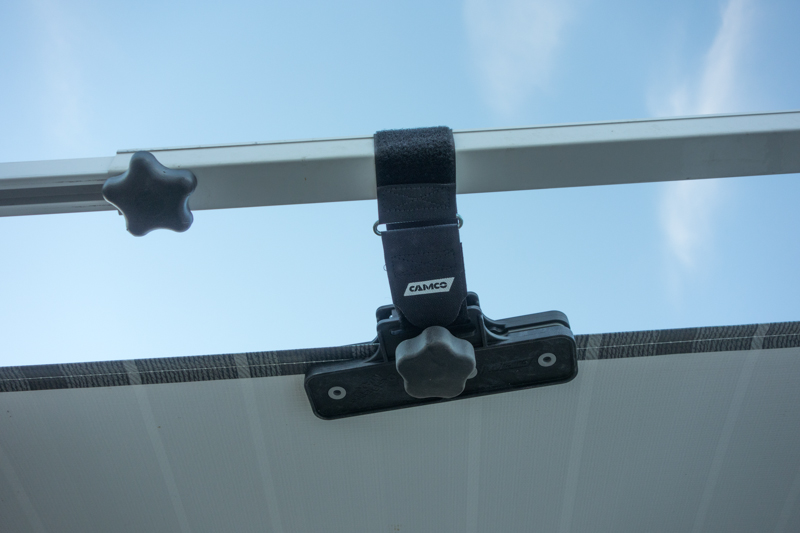 The brochure states it: "Camco RV Awning De-Flapper Max is designed to protect your valuable RV awning from costly rips and tears while preventing noisy wind flapping. This de-flapper holds securely with hook as well as loop fastener straps and is made of durable nylon with UV stabilizers. It is chemically resistant as well as rust proof and has a universal fit. This De-flapper's features 8″ wide clamp with soft, non-marring grippers that protects the awning fabric and can be used with screen room in place." At under $20 a pair through Amazon, they are a worthy investment.