iPods, iPhones, and iPads
This site is supposed to be about hiking and camping, but it is my site so I can post anything I want 🙂
Smart Phones are used by many folks when hiking and backpacking, so the subject might be appropriate. For my view on their use in the back-country and my thoughts on texting, see these posts: I Hate Texting and Backpacking with a Smart Phone.
This Christmas I bought iPads for both Joyce and Nicole, so I thought I would share how I use my Apple devices and what applications I like and use the most. Lets face it, these are primarily consumer items. However, it is possible to integrate iPhones and iPads as a part of everyday business. By managing the use of these devices, one can actually save time, creating additional time for such activities as backpacking and camping. Unfortunately, for most people these devices become time black holes, sucking up all their free time with such time wasters as texting, Facebook, Twitter, etc.
In 2007 I bought an iPod. It is a wonderful piece of technology. Currently I have 1,994 songs (176 albums) and 2,554 pictures stored on it. It still has 6.53 GB of its 30 GB of capacity available. I bought it to listen to music in my SUV and when traveling on airplanes. The SUV's Double-DIN radio has an iPod interface and the touch screen can be used to navigate the controls.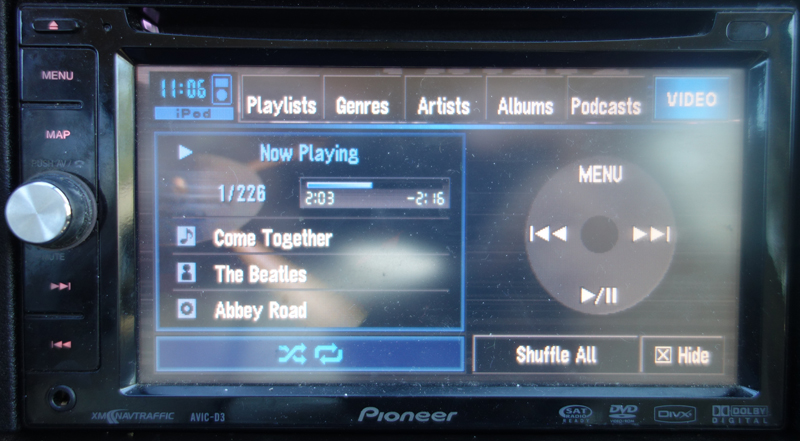 There are two things I dislike about Apple devices. The first is integrated batteries, meaning they cannot be replaced easily, or for most people the battery must be replaced by Apple. I will admit that the integrated battery does enhance the design aesthetics of all the Apple devices. Also, my iPod's battery is 6½ years old and still works! But if you want to take an iPhone backpacking, battery life is a problem. The second thing I dislike is the lack of a simple way to move files between each device and a computer; unless one considers iTunes simple. Especially if you own a Windows PC.
Since I only use the iPod to listen to music, I will primarily review how I use the iPhone. Additionally I will discuss how I use some applications that work best on the iPad. Lastly, I will share some of the accessories I use with both.
iPhone
First and most foremost, I use it a phone. That is, I call and talk to people. Some apps I often use on the phone include:
Mail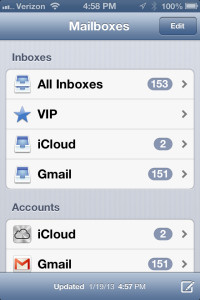 The iPhone integrates well with Gmail and MS Outlook. Unfortunately I rarely use Gmail and my company email is on GroupWise. When traveling, I rarely send emails with my phone. However, it is convenient if I have a method to monitor email in case something arises that needs my immediate attention. This is accomplished with two methods:
I have a "Rule" in GroupWise that forwards every email to my Gmail account. I also have a rule that deletes any email from my Sent Box that is forwarded to my Gmail. This way my GroupWise Sent Box doesn't get filled up with these emails. The "Notification" feature of the iPhone's Mail Application alerts me whenever a new email is received.
In the event I need to immediately handle an incoming email, I have an App called GW Mail that interfaces with my company's Web-based GroupWise application. This works much better than trying to use the GroupWise Web Access via the iPhone's Internet Browser.
Contacts and Calendar
This was a very difficult problem, because the built-in apps do not sync with GroupWise either. For email, I just need to monitor incoming emails. But I need to access, update, and add items to my Contact List and Calendar when I am traveling, and booting up my laptop several times a day doesn't work. The ability to sync the Contacts and Calendar with my GroupWise account is critical for a road warrior like myself. I finally found a solution that is somewhat clunky and troublesome to set-up properly. With a little practice it does work without too much complication. The solution requires two pieces of software:
The first is an iPhone App called Deja Office. Deja Office syncs with the native iPhone Contact and Calendar programs. The program was designed to be a better option than using these native programs, but I prefer the Apple apps.
On my laptop is a program named, CompanionLink. This program syncs GroupWise with Deja Office; thus indirectly syncing GroupWise with the native Apple Contacts and Calendar apps. The one inconvenience with CompanionLink is that it must sync with the iPhone via a wireless connection. That is, both the laptop and the iPhone must be using the same wireless network at the same time. After some practice, this works seamlessly for me. I just have to manually sync everything – that is; I need to remember to do it.
Internet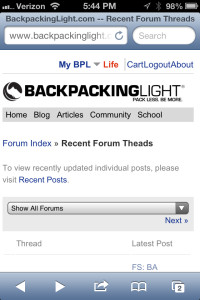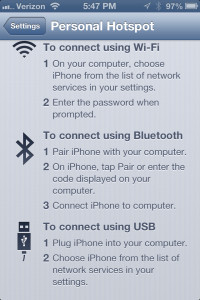 Surfing the Web for information is really slick on the iPhone, and even better on my retina screen iPad. But typing on the itty bitty iPhone screen is tedious. A tip from a friend helped a lot. Turn the phone sideways and the keys are bigger and easier to type on. I also found that when the screen is turned sideways the Web browser switches from portrait to landscape. Amazing.
I can use my iPhone as a Hot Sport for up to 5 devices. Very handy when public Wi-Fi isn't available. The speed is surprisingly fast, sometimes faster than the wireless in hotel rooms or airports.
How Cold is it?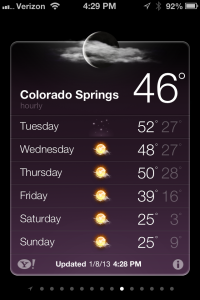 No explanation needed.
Travel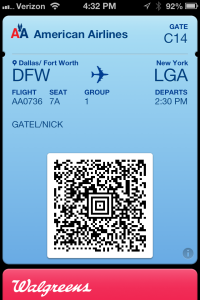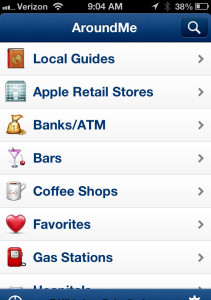 I use four apps that make travel a breeze.
Orbitz for Business allows me to reserve airplane flights, hotel rooms, and rental cars in one simple session. My credit card is on file and billing is automatic. An invoice is emailed to me.
You can send your Orbitz information to TripIt, which allows you to easily manage and check your travel while on the go.
Most airlines allow mobile boarding passes on your phone and some even get sent to the Apple My Passport app.
Around Me makes it easy to find points of interest from your present location.
You can also use the iPhone for navigation. I prefer the navigation unit in my SUV when driving. When traveling by plane, I take a Garmin Nuvi. Both are much, much better than a phone.
Navigation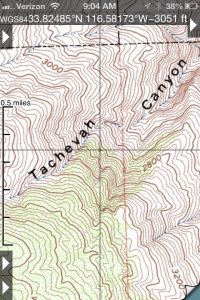 A great iPhone GPS/Map application is Topo Maps. You can load any USGS Topo Map in the continental US for free after you purchase the app. I have tried this on a couple of backpacking trips, but it doesn't work for me. A real map and compass is my preference. But when traveling and looking for a quick day hike this app is outstanding.
Utilities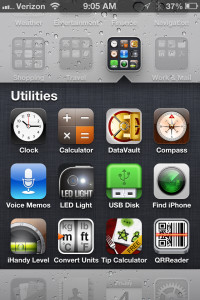 Clock: I use the alarm often.
Calculator: Handy for all kinds of stuff.
Ascendo DataVault: Stores all my passwords and other sensitive information. Very secure.
Compass: Useless.
Voice Memo: Have never used it.
LED Light: Turns the camera flash into a flashlight. Critical when you need a flashlight.
USB Disk: I use it to transfer certain files to the iPhone or iPad.
Find iPhone: Locates your phone using a computer. You can erase the phone from your computer, should you lose your phone.
iHandy Level: Several level tools. Works too.
Convert Units: Good to convert measures we have been using for centuries to that new math metric system.
Tip Calculator: Enter what percent you want to tip and it calculates the tip and the total. Will also calculate each person's total when you need to split a bill.
QR Reader: Don't know why I downloaded this app.
Camera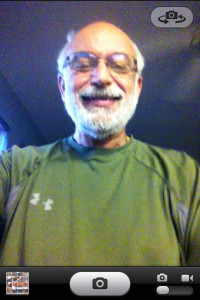 The iPhone camera is better than my first digital camera. Comes in handy if you don't have a real camera with you. Can be used as a portable scanner too. Has two lenses, front or back. Use the back lens to take a self-portrait. Can also capture video.
Photo Albums
Along with the pictures that are taken with the built-in camera, the Photos application syncs with any pictures on a computer you want to copy to the iPhone (or iPad).
Shopping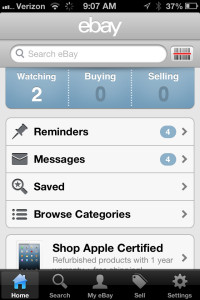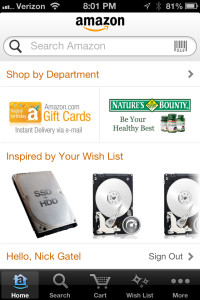 I have found that most shopping apps don't work well on the iPhone. A few work better on the iPad, but in most cases a real computer is best. I use the eBay app to follow items I am watching and sometimes use it to place bids. It works well for me on the iPhone. One thing I do not like is that it does not sync your last view of saved items with the iPad or computer. The view is device dependent. The Amazon app is pretty good.
Finance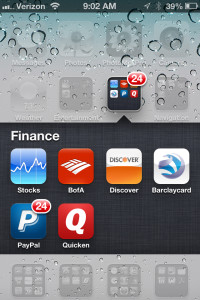 The Bank of America app is great. I can even transfer money between accounts and pay bills.
PayPal is excellent too.
Quicken sucks.
The others are useful, but not as good as using my computer.
Music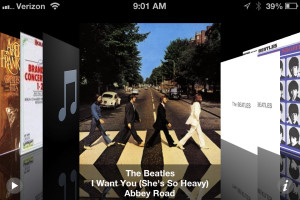 Well, the iPhone is an iPod too. It works much better than my older iPod.
iPhone/iPad Apps that work best on an iPad
The pictures below are from my iPhone, but they work better on an iPad.
Evernote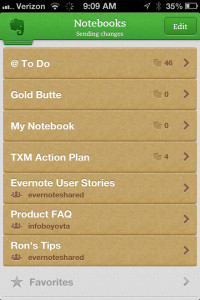 Evernote is an organization tool. It tracks all kinds of documents and can even clip web pages. It does so much; it would be too much to cover in this post. It works best on a PC, but it does sync all my Apple devices with my laptop via the Evernote Cloud. Check it out evernote.com.
Kindle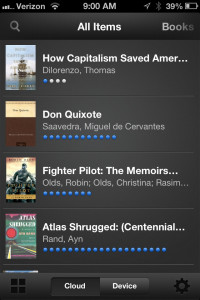 The app will sync with your Kindle, PC, and all Apple devices. It works well with the iPhone if you don't mind the small text. On an iPad, I like it better than an actual Kindle.
Netflix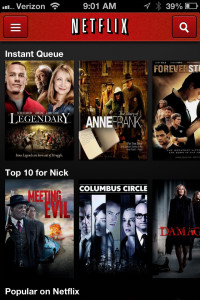 Works on an iPhone, but the screen is small. Much better on an iPad. Great to place movies into your Instant Que if you are traveling and someone recommends a movie.
Documents to Go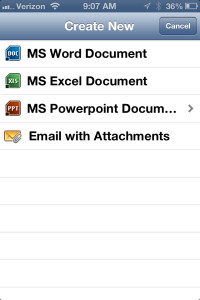 Awful on an iPhone. Works great on an iPad. However you will need to purchase software for your laptop and for your Apple device. If you use MS Office on your computer, this is the best way to go.
DropBox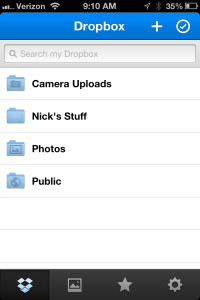 Sync and move files from you PC and Apple Device. Some apps are integrated with your DropBox account. Below are two iPad only apps that can utilize DropBox.
iPad only Apps
pdf-notes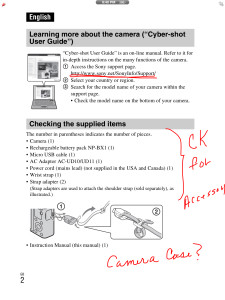 This app allows you to import PDF document via DropBox and several other sources. The document can be marked-up with a stylus and saved with the edits. I use this a lot when reviewing/proof-reading documents. I also will make notations on PDF files that are sent to me and then return them to the sender.
Penultimate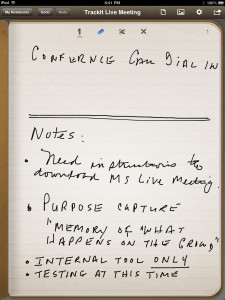 This app allows you to take notes, sketch, draw, etc. with a stylus. Files can be saved, emailed, or transferred to DropBox or Evernote.
Hardware
iPhone 2 piece iFrogz case
;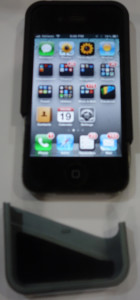 Bottom of case can be slid off, allowing the iPhone to be placed into almost any docking station.
Bamboo brand Stylus

I use this Stylus with pdf-notes and Penultimate.
Apple iPad Cover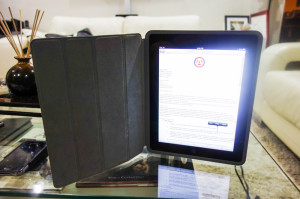 Multi-functional: Shuts off iPad when cover is closed, can be used as a stand, and it protects the iPad.
Logitec Ultra-thin Keyboard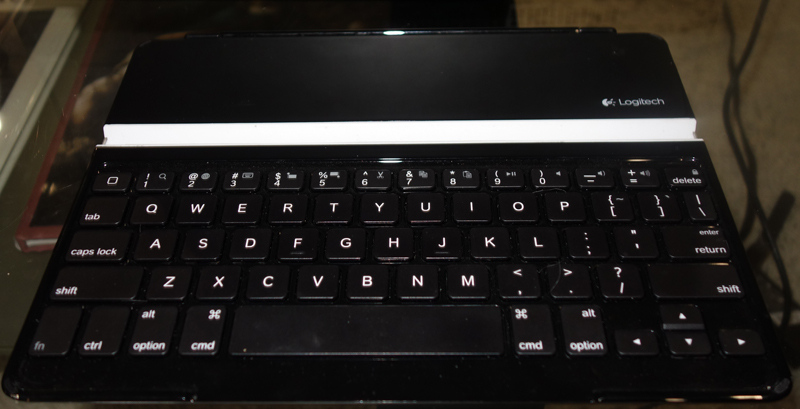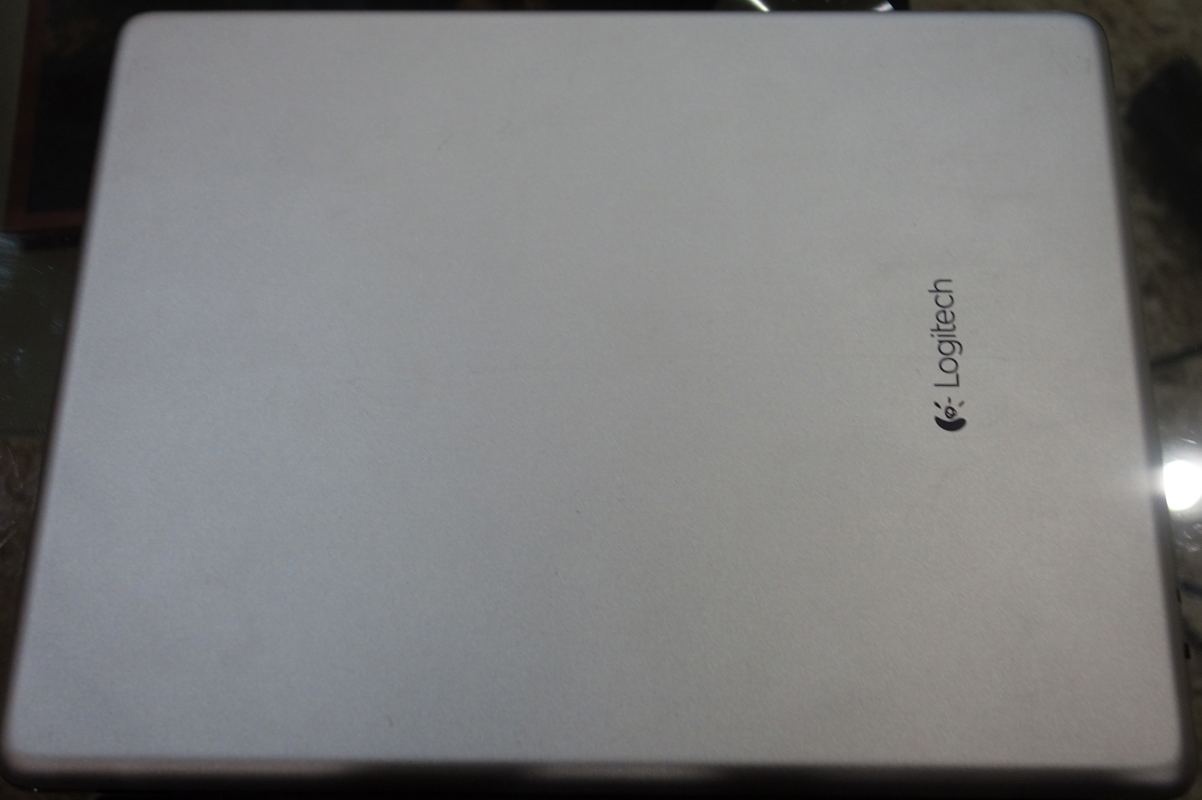 My favorite iPad accessory. Bluetooth connection. Matches the design and color of the iPad. Thin and light. Magnetic hinge keeps it connected to the iPad when it is closed and acts as a cover.
iPhone/iPad Connection Kit
;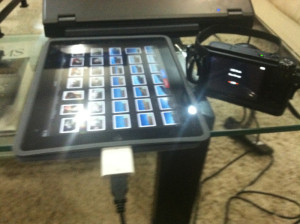 Used to import pictures from a digital camera to an iPhone or iPad. Does not work with all cameras, but works with both my Canon SD1200is and Sony DSC-RX100.
Charging Stands
;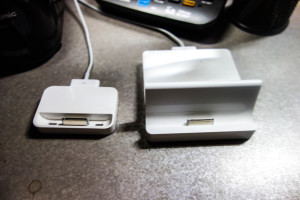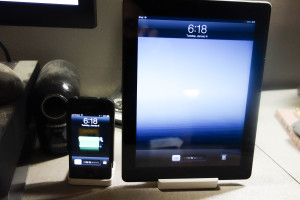 ;
Convenient. However, make sure you check closely if you have a "New Generation" (iPad 3). Earlier models have a 30 pin connector. New models have the new smaller "Lightning" connector.