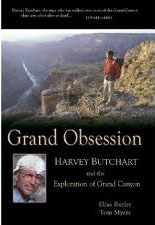 If you are human and have stood on the rim of the Grand Canyon, you have to have been overwhelmed by its immensity and beauty.
If you have ventured down to the bottom via one of the popular trails, you must have been absorbed its charm.
If you are lucky enough to travel down to the bottom on a little known and rarely used trail, you are probably addicted to the Grand Canyon. It is a heroin drip.
If you have ever climbed out of the Canyon and looked back over the expanse, you probably thought it would be impossible for any one person to become intimately familiar with the entire place.
Harvey Butchart
One man did become intimate with all of the Grand Canyon; Harvey Butchart. He first visited the Grand Canyon at the age of 38. And during the next 40+ years he spent over 1,000 days in The Canyon, hiked over 12,000 miles, scaled 83 inner summits, climbed 164 walls, discovered 100 rim to river routes, and claimed 25 first ascents. Butchart wrote 3 trail guides to The Grand Canyon, and as fitted his day job as a math professor at Northern Arizona University, are straight forward go from A to Z with an industrial engineer's perspective. There is little prose or inspiring passages in the books, just the facts; just like solving a mathematical problem.
The authors of this biography, Elias Butler and Tom Myers, have done an outstanding job researching and piecing together the pieces that, as a whole, paint a picture of Harvey Butchart, the man. Grand Obsession delves into the obsessive hiking behavior of Butchart and its effect on those around him. If you were lucky enough to do a lot of hiking in the 1960's or 1970's in and around Flagstaff or the Grand Canyon, you knew who Harvey Butchart was. But until Butler and Myers published Grand Obsession, very few people really knew Butchart.
The Colin Fletcher Connection
Next to John Wesley Powell, the person made most famous by The Grand Canyon is Colin Fletcher. The famed author was pretty much unknown until 1968, when he published The Man Who Walked Through Time, relating his hike through The Grand Canyon; a trip that could not have been completed without the help, knowledge and assistance of Butchart. The authors have done some real detective work to uncover the facts about the relationship between Butchart and Fletcher.
Biographical Confusion
One thing I did not care for are the authors' descriptions of personal trips in The Canyon as part of this work. Also too much time is spent on the life of George Mancuso, a Butchart groupie.
Summary
In spite of the biographical confusion, I rate this book 5 Stars. It is a must read.