Since we recently bought a new trailer and a new tow vehicle, I thought I would share some information about matching trailers and tow vehicles. In my research for both, I came across a lot of bad information. Before we bought, I knew what to take into consideration when matching a trailer and something to tow it with. This will lay out some basic information the buyer should know before he or she ever steps onto a car or trailer dealership lot.
Part 1 (this post) will cover tow vehicles. I will discuss trailers in part 3. Part 2 will discuss trailer hitches.

RULE #1: DON'T TRUST THE DEALERSHIP TO PROVIDE ACCURATE INFORMATION
This is not a condemnation of all dealerships. But the basic truth is that most salespeople do not make any money unless they sell you something. Often (usually) their need to make a commission overrides your need for a perfect vehicle or trailer, and even your safety. We knew what we needed before we bought.
The dealership we bought our SUV from couldn't even determine whether or not it came with a factory Heavy Duty tow package. Fortunately our trailer salesman had excellent product knowledge, which matched what we already knew.
WHO DO YOU TRUST, IF YOU CAN'T TRUST THE DEALERSHIP
You can only trust the manufacturer of the tow vehicle and the manufacturer of the trailer. Opps! And the information you need is found in a sea of confusion. This means you have to research and study. If you don't, you may buy a tow vehicle that is too small to tow that trailer, or a trailer that is too big for you to tow.
Whichever comes first (the chicken or the egg), you might have a combination that is unsafe. I think this is called buyer beware.
And for all you Gen X and Gen Y folks, it means that someone isn't going to look out for you or take care of you. You are on your own in the big, bad world or reality.
THE SEARCH
We knew we wanted another Ford product, and we didn't want a big 'ol honking truck; maybe a ¾ ton truck at the biggest. Our preference was for another SUV, but they tend to cost more than a similarly equipped truck. For a truck, a super cab (4 door model) was on our list.
So a little research narrowed it down to this:

We found a screamin' deal on a 2012 Ford Expedition that had been sitting on the dealer's lot for a year. Although it was a year old, it was a new SUV. We got almost $10,000 of the MSRP. Since we keep vehicles a long time, and were thrilled with our 2003 Expedition as I wrote in You Need a New TV, we were happy with the purchase.
THE SCIENCE (OR MYSTERY) OF MAX TOW CAPACITY
You just cannot look at a brochure and accept the maximum a vehicle can tow. First you need to know if it:
Requires a Weight Distribution (WD) hitch
What engine/transmission/differential is in the vehicle
Does it have/need a factory installed optional Heavy Duty Tow Package
What other options are on the vehicle that might reduce tow capacity
What is the total cargo the vehicle can tow in addition to the trailer
Other stuff I probably forgot
So all the information you need is on the vehicle itself. For our Expedition, here are the specifications:
Maximum Tow Capacity = 9,200 lbs using a WD hitch (must purchase from aftermarket).
Maximum Tow Capacity = 6,000 lbs using a Weight Carrying (WC) hitch (included on vehicle)
Maximum Tongue weight = 920 lbs using a WD hitch
Maximum Tongue weight = 600 lbs using a WC hitch
Okay, cool! I can tow a 9,200 lb trailer if I buy a WD hitch.
Not so fast. There are a couple other numbers that play into the equation of our Expedition. First is the Gross Combined Weight Rating (GCWR) for the SUV. This can be found in the Owner's Manual or on the Internet. Ours is 15,000 lbs. This means that the SUV and the trailer cannot weight more than 15,000 lbs. It is not on the vehicle. But it can be calculated.
First you need to figure out how much cargo you can add to the vehicle. This information is affixed to a label on the door pillar. Ours is 1,589 lbs.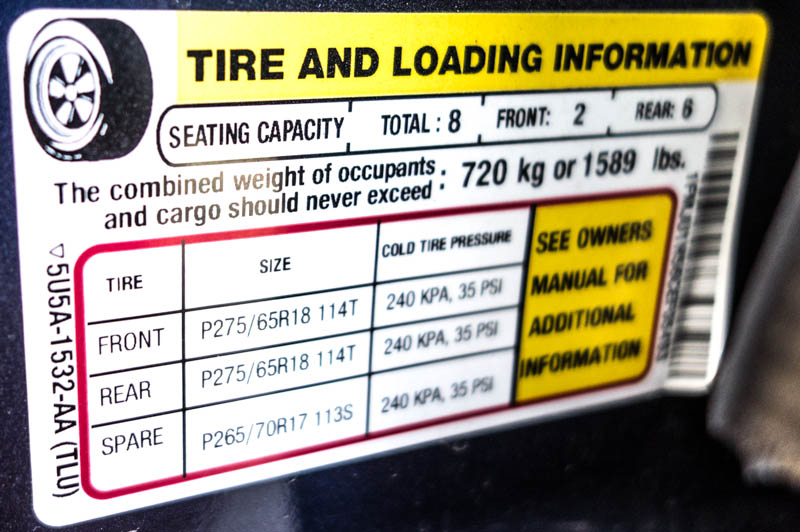 The second thing one would need to know is the Gross Vehicle Weight Rating (GVWR) of the Expedition.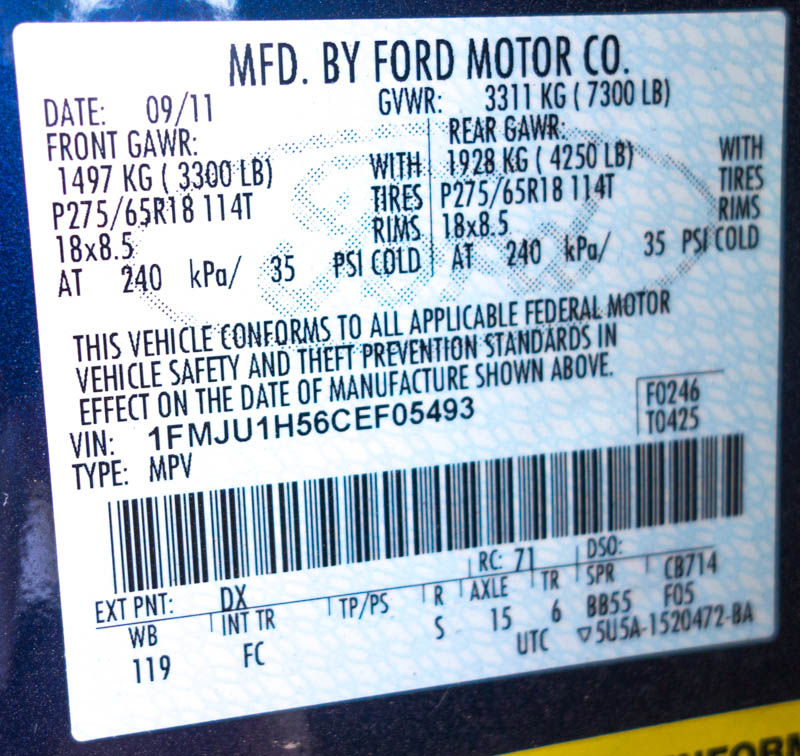 This is found on another sticker above the cargo sticker. Ours is 7,300 lbs. So here is what we end up with:

That is pretty close to what ours is. Now comes the tricky part. The Max Cargo (Cargo Carrying Capacity) includes the weight of passengers and the trailer tongue weight. The average American adult male weighs 196 lbs, and female weighs 156 lbs. Add a 30 lb dog. That takes the available CCC down to 1207 lbs. Add the Max Tongue Weight of 920 lbs, and you have 287 pounds of CCC left. Not much room for such things a kids or anything else.
1589 – 196 – 156 – 30 – 920 = 287
These are all the things you need to worry about, before you even think about what trailer to buy!!
So let's look at our Expedition. Between Joyce and myself, Corky the wonder dog, and some small tools and equipment in the back for the trailer the total weight is 6,075 lbs. That's all we keep in the SUV. Everything else goes into the trailer. How do I know this is the correct number? Because I weighed the Expedition at a truck stop.
So using the Gross Combined Weight Rating (GCWR) for the truck of 15,000 lbs minus the Gross Vehicle Weight of the Expedition of 6,075 lbs, we can tow a 8,925 lb trailer.
15,000 lbs – 6,075 lbs = 8,925 lbs
Our 2014 Milan 26RLS has a Gross Vehicle Weight Rating (GVWR) of 9,000 lbs. So we are good to go camping.
IF YOU SAID, JUST A SECOND NICK YOU ARE WRONG…
You might be right. To be continued…