This is not a Gear Review
To properly review a product it needs to be put to extensive use over a period of time. Perhaps a couple of years. Twenty-five or forty-five years would be better such as my camping chairs or some of my older backpacking gear. Based on a limited test, I recommend it.
This item is something you don't want to use frequently. Actually you would hope you never have to use it. But when it comes to trailer tires, Murphy's Law applies:
when something can go wrong, it will.
I can't recall ever having a car or truck tire blow out when driving and I have driven over a million miles in my lifetime. But over the past 25 years I have had around a half-dozen blown tires on my trailers, one of which lead to the demise of our awesome Niagara Tent Trailer. We now have AAA towing coverage for our current rig. So how does Murphy's Law work with a trailer tire?
You will probably be traveling in a remote place with no cell phone coverage
You will probably be traveling in hot weather and likely over 100F
You will probably be traveling more than 55 mph (I now stick to 55 max which is the speed limit for towing a trailer in California
Your wife will probably be with you to remind you several times what you did wrong
Trailer tires, unlike vehicle tires, are often close to their max load carrying capacity – often trailer tire load capacity is the limiting factor on how much your trailer can weigh because the axle, frame and tongue can carry more
So, let's call this a first impression of the Camco Trailer Aid Plus.
Trailer Aid Plus
When we bought our 2014 Milan three years ago, it became the only trailer with more than one axle I have ever towed.
Once we got the trailer home, I ordered all the stuff for our Solar System Installation and a bunch of other goodies to replace what had been stolen. Of course my first stop was Amazon. While surfing Amazon, I found the Trailer Aid, but you can also purchase one from Camping World and other fine RV part retailers. I bought it from Amazon for just under $43. The Trailer Aid Plus only works on trailers with dual axles, but there is a possibility it could work on a triple axle set up. Camco says the Trailer Aid Plus can support 15,000 pounds.

Now, I usually distrust or am very wary of customer reviews, but both Amazon and Camping World had a large number of customers reviewing the product and both sites had a rating close to a perfect 5. So I bought one and stuck it inside the trailer and forgot about it. Every once in a while while digging for something in the storage compartment under our sofa, I would remember we had it and make a mental note to try it out before I actually needed to use it.
Initial Impressions
A couple months ago it was time to clean, inspect, and repack our wheel bearings. Remembering I owned this thing, it seemed like the perfect time to test it out. And it really, really was awesome! You just drive one wheel up on the Trailer Aid and the other wheel hangs free an inch or two above the ground. It does what Camco says it does.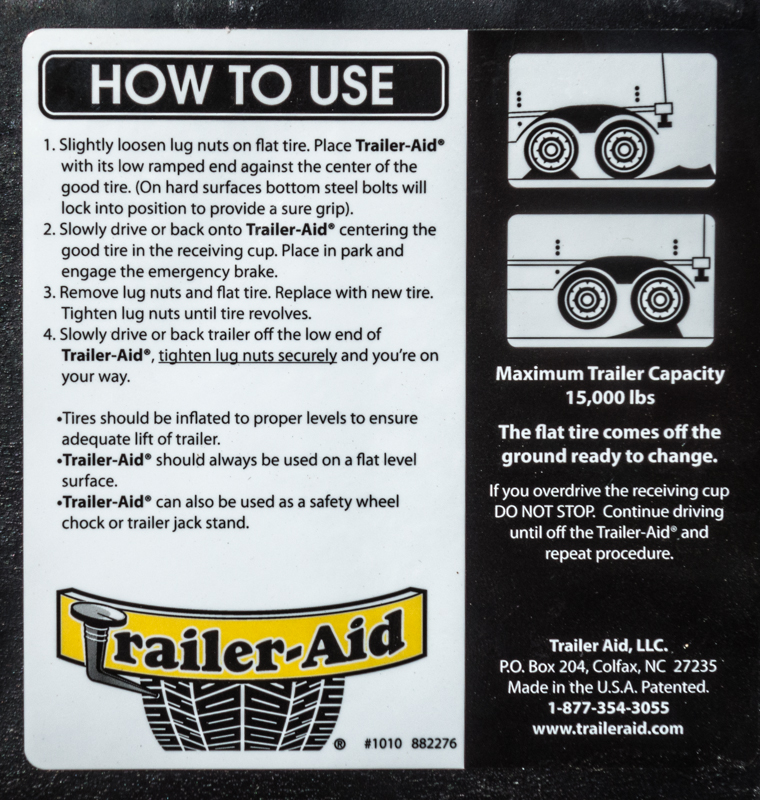 I didn't have to go find the instructions, because it is simple to use, but instructions for use are also on a label attached to the unit.
Caveats
The Trailer Aid is narrow and on soft ground, it will probably sink into the ground and not raising the other wheel high enough to clear the ground. Something the user won't notice because the flat tire will be easy to remove, but the axle will not be high enough to install a fully inflated tire. So I recommend carrying something wider than the Trailer Aid and at least an inch thick to help keep it stable and minimize any sinking.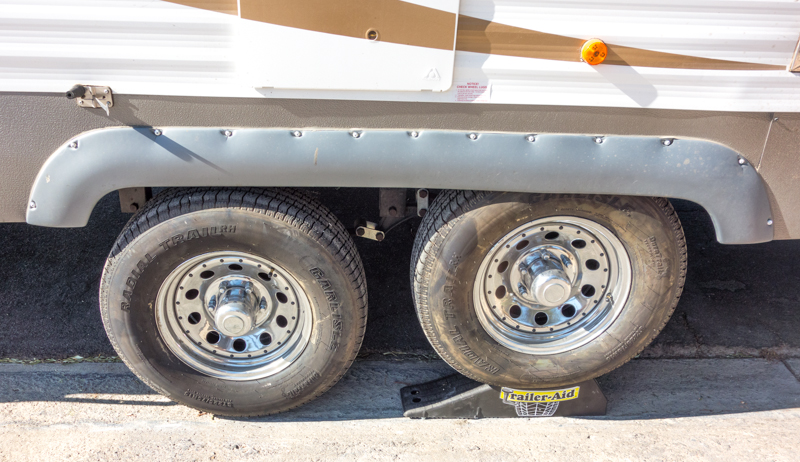 To test this, I parked our trailer with one axle in the street gutter at a bit of an angle, basically an indentation. As expected when I drove onto the Trailer Aid, the other tire was not high enough to spin freely due to how our leaf springs are set up. The good news is I didn't need to jack up the frame to get it higher. The wheel I wanted to remove was not bearing much of a load. Normally you don't want to place a jack under a travel trailer axle, because it is a hollow tube and can easily be damaged. In this case, I used a jack under the axle U-bolts and it was easy to lift the axle higher because it wasn't carrying any weight.
Camco also makes the Trailer Aid, which is about an inch shorter. Since most travel trailers have leaf springs or are torsion axles, you want to buy the Plus model.
Overall I am very pleased with the purchase and used it to remove 4 tires.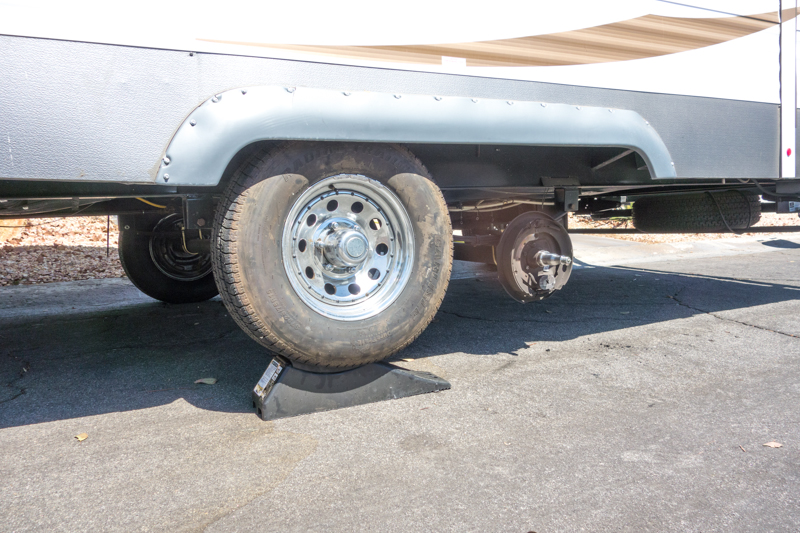 It saved me a lot of time to remove each wheel and gain access to the wheel bearings.
Here's a video from Camco
Disclosure: This post contains links to websites to may compensate this site to help defray the costs of operating it