If you're reading this you probably know what an inverter is. Just in case that is not the case let's quickly cover the subject. I have been using inverters for decades and through a lot of trial and error, research and tenacity, have learned much. By sharing this I might be able to assist you in making a good inverter decision and save you from the timely and often expensive option of learning through mistakes.
Background
Most campers come with two electrical systems: 12 volts DC (direct current), and 120 volts AC (alternating current) – the same as your house. When the camper is plugged into a 120 volt AC power source (i.e. hook-ups at a campground) you can use the electrical outlets in the camper to power household type appliances. Also if your camper has built-in electrical appliances like an air conditioner or microwave you can use those also.
If you are camping off the grid, you could elect to buy 12 volt powered appliances, such as a blender. Our experiences with 12 volt appliances are they are cheap, of poor quality, and soon fail. Those who want to use these comforts should instead opt for quality household products that operate on 120 volts AC.
Some things in your camper always run on 12 volts DC such as the lights, water pump, CO detector, propane leak detector, and the ignition systems for propane operated refrigerators and water heaters. When the camper is plugged into a 120 volt source, there is a converter in your camper than converts this into 12 volt DC to run these items.
If you are camping without access to 120 volt grid power, you will need a 12 volt DC battery (or batteries) to run your 12 volt system. The advantages of camping without grid power is your selection options for great camping locations are huge and you can find the most scenic spots to camp and often enjoy solitude. But with a battery driven power system you cannot use any of your 120 volt AC appliances – unless you install an inverter. An inverter converts 12 volt DC into 120 volt AC.
What Kind, How Big and What to Look For
Pure Sine Wave vs. Modified Sine Wave
Most inverters provide either Pure Sine Wave (PSW) power or Modified Sine Wave (MSW) power. PSW power is exactly the same as what the utility company delivers to your home. Modified sine wave power is less than optimal. Less than optimal usually means cheaper.
MSW inverters often cannot power sensitive electronics. For example years ago sometimes my camper was used as a mobile office and the inexpensive MSW inverter would not power my laser printer. Also extended use of a MSW inverter can damage the power supply and batteries of sensitive electronics like a laptop. Hewlett Packard recommends using a PSW inverter with their laptops.
When a Digital Storage Oscilloscope is connected to a power source (an inverter for this discussion) it can display the electrical output in a wave form. I don't have a picture of a PSW wave form, but it was easy to create on in an Excel spreadsheet using simple high school trigonometry and physics.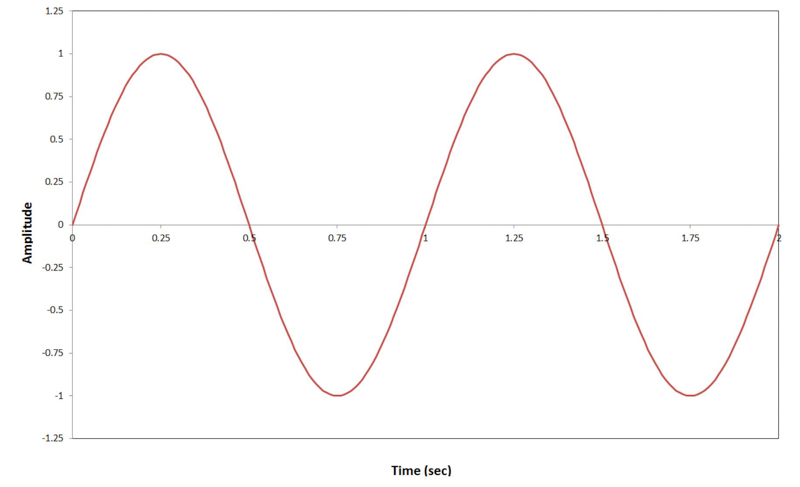 When I installed an inexpensive 700 watt Vector MSW inverter in our 1992 Starcraft Meteorite a digital storage oscilloscope was used to verify it was producing an accpetable modified sine wave.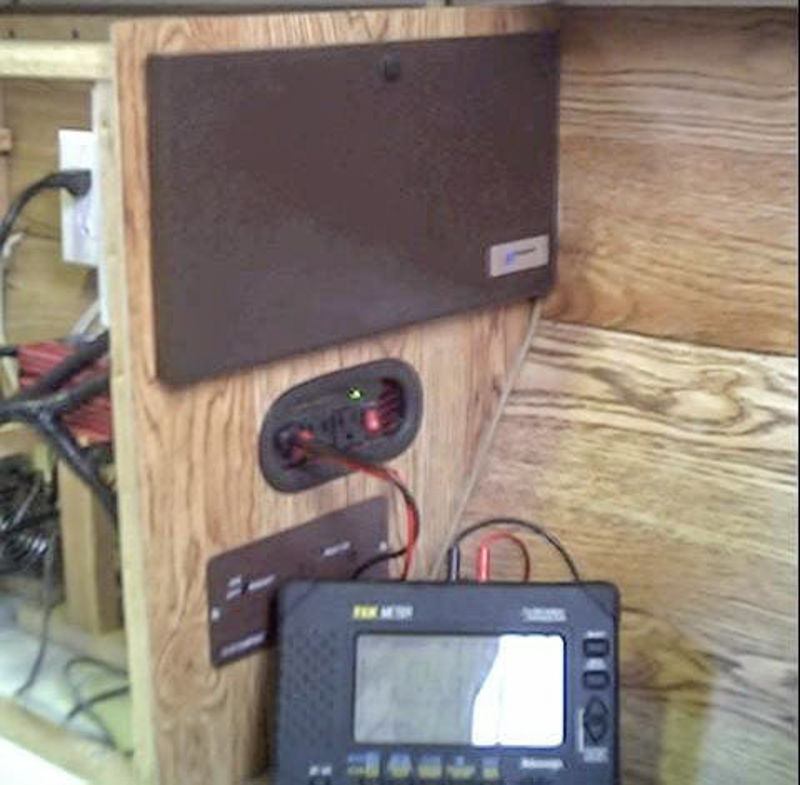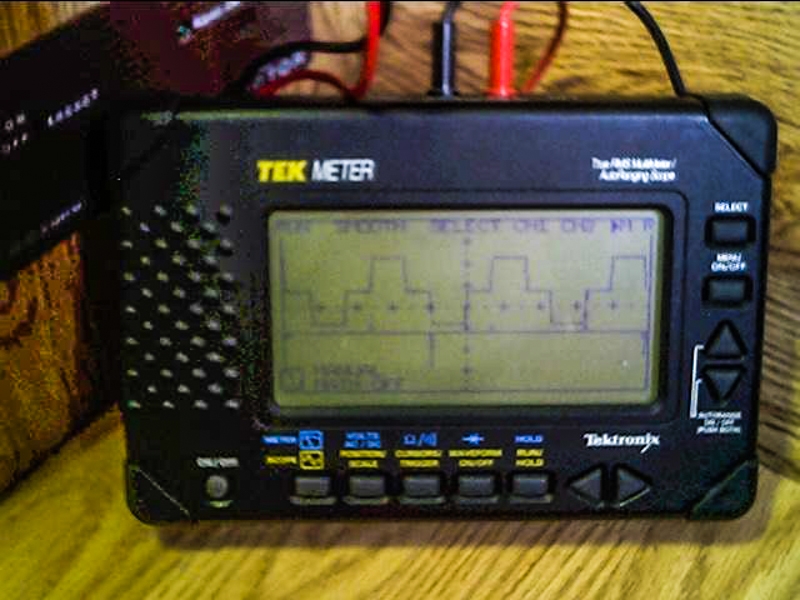 I highly suggest that you invest in a PSW inverter. They cost more but the cost of damaged electronics may be greater.
How Big?
Inverters are rated in watts. Watts is the measure of electrical energy created. Let's consider a microwave oven. The most common microwave ovens are rated around 1500 watts using a 120 volt power source. After the initial surge on start up a 1500 watt oven will continuously consume around 1,000 watts and 15 amps. The microwave will always consume 1,000 watts but Watt's Law tell us that watts are dependent on Amps X Voltage. If you want to run the microwave using an inverter connected to your 12 volt battery bank, the Amp draw on your 12 volt battery is 10 times that of a 120 volt source. Last week I went into more detail about the math in the post about our evaporative cooler.
1,000 watts = 10 amps X 120 volts
1,000 watts = 100 amps x 12 volts
Our battery bank is rated at 226 amp hours. However we can only use 50% of that because using more will shorten the battery life and going too low can damage the battery. So we have 113 amp hours of useful capacity.
If we run our microwave at night for 1 hour (the solar system is no longer providing free energy) with the inverter drawing DC 100 amps, we will consume 100 amp hours of capacity leaving us with only 13 amp hours in reserve. The reality is we are not going to run it for an hour – actually we never use it at all but we can. What we do use at times are:
75" LED TV to watch a movie on our DVD player (we never camp where there is television reception)
700 watt toaster that does two slices at one time
Blender to make Margaritas on hot days
Occasionally a laptop
Hair dryer for rare occasions when we need to leave the campground for unusual reasons (weddings or funerals would be an example)
So what the camper owner needs to do is calculate how many watts might be consumed with several appliances being used at the same time. For most people this would point to purchasing a 2,000 watt pure sine wave inverter.
An inexpensive tool to calculate what your appliances use is a Kill-A-Watt brand meter. It can measure voltage, amps, and watts. The meter is plugged into your 120 volt outlet and the appliance is plugged into the Kill-A-Watt.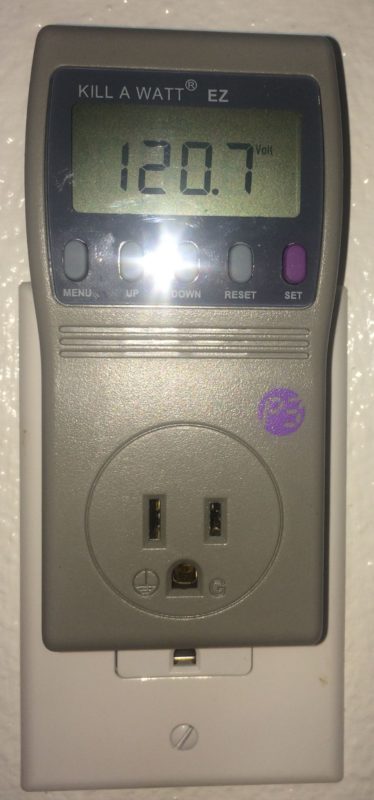 For accurately monitoring your camper's battery system there is only one product I recommend: Bogart Engineering's Tri-metric line of meters. Meters made by people who actually live off the electric grid.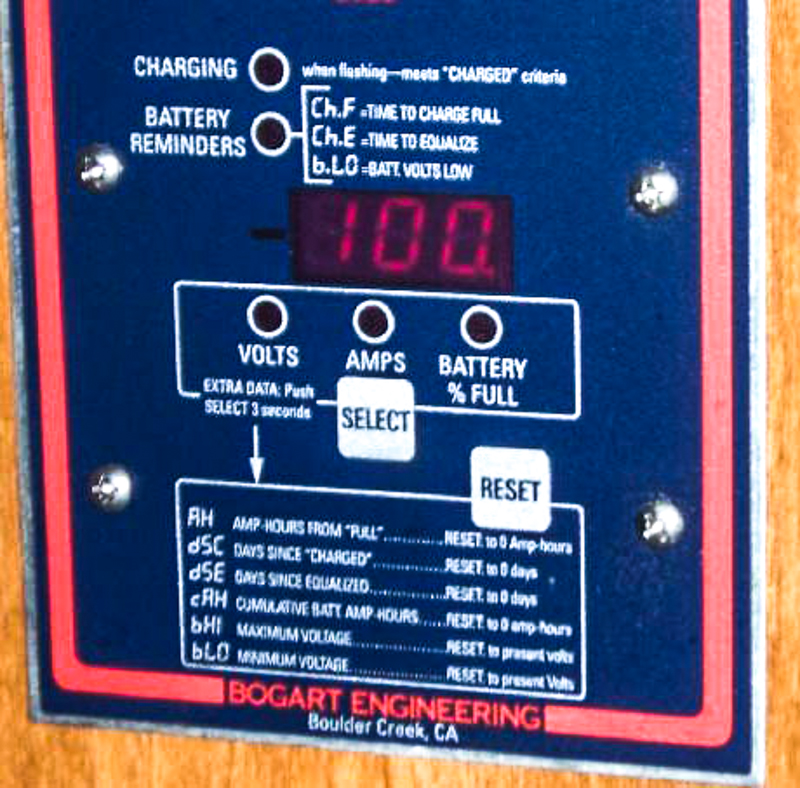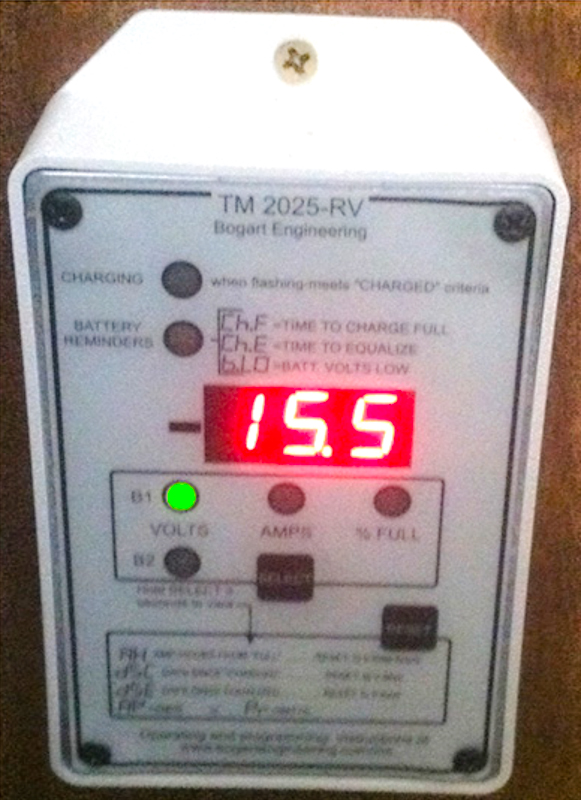 What to Look For (IMPORTANT!)
Most camper owners do not pay attention to the charge rates of their battery charging systems because they don't know what the deep cell battery manufacturers specify for charge rates, and neither do the people who make these systems for RV's – it's a sad nightmare. Most battery chargers and solar controllers provide a maximum of 14.8 volts to the battery. However, battery manufacturers specify much higher charge rates. Below are typical charge rates recommended by deep cell battery makers:

Notice that the daily charge rate is 14.8 volts. But that is for an ambient temperature of 77F. It changes with the temperature. If you have a quality charger with the ability to compensate for temperature here is what the daily rates will be: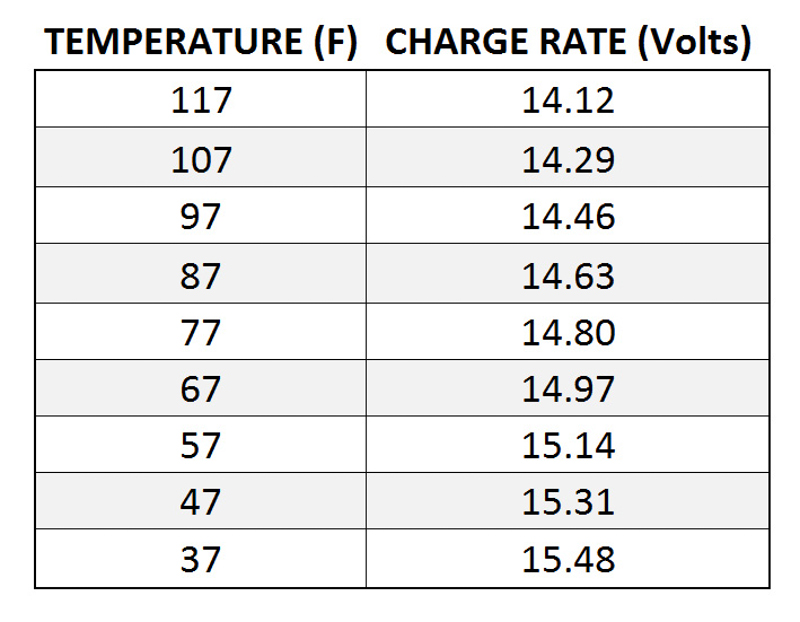 Note at 37F the daily charge rate is 15.48 volts. I highly recommend you read my post Your Camper May Be Killing Your Battery.
THE BIG DISCONNECT
Okay, I just chastised the makers of battery and solar chargers of incompetence because most will only charge at 14.8 volts max – contrary to what the battery maker requires.
Inverter designers are no better. Again a case of incompetent people building and selling things they don't have practical experience using. And here is the Inverter Industry Disconnect:
Most inverters shut down when the input voltage from the battery exceeds 14.9 volts!
Hopefully you recall the charges rates recommended by Trojan and other battery makers, and the Tri-Metric 2025RV monitor picture showing our battery bank being equalized by the solar system at 15.5 volts. Most inverters would work on our electrical system because we have followed the recommendations of the people who know best: the people who make the batteries we rely on. If your charging system is working as it should, your inverter will shut down in cold temperatures or when equalization charging is in progress. This is INSANE.
So you want an inverter that has a high voltage input shut down at around 16.5 volts input and a low voltage input shut down around 10.7 volts (you really don't want to go down to 10.7 volts and if you have a Tri-metric battery monitor you can keep an eye on the voltage).
So with this information, I went searching for inverters and had to cross most candidates off my shopping list because the high voltage shut off was too low. My top 2 that meet the specifications (Good and Best) were:
Magnum Energy 2000 Watt Pure Sine Inverter (Best)
Samlex PST-2000 Watt Pure Sine Inverter (Good)
The Magnum Energy is highly rated by experts who use them off grid. Our situation was we had bought our new trailer and were installing a state of the art solar system – and paying cash. We bought top quality components for the solar system and it just got to the point that we would have to compromise on only one item: the pure sine wave inverter. We were going over our budget. This is not to say Samlex isn't a good unit. It has performed well for us over the past three years; and remember we are towing a trailer that is subject to a lot of bumps and vibrations on the road.
Samlex PST-2000-12 Specifications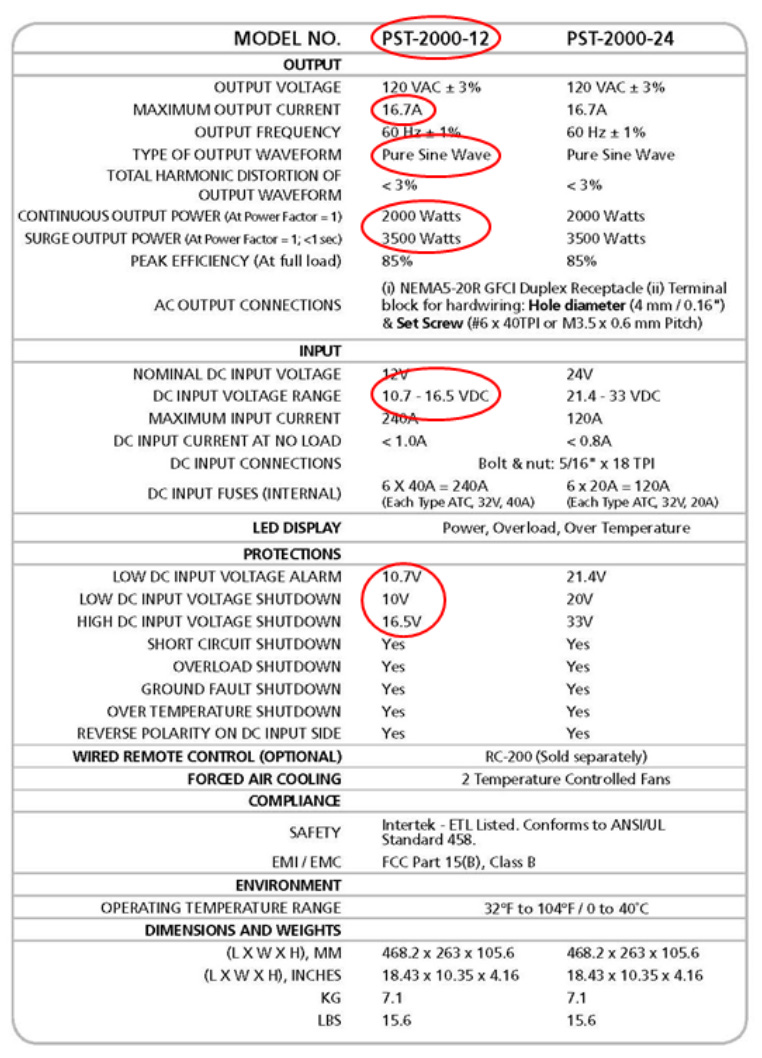 Installation Thoughts
Direct Wire
Previously I shared the kinds of amperage that an inverter will consume: 10X the 120 volt amperage rating of the appliance. You don't want a unit that plugs into a cigarette lighter plug. Hard wire it to the battery. If an inverter isn't designed to be wired directly to the battery bank you don't want it.
Inverters should be placed as close as possible to the battery bank and adequately sized gauged cables must be used!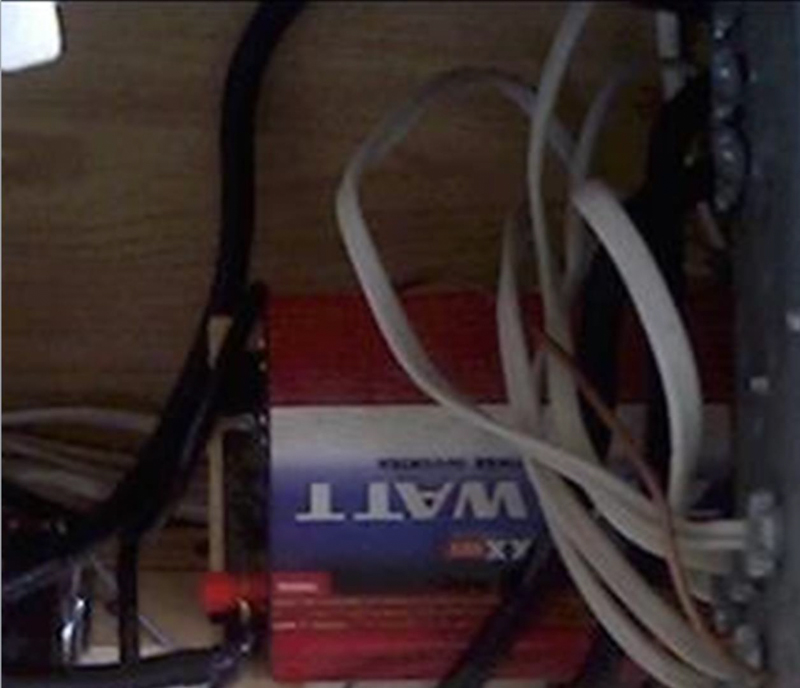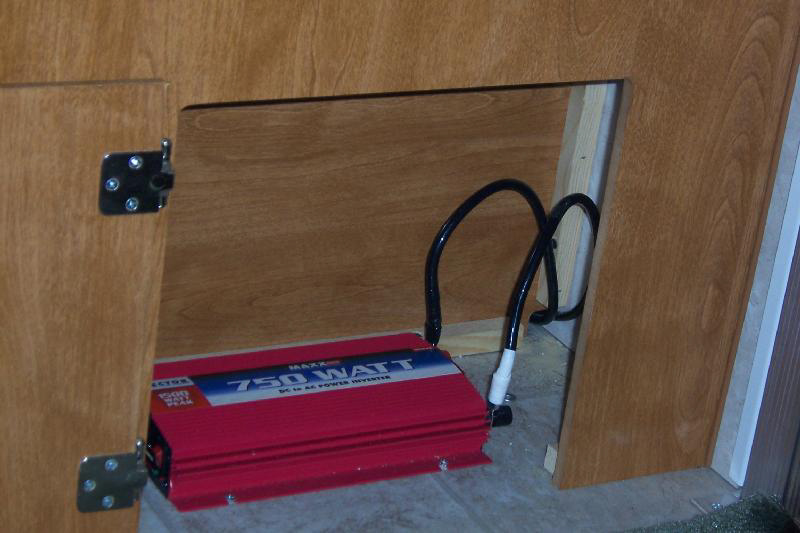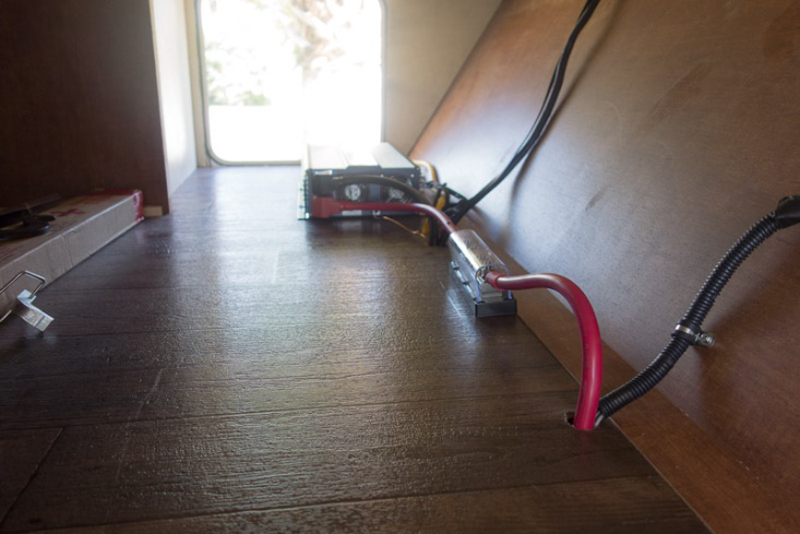 Catastrophe Fuse
With a large gauge battery cable is connected to the inverter a short circuit can instantaneously create a momentary short of thousands of amps. THIS IS VERY IMPORTANT. You MUST install a properly rated external fuse in-line with the positive battery cable. Check you instruction manual for the rated fuse sizes.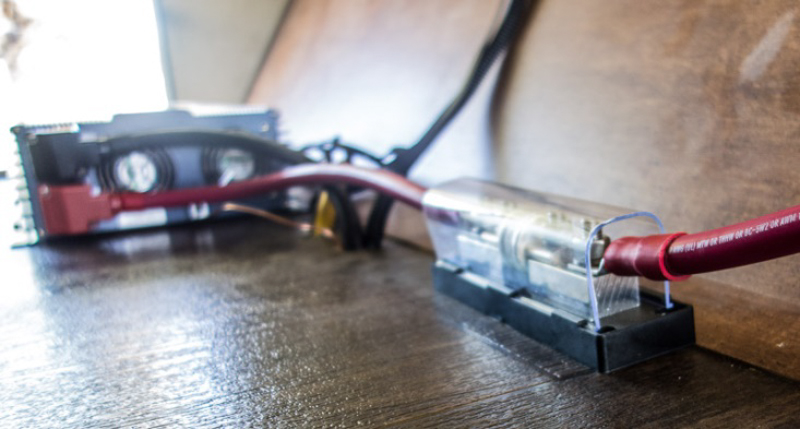 Electrical Outlets
You have a few choices here. Most inverters will have two or three 120 volt outlets built into the inverter itself. More expensive inverters, in addition to the built-in outlets, will enable you to hard wire external outlets to the inverter.
In our 2006 Fleetwood Niagara tent trailer we took a more useful approach. We hard-wired one electrical outlet directly to the inverter. Because there was no option for hard wiring we used a short run of 20 amp Romex cable with a 3-prong plug that simply plugged into the outlet built into the inverter.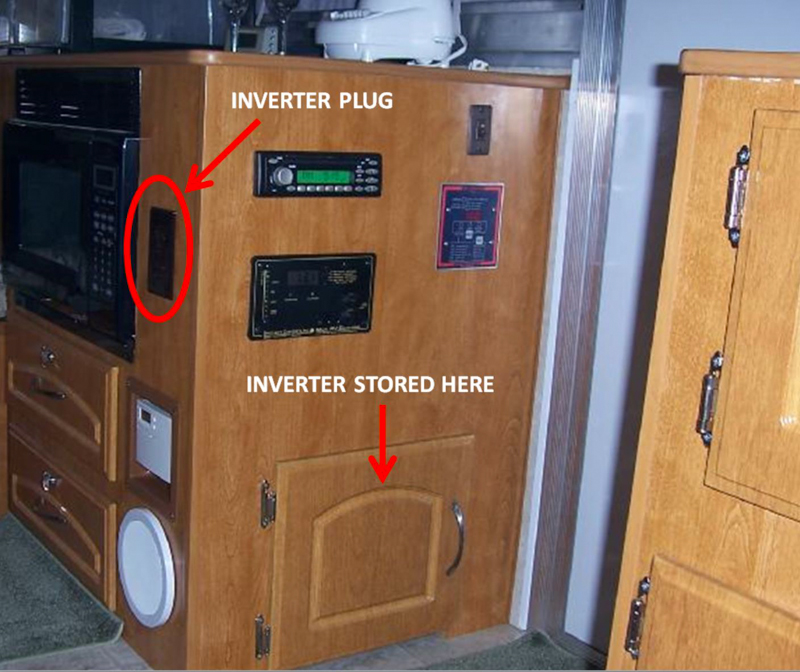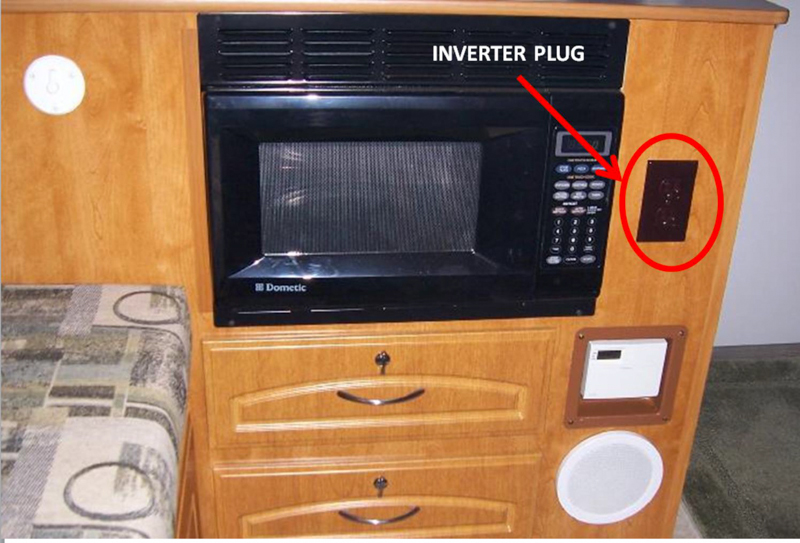 On our 2014 Milan we really did it the right way. For one thing, we installed the inverter in the front storage compartment close to the battery bank, plus it did not take up interior storage space. Instead of running Romex cable to power our 120 volts system with the inverter, we used waterproof 30 amp wiring. Romex can vibrate loose, although trailer manufacturers now use it in most interior installations.
What is nice about this arrangement is Samlex makes a remote display and control panel. The inverter is turned on once you get to your campsite. The remote unit can put the inverter into "sleep" mode reducing the current draw. It should be pointed out that inverters themselves will consume some electricity when in operation. There is no free lunch. The remote unit will also display AC Volts, AC Amps, frequency, power (watts), and power factor, Indicators for overload, over temperature and power. The remote panel comes with 15 of cable with standard RJ-50 jacks (in case you need a longer cable as we did.
If you remember the pictures earlier with the PWM wave forms and voltage of 115.2 AC, take a look at the Samlex display above. Our Samlex is putting 123 volts AC.
We also wanted the ability to power all the 120 volt outlets with the inverter, wanted the option to also use them when the trailer might be connected to a 120 volt supply, such as a campground that has electrical hook-ups. The answer was a Powermax 50 Amp Automatic Transfer Switch
50 AMP AUTOMATIC TRANSFER SWITCH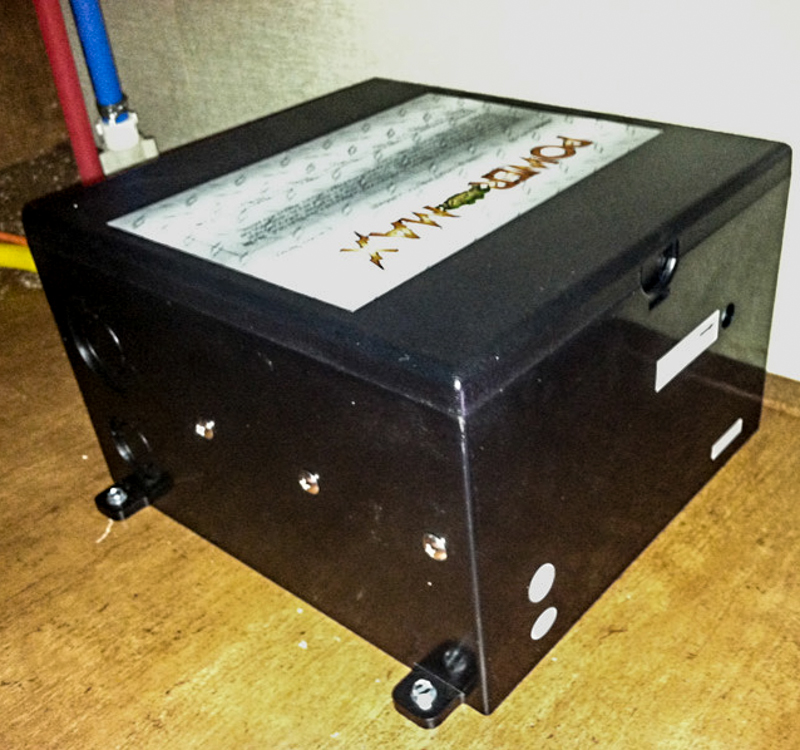 This box automatically switches 120 volt electrical system to and from shore power to the inverter. If the switch does not see 120 volts from the main electrical service, it switches the system to the inverter. This means that all 120 volt electrical outlets can be powered from the inverter.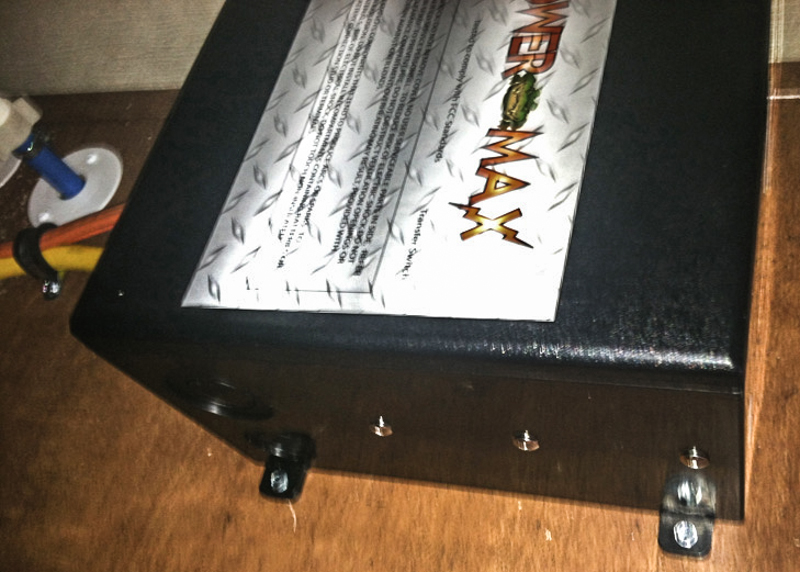 The transfer switch should be placed a close a possible to the trailer's 120 volt electric panel / 12 volt converter. This meant installing it under the sink. The yellow cable shown below section runs from the inverter to the transfer switch.
Planning
Once you have assembled all the components to install a reliable and trouble free system, it is best to draw a wiring diagram first. This allows you to plan the layout to keep the lengths of cable as short as possible and to document the positive and ground wire connections. Here's ours: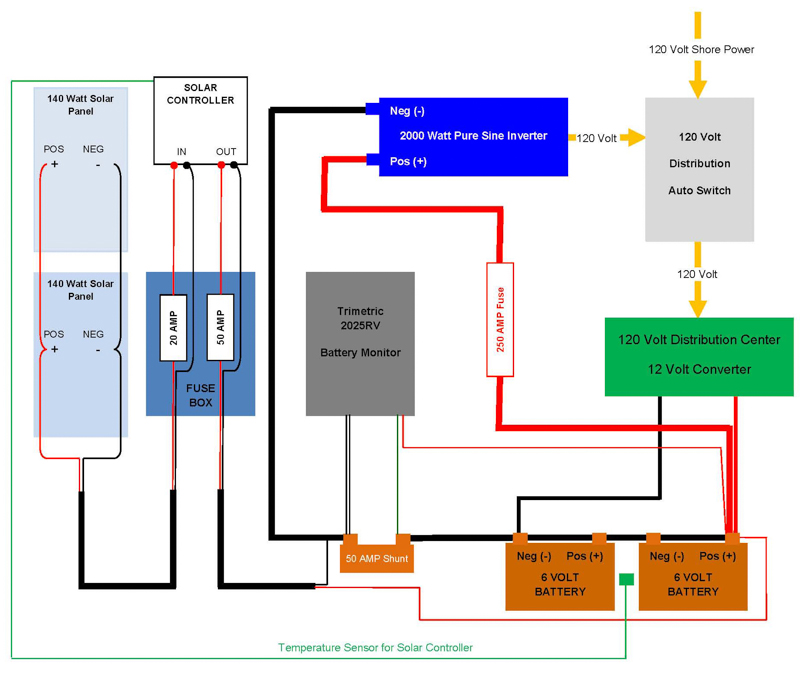 Bottom line: I recommend the Magnum Energy inverter. It that is outside your budget, then the Samlex PST-2000 -12V is an acceptable solution.