A BLUETOOTH DEVICE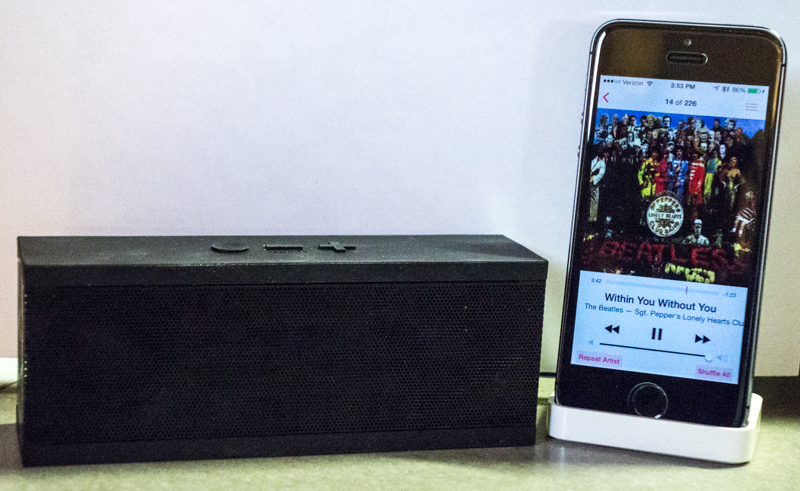 My kids got me a Jawbone Jambox for Christmas. This isn't a review about the product; you can find that via Google. It is not backpacking or camping gear for me either. So we shall call this my experiences with Jawbone.
THOUGHTS ON THE PRODUCT
The exterior is mostly metal, except the top and bottom, which are some sort of rubber compound that will not scratch your desk or table top. The design is very modern looking. Pretty rare these days to find consumer products made from metal — we are a plastic species now. It only weighs 12 ounces, so you could take it backpacking or camping; I will be doing neither. It will be used in my office and will be handy when traveling, as it is compact and can be used in my hotel rooms, since I never watch TV when on the road.
It comes with a felt case, a 110V USB charger and cable, and a cord to plug it into a device, like an iPhone, to play music. It can also stream music from a Bluetooth device. I have used it as a speaker phone, and it works okay for that. It has a non-replaceable lithium-ion battery. The battery lasts quite a while, well over 8 hours of constant use.
I am not an audiophile, but the sound is pretty darn good for a little tiny box. Not your home stereo with surround sound good, but good. Although I am hard of hearing, it is too loud at full volume (85db). Very little distortion at high volume and the bass is surprisingly good.
OUT OF THE BOX PROBLEM
When I got it, I just plugged in the 3.5mm cable to listen to music. Bluetooth requires pairing, which is not fun for old people like me. Finally got around to pairing it, and got nothing. Crap. So using a little diagnostic ability and wiggling the 3.5mm cable in the Jambox connection while not connected to the iPhone, I was able to determine there was some sort of problem with the jack input switch. Crap again.
The kids bought this via the Internet and had the retailer ship it directly to me. I had visions of phone call black-holes and other inconvenient punishments that retailers and manufacturers force on consumers. And it would be just as much hassle for the kids to get warranty service. Ah, modern problems.
JAWBONE'S OUTSTANDING CUSTOMER SERVICE
Good customer service is rare these days; outstanding customer service is a lost art. So I expected little. I went to their website and could not find a phone number. They want you to fill out a form. I did so, and clicked the "Submit" button. A message said someone would call me within 24 hours. Yea, right.
5 minutes later a Jawbone customer service representative called me. I explained the difficulties, and that I had no receipt as it was shipped to me as a gift. He said no problem, they would send me a new one (not refurbished) and he would send an email  with a RMA number and instructions within 24 hours. Yeah, right.
A couple minutes later I got the email with instructions. Ship it and get a tracking number. They recommended I email the tracking number to them so they can watch for it. Once they received the defective unit, a replacement would be shipped pronto. Yeah, right.
So the next day I went to USPS, shipped it, and then replied to the email with the tracking number. Almost instant reply… said the tracking number showed they would get it in 2 days and upon receipt would send my new Jambox. Yeah, right.
Well 7 days later I had my new Jambox. Pairing was simpler than any Bluetooth device I have ever used. Product is great. Service is Outstanding. Good way to start another new year.