OR HOW I RISKED MY LIFE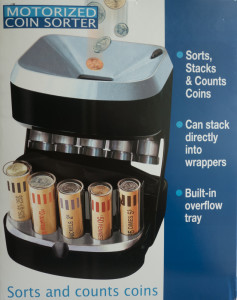 Joyce doesn't like the idea of receiving appliances for Christmas, her birthday, or our anniversary. I think she has watched too many Chick-Flicks or Oprah reruns. Seems she thinks these celebrations should be romantic, which would indicate jewelry, diamonds, perfume, Dom Perginon Champagne, or fine art. So I took a big risk this Christmas.
It all started when we got married in 2002. She started grabbing all my change and saving it. She told me after a while we would have enough money to buy something special — which usually means something totally useless, like furniture. But what is a man to do? I took a chance and bought her an automatic coin sorter.
Over the past 12 plus years, Joyce dumped all the coins into a couple of 5 gallon water bottles, which were each about 1/2 full. The bottles were in the way and I had visions of her wanting me to count and roll the money. So I took a chance and bought her a machine to do the work… hoping she would enjoy it and leave me out of it.
IS A BUNCH OF CHANGE WORTH THE EFFORT?
Since, I normally shop online or use my ATM card in stores, how much money could this be? Not much I thought. Well, I was wrong.

DO YOU WANT SOMETHING SPECIAL, BUT DON'T HAVE THE MONEY? THEN KEEP YOUR CHANGE!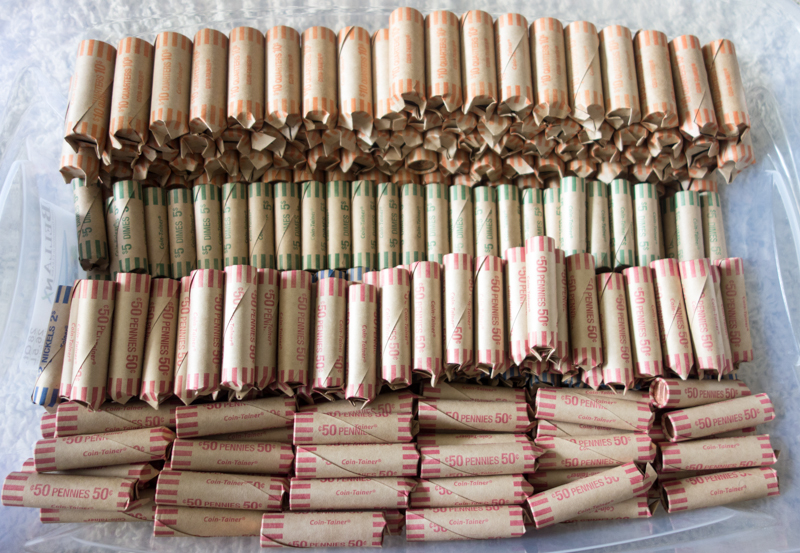 So we are now over $1,600 richer. Since I am married, I figured Joyce is richer. Seems that is how it works. What is "ours" seems to be "hers," or at least she will make the decision of what we will do with "our" stuff. But I can't complain, she is a wonderful wife!
HOW SHOULD WE SPEND OUR WINDFALL?
Surprise. Joyce says we should spend it on a special vacation. Great!! Of course my idea of a special vacation requires a backpack or a camper. That ain't gonna happen. So I suspect we will be going on a cruise.
Now, if you are an outdoors person, you may never been on a cruise and the idea of being confined to a big ship may be as appealing as being in bed with the flu. Not to mention that cruise ships have lately been in the news — broken down and unsanitary.
This was my opinion of cruises for years. Finally in 2008 I conceded and agreed to go on a cruise with Joyce. We did another one in 2012. Like anything else in life, a cruise is what you make it. Go with a good attitude and you will have a great time. This means I am looking forward to our cruise, if that is what Joyce wants to do. I am sure that is her plan.
One of these days I might write about how to enjoy a cruise — the Do's and Don'ts. For now, I'll just share a few pictures.
CRUISE PICTURES