Labor Day weekend is the last big camping weekend and holiday of the summer. Usually it means big crowds and lots of traffic on the road. Many campers (and backpackers) just skip it and stay at home. Stay at home? Now that's silly!
WHAT'S MISSING IN THIS CAMPGROUND PICTURE OF OUR CAMPER?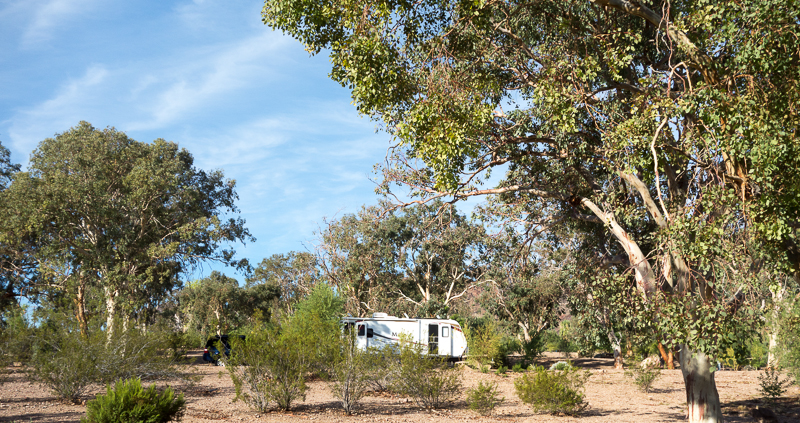 We seem to be missing… other campers!
Well, it is the desert. Daytime highs around 106F and night time lows around 90F, so one wouldn't expect many campers. So we had most of the place to ourselves. Nights were fantastic, except the night a group rolled in with a huge 5th wheel, a couple speed boats, and a mega-watt sound system. At midnight I called 911 stating that the sound system was shaking our camper. The lady who answered the phone said it wasn't an emergency. The Ranger who came out said it was, and he removed the offenders. The rest of our trip was fabulous.
GREEN
Shortly before our trip the high desert received quite a bit of rain. Flash flood debris and damage abounded on our trip, but the roads were navigable.
So we basked in green and sunshine, revealed in quiet balmy nights without neighbors.
That's it. No time for more typing. Got to get ready for our anniversary. I think it is #12. I'll have to check on that to make sure!