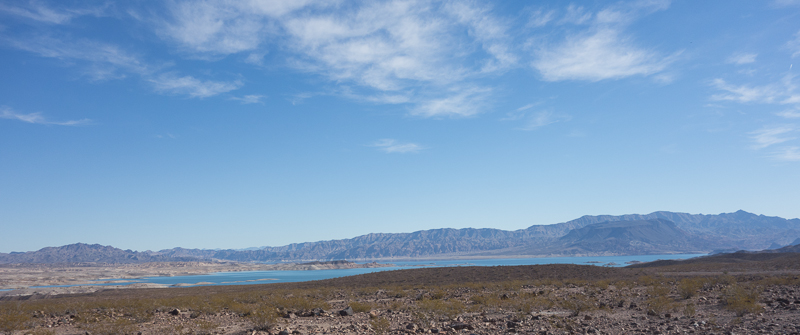 We spent 9 days camping at Lake Mead during our Thanksgiving break. During that time I did a 3-day bike tour, a shakedown cruise. I wanted to get familiar with the bike, the touring gear, and the process of integrating day-to-day living from the saddle.
PRE-TRIP PHYSICAL CONDITIONING
I am of the school that it is best to get into shape by just going out and enjoy your activity and get in shape as you go along. Time in a gym is boring. I do like to run, just for the enjoyment of running itself; not as a plan to get or stay in shape. Daily walking is the best physical activity – one that you do for the joy of walking. Nothing more. Nothing less.
PLANNING
As I often do, I left home with no plan. Once at Lake Mead, I studied the map to pick a route and time that would have the least traffic. Monday thru Wednesday looked good for minimal traffic. I picked a route that would offer several potential campsites, giving me options. Mileage was not planned. I did know the route would be mostly uphill on my departing leg. Then the turnaround trip would be mostly downhill. I got the obligatory Kitchen Pass from Joyce and took off.
SUMMARY
Overall it was a great trip. No big mileage goal, just ride and enjoy myself. With little traffic and good weather (well it was cold at night!) there was plenty of time to stop and enjoy the views.
Total mileage was about 70 miles, with the last day only an 8 mile ride to our trailer camp.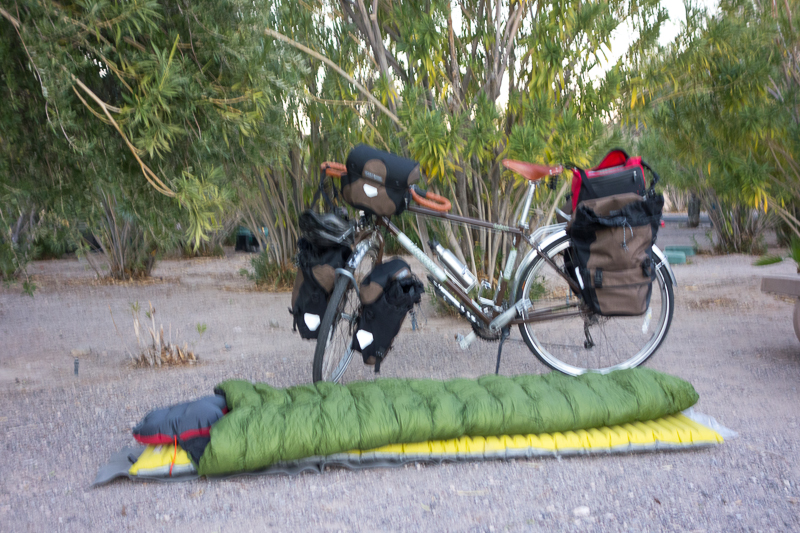 Both campgrounds I stayed at each night were mostly unoccupied and quiet. At the end of each day I had time to hike a little – of course I was a little nervous to leave my bike locked at the campground with my panniers attached, but no problems.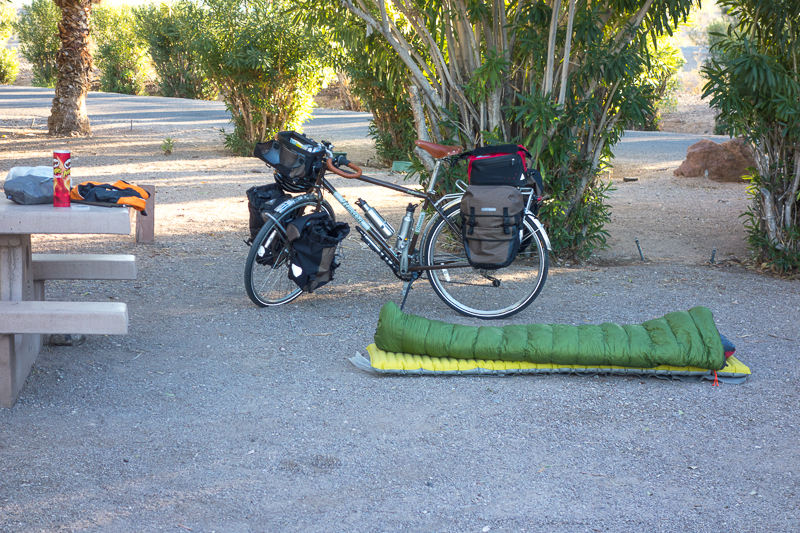 It's Okay To Walk Up Hills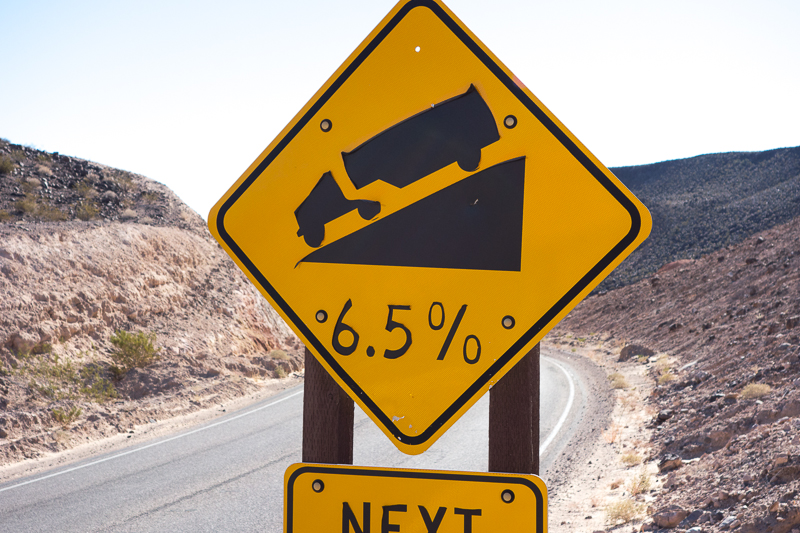 For some reason I had this Type A, testosterone idea that I needed to ride up every hill no matter how steep or how long it was. After a few of these, I decided that this quad muscle effort of burning thighs wasn't necessary. I am sure some engineering type can "prove" it is more energy efficient to ride up a hill rather than walk the bike.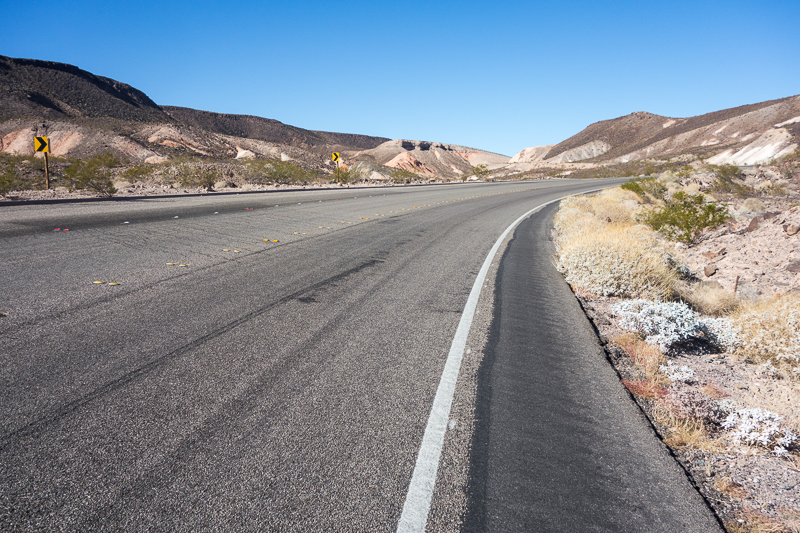 Walking the bike at 3 mph was much easier than pushing pedals at 5 or 6 mph for extended periods.
"You Never Forget How To Ride A Bike!"
That may not be true right away. By day 2 I was again confident in properly shifting gears and standing on the pedals on some of the uphill routes. I felt stronger and only walked up one hill. I also (surprisingly) felt stronger this day.
"You See More When Hiking"
There is a classic debate among backpackers that the slow walker has time to see more versus the other camp that says fast-packers cover more territory and thus see more. I can't say that one is superior to the other.
Obviously a hiker will see more than a biker who is confined to staying on roads. But I did see a lot of stuff on the shoulder of the road than one would ever see in a car; beer cans and bottles, broken glass, nails, screws, bolts, BIC lighters, pens and pencils, RV parts, ice chest lids, pool toys, a used syringe, a used condom, a screw driver, discarded bicycle tubes, discarded CO2 canisters for filling bike tires, lug nuts, paper, trash bags, and other junk proliferated the roadside – all of which most motorists would never notice. It really was disparaging that the roadway through this National Recreation Area has so much discarded trash.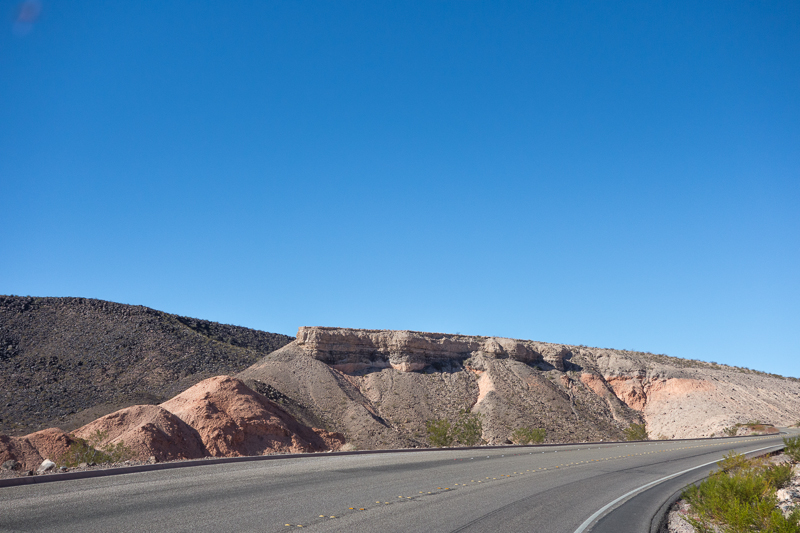 On one downhill section at 25 mph I missed this bluff; was too busy keeping my eyes on the road. The next day going back up I took the time to look at a lot of the land I had missed.
GEAR
Ortlieb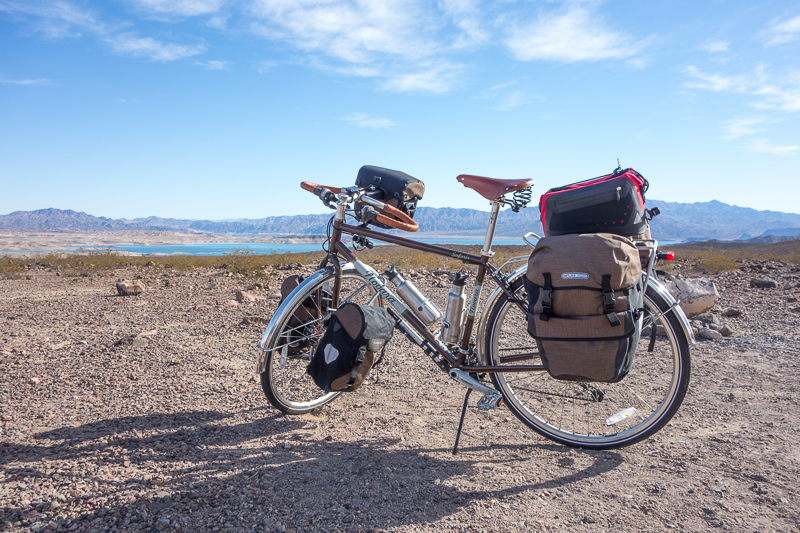 The Ortieb panniers, handlebar bag and tail trunk worked perfectly.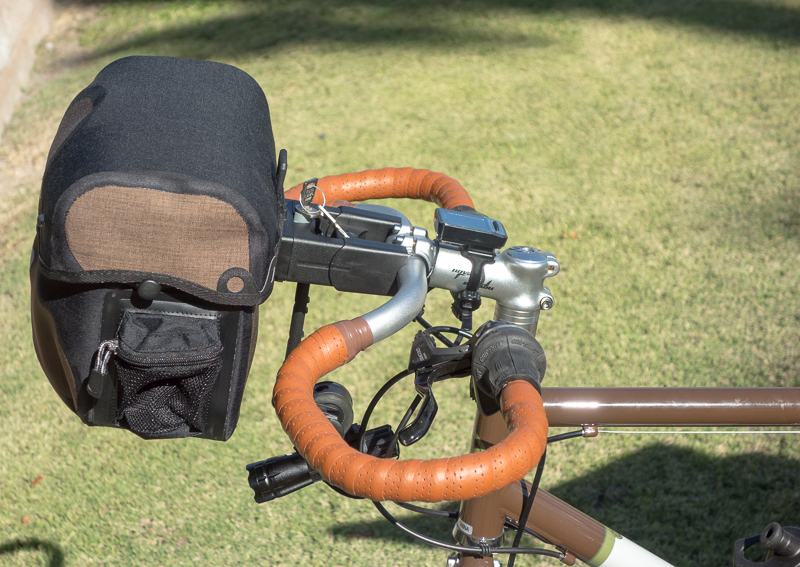 The handlebar bag is especially useful. It gave me quick access to snacks and my camera. It is also a good place to keep gloves and other things I might need during the day as conditions changed. At night I placed it next to my sleeping bag with a couple candy bars, headlamp, and a water bottle for easy access.
Instead of adapting my normal backpacking clothing for the bike, I bought several bike-specific clothing items. This is going to be a work in progress as I learn what works and what doesn't. Much of the stuff I purchased is the REI Novara brand; reasonably priced, fairly well made, and a one-year unconditional warranty.
Novara Draft Long-Sleeve Bike Jersey
From the REI Website: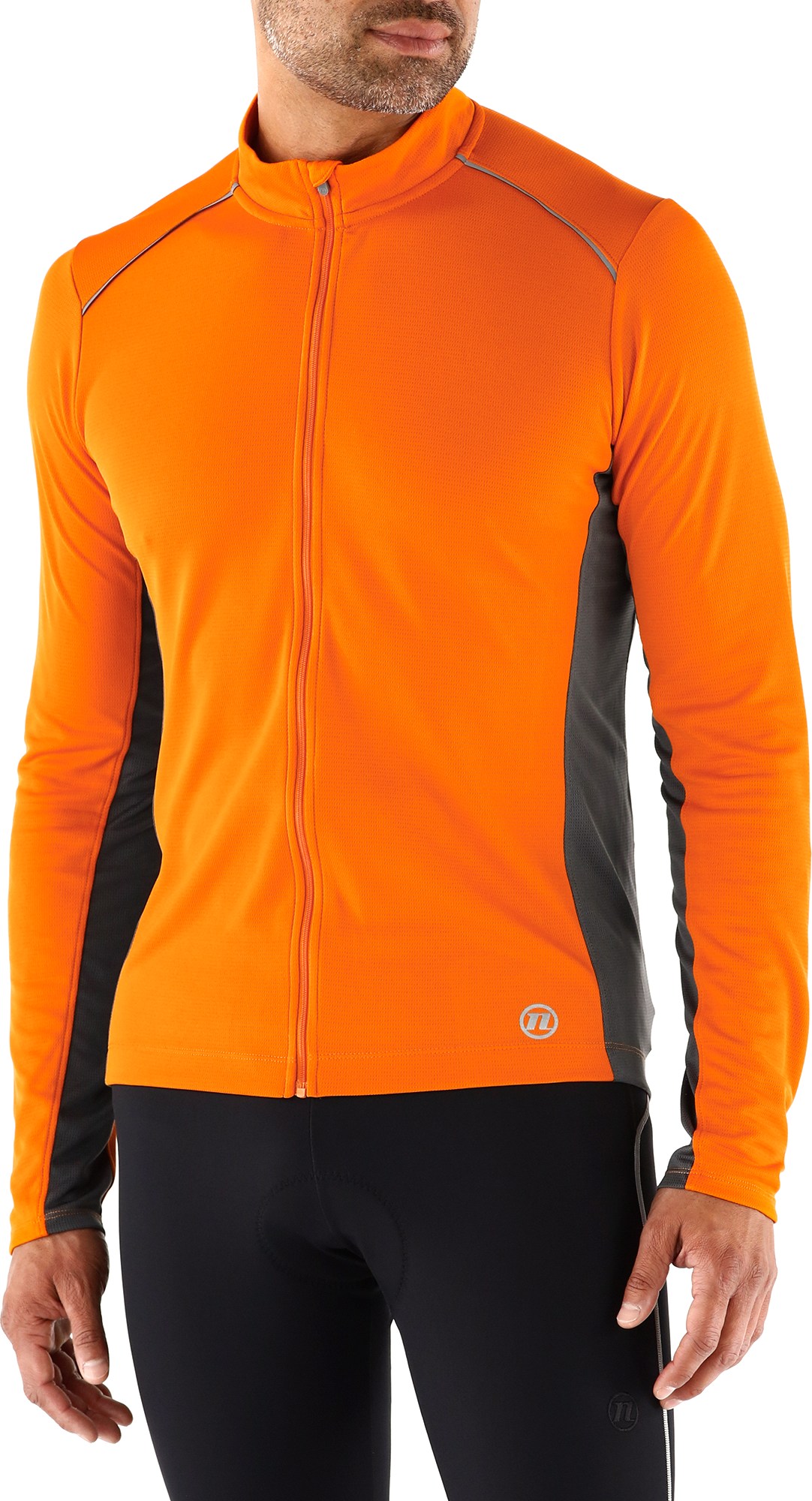 Recycled polyester wicks away sweat and dries fast
Venting mesh panels under arms and on sleeves
UPF 50+
Full front zipper
3 stretch rear pockets plus 1 zippered pocket for phone or wallet
This worked well and I like it. I really have no need for the rear pockets and will look into removing them.
Novara Headwind Bike Jacket
From the REI Website: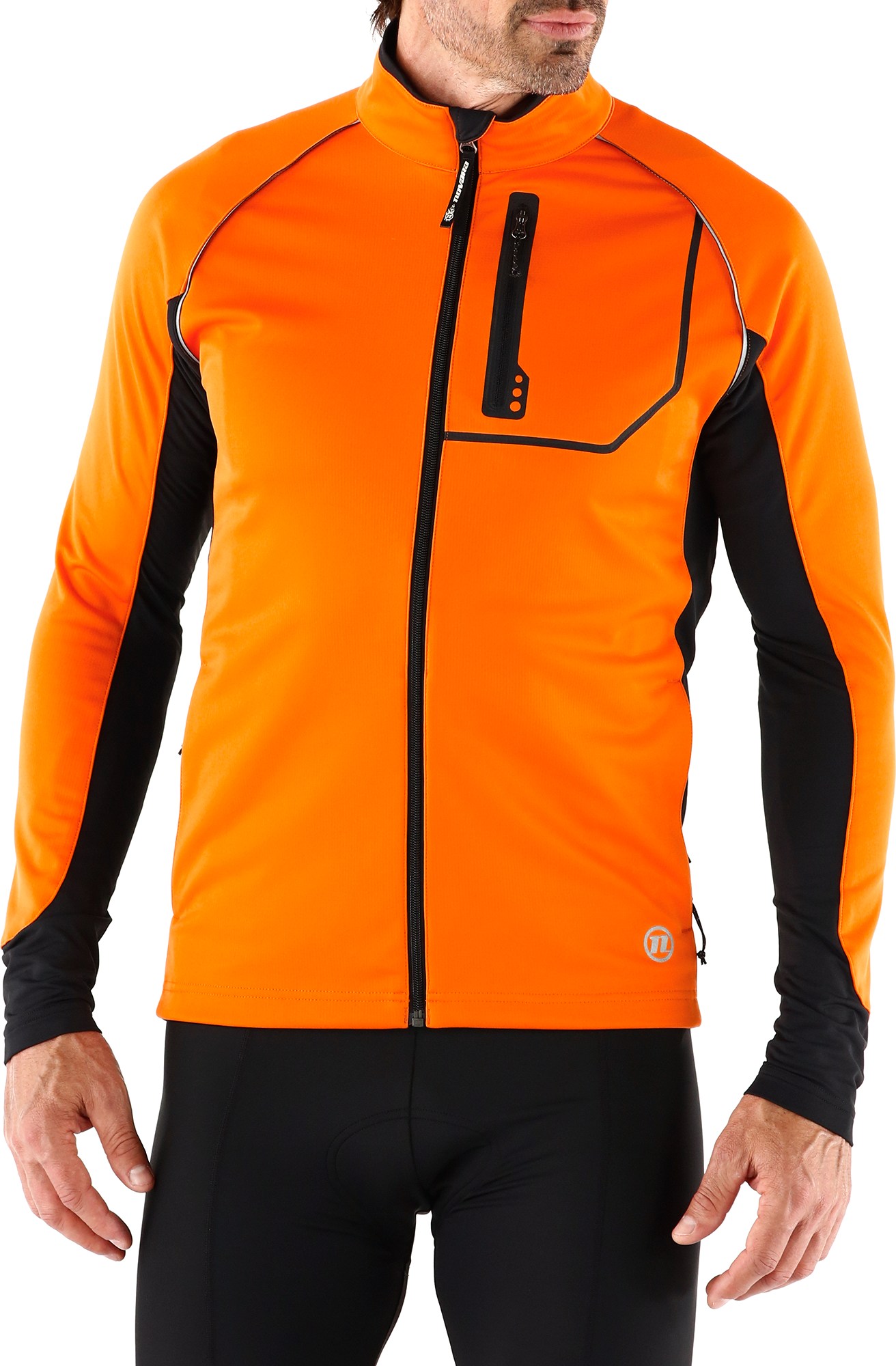 Besides being water resistant, the front panels are windproof to 60mph and offer 2-way stretch
Flexible, breathable panels behind shoulders and elbows let excess heat escape
Chin guard and windblock gusset at neck add comfort
Rear zippered pockets; zippered chest pocket has a cord port for off-bike tunes
The Novara Headwind bike jacket also has reflective trim
Joyce bought this for my birthday. In cold weather and brisk wind this kept me warm and comfortable. However on the uphills it got too warm and I was constantly fiddling with the front zipper to keep my temperature in equilibrium. I need to play around with my outer layer. I will experiment with one of my fleece vests under a Patagonia Houdini wind shell to see if that works better.
Novara Headwind Bike Pants
From the REI Website: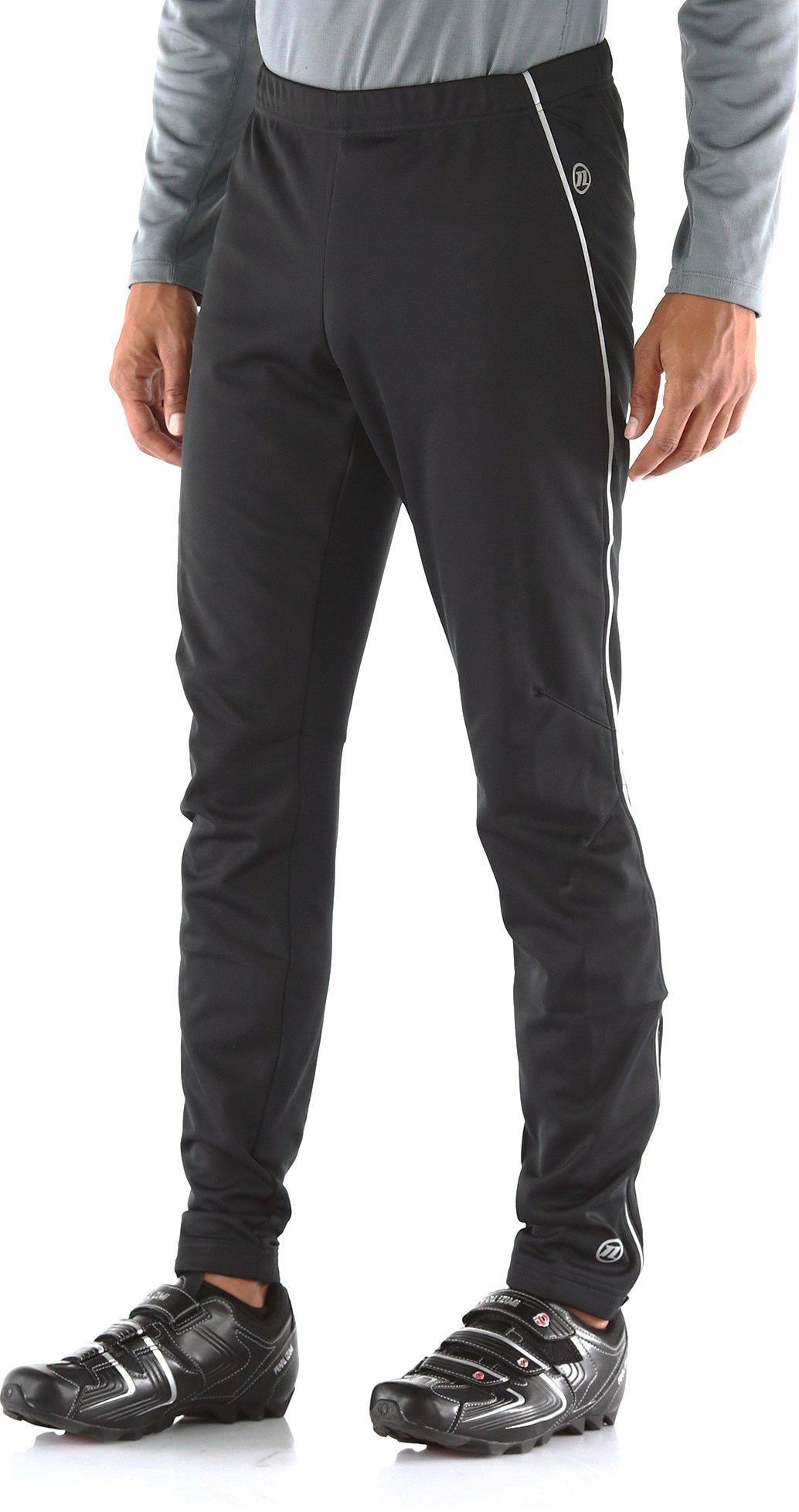 Laminated front panels are windproof to 60 mph, water resistant and offer 2-way stretch
Stretchy, breathable back panels dissipate excess body heat
Performance fit; articulated knees; elastic waist that's higher in back for comfort while riding
Novara Headwind pants for men also have ankle zippers and a zippered back pocket
Reflective trim
These were awesome. Where the Headwind jacket was too hot on the uphills, the pants were perfect.
Canari Canyon Gel Baggy Bike Shorts
From the REI Website: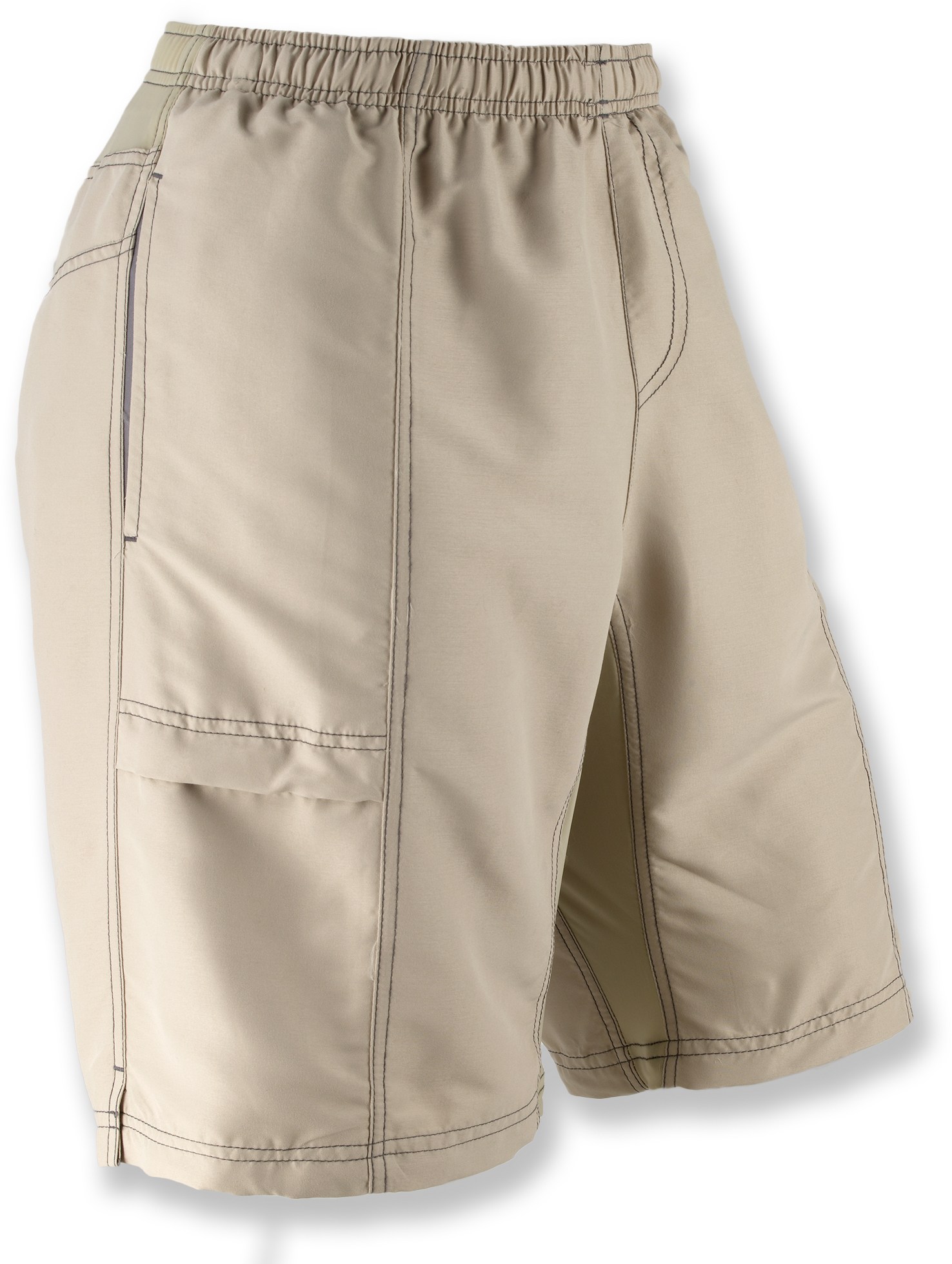 Sturdy polyester outer shorts with nylon/spandex yoke and gusset endure heavy use and resist abrasion; wicking finish disperses moisture for fast drying
Fixed moisture-wicking polyester stretch liner shorts allow ample ventilation for cooling and have a built-in chamois pad for comfort
Gel pad system reduces skin irritation and dissipates shock by forming a fluid barrier between the hard saddle shell and the rider
Leg grippers hold inner shorts in place and minimize bunching
Shorts have a comfortable elastic waistband and drawstring tightener
2 hand pockets offer storage options
I hate the look of those skin tight cycling shorts, where you walk into a store or restaurant with the family jewels hanging out. These shorts have the skin tight part under what looks like hiking shorts. They also have gel padding inside for your butt just like most of the skin tight cycling shorts. Not sure if the gel pads are a good idea. My butt was sore during day 1 and 2. On day 3 I just wore the headwind pants and my butt was much more comfortable. All of this may be a function of getting my butt conditioned to the bike saddle. Time will tell. But I do like the shorts.
Pearl Izumi ELITE Gel Bike Gloves
From the REI Website: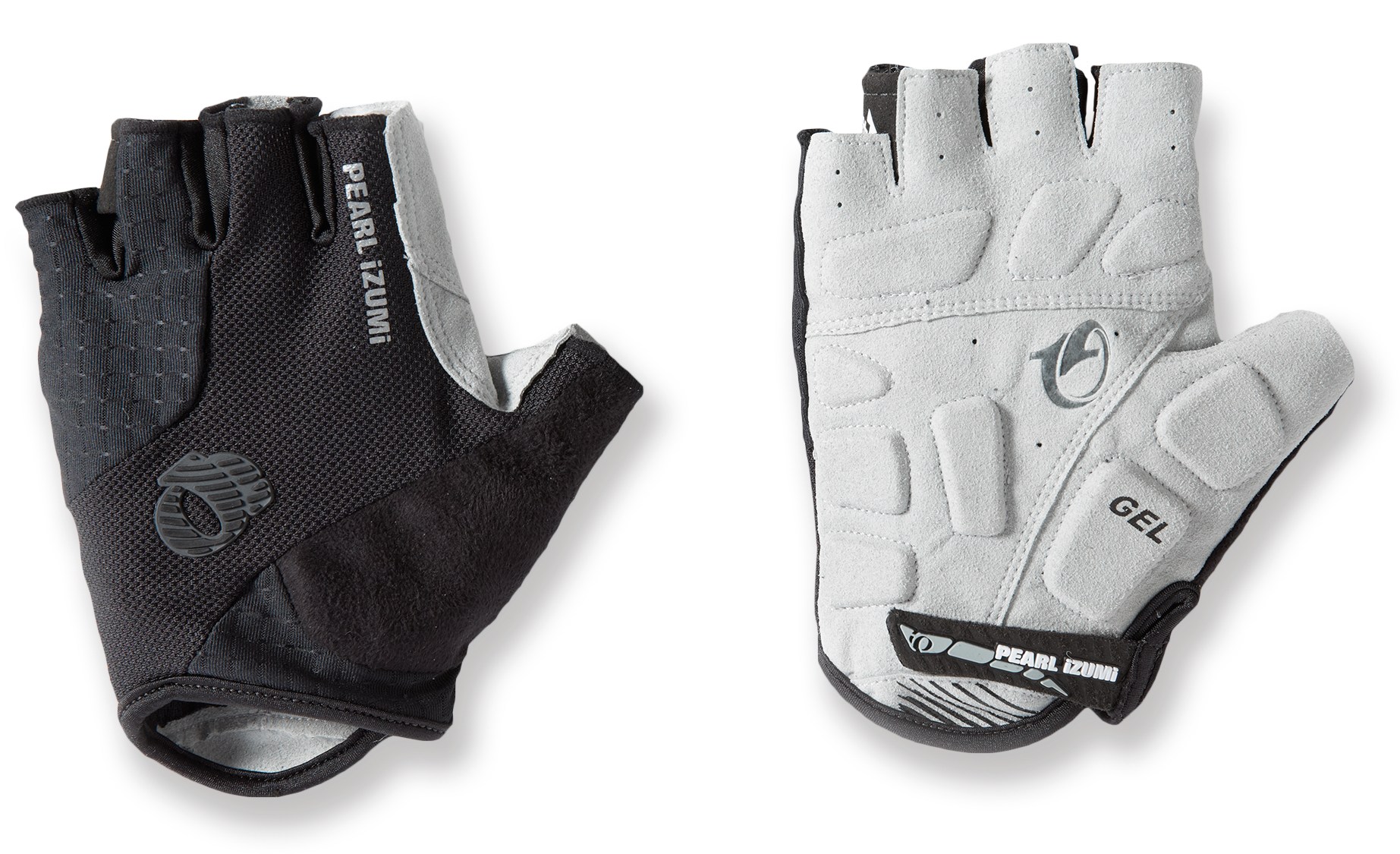 Soft, durable synthetic leather palms maximize comfort and grip
On the palms, strategically and anatomically positioned gel padding absorbs shock, protecting ulnar and median nerves
Polyester stretch fabric on back of hands wicks moisture and enhances ventilation; soft fabric on the thumb gives you a gentle place to wipe your nose
Anatomic palm construction provides an optimal fit around every curve and crease of your hand
Pearl Izumi Elite Gel bike gloves feature rip-and-stick pull tabs on wrists that close gloves snugly and ease removal; easy-off glove removal tab on fingers
This purchase was difficult; as I wasn't sure this type of gloves are necessary. After wearing them for most of 3 days, I have to say there are nifty. I forget I am wearing them and can easily work the camera, get food out of the handlebar bag, and generally do anything that would normally not be easy wearing full coverage gloves.
Novara Headwind Bike Gloves
From the REI Website: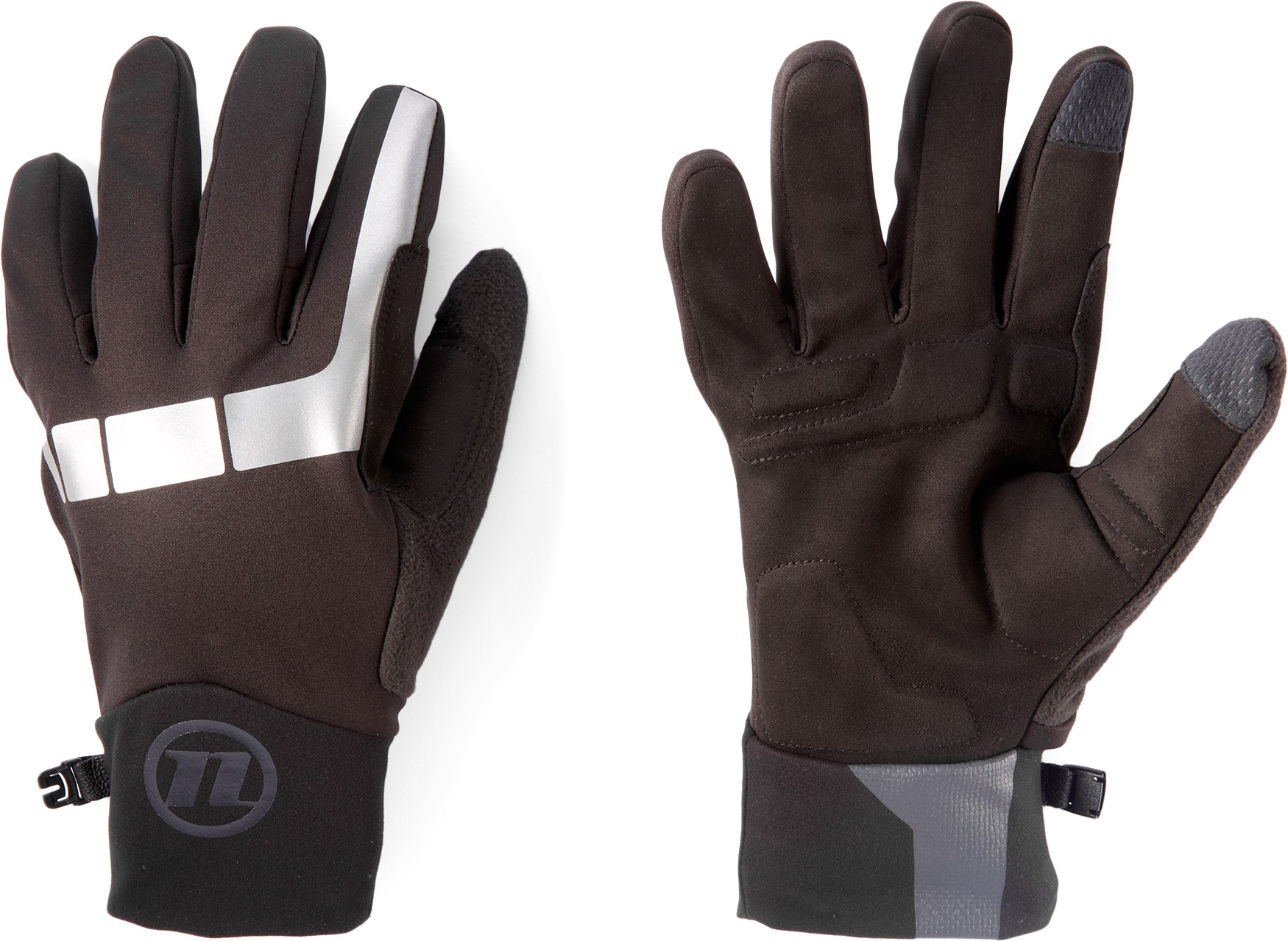 Stretchy backs block wind; fleece inside adds warmth
Palm foam padding absorbs vibration; synthetic leather grips well
Thumbs have built-in wipes
Highly reflective trim
Novara Headwind Bike Gloves for men have stretch cuffs for a snug fit
They kept my hands warm on cold mornings and were versatile as night camp gloves. Even wore them to bed to keep my hands warm. I am very pleased with them.
Bell Lumen Bike Helmet
From the REI Website: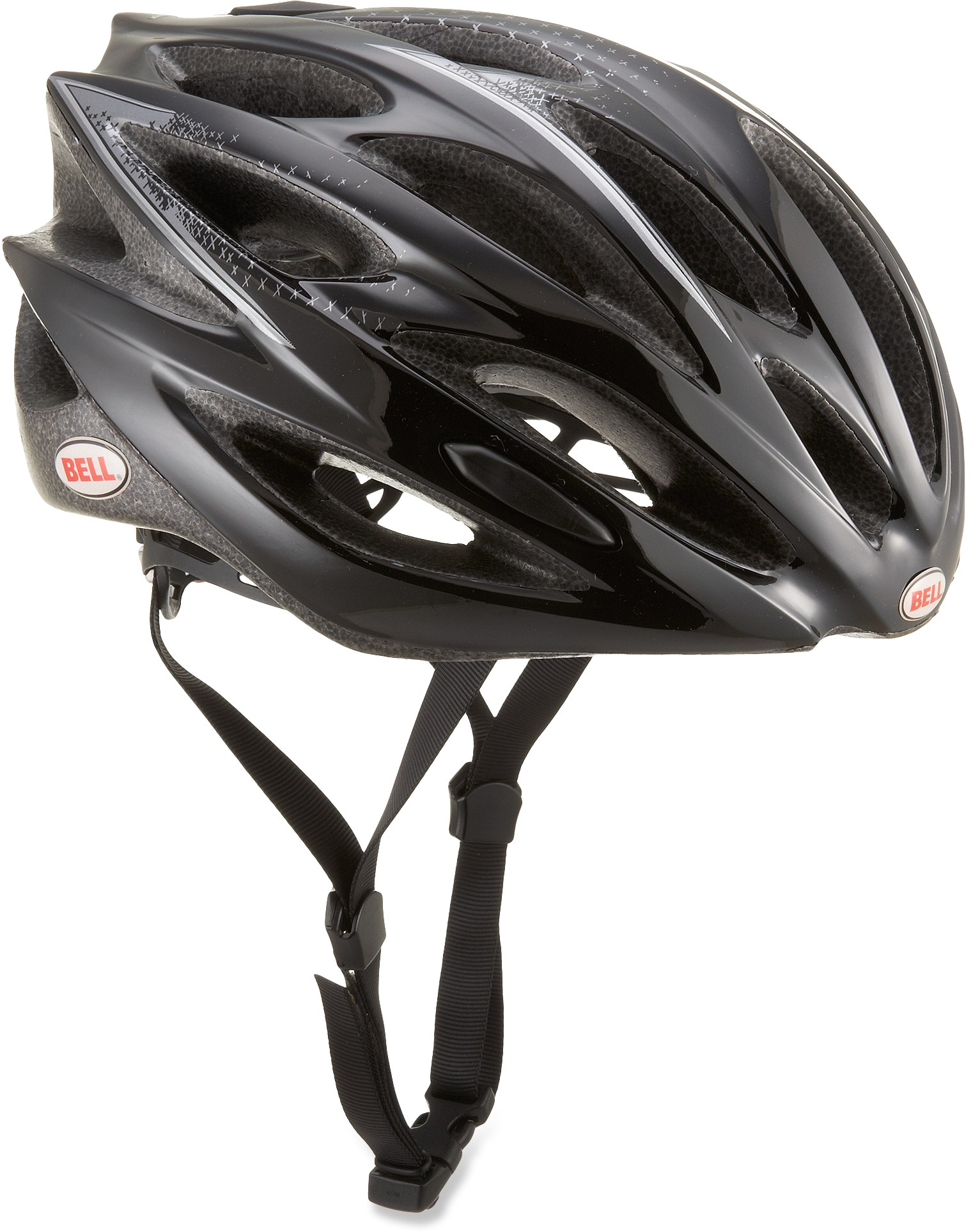 Fusion in-mold construction bonds rather than glues or tapes the helmet's microshell to its EPS foam layer, ensuring a sturdy, solid helmet
Internal reinforcement helps maximize venting and minimize bulk while still meeting stringent safety standards
GPS (Geared Positioning System) fit system delivers 1-hand adjustment for superior fit and comfort; simply slide the dial to click-in to the perfect personalized fit
Cam-Lock strap levers make it easy to adjust the straps around your ears
Features 22 high volume, internally channeled vents
Registered graphics: Lumen's graphics are not only complex and visually appealing, but they won't distort or warp the helmet
Okay, it is smart to wear a helmet. From my motorcycle experience, helmet ratings and ANSI/DOT specifications are a bunch of crap, with the helmet manufacturers often in bed with the certification agencies. This helmet was on sale and inexpensive, and should meet my needs. It is always comfortable and I never felt the need to take it off during rest stops.
My overall first impression (as a complete bike novice) is the Novara line of bike clothing is well made and functional. Hopefully as time goes by these will meet my biking needs.
Some things that didn't work out
Clip on mirror for eyeglasses. I bought two brands for experimentation: The Third Eye Mirror and the Bike Peddler Take A Look Mirror. Both were difficult to keep in place on my glasses and almost impossible to get a good angle to see behind me. Part of the problem is the location of my head and shoulder when peddling. I don't think any eyeglass mounted mirror is going to work. I might look into a helmet mounted solution. At the end of the day it is rare that I really need a mirror except when riding in town on a busy road: too many idiots talking or texting while driving. The best solution would be to execute these idiots.
Eye protection is needed to protect against errant flying insects and moving at higher speeds to prevent the eyes from tearing. My normal eyeglasses didn't do the job; they aren't large enough to keep the wind away from my eyes, plus I don't need them for seeing when riding – mostly for reading or looking at things close up. I think the solution is going to be an inexpensive pair of safety glasses from Home Depot or Lowe's but I will check out sport glasses also, would be nice to have a prescription pair, although not necessary.
Camping Gear
I just brought my normal ultralight backpacking gear with a couple exceptions.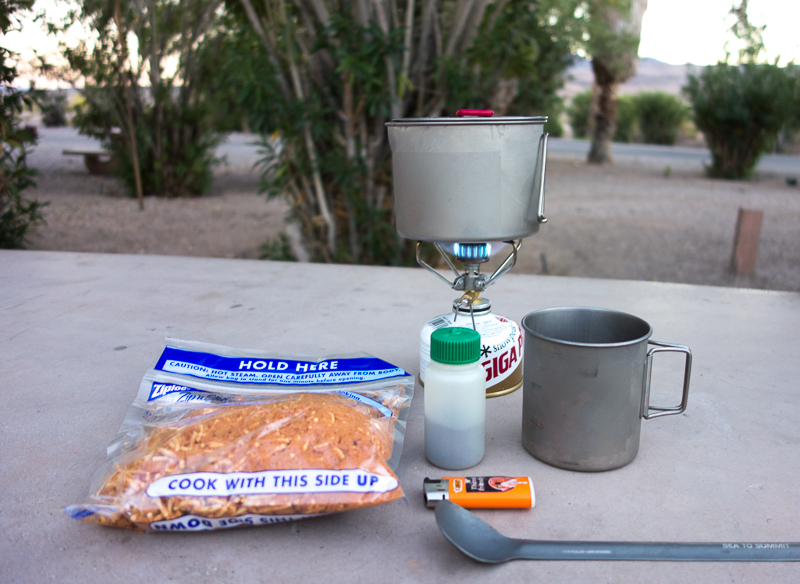 Instead of by Caldera Cone stove set-up, I went a little heavier with my Snow Peak Giga Power Stove and a MSR Titan Kettle (.9 liter). Both of these are considered light pieces of gear in the backpacking world.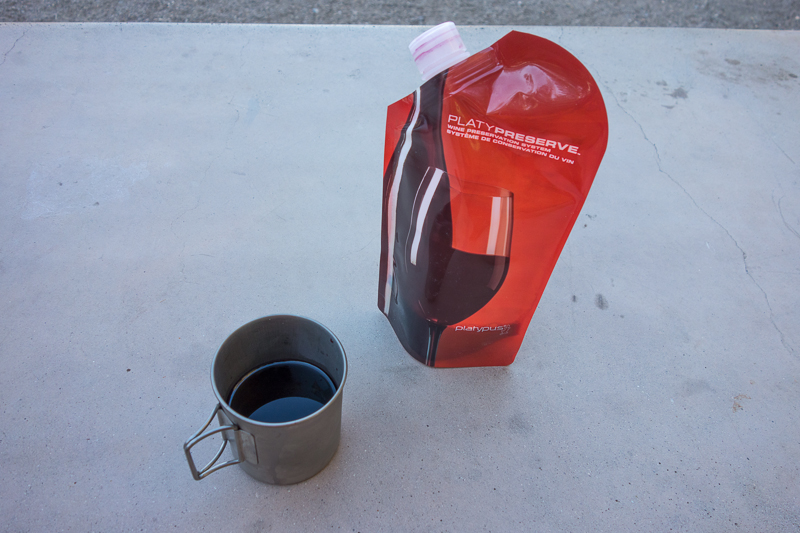 I also brought a Platypus wine sack (filled with wine of course) and a 450 ml titanium cup as a wine vessel. One of the perks of bike touring!
Some miscellaneous pictures from the trip