Normally this isn't the place to search for gear reviews. Reviews are infrequent and I don't claim to be an expert. There are blogs that do several reviews each week and generate a lot of traffic, but as I stated in The Business of Backpacking, buyer beware.
The best and brutally honest reviews are done by Dave Chenault at Bedrock and Paradox, but he doesn't have hundreds of reviews in his archives. Another blogger you can trust is Paul Magnanti. Paul doesn't get into the deep details as does Dave, and Paul is more interested in just hiking a lot and using the gear he already has, which means he isn't doing many gear reviews because his kit is well established and doesn't need constant upgrading.
There are two reasons why I am reviewing the NeoAir; first is I have been using it for 7 years, which to me seems like a reasonable amount of time of use to be objective and accurate, and secondly, I think the NeoAir is a game changer. But with anything in life, it is best to start at the beginning…
In the Beginning…
When I started backpacking in the 1960's, I didn't use a sleeping pad. I simply laid my sleeping bag on top of a groundsheet (not to mention, I didn't know there was such a thing as a sleeping pad). But I was young and fit, and not knowing about sleeping pads I had to quickly learn how to find a suitable place to set up camp – which is not a designated camping area where the ground is hard packed from overuse, not to mention they are usually populated by other people and become an attraction for animals looking for easy food.
Foam Pads
When I discovered the category of backpacking foam pads in the early 70's, I began using the ubiquitous blue closed cell foam pads for backpacking.
These bulky and fairly ridged pads served me well for 4 decades. But approaching my 6th decade on the planet (e.g. my 60th birthday), it became a little more difficult to sleep comfortably. Usually the first couple of nights outdoors I would toss and turn due to pressure points on my hips and upper body. This would pass after a few days as I got used to sleeping on the pad. I learned a long time ago that sleeping on my foam pad at home on the floor for a couple nights prior to a backpacking trip would condition my body and I would be able to sleep without interruption or soreness starting on the first night outdoors. Alas, time changes things.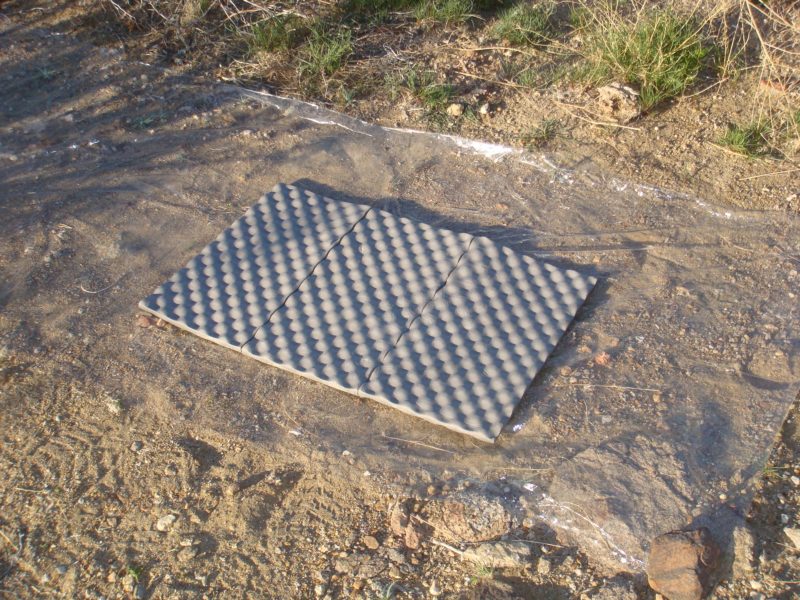 Also when I was in my late 50's (2009) I switched from the blue pads to a torso length egg-crate design foam pad from Gossamer Gear. This was more comfortable than the closed cell blue pads but didn't last a long — they lasted for several months of use versus several years.
Air Mattresses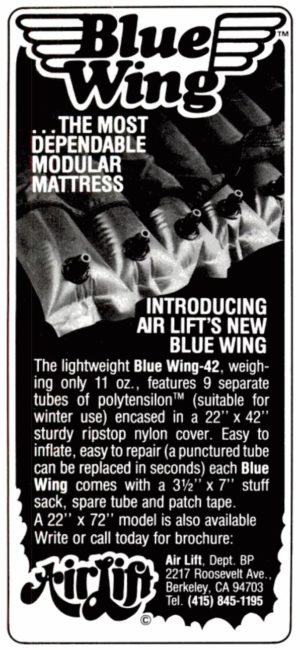 In the 1980's backpacking-specific air mattresses gained popularity. One mattress that looked good in the ads was the 11 ounce torso length and 16 ounce full length Blue Wing mattresses by Air Lift. But alas, they had 9 individual tubes to blow up and contrary to the marketing spin that they were suitable for winter use, the mattress had no insulation and the ground would suck the heat out of your body into the ground.
Also during this time the Therm-a-Rest self-inflating mattresses did have insulating qualities and were easy to inflate. But they were bulky and heavy.
I tried both the Air Lift and the Therm-a-Rest mattresses, but ended up relegating them to my car camping gear closet and returned to the blue foam pad for backpacking.
In the past 50 years of backpacking I have gotten much older and a little softer. In 2008, based on so many positive reviews, I again re-visited the self-inflating Therm-a-Rest pads, which had improved in quality and gotten a little lighter, purchasing a torso length ProLite 4 and a more robust full length Tough Skin mattress for desert use. Both turned out to be no more comfortable than a foam pad, but heavier. In 2009, lured by all the "positive" reviews I bought a Pacific Outdoor Equipment TorsoLite self-inflating mattress, which was no better than the ProLite.  So much for reviews, and keep that in mind while reading this one about the NeoAir.
One good purchase was a Big Agnes Insulated Air Core mattress that I bought in 2010 for winter use, especially on snow. Heavy and bulky compared to my foam pads it did a fairly good job insulating my body from the ground when sleeping on snow.
Therm-a-Rest NeoAir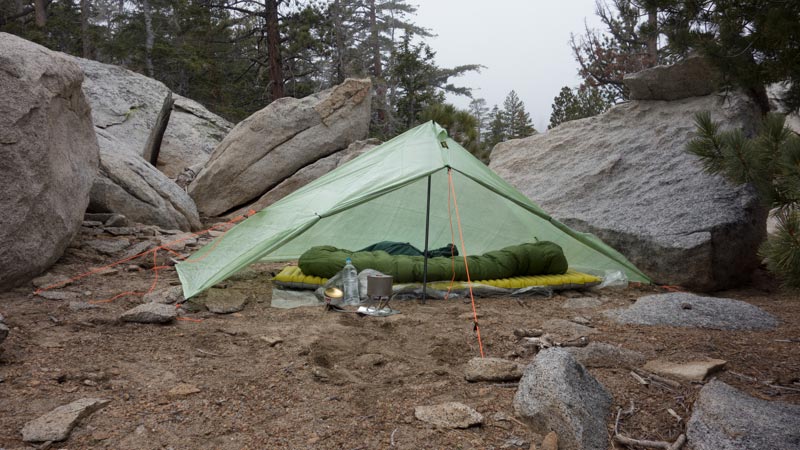 In 2010 I started using an extremely lightweight air mattress, a Therm-a-Rest NeoAir. This pad is 20" wide by 72" long. It is durable and provides some built in ground insulation, which leads to a discussion of R-values that I'll touch on in a bit. In 2013 I bought two additional Therm-a-Rest NeoAir mattresses; a smaller version now called the XLite and a warmer version called the XTherm. Here's a comparison chart of my NeoAir mattresses:

By 2012 I was using the NeoAir mattresses on just about every trip. On short trips (3 nights or less) I take my original NeoAir, and for longer trips where my body quickly acclimates to a torso length pad and I can save 4 ounces,  the XLite's 47" length is perfect for me. Sometimes I put my backpack under my feet, but normally can sleep well with my feet hanging off the end. Note that Therm-a-Rest is no longer offering the XTherm in the small size. When backpacking in the desert I also bring a 1/8" thick foam pad to protect the NeoAir from errant puncture thingies.
Aside from cushioning, a quality sleeping pad must match the conditions. In winter, one needs good insulation under the sleeping bag to stay warm and comfortable. When people tell me they cannot stay warm at night, the first thing I recommend is making sure their sleeping pad has enough insulation, as a warmer sleeping bag will not necessary solve the issue. Most people will find the R-3.2 XLite fine for temperatures down to 32 F. I have been warm down to 20 F with the R-5.7 XTherm and haven't been in temperatures lower than that. For more information on sleeping pad R-values, Google is your friend.
Air Mattress Pump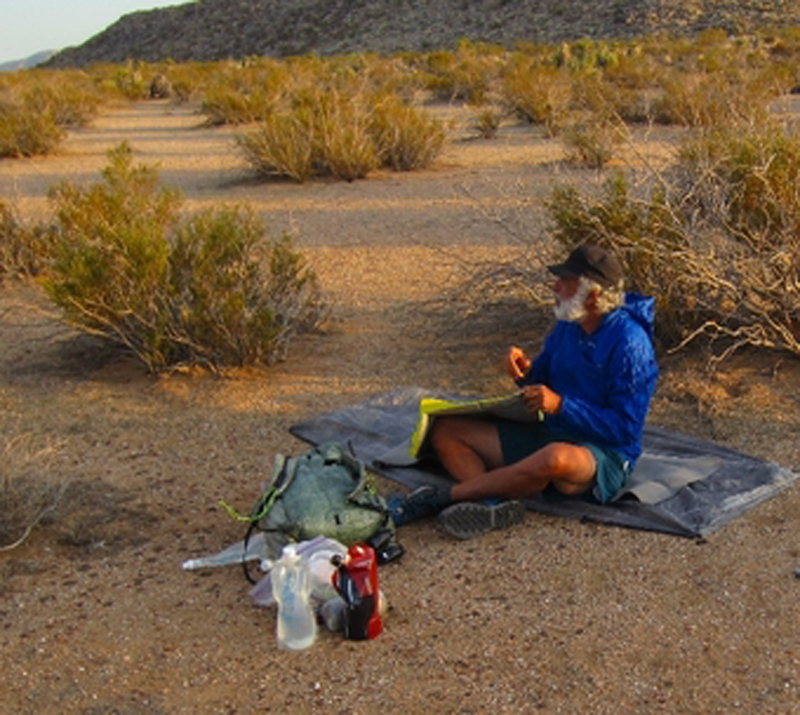 Like most air mattress manufacturers, Therm-a-Rest sell manual and battery operated pumps.  Do you really need an air pump if you can hike 10, 20 or even 30 miles in a day? It's this kind of thinking that causes backpackers to lug around heavy packs. I have never timed it, but it only takes a minute or two to blow up a NeoAir. Then there are those who rationalize the extra weight by telling themselves an air pump will eliminate the possible condensation caused by filling the mattress with your lungs. Therm-a-Rest doesn't recommend a pump to fill their mats, other than the convenience of a pump. Convenience on the trail = more weight!!
Therm-a-Rest Warranty
These pads have a Limited Lifetime Warranty. From what I have read, users report that Therm-a-Rest's warranty process is outstanding, should you ever need to use it. I have also read that some users experience de-lamination of the pad after extended and frequent use, but it seems no one has a problem getting a warranty replacement – although older models are no longer available and Therm-a-Rest will replace it with a similar current model.
Cons
All my NeoAir mattresses make a "crinkling" noise when handling them. Some users complain they cannot sleep because the mattress makes noise when they turn in their sleep. This has never happened to me because when I am sleeping… well I am sleeping and little noises don't wake me up. If you buy a NeoAir and it wakes you at night, my suggestion is to go backpacking more often and learn to sleep without sensitivity to little noises. If you cannot do this, then searching for and spending money on a quieter mattress probably isn't the best investment of your money – perhaps spending it on a Shrink might be more productive.