It happened. My faithful dedicated backpacking watch, my Timex Expedition Resin Combo died. I wrote about this watch a few years ago in this backpacking watch dissertation that provided a lot of mostly useless information that for some reason does interest people seeing more than 2,000 people have bothered to read it.
This watch was a little over 6 years old. It lived a good life and is survived by a 70's military watch and an original 80's Swiss Army watch. No services will be held and it will be interned at the Riverside County landfill on Edom Hill.

No autopsy was performed. It is an inexpensive timepiece and when a new battery failed to revive the heartbeat of its digital/analog innards, no one was interested in repairing or bringing it back to life – the victim of a throwaway item in a throwaway society.
Watchmakers and skilled timepiece technicians are a lost trade. The few that exist are relegated to fixing expensive status watches; watches that define the status of their wealthy owners or those who spend more than they should on a watch to impress others. The few remaining watchmakers and repairpersons  are unwilling or perhaps unable to repair the lowly Timex Expedition. So it was time to replace the watch.
I did have to change the wrist band once, because it absorbed so much salt from me sweating, salt that I couldn't remove, and the now stiff band became difficult to wrap around my wrist. This told me I was backpacking often enough.
My dead friend was able to tell me the date, the time in 3 different zones, rotate the bezel for timing, time laps, and a bunch of other stuff I never used and of course I didn't have the slightest inkling of how to use them. It was water resistant to 100 meters.
Now, let's think about this. 100 meters is 328 feet. Most humans will die if they try to free dive down to 328 feet. One would surmise that if you actually dived down to 328 feet the watch would need to be waterproof at that depth, not water resistant. Should a person drop their watch in 328 feet of water, it is highly unlikely they will have any means to retrieve it. I haven't taken the time to figure out what this water resistant definition really means — its just a bullshit marketing ploy, similar to how some manufacturer's rate their underperforming sleeping bags.
I only need a watch for backpacking, so that I get back home at the time Joyce expects me. It is also useful for pacing daily mileage. Other than that, I don't need a watch. I certainly don't need jewelry.
I could have simply placed one of my other old backpacking watches back into service, but instead decided to procure another Timex Expedition. Given that there are so many "Expedition Model" offerings from Timex, along with a multitude of features and advertised benefits, it was time to list my needs before shopping with Mr. Amazon. I decided to make a list of Needs and another list of Options. I figured there might be five or maybe even more in the list. My list fell short…
MY NEEDS
Tell me the time of day
NICE TO HAVE
A backlight to read the watch at night
So I narrowed my search to a watch that could tell me what time it is; and would do so in the dark. Most people would point out that such a simple watch would be like buying a cell phone that can only initiate and receive phone calls. Precisely.
Oh, I am not afraid of "technologically advanced" watches. Heck when I was gainfully employed, I used a Pebble Watch utilizing most functions to improve my productivity using a wrist device that could tether me to a smart phone and all things Internet, and most importantly to create more free and leisure time in my life. But that watch was retired the day I retired from work. When one is backpacking the only critical function a watch can perform is to communicate the time of day. All those other and expensive additional features are not needed and provide little benefit or return on investment.
My search for a new Timex Expedition led the the exact model I had previously owned and a more robust and sturdier model, which was $10 cheaper than my previous resin-cased Expedition Resin Combo model. So I opted for the cheaper and somewhat heavier metal-cased Timex timepiece, the Timex Expedition Scout. It is analog (the mechanical hands go round and round without any digital display), which is the only thing it can do other than light itself up at night if one should wake up at 2 am and need to take a shit in the wilderness while being able to know the time and then worry about the time, which is mostly irrelevant, since a skilled backpacker will simply and quickly go back to sleep after depositing the solid waste.
Oh, and the new watch is only water resistant to 50 meters. That doesn't worry me, as I don't anticipate I will be 164 feet under water, and if I am I shall be dead without the need to know what time it is. The "Indiglo backlight" (another marketing doohickey) works better on this watch than the old one.
Plus, the new watch has a bigger dial and is easier to read. A big plus when you 65 years old.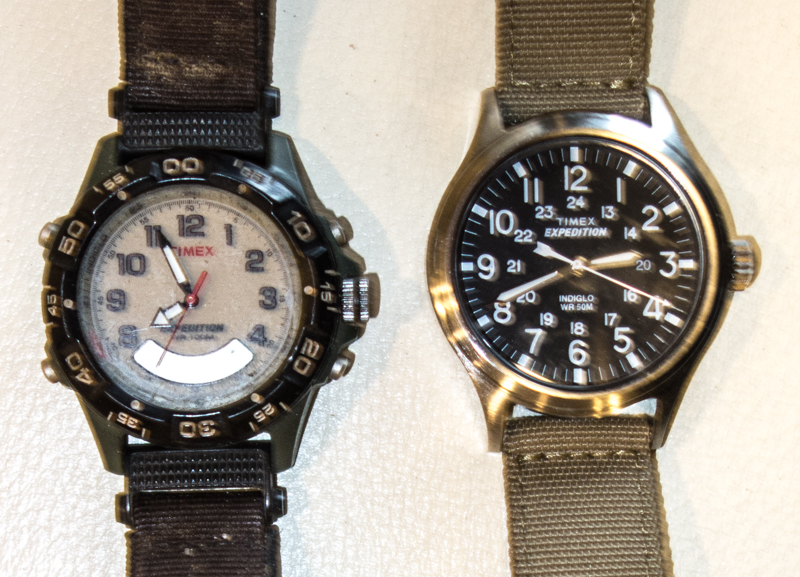 Yep is it heavier than the old one, but what the heck. An additional 1.1 ounces on my wrist will have no negative impact on my outdoor adventures, especially since, unlike most modern backpackers, I have no need to carry a heavy trekking pole in each hand. So the two ounces of wrist watch is much superior to the 8 or more ounces of a trekking pole most backpackers drag along in each hand.
And if I need to know what time it is, I will know.