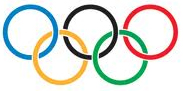 What's Up With That?
I was home for a couple days in between some trips and caught the opening ceremonies. What has happened to the Olympics?
Athletes took a back seat to queens and rock stars… sigh.
So I was looking for the Track and Field schedule on the official 2012 Olympic Website, but it is not listed as a sport. If you look at the 2012 Schedule and Results page, you will find a sport named "Athletics." If you click on Athletics, you will find that that sport is Track and Field. So Track and Field is athletics. But are swimmers not athletes? That sport is listed under Swimming.
I would consider swimmers athletes, although it is not listed under Athletics. I wonder about these; are these participants athletes?
Badminton
Cycling – hmm… would a lesser athlete win if his bike is better than the rest of the field?
Equestrian – who is the athlete? The horse or the rider?
Shooting
Synchronized Swimming – WTF?
Table Tennis
The first Olympics had one event, the Stadia, which was a foot race of about 200 yards. Of course this was a few thousand years ago.
The first modern Olympics were held in 1896 and had 9 sports with 43 events. The 2012 Olympics feature 26 sports and 302 events. Have we become more athletic or is there money to be made? Oh, I am not accusing the IOC of commercialization! Let's keep adding sports so more people can win medals, the venue can be longer, and we can watch more commercials.
Some sports we should add might include:
Auto racing
Billiards and pool
Bowling
Bridge
Checkers
Chess
Dodge ball
Duck, duck, goose
Four  square
Hide-and-seek
Hopscotch
Jacks
Jig-saw puzzles
Jump rope
Lifesaving
Marbles
Mother May I?
Musical chairs
Pin the Tail on the Donkey
Pitch and toss
Red light, green light
Rock, paper, scissors
Roller derby
Skate boarding
Speed boating
Spin the bottle
Tag
Thumb war
Tick-Tac-Toe
Tiddley winks
Touch football
Tug of war