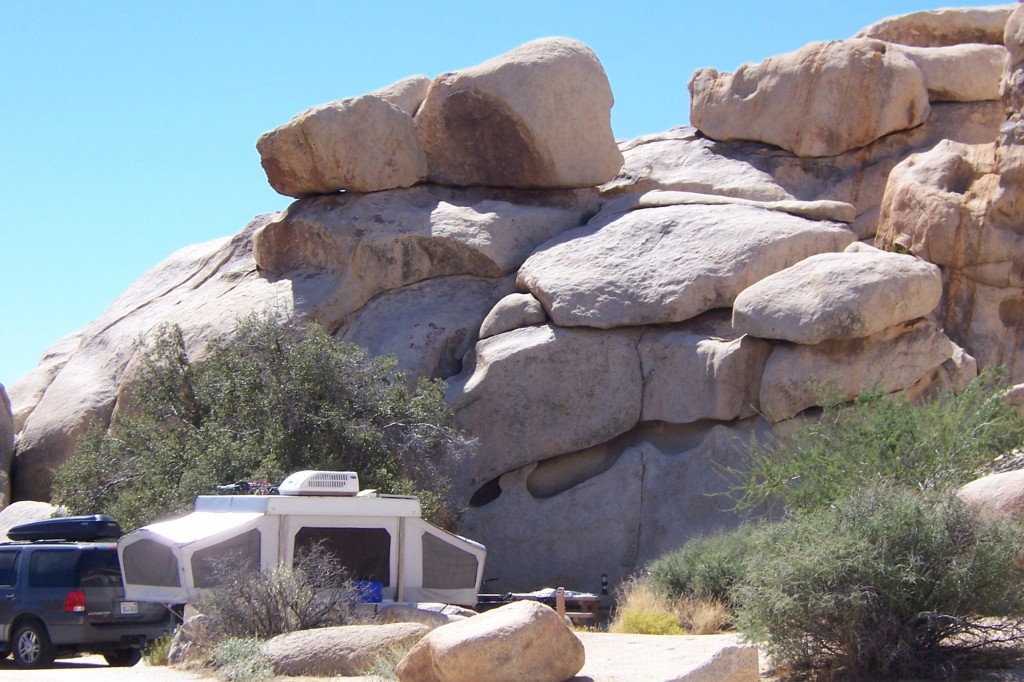 Scroll to the bottom of the page for links to our upgrades.
My first wife and I started taking our kids camping when each was 6 months old (they are two years apart). This included several weekends every year and a two-week vacation; usually in the Southern Sierras. And we slept in tents.
In 1992, when the kids were 4 and 6 years old, we bought our first tent trailer; a brand new Starcraft Meteorite for $4,300 out-the-door. It was the smallest trailer manufactured by Starcraft and the only one our four cylinder Dodge Caravan could tow.
And this is what it was, a tent on a trailer frame. We did not add a battery and never stayed in campgrounds with hook-ups (electric, water, sewer, etc.).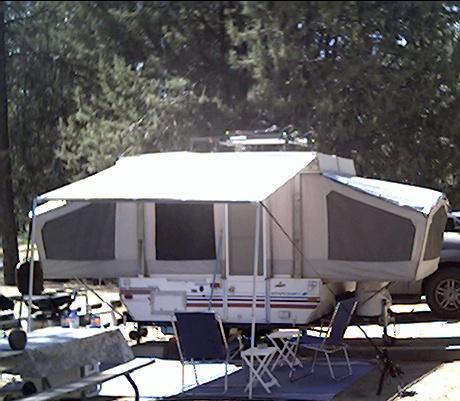 Manufacturers of tent trailers call them Folding Tent Trailers, and most owners affectionately call them Pop-ups. No matter what you call them, we loved ours from the very first trip. Easier to keep gear and clothes organized in a trailer than a tent. And much easier to keep small children clean versus a tent.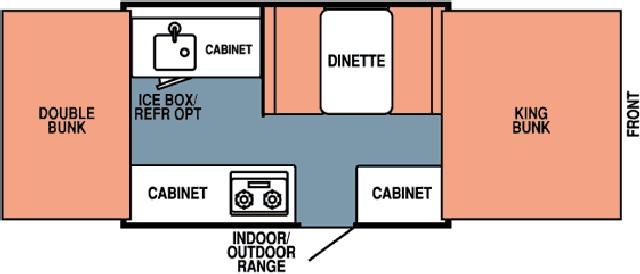 It had a small dinette with storage under the seats; a small sink with a hand-pump-faucet and 5 gallon water tank; an ice box that was too small to be of any use other than a place to store paper goods; two twin beds; and a two-burner stove that could be used inside or out. The interior was only 8 feet long, excluding the two beds that pulled out at each end of the trailer when is was popped-up. And now you know where half of PopUpBackpacker.com originated.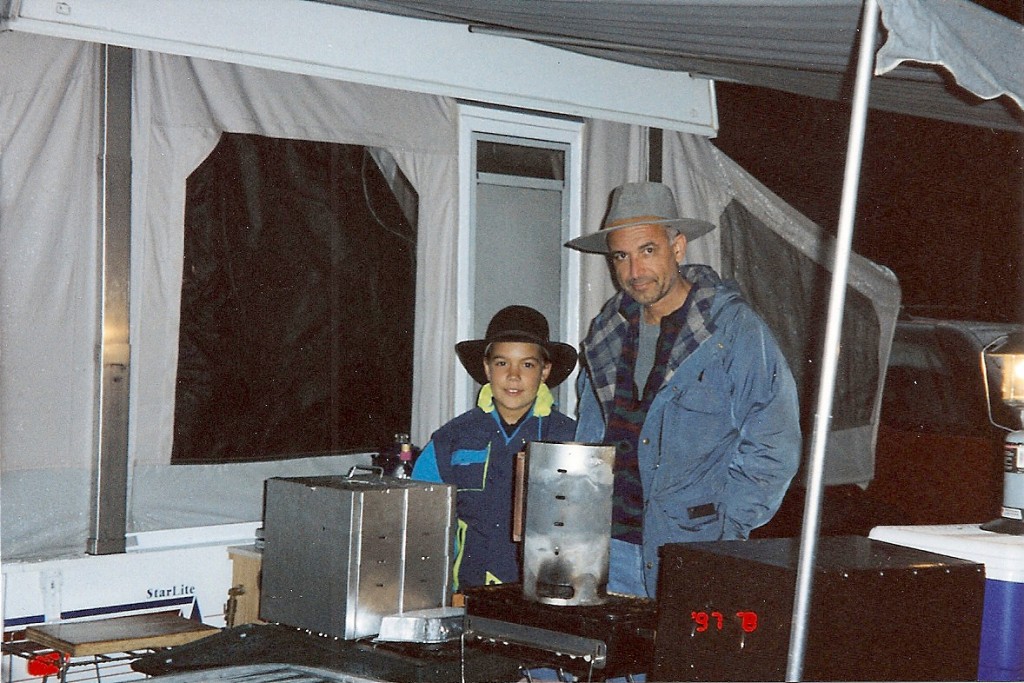 We were outdoor campers so I removed the sink for more interior storage and we spent our days and evenings outside, to include cooking. We slept in the camper at night and rarely spent time inside of it unless it was raining. Often my son, Joe, and I still slept outside under the stars in sleeping bags. The only exception to using the Pop-up during the day was during our yearly vacation, when I would buy  a jigsaw puzzle themed to our camping spot, and we would complete the puzzle over the course of our stay. Since we were not a "jigsaw puzzle family" it became a fun family vacation tradition.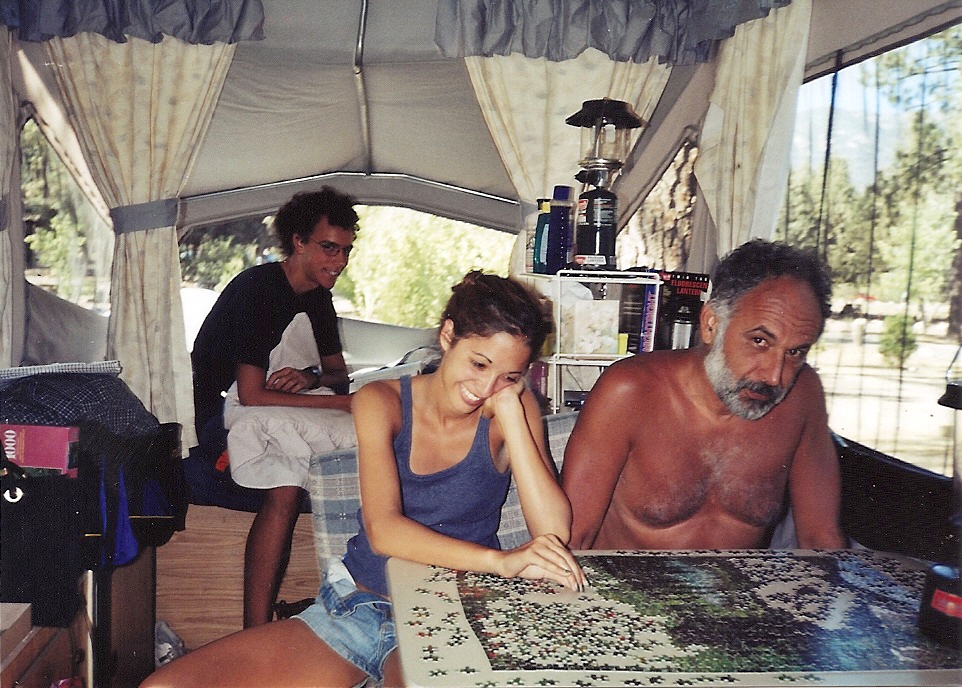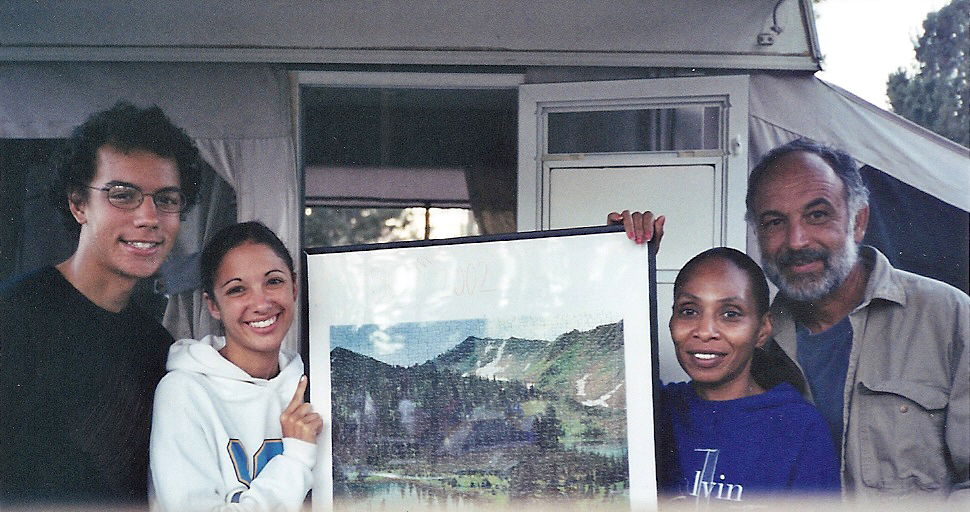 In 2002 I remarried. My new bride had never been camping before we met, and although she truly enjoyed camping, the Pop-up was a little primitive for her. So I decided to make a couple upgrades; add a 3-way (LPG, 120v, 12v) refrigerator and a battery to run the interior lights.
The Saturday I began the installation, Joyce took off shopping for the day, and I began the work. The refrigerator was a little larger than the existing ice box and I removed part of the cabinetry to get it to fit. As I sat inside looking at the cheap construction of the cabinetry, I started to think about how I would have designed the interior, and how much more functional I could have designed and built a tiny Pop-up. And then a sudden flash of inspiration hit me — gut the trailer and start over!
When Joyce returned home, the interior was an empty 8 foot long box.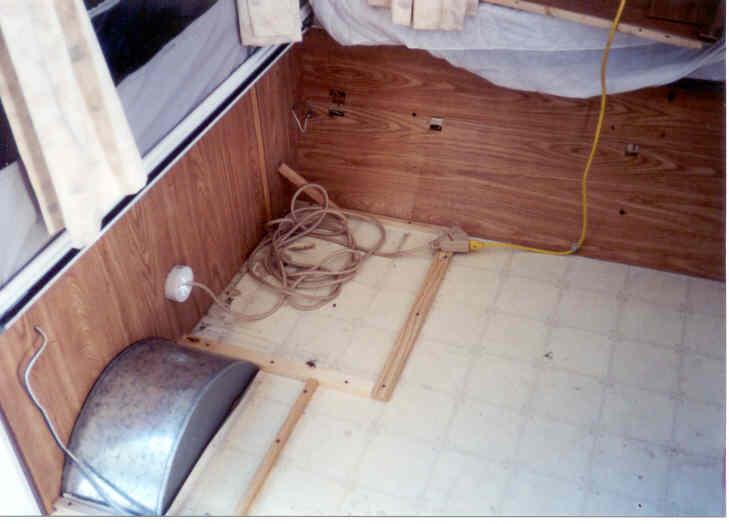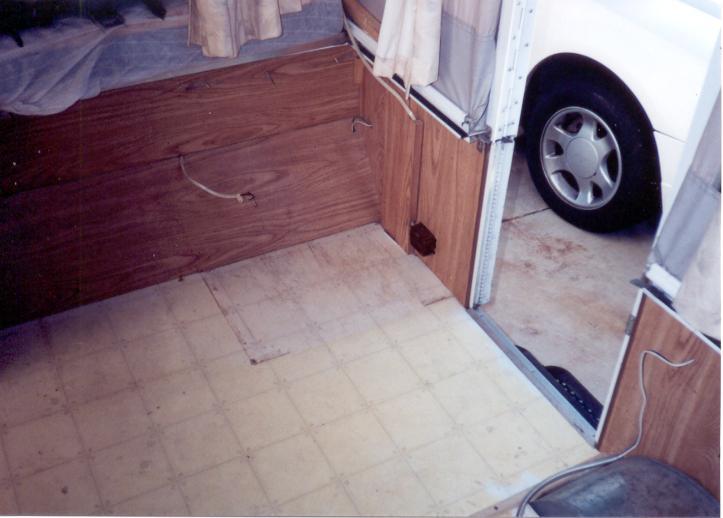 Sharing my ideas with Joyce, we sketched out a new interior and spent the next 6 months rebuilding the Pop-up. As it turned out, we could have bought a larger used trailer for less money than we invested in the remodel, but the time together spent planning and working, and the sense of achievement with a job well done cannot be measured in dollars.
When we started this project, I joined www.popupexplorer.com (also known as PUX) to get some ideas. Many folks there were very helpful, especially Oz & Us, EveryBodyHauls, Geodude, and ChuckS.
If you own a Pop-up and have never visited PUX, I encourage you to check it out. It is a great community, and even though I prefer to camp alone I have traveled to Colorado and even Ontario, Canada to camp with some of the friends I have met on PUX.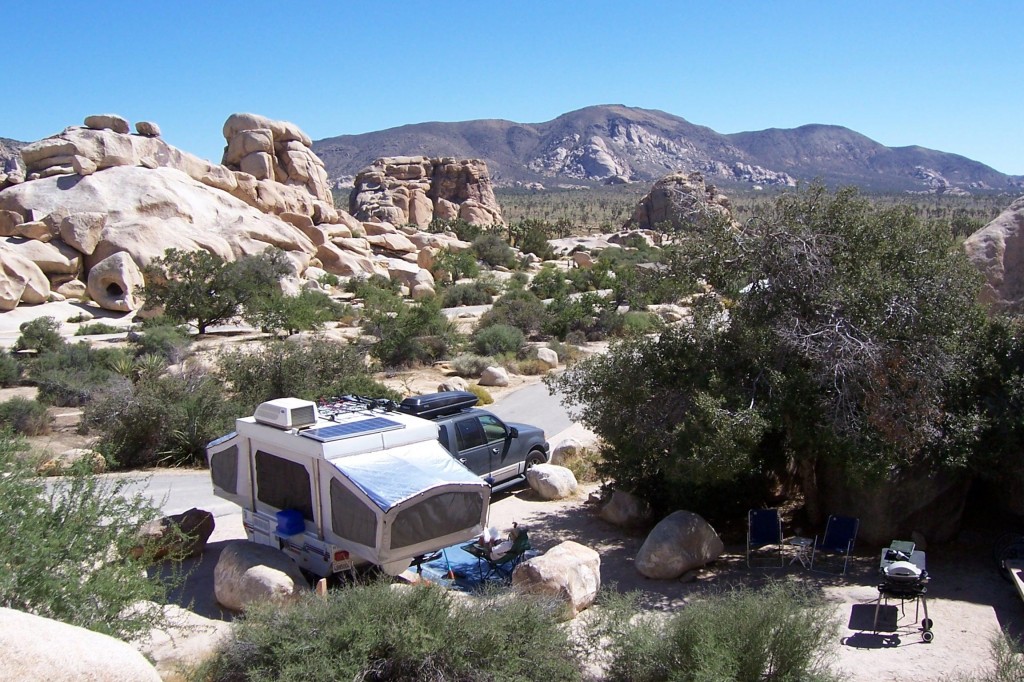 You can click on the 1992 Starcraft Meteorite Menu to see many of the upgrades we did to turn our itty-bitty trailer into a miniature full-featured travel trailer.
Camper Upgrades
Dual Battery and Dual LPG Tank Upgrade
Olympian Wave 6 Catalytic Heater