In 2003 Joyce and I gutted our Meteorite and started from scratch. That meant we redesigned the configuration of cabinets, the dinette, and added a refrigerator, shower, water pump, installed 12 volt fluorescent light fixtures, a water heater, a built-in catalytic heater, and a 3-burner stove.
We also changed the upholstery on the seats, replaced the foam in the seats and beds, and installed engineered wood floors.
Every camper owner should be concerned about the total weight of their rig. Almost any kind of modification would be too heavy for our Meteorite in its original configuration, which had a gross vehicle weight rating of 1180 pounds. Research showed that the axle could handle 2000 pounds and the limiting factor was the tires. The 4.80-8 tires were rated at 590 pounds each, which when doubled was the trailers rated weight.  So the first step would be be a Suspension Upgrade. We lifted the body allowing us room to install a set of new 12″ wheels and 5.30-12 Load C tires rated at 1045 pounds each. Since about 15% of the trailer's weight would be on the trailer hitch, we would have a maximum gross vehicle weight of around 2300 pounds.
PLANNING
We probably spent more time planning the the rebuild than actual construction time. A lot of time was spent looking at other campers in person and on the Internet. We researched all kinds of options and equipment. Then we drew up plans, with an eye to installing everything in the most efficient and productive order.
GUTTING THE TRAILER
We removed everything from the interior but the flooring. This included all cabinets, wiring, plumbing and fixtures.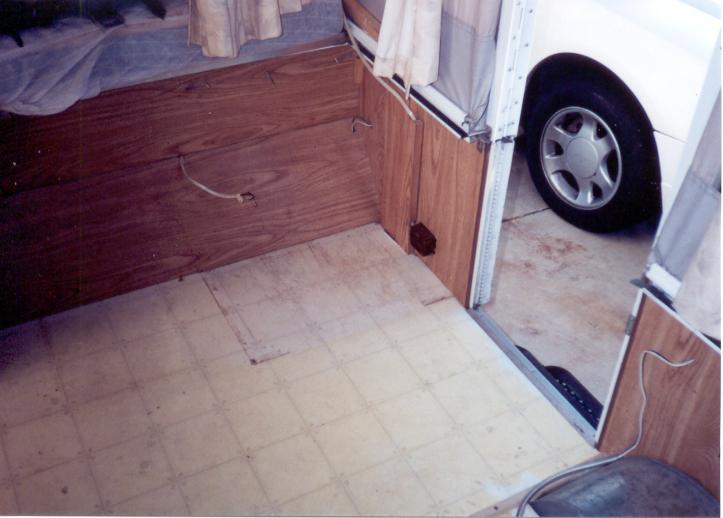 FLOORING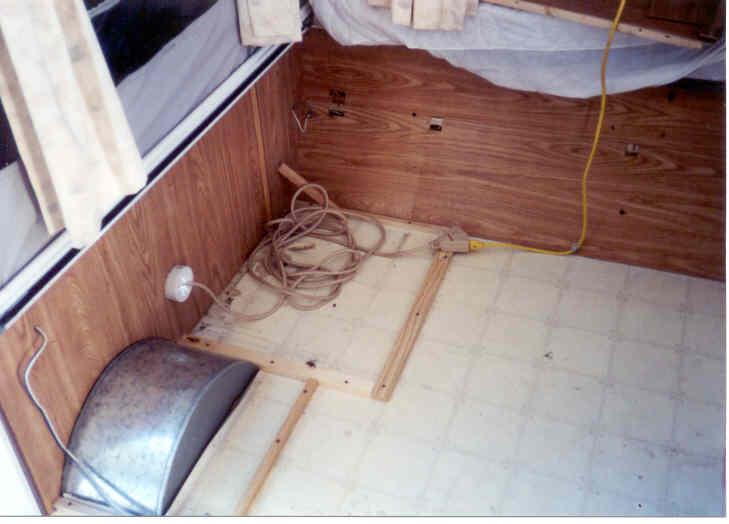 We decided to installed engineered wood flooring. The flooring is heavy, and to save weight, we did not install it wall to wall in some areas. We would butt it up to some of the cabinets, and go wall to wall in other places.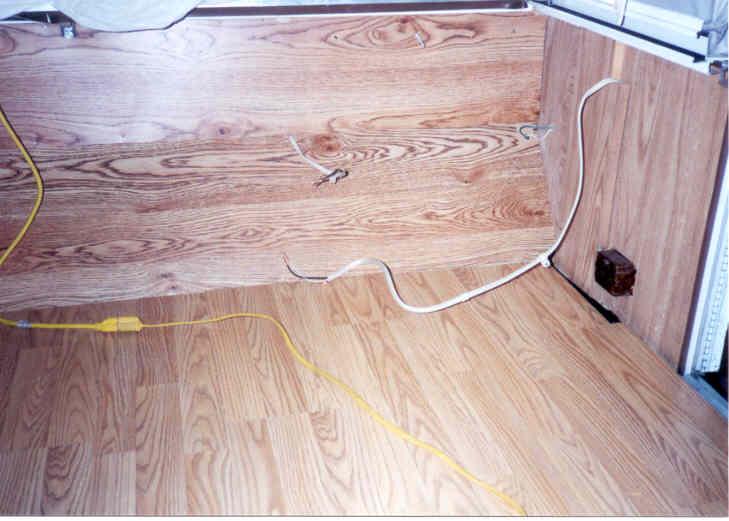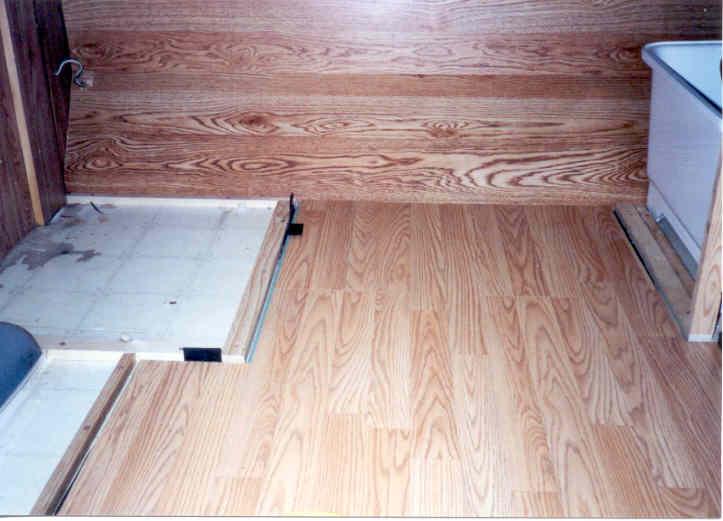 CABINETS
We built all new cabinets from scratch.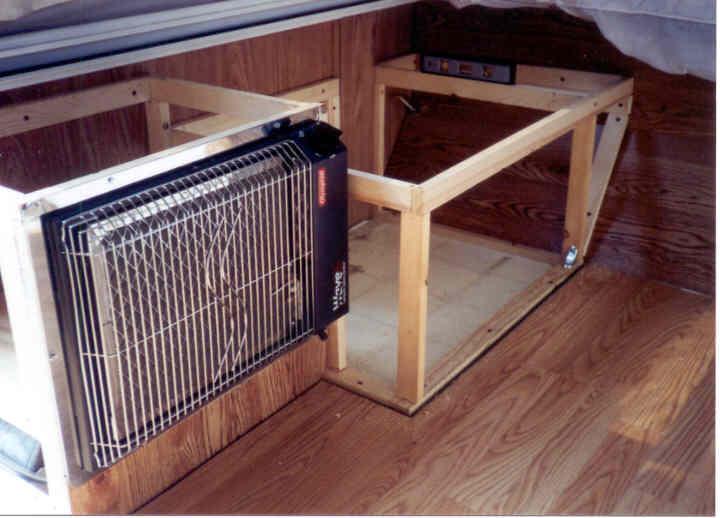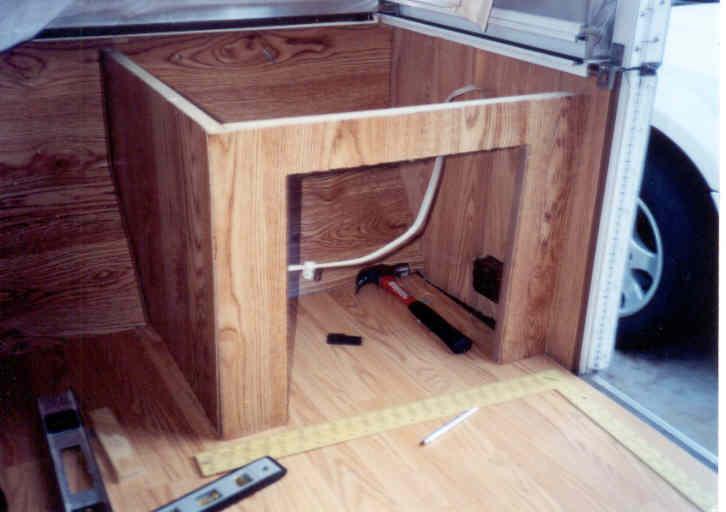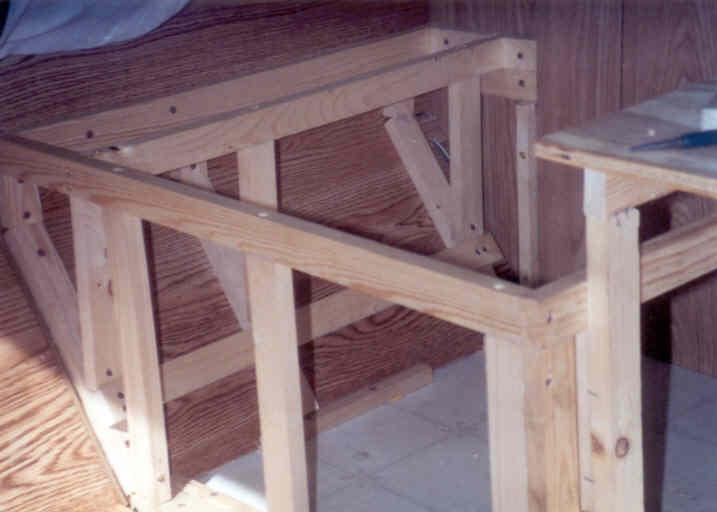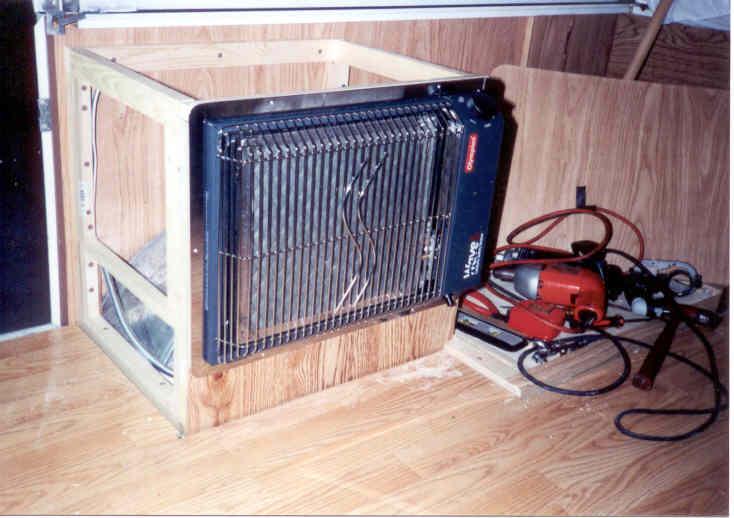 Below the shower is being assembled into the cabinet.
Click to see the complete Under Dinette Shower.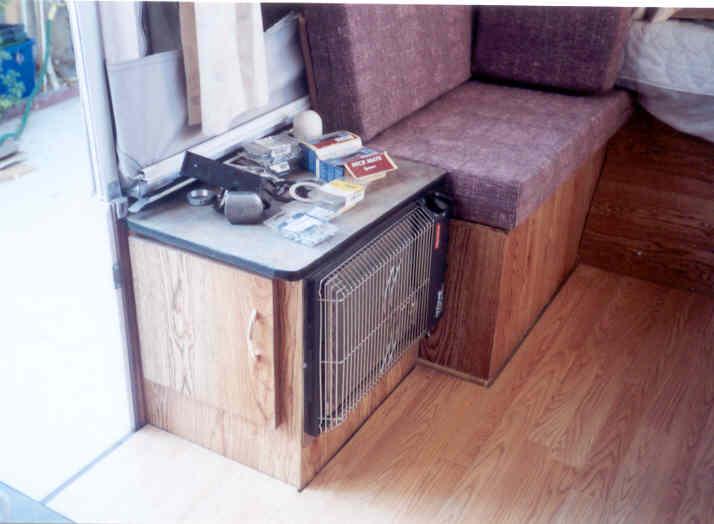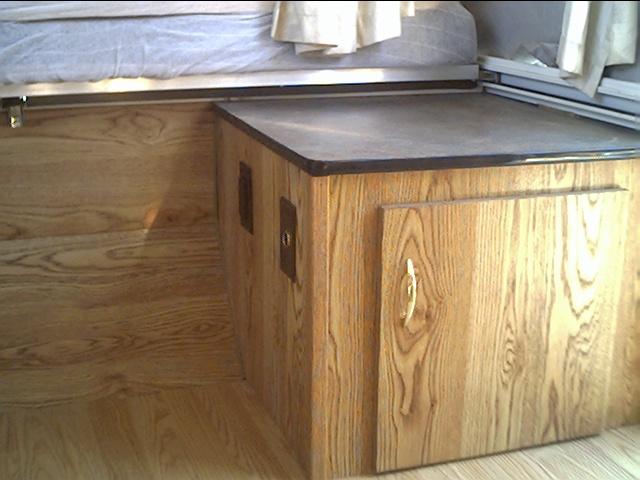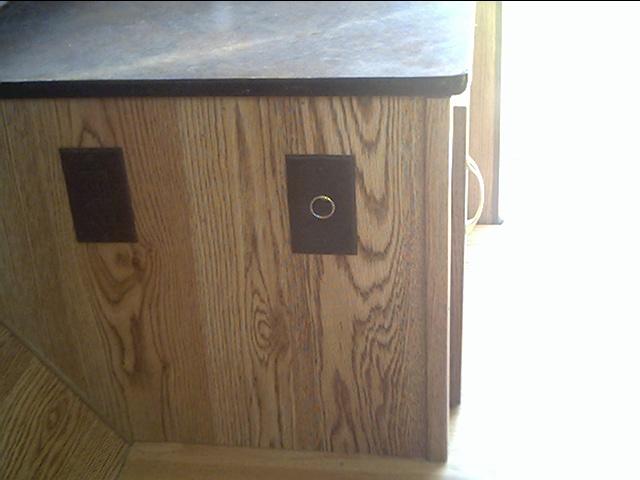 NEW FOAM AND UPHOLSTERY FOR SEAT CUSHIONS AND BEDS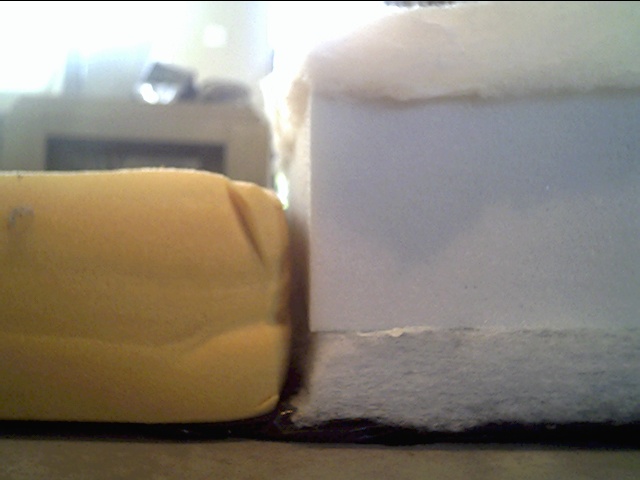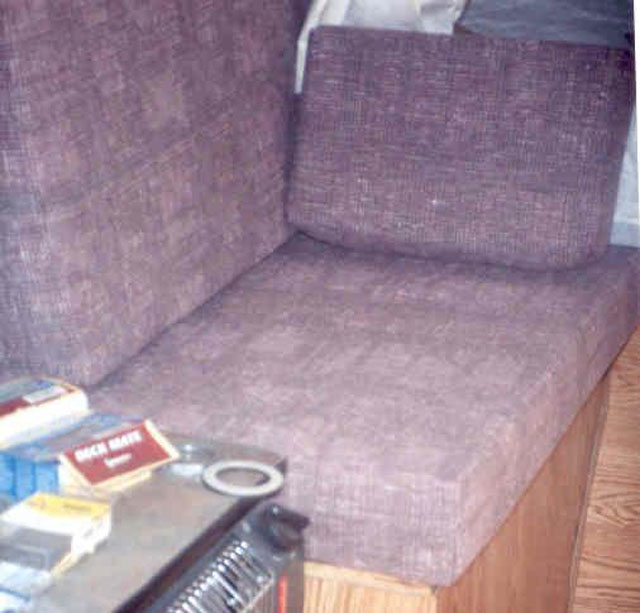 3-BURNER STOVE
The original stove was a 2-burner inside/outside stove. We purchased a Suburban 3-burner stove to replace it.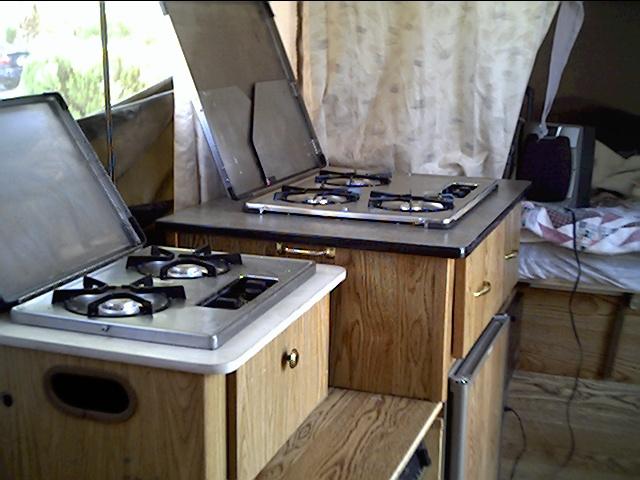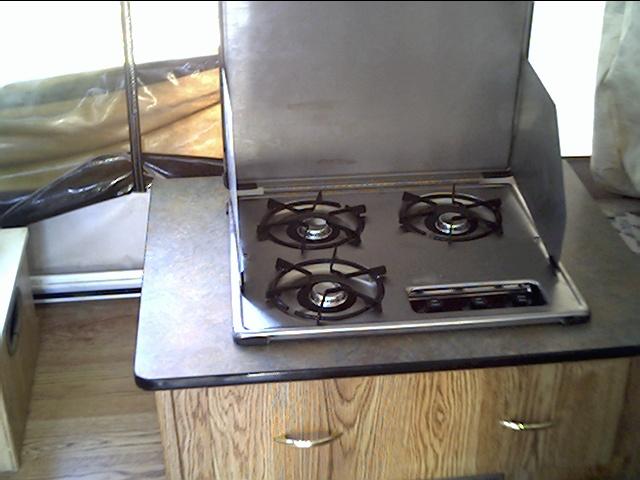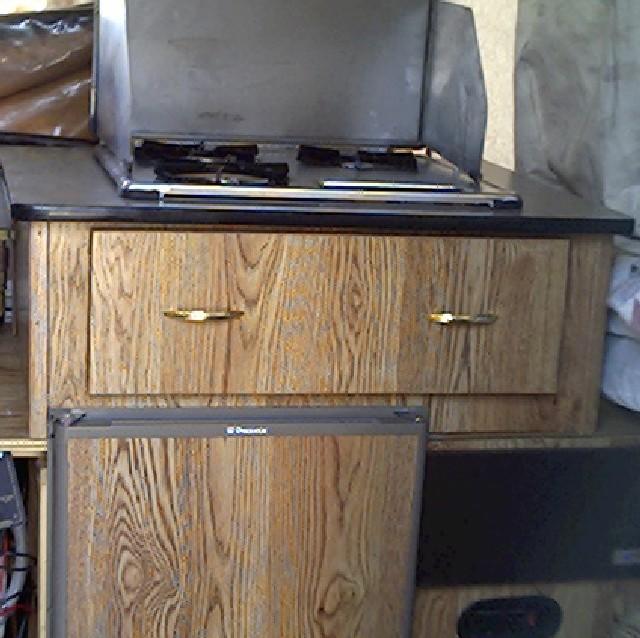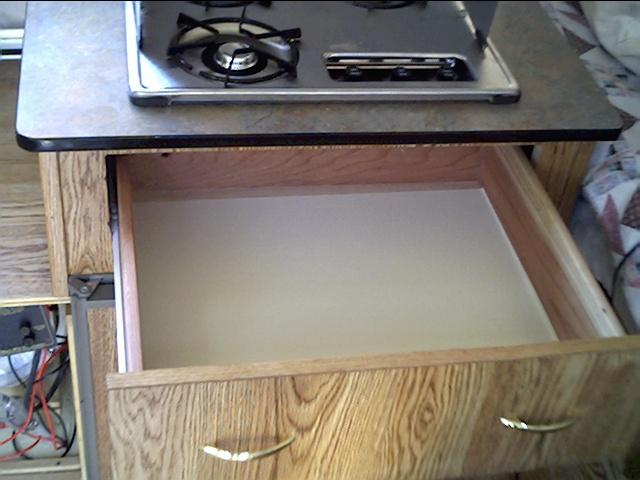 DOUBLE SINK
Most small campers have a single sink. We opted for a full size RV double sink and even installed a residential dish-washing sprayer.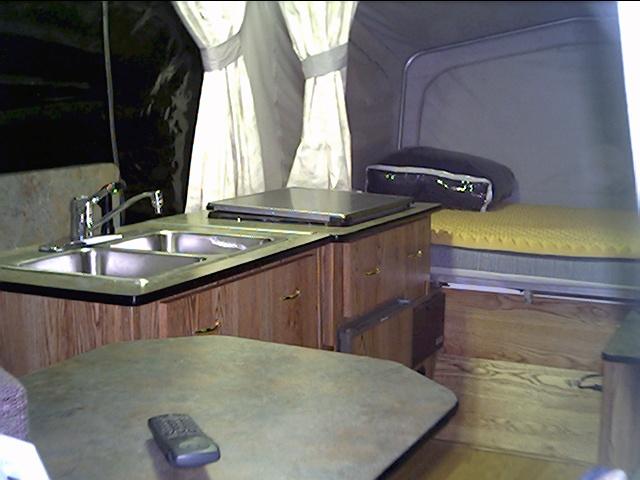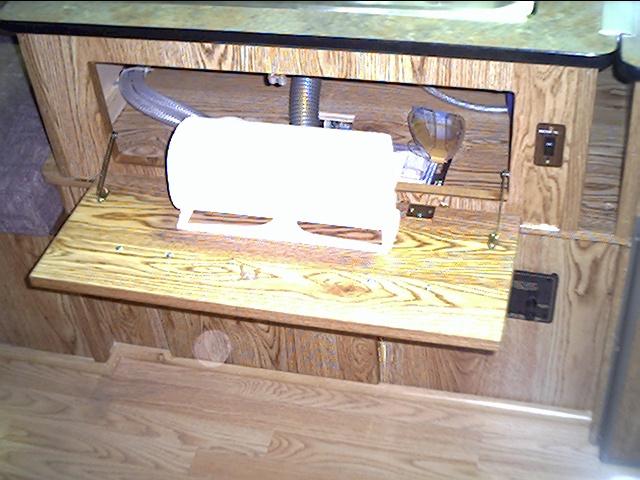 Below the sink plumbing, waste drain, and water supple hoses are extra long to allow the sink to easily fold over when packing the camper.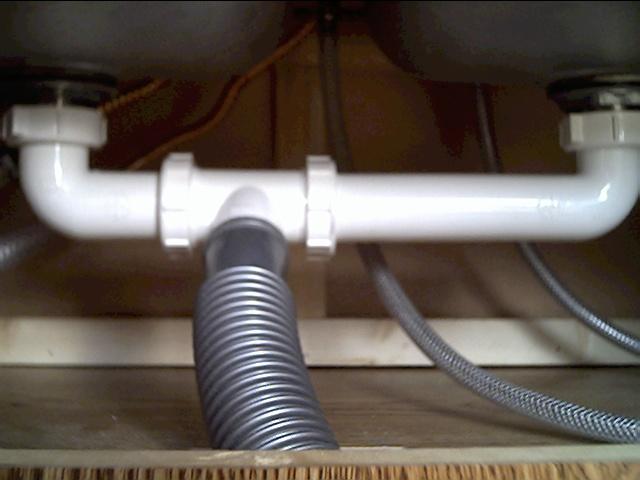 LOWER SINK CABINET
The lower sink cabinet is permanently fixed and houses the water pump, accumulator, water heater, and associated plumbing and electrical.
REFRIGERATOR
EXTERIOR VIEW OF WATER HEATER AND REFRIGERATOR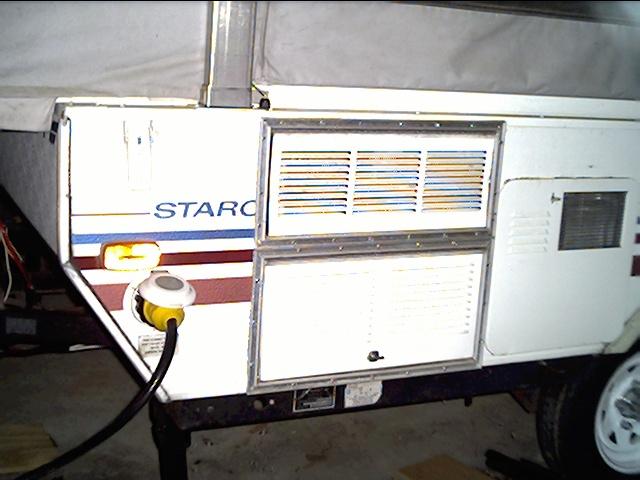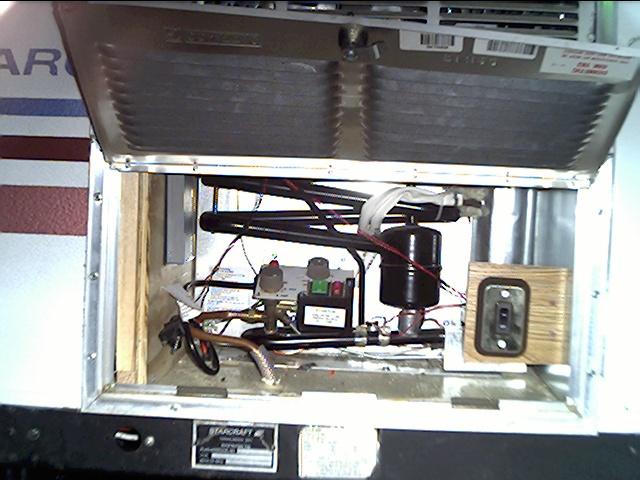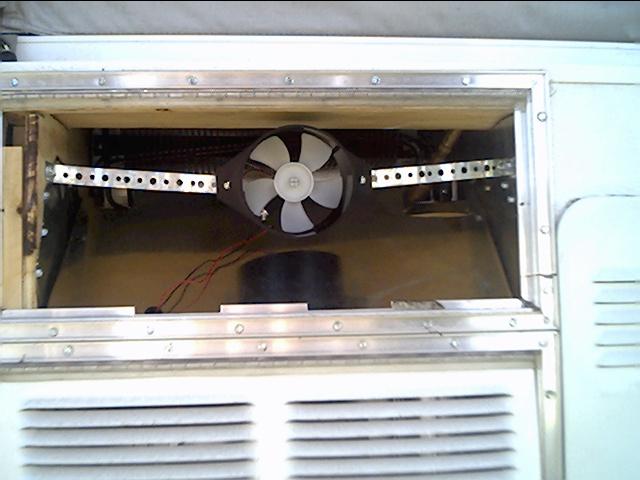 PICTURES OF COMPLETED INTERIOR