The water supply system in most pop-ups has a tendency to make a "hammering" noise when a faucet is turned on and the water pump operates. As the water is pushed the pump turns on and off and keeps the pressure constant. To compound this problem, the water supply system in the Niagara is mostly plastic PEX tubing. The pulsating can cause the tubing to bang against hard surfaces close to the lines. There are two methods to minimize this. The first is looping flexible hoses close to the pump is help minimize the pulsation further downstream from the pump, and the second is to install a pressurize accumulator to reduce the frequency of the pump cycling on and off.
Another method is to simply install a SHURFlow Whisper King Pump. That is a $150+ proposition just for the pump. The best of both worlds is to replace everything. One advantage of replacing the pump is that you can you use the old pump to transfer fresh water to your water holding tank. One of these days I am going to get around to replacing the pump.
Since I had installed the water hose kit and accumulator on our old Starcraft camper, I knew it would silence the noise to the point where I can barely hear it.
SHURFlow Pump Silencing Kit (from their website)
Designed to reduce noise and vibration in all plumbing systems
Connects directly to the inlet and outlet ports of the pump
Contains two 36" hoses with 1/2" female swivel fittings
Includes two 1/2" x 1/2" NPT-Male pipe nipples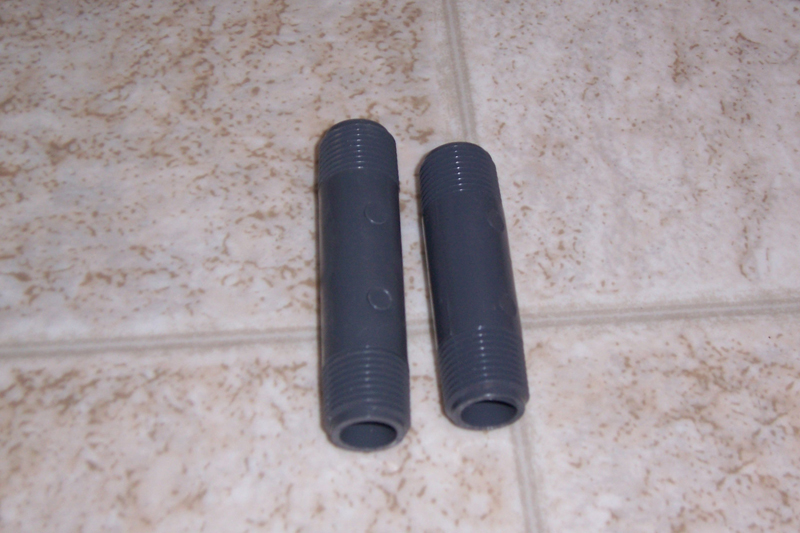 The included nipples did not fit my system so simple landscape sprinkler risers did the trick.

SHURFlow Pre-Pressurized Accumulator Tank (from website)
Smooths water faucet pulsations and reduces pump cycling to keep water line pressure up and pump motors cool. The SHURflo® accumulator tank reduces plumbing system noise, increases the life of your pump and saves battery power. Coupler fitting is included.
The entire job only took about 15 minutes.