As you know, if you have read my posts here, I get out quite often every year for backpacking and camping. Usually over a hundred nights a year. Well, that hasn't been the case this summer: so far. You see, there is one very important rule in life:
Happy Wife = Happy Life
15 years ago I pretty much tore up most of the house in preparation for a major remodel. During this 15 year period, several maintenance and repair needs have arisen. Most of which have been postponed in favor of, well lets face it, more important pursuits such as backpacking and camping.
Apparently it is now time to pay the Piper, so to speak. Joyce has put her foot down… a metaphor perhaps, but actually a directive that we need to make progress post-haste. She thinks these things should be done before we retire next year. She thinks it is unreasonable that we can't park our cars in the garage. I thought a garage was a place to store all your stuff; not a place to park cars. Heck we have a driveway for that.
Apparently I thought wrong.
Packrats
You see, Joyce and I are packrats. We have stuff that is old, really old. Of course my backpacking gear is important. But do I need all my receipts from 1971 forward? Do I need all my tax returns since 1992?
What's Wrong With This Picture?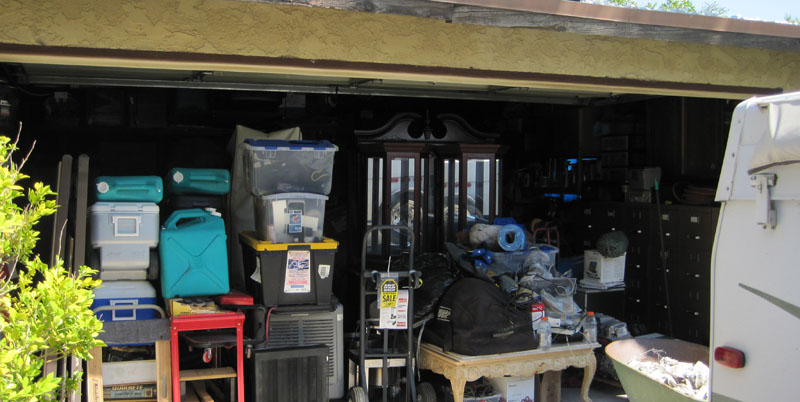 I thought this was the purpose of a garage. Storage. Wrong!
So the first step was to segregate our stuff into two categories
Must Keep
Give to Charity
So I made many, many trips to my favorite charity, Angel View Crippled Children's Foundation. Donations to approved charities are tax deductible. I use a website by TurboTax, ItsDeductible, to calculate the value of donations. Well, so far we are up past $11K. That's a lot of good stuff to just give away, but it is a good cause.
Still Too Much Stuff
After I gave away most of the garage inventory, there still wasn't enough room to park cars. Drats! Most of the leftover inventory was tools and materials for the house remodel. I figured if I gave that away I would have good reason to further postpone the home improvements. Then I remembered…
Happy Wife = Happy Life
So it was off to Home Depot to investigate storage options. Luckily there was a big sale going on.
RubberMaid Big Max
$100 off the 7′ X 7′ sheds. Two should work. Opps, to big and heavy to put in the SUV. Okay, they deliver for $75.
Once they arrived, I read the instructions. A foundation is needed. Crapola. Back to Home Depot for a bunch of 2 X 8's and some flooring material to build a sled foundation. No one in town had anchors to anchor it to the ground. Amazon Prime to the rescue; two days later I had these huge anchors that are placed into the ground and then connect the shed foundations to the anchors with cables. Whew, that was more work than assembling the sheds.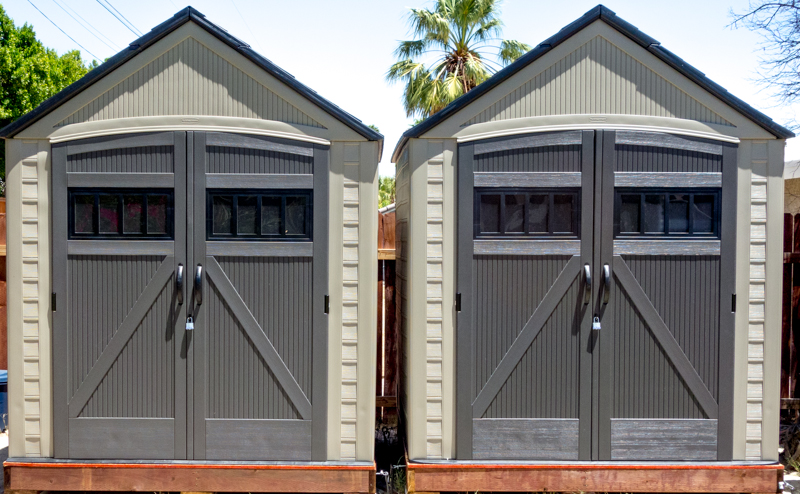 The Final Solution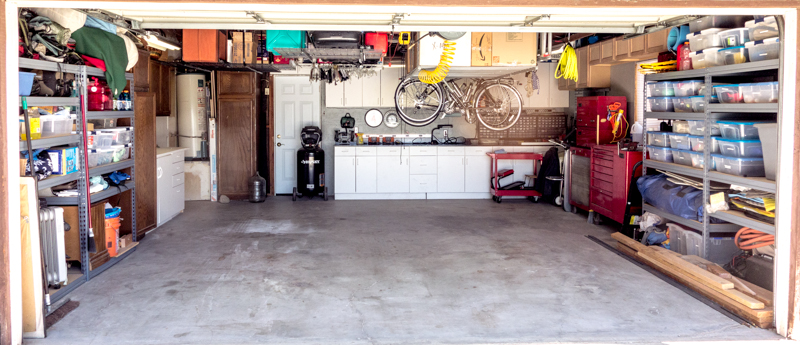 The Next Task
Our exterior doors were only 36 years old. Just broken-in by my account. Joyce's account is that broken-in means broken. No use debating that kind of logic. So off again to Home Depot. A new foam filled steel door for the garage. It sounded secure to me.
Quality doors are expensive. Quality wood doors are the most expensive. I decided to go with a fiberglass foam-filled front door. Joyce wanted decorative glass, which was okay as they are now double-paned. And no trees were damaged. Not sure if this is environmentally better. Fiberglass and foam probably generate more pollution in the manufacturing process. Anyway, without any further research, I found that fiberglass was cheaper. Plus it is waterproof.
The door was pre-hung. Sounds like porno to me, but it means it came with a new jamb frame, which was good news since the old one was in bad shape. Of course, it was a little deeper than the old one, not to mention the old frame trim, called Stucco Moulding would have to be replaced.
Again, no wood wood for the exterior frame moulding. I opted for PVC material. Yep, similar to water and sewer pipes. Only this PVC material is open-celled; whatever that means. It is waterproof and rot-proof. Pretty similar to working with wood — you can drive nails or screws into it. Also it can be glued together with PVC cement and will never come apart. With this modern-world material I built the exterior frame. And it came out pretty good; if I don't say so myself.
Another tick mark of my honey's To Do List.
While I was at it I replaced the porch light. I also bought a universal dawn to dusk photosensor and installed it in the fixture. Hopefully I will get extra credit or a Gold Star from Joyce.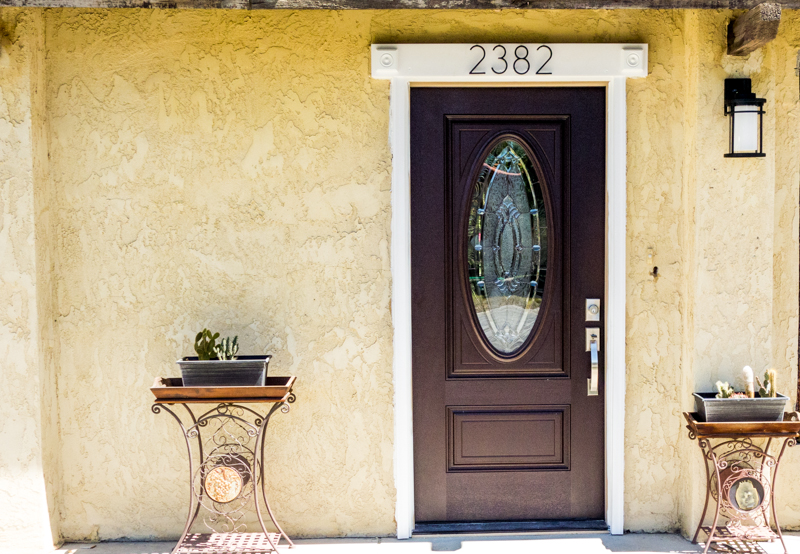 Work, Roofs, and Air-conditioning
Work has been hectic. I am launching a couple new programs for a client, meaning I have to develop the concept, build software tools, write manuals, hire and train new employees. I enjoy the challenge and don't mind an occasional weekend of work. But Joyce keeps reminding me the roof has been leaking for a few years and the central heating and air conditioning unit is only 36 years old and very inefficient. Oh, well. What to do?
Along with the long-term procrastination on the roof and A/C items, it has become apparent that those items would take up several months of weekends. So being smart but cheap, I think we are going to bite the proverbial bullet and pay someone to do the work. My return on investment? 6 months of weekends to engage in more important things like backpacking and camping. I'll let you know how it goes. 🙂