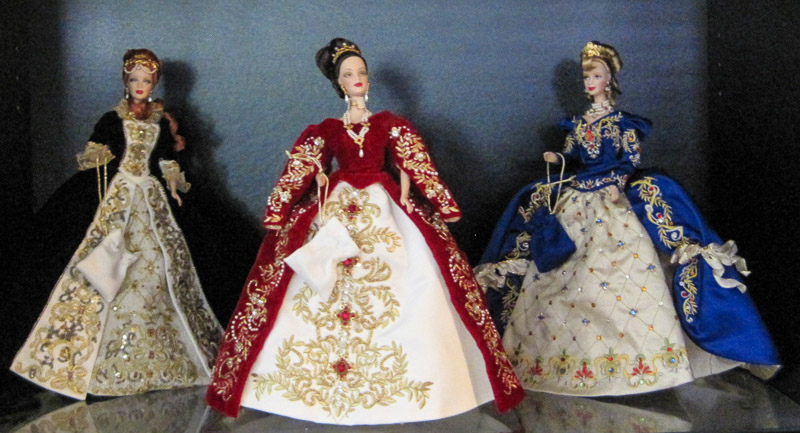 Only three Faberge Barbies were produced (all limited editions)
IMPERIAL ELEGANCE BARBIE (1998)
Handcrafted in fine porcelain bisque, Faberge Imperial Elegance Barbie doll wears a regal gown of rich blue satin with a golden lamé underskirt. Both are lavishly embroidered with over 50,000 stitches and accented with over 175 hand-sewn gleaming Swarovski crystals. 22K gold-plated latticework adorns her stunning, egg-shaped evening bag, which opens to reveal a miniature Swarovski crystal heart. Her elegant faux pearl choker, golden and crystal drop earrings and dazzling tiara covered in 22K gold-plate add to the splendor that makes this one of the most glorious Barbie dolls ever. Hand numbered in 22K gold and limited to a worldwide production of 15,000 units. She is the first porcelain Barbie doll to use the Mackie head mold.
IMPERIAL SPLENDOR BARBIE (2000)
The second magnificent doll in the Faberge Porcelain Barbie Collection was inspired by the design of the Imperial Spring Flowers Easter Egg, presented by Tsar Alexander III to his wife, Marie Feodorovna. Barbie doll's spectacular red velvet gown, fashioned after the style of an Imperial Court dress, is elaborately embellished with golden embroidery, authentic Swarovski crystals and exquisite faux pearls. Hand-painted and handcrafted of fine bisque porcelain, she even carries a breathtaking egg-shaped purse designed by a master jeweler and resplendent with 22k gold plating. A limited edition and hand-numbered in 22k gold.
IMPERIAL GRACE BARBIE (2001)
An exquisite testament to the splendor that is Faberge, Imperial Grace Barbie doll wears a regal, black velvet and ivory satin gown. Golden embroidery and elaborate beading lend rich embellishments. The jewelry suite of necklace, drop earrings, and headpiece add the beauty of faux pearls. Finally, the work of Peter Carl Fabergé inspires a perfect, golden egg-shaped purse which opens to reveal a precious crystal surprise.
CLICK A THUMBNAIL TO VIEW THE FULL SIZE PICTURE. YOU CAN SCROLL THROUGH THE FULL SIZED PICTURES BY MOVING YOUR CURSOR TO THE LEFT OR RIGHT EDGE NEAR THE CENTER AND PRESSING THE  ARROW, OR TAPPING THE EDGE (MOBILE DEVICES).