Here we go again…
A frequent question I see on the Internet is, "What headlamp should I buy for backpacking?"
And of course, as the modern technology obsessed society that we are, it turns into a debate with a focus on such things a lumens, regulated output, reverse polarity, etc., etc. etc.
jesus h. christ. Its just a frickin' light.
How to boggle your mind
I did an Amazon search for "flashlight" and got 134,831 results. "Headlamp" yielded only 89,472 results. How can something so simple be so difficult?
So, I am going to simplify things for you. However, I have no credentials that would make me some sort of subject matter expert. I do hike and camp a lot using headlamps and flashlights.
So, caveat emptor.
In the beginning…
It is often good to start at the beginning.
In the beginning God created the heaven and the earth.

And the earth was without form, and void; and darkness was upon the face of the deep.

And the Spirit of God moved upon the face of the waters.

And God said, Let there be light: and there was light.

And God saw the light, that it was good: and God divided the light from the darkness.

And God called the light Day, and the darkness he called Night.
Opps! Not that far back! So what did backpackers use decades ago? Pretty much whatever they had in the house. In the 1960's when I was a teenager I can't remember taking a flashlight on backpacking trips. I probably couldn't afford one.
TL-122 Military Flashlight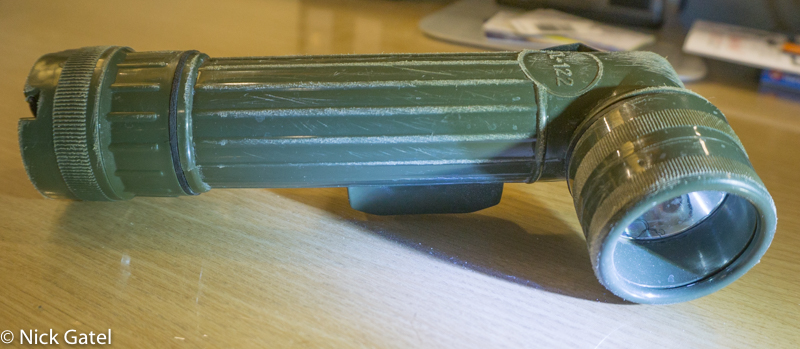 I was issued this in 1969. It uses two D-cell batteries. It is pretty ingenious. Some features include:
water proof
impact resistant plastic
clip and hanger for hands-free use
push button for sending short bursts of lights for signalling
several colored lenses in the base
spare bulb in the base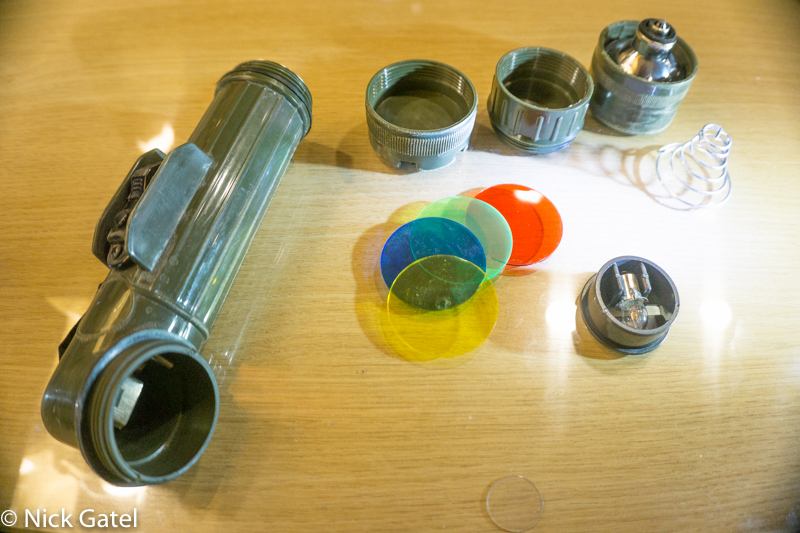 The red lens is used to help your eyes stay adapted to the night light. Exposure to a normal "white" light will cause your iris to contract and it can take up to 30 minutes for the eye to adapt back to the night light.
Yes, in the 60's alkaline batteries were manufactured and available. Compared to a standard battery they last 4 times as long, but were about 4 times as expensive. In the 60's batteries were relatively inexpensive as they are today.
In 1971 I embarked on a 6 month backpacking trip in the Sierra Nevada. With batteries, the TL-122 weighed about 15 ounces, was bulky and heavy. Somewhere along that trip I found an inexpensive and much lighter flashlight, which I bought. I sent the TL-122 home.
Mallory 805 Flashlight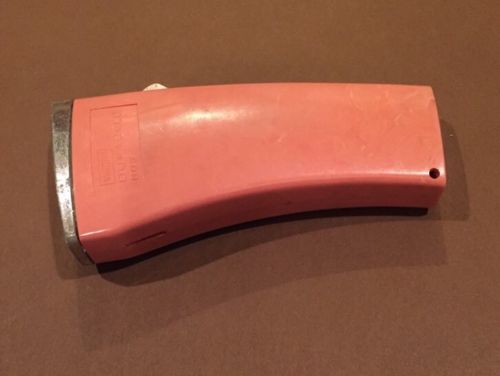 This replaced the TL-122. Made of inexpensive plastic they were fairly robust. But after a couple years they would always break or fall apart on me. I don't remember what it weighed, but it was probably just under 3 ounces with two AA batteries included in the weight. To change the batteries, a coin would separate the housing providing access to the inside, and if you weren't carful the bulb could fall out and become lost. Over time, the plastic tabs that held the halves together would break and it would be time for a new flashlight. But it really was a good little light for backpacking.
Durabeam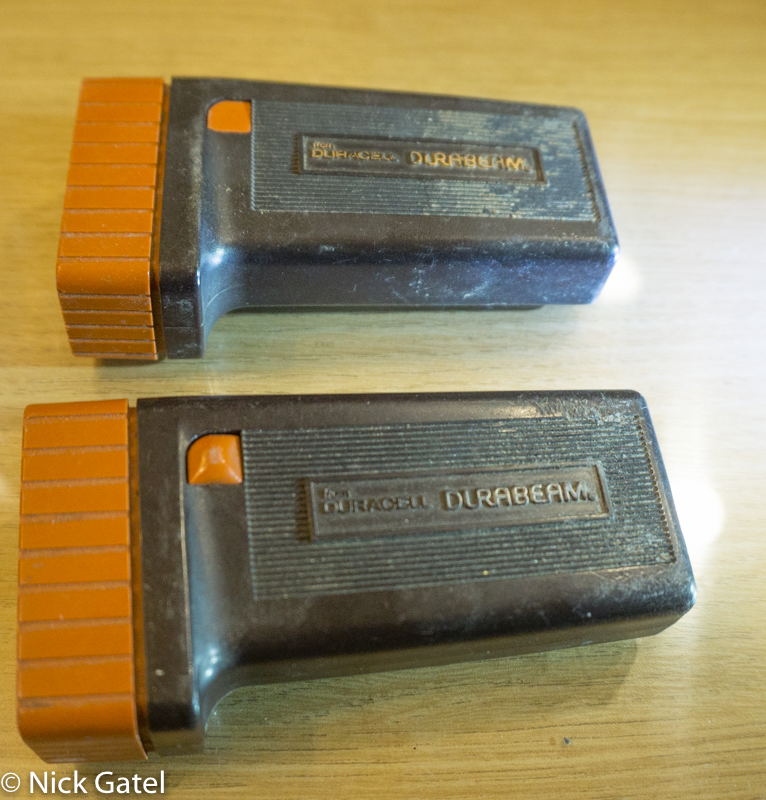 In the mid 80's I bought two of these and used them for over 30 years. I still have them and they still work. Weight is 3.11 ounces with the batteries included. When I bought them, "headlamps" had been readily available for about 10 years or so at places like REI and CampMor, but they were heavier and I really didn't need a hands-free solution. Which leads to a discussion of needs…
Winter snow camping
Today with LED lights and lithium batteries it is much easier to deal with cold winter nights. When camping in snow these old flashlights usually wouldn't work well or work at all. My solution was a candle lantern that I normally hung from a cord suspended from to top of my tent.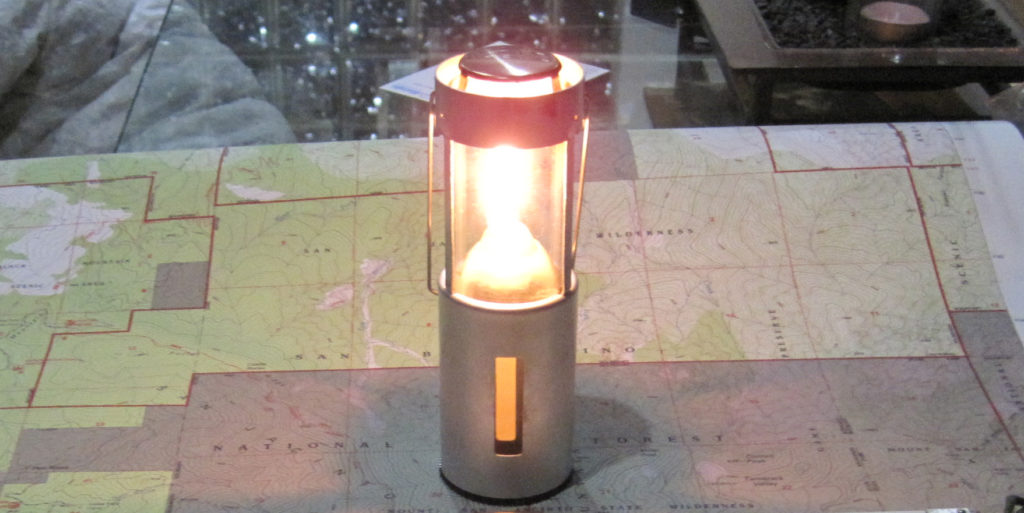 Needs
When people ask what is the best headlamp (or flashlight) they usually don't qualify the question with what they need the light to do. Typically there are only two needs for the backpacker
task lighting at night
lighting for hiking at night
Unless you are an adventure racer of some sort, I am going to suggest you don't need to hike at night. Night hiking is more likely to cause an injury,  and for a solo hiker like me injury can be a life threatening situation. Also, one is much more likely to get lost while hiking at night.
If you think about this, a flashlight is much better for night hiking than a headlamp. With a flashlight you can hold the light at waist level and move the beam where you need it to see ahead. Of course if you use trekking poles (I don't), your hands are already in use so you really need a headlamp if you need any light at all. And I can tell you from lots of experience, a headlamp is much inferior to a flashlight in the dark for walk. Although I have never tried it, I have read that some night walkers put a headlamp around their waist instead of wearing it around the head and this works much better. I have also read that some use two headlamps — on around the waist and one on the forehead.
Not to say I don't hike at night. I do. Especially in the desert with a full moon. But if you really think about it, night hiking is usually due to poor planning, getting lost during the day, or not being able to hike the planned distanced during the day. So for me, most of the time I hike at night it is due to poor planning. If I need to drive late in the afternoon to get to a trail and then hike a bit at night, I now just sleep in my car and start in the morning, or just set aside an extra day for my trip. That leaves us with task lighting as the primary function of your light.
The Three Bears Comparison
Too little light
Too much light
Just the right amount of light
About 10 years ago I decided to examine every piece of gear and lighten where necessary. I need very little in the way of lighting during the summer, since the days are long. Shoulder seasons need more and in the dead of winter the most. So I decided to buy three solutions. Itty-bitty light, a medium light, and a big light. The thought process here was the lightest light that would meet my needs.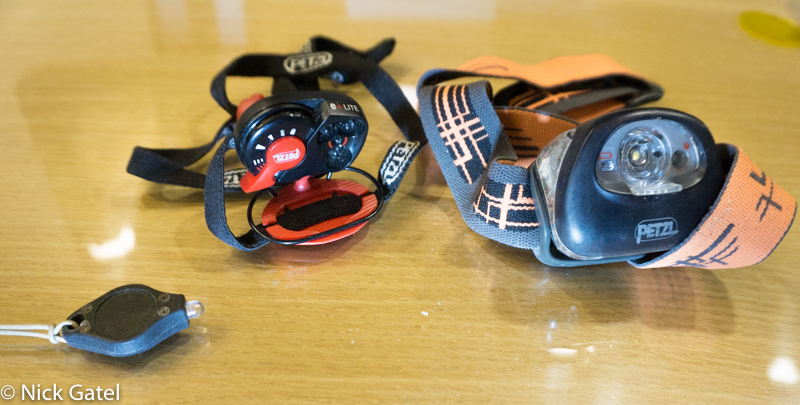 Keep in mind that my needs may be different than yours, so don't assume my choices will work for you. Determine your needs and then pick a solution that fit those needs. My choices are made on durability, weight, and the amount of light generated and actually needed.
Photon II Microlight (itty-bitty light)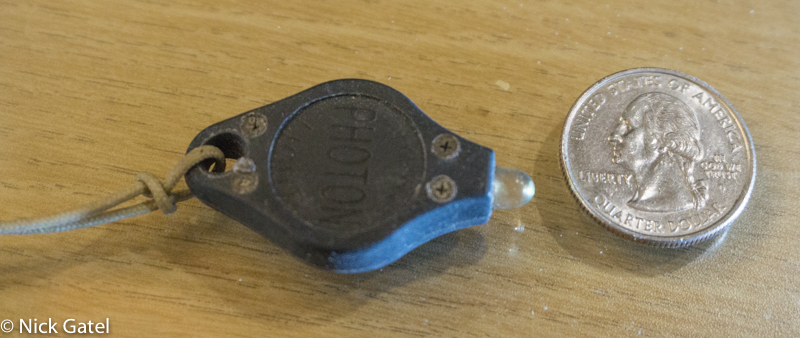 8 Lumens
This thing weighs 7 grams or 1/4 ounce. It works fine in summer. I have actually used it to hike at night a couple of times, and for that use it is a little bit better than no light at all.
Draw backs are not much light and doesn't have an On/Off switch. You have to squeeze it to work. But it uses two 3 volt Lithium batteries, which means it lasts a long time. Changing the batteries is not a job you want to do in the field. First you need a #0 Phillips head screw driver that most people don't own (even at home). The screws are so small that losing them is almost guaranteed if you do it in the field. When the batteries are removed the LED light and switch will probably fall out, so you need to pay attention if you want to put it back together correctly. I have one on my key chain for urban use and the batteries are still good after 10 years. The one I use for backpacking gets new batteries every year. Usually I can buy them for about $1 each (CR2016 lithium batteries).
This is my go to light on most solo trips in the summer when days are long.
Petzl e+Light (just the right amount of light)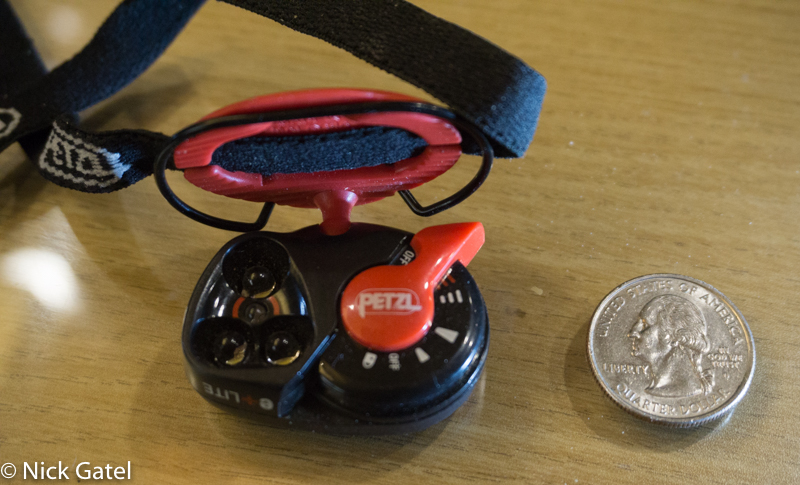 50 lumens on high
For night camp tasks this just about the perfect light. Has many functions including a red light. Uses two CR2032 lithium batteries, meaning the LED light is going to last a long time. Changing the batteries is easy using a slot designed to be opened with a coin (a quarter works best). But if you are backpacker focused on light weight gear, you won't have coins with you. Your spoon handle will work fine.
Weight is 27 grams (.95 ounces) including batteries. This does not include the protective case the headlamp came with. I always leave the case at home.
Petzl Tikka XP (most light)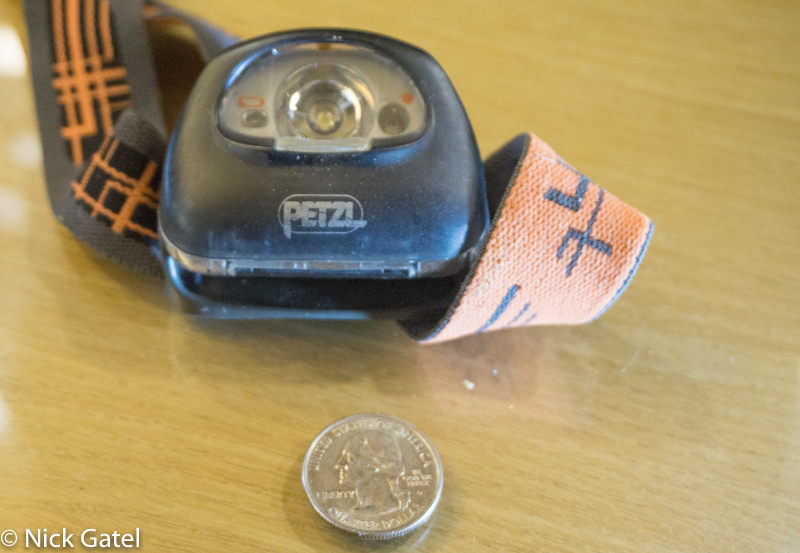 180 lumens on high
My winter light. Also often used on the rare occasion I backpack with someone else. Weight is 85 grams (3 ounces) with batteries installed. Takes three AAA batteries and super easy to change. Many functions like the e+Light.
Keep in mind that all of these lights are about 10 years old and have held up incredibly well, which is sort of the purpose of the discussion. Determine your needs, find something that works for you and move on. I know a lot of people who have owned dozens of flashlights and headlamps and every year are looking for the next best thing. Instead. perhaps it would be better to quit fretting and spending time on such a simple thing. Why not go backpacking instead?
Its just a frickin' light!!!