You may ask, "What do bikes have to do with backpacking or camping?" Well, we often take our bikes when we go camping. I have a lot of experience touring and camping with a motorcycle, and a bike can be used for that too.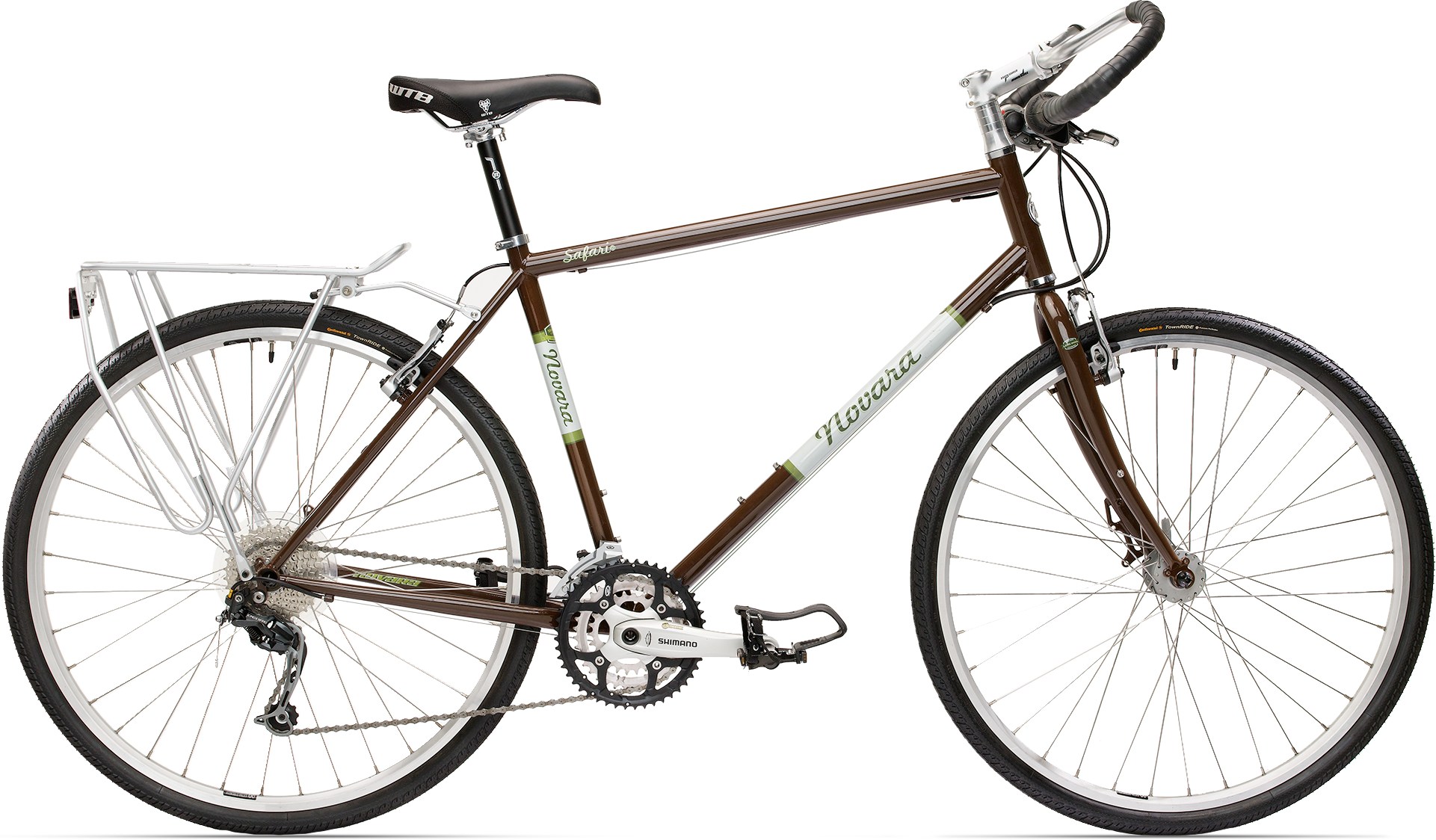 For our 12th wedding anniversary I bought Joyce a bicycle. I have to admit, it was a truly romantic gift, if I don't say so myself.
At the time, I decided to buy one for me too. Women like that kind if stuff. You know, matching his and her stuff. So this is our first matching his and her purchase. But I have to make this public. I am drawing the line at bikes. There will not be any matching his and her clothes, or any other kind of matching stuff.
Aside from my wonderful attentiveness to Joyce's wants and needs, and my propensity to pick out the best and most unique gifts for birthdays, holidays, and anniversaries – I thought I might share a little about my bike research, selection, and the purchase itself. We bought two REI brand Novara Safari bikes.
BACKGROUND
I have owned a few bikes in my lifetime. Nothing exotic or extravagantly expensive. Most have been department store bikes. It was finally time to get another quality bike. The last one I owned was a 1971 Schwinn Continental I bought new. It was stolen out of my apartment a few months later.
Like most things in life, if you want something that does it's intended function well, something that will last, then you usually have to pay a little extra and buy a good name brand with a good reputation. Usually when you buy a cheap product, it doesn't work as expected or it doesn't last long, and you end up buying that expensive one in the end, and wastes the money you spent in the beginning. With this in mind, I started researching products by what they could do.
Below are a couple of bikes Joyce and I have owned. The first picture are a pair of bikes that were stolen off our trailer while it was in our driveway! And yes, the Yakima locking mechanism was in place and locked.
Types of Bikes
Things have changed over the years and there are many kinds of bikes. I will cover the major categories.
Road Bikes
As the name implies, these bikes are designed to be ridden on roads. In general, road bikes are the lightest bikes. They can be used for racing, commuting, and touring. Typically these are the bikes with the drop-bar handlebars – you know, the ones that curve like the horns on a big horn ram.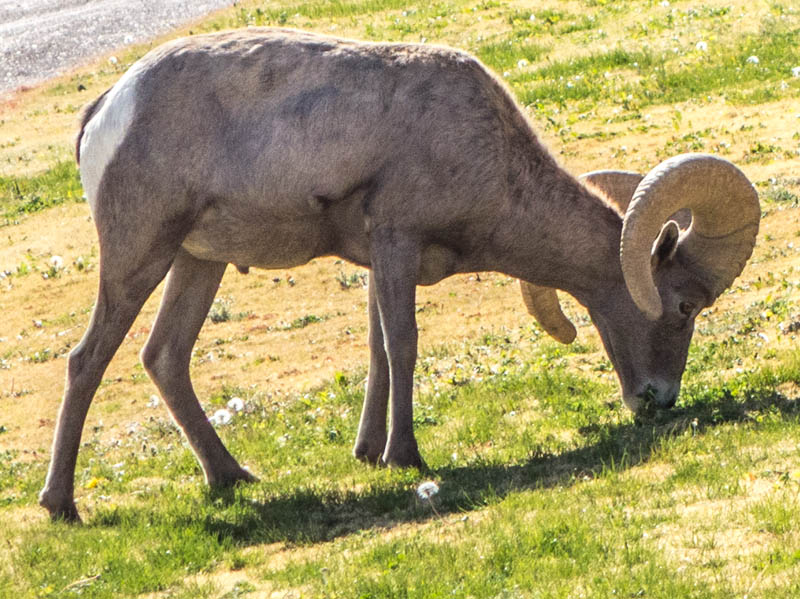 Some road bikes had flat handlebars, which allow the rider to sit in a more upright position.
Mountain Bikes
These are for riding on trails and unpaved roads. They are okay for paved roads, but most riders will switch to a different tire when doing a lot of paved traveling. With a tire change they can make good commuting bikes to handle our decaying road system.
They have frames and suspensions to handle off-road terrain. Often they will have lower gearing than other types of bikes to handle steep terrain.
I used to have a Nishiki mountain bike I picked up and restored from thrashed condition. I have changed my mind about mountain bikes and feel they are not good for our wild places.
Cruisers and Around-town Bikes
These are about relaxed riding in town, bike paths, and in your neighborhood. Typically they will have wider tires than road bikes, making them suitable for gravel or maintained dirt roads.
Touring Bikes
Similar to road bikes, they have heavier frames and are designed to carry loads such as camping gear or other items needed for multi-day, multi-week, multi-month or eve multi-year trips. They usually have wider tires than road bikes enabling them to handle dirt and gravel roads.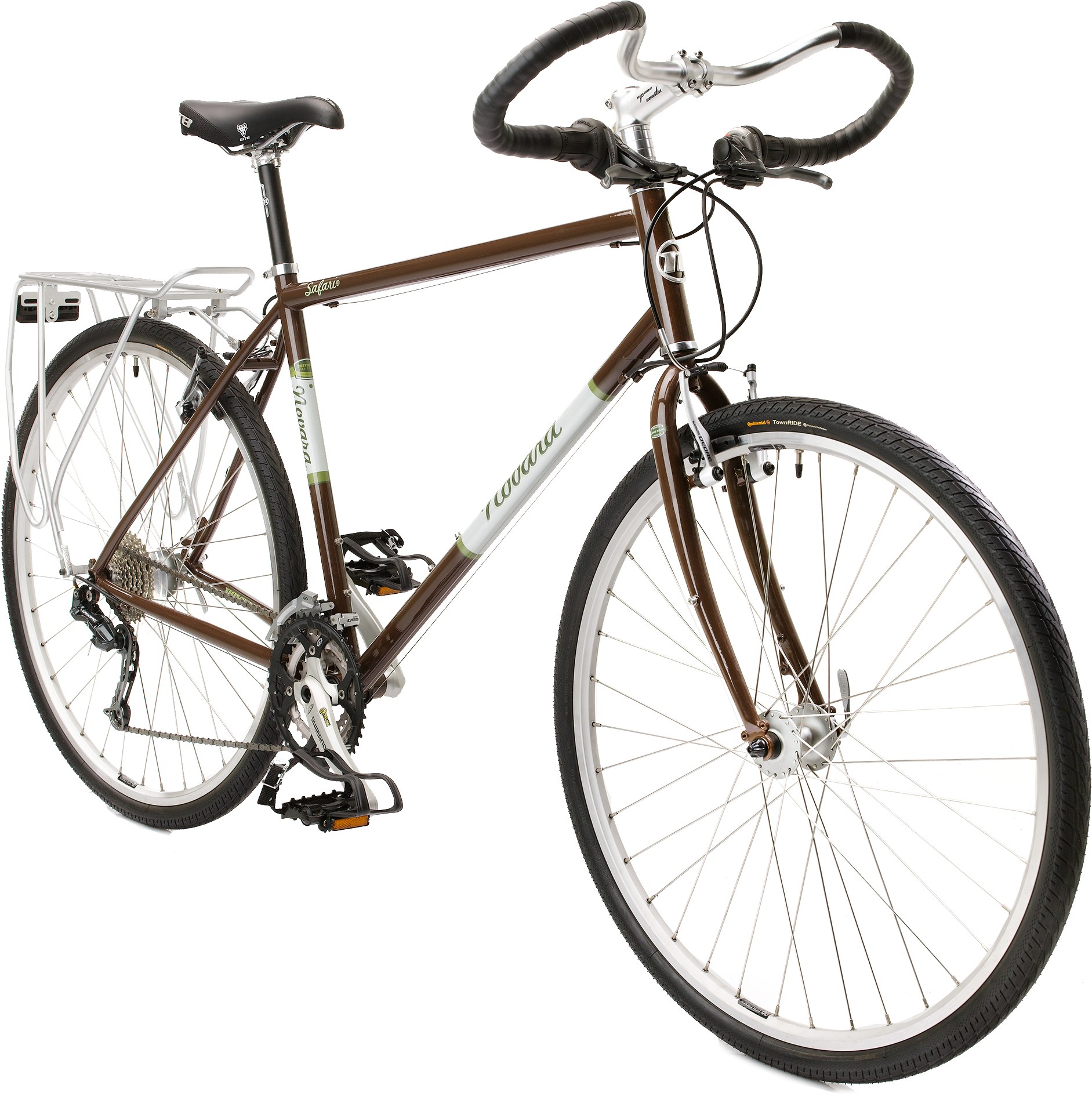 The Novara Safari is a touring bike.
MY PICK
Joyce is interesting in doing some charity road races; you know 10K and more rides to raise money. She also likes to ride around town and ride on forest service roads when we camp. The Safari is a perfect bike for this.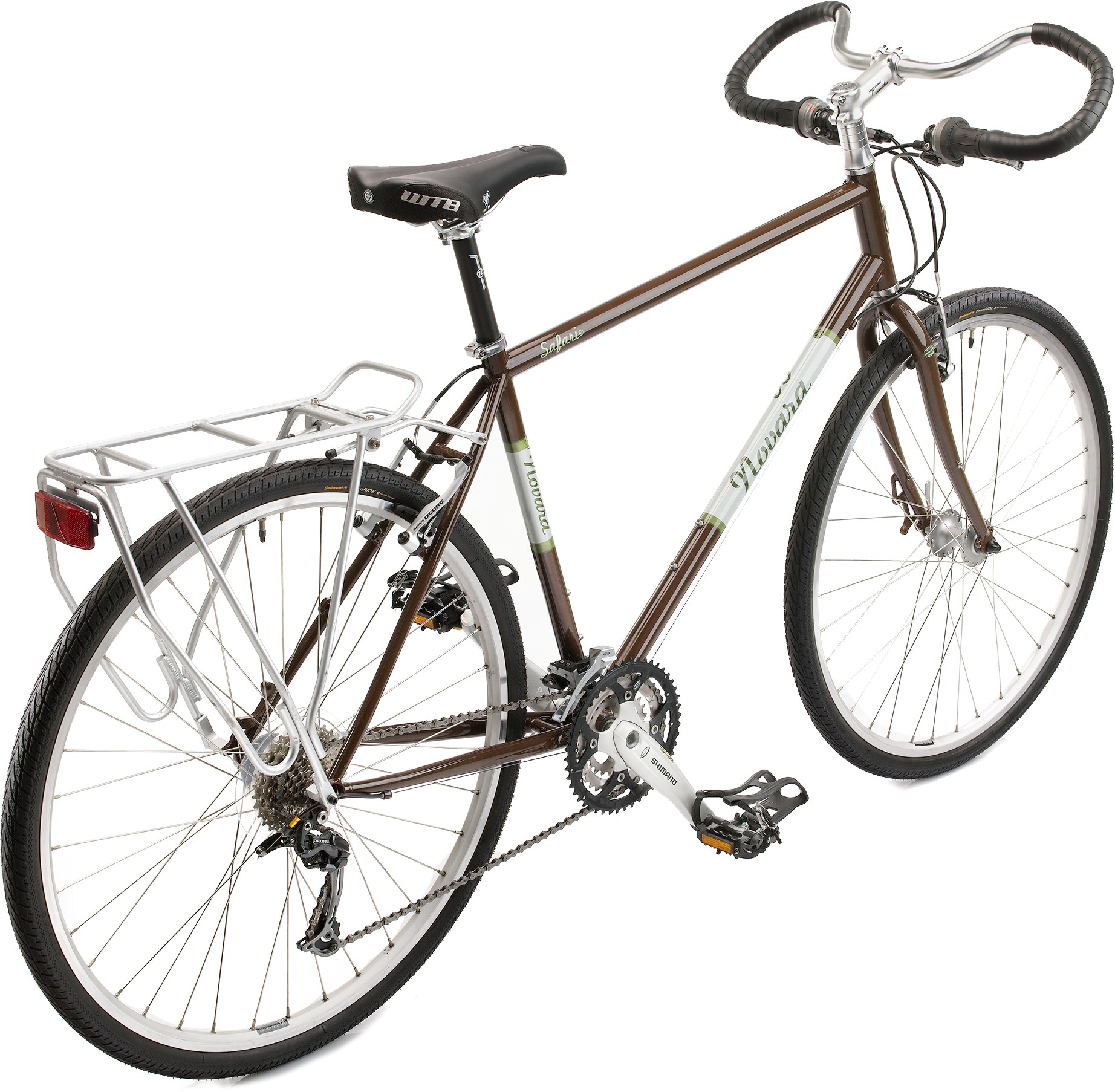 I am interested in bike touring and plan to spend some time doing that along with more around town riding, since I have quit RollerBlading. My hand has still not healed from the accident I had a couple years ago.
I looked at the Surly Long Haul Trucker and the REI Novara Safari. While the Surly had a little edge over the Safari, the Safari was on sale and I got them at half what a Surly would cost. Plus I have read many reviews from people who tour on Safaris and overall they have been highly rated.
HOW TO BUY A BIKE
Like a pair of shoes or a backpack, one needs to be properly fitted to a bike. In addition, when buying a bike, the potential purchaser usually needs to speak to a professional who can assist in a needs assessment, budget, and other matters to pick the right bike. This usually means buying a bike from a specialty bike store.
Having ridden bikes for over 50 years and understanding the mechanics of them (I was that kid in the neighborhood who could properly repair everyone's bike – for a fee of course), I may have a little more knowledge than the average person, but I am far from any kind of expert. So I did my due diligence, spending a lot of time on the Internet and was confident that I could buy my 2nd touring bike the first time. This means that many people buy several bikes before they figure out what they really need. I felt the first touring bike would be the right one, and I would not have to buy another after realizing my first purchase wasn't the right one.
Our experience at REI wasn't stellar. We spoke with several people assigned to the bike department and all of them knew less than me. That is poor hiring and training one REI's part, because I am not a bike expert. So, if you decide to buy a bike at REI or any other large merchandise, it is buyer beware if you haven't done your homework.
Once you bike out your bike at REI, you can't take it home right away. A bike mechanic needs to do a pre-delivery inspection and make all necessary adjustments. Another disappoint. When we got our bikes home, I went over them and found many fasteners to be too lose. Pretty poor quality control. But considering we got the Labor Day sale price of 29% off, I am happy with the outcome.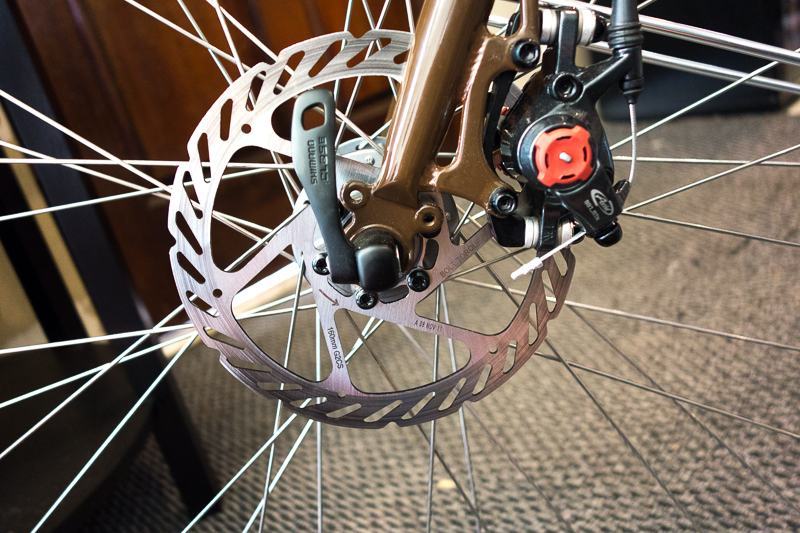 We did have REI upgrade the brakes with Avid BB7 disc brakes, which added a couple hundred dollars to each bike. I just didn't have the time to do this before we took them out on the maiden voyage.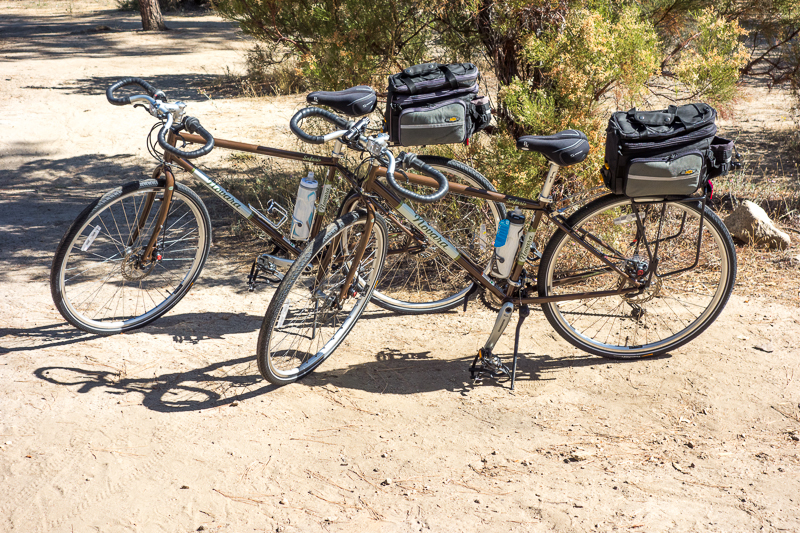 NOVARA SAFARI SPECIFICATIONS 
Bike Frame Material: Steel
Bike Frame Type: Reynolds 520 Chromoly
Fork: Chromoly
Crank Set: Shimano FC-M521-S, 48/36/26
Bottom Bracket: Shimano
Shifters: SRAM Attack
Front Derailler: Shimano Deore
Rear Derailler: Shimano Deore
Rear Cogs: Shimano HG50 11-32, 9-speed
Number Gears: 27
Brake Type: Rim brake
Brakes: Shimano M590
Brake Levers: Shimano Deore
Rims: Weinmann XTB-26
Front Hub: Shimano Deore, 36h
Rear Hub: Shimano Deore, 36h
Tire Size: 700c
Tires: Continental Town Ride, 700×42
Handlebar Type: Moustache bar
Handlebar: Kalloy Safari
Stem: Kalloy
Seat Post: Kalloy
Seat: WTB Pure V Race
Pedals: FPD
Head Set: FPD
Chain: Shimano HG53
Weight: 29.89 pounds
Frame Size: Medium (Joyce)
Frame Size: Large (Nick)
NEXT STEPS
The bikes will need some accessorization, especially mine for touring. Parts were ordered and have already been delivered to the house. Once the upgrades are completed, I will post them here.