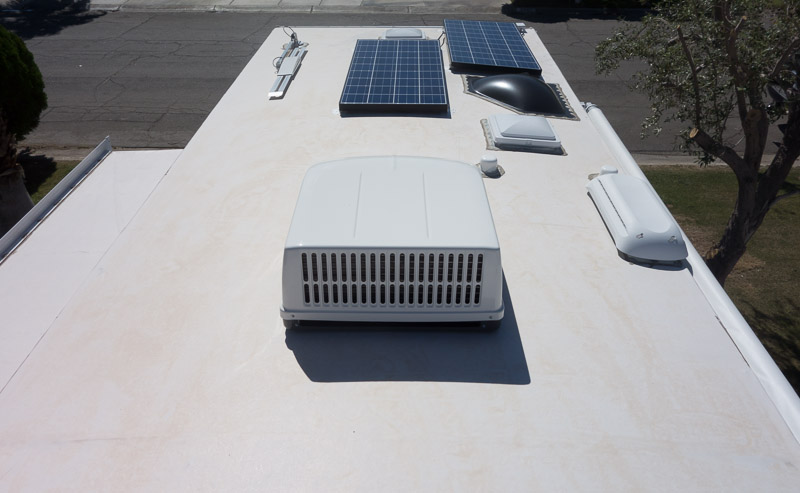 Yes, RV roofs need maintenance!
I suspect most RV owners don't realize they need to do maintenance on their roofs. With our two tent trailers, which had aluminum roofs, it was fairly easy. Just wash with soap and water, rinse, and check for any problems where the center seam was covered with a metal trim piece.
Our Milan, like most newer RV's, is different. It has a thin membrane that requires more attention and maintenance.
Since I am on the our roof more often than the typical RV owner to clean our solar panels, I also do more maintenance, which is simply sweeping the roof and washing it off with water. However four times a year I do a more thorough cleaning.
The truth about membrane roofs
There are two types of membranes that are used on most RV's today; a rubber membrane (EPDM) or a synthetic membrane (TPO).  When we got our Milan, I did some research and the best information I found was from Dicor, a major manufacturer of EPDM and TPO roof membranes. Dicor recommends:
Clean the roof at least 4 times per year.
Do not clean the roof with citric-based cleaners, cleaners or conditioners that contain petroleum solvents, or harsh abrasives.  use cleaners or conditioners containing petroleum solvents, harsh abrasives, or citric-based cleaners.
The roof membrane is UV resistant. Additional UV protection products are not required and are optional if you want to apply them.
If the owner of an RV follows the maintenance procedures Dicor will guarantee the membrane for 12 years "to the original purchaser against premature deterioration to the point of failure because of weathering." 
Although I use RV roof specific cleaners, you can probably use dish soap. Although it is not required, I also opt to use a roof protectant after each cleaning. I use Dicor's cleaner and roof protectant or Camco's combination kit; which ever is cheaper online. Dicor recommends their rubber roof cleaner for both EDPM and TPO roofs.
Roof maintenance is more than just cleaning. Inspection and repair if needed is also part of each cleaning. Look for cuts in the material, and delamination of the membrane from the roof sub-structure, delimitation along seams where the membrane overlaps, and ensure that lap sealants around skylights, roof vents, vent pipes, screws, and roof edges are in good condition. Dicor also makes lap sealant, which I recommend. When I attached the solar panels to the roof I sealed the fasteners with Dicor Lap Sealant.
Observe all safety procedures when working on the roof of your RV.
Cleaning Steps
Rinse the roof with clean water to remove loose dirt or debris. I usually sweep the roof with a broom then rinse with clean water.
Mix the cleaner with water per the manufacturer's instructions.
Scrub the roof with a medium bristle brush. Do small sections at a time and rinse immediately with clean water. You do not want the cleaner to dry and rinsing right away will prevent a build up of residue on the roof or the sides of your RV.
For spots that have more difficult stains I use a more concentrated mixture and scrub spots with a sponge.
You can also use the cleaner to mineral spirits to clean the lapping. When using mineral spirits avoid allowing it to soak into the roof membrane.
Once the roof is completely dry, you can cover the roof with a protectant using a sponge mop.
Products I Use