RAIN.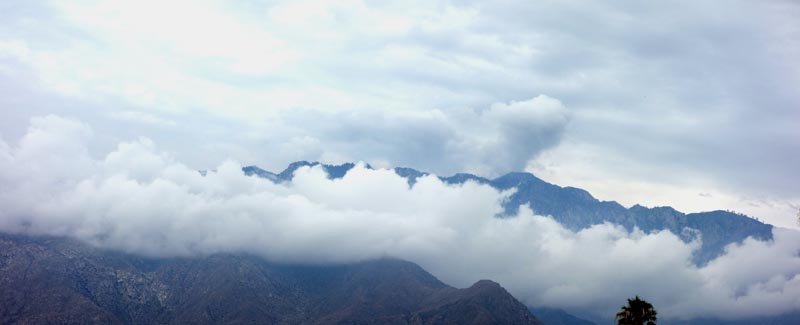 The San Jacintos are shrouded in clouds. A light rain fell overnight, dropping 0.78 inches of rain on the desert floor overnight. Good news. Hopefully any additional rain will be light, so our fire fighters are not endangered by flash floods. A flash flood warning is in place for the desert.

The fire has consumed just over 27,000 acres over a 40 square mile area. As of last night, the fire is 49% contained. Cost of fighting the fire, so far, is $18.4 million.
How extensive the fire damage is still speculation.
FIRE PERIMETER MAP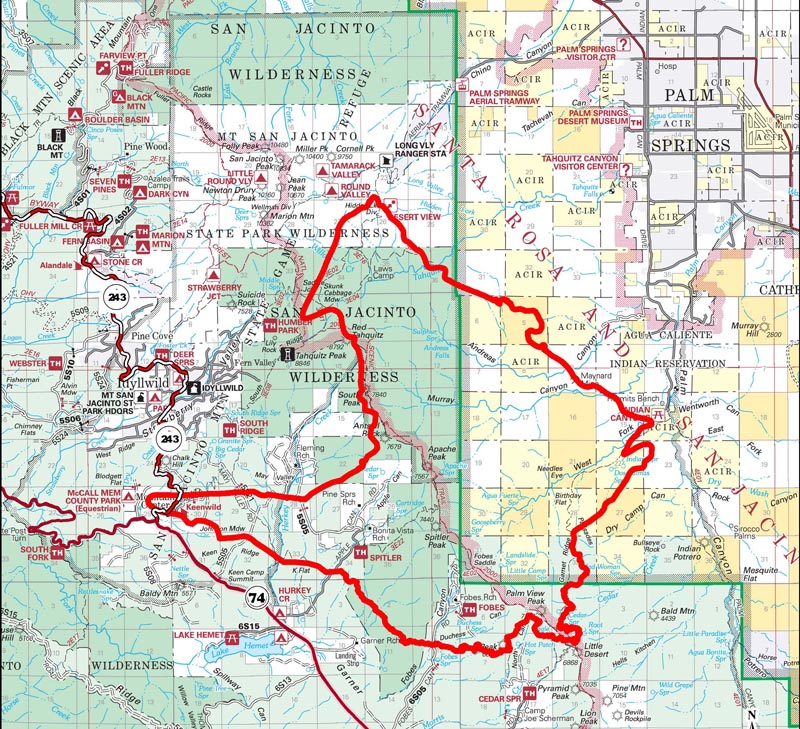 Some of the landmarks and areas of interest in the fire perimeter include:
The Pacific Crest Trail from Cedar Springs to Red Tahquitz
Cedar Springs
 Garnet Ridge
Jo Pond Trail from Cedar Springs almost to Hermits Bench
Birthday Flat
Dos Palmas Spring area
Palm View Peak
Fobes Canyon
Fobes Saddle
Spitler Peak
Apache Peak
Apache Spring
Antsell Rock
South Peak
Red Tahquitz
Skunk Cabbage Meadow
Laws Camp
Hidden Lake
Hidden Divide
Desert View
Tahquitz Canyon
Andreas Canyon
Andreas Falls
Murray Canyon
Johnson Meadow
May Valley
Apple Canyon
The Zen Center
K Flat
Duchess Canyon
It should be noted that our fire fighters bravely worked in the Hidden Divide area to prevent the fire from coming over the ridge into Round, Tamarak, and Long Valleys.
The Palm Springs Tram remains closed to the public and is being used to transport and support our fire fighters. All trails in the area are closed until further notice.
THE FUTURE
Our forest will recover. For me, I will be hiking my favorite trails and looking forward to watching the wilderness come back to life. Of course, I would have preferred that the fire had not destroyed so much of the area I have been hiking since 1977.