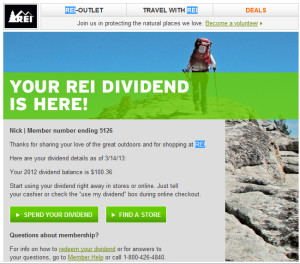 Every spring many hikers, backpackers, campers, and others look forward to their REI dividend check. REI (Recreational Equipment Incorporated) is a co-op that operates retail stores and online sales. Founded in 1938, each year members receive a dividend based on their previous year's purchases.
The dividend is usually 10% of purchases excluding sale items, which are calculated at a lower rate or not eligible for dividends. REI usually sells merchandise at list price (MSRP) but often has sales. Additionally shipping is usually free for purchases over $75.
Years ago I bought a lot of my gear from REI. I can't remember when I joined, but REI has over 5 million members and my membership number only has 6 digits, so I probably joined sometime in the 1970's.
These days I buy little in the way of gear, as REI mostly sells mainstream gear that is heavier than what I am looking for. I do buy a lot of freeze-dried food, stove canisters, water purification tablets & drops, and other small items. I also purchase gifts from REI. Most years when I get my dividend, I request a check and put the money in the bank.
This year my dividend was $100.36 and I decided to buy a few items.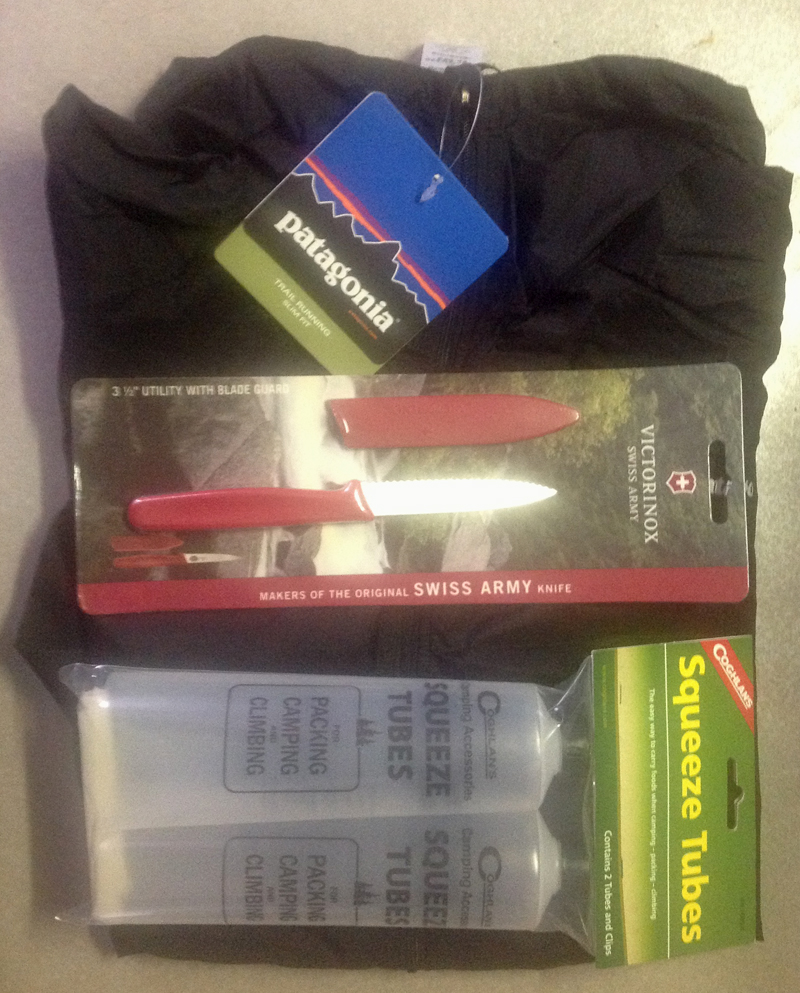 The first item was a Patagonia Houdini wind shirt. I already have one and it is one of my favorite pieces of backpacking clothing. It goes on every trip. The new one will go with me on business trips and see duty around town; given that my hiking piece is not washed after every trip and doesn't smell as fresh as a daisy all the time. I got the Houdini for 20% off.
The second item is a Victronix "Little Vickie" paring knife. The serrated blade is 3.5 inches long and weighs 1 ounce according to the specifications posted at REI. I haven't weighed it yet. I normally only take a small pocket knife or razor blade on my backpacking trips, but sometimes it would be nice to have a little larger blade for slicing salami or summer sausage  or spreading peanut butter, jelly, or honey. I paid $9.95 plus tax for it.
The last item was a package of two Coghlan's Squeeze Tubes. REI's website describes them as follows:
These reusable squeeze tubes are perfect for packing along food and condiments for camping, hiking or climbing.
Three easy steps to fill with foods such as honey, jam, jelly, peanut butter, baby food, energy gel, mayonnaise, mustard and other condiments
Open end allows easy filling; then simply fold and clip to keep food in the tubes
Remove the clip and wash the tube for convenient reuse
These cost $4.50 for the pair. I have used this kind of tube for years and was down to my last pair. Below are a couple filled with peanut butter and honey for a recent trip.