BUYER BEWARE
If you read my blog much, you know I mostly have disdain for gear reviews, and I discussed in this post a few years ago, The Business of Backpacking. Gear reviews, for the most part, are simply opinions. And "opinions are like assholes — everyone has one."
If you are researching gear, you need to determine the author's credibility, other than what he or she tells you. My classic example is the stove review, where the author has placed the stove on a bed of flammable dry leaves, which is not something an expert would do.
So today I was looking into a pair of strap sandals. Similar to flip flops, strap sandals are simply a sole held in place with straps; only more secure and eliminated the go-ahead syndrome inherent in flip flops. One reviewer, who supposedly uses sandals a lot posted pictures of his pasty white feet wearing several brands of sandals. I call BS. If you wear sandals or flip flops a lot, as I do, in the outdoors you will develop a tan with contrasting tan marks where the straps cross the feet. Something like this: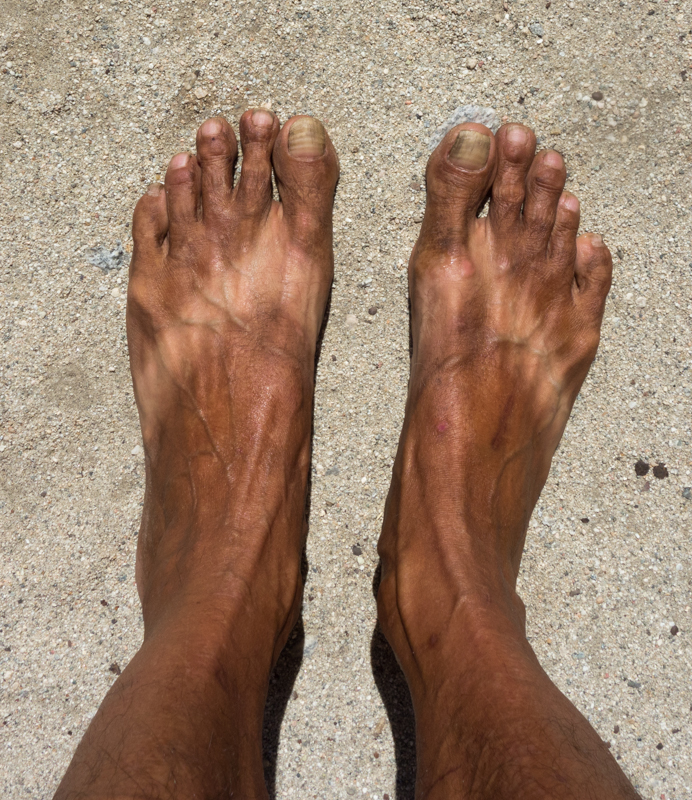 So I call the sandal review total BS, and must disregard the author's purported credibility, expertise, and opinions.