Preface to the Gift
In August of 2001, just before his freshman year of high school, my son, Joe called me to share that he had just made the cross country team. Having been a fairly successful high school distance runner, I didn't have the heart to tell him that everyone who goes out for cross country makes the team. It is not a popular sport. To be honest, I didn't know he was interested in it. Joe knew I had run cross country and track. I was not going to try and interest him in running. It is something a kid needs to want for themselves. But I hoped he would enjoy it as much as do.
I knew that Joe was going to be a special runner if he liked it. When he was in the second grade, Joe caught the attention of several local running clubs, when word got out that he had run a 7 minute mile. Doubting that he could have run that fast, I took him to a local track and timed him. Yes, he was fast and had endurance. On the unsolicited advice of a sports psychologist  I did not let him join any of the track clubs that called us at home. To be more precise, I did not let Joe run at all; competitive distance running takes too much out of young kids. But Joe and his sister, Nicole, participated in other sports and activities every year. Sports and good parenting builds character.
Joe's first race, that freshman year, was the Woodbridge Cross Country Invitational. Joe ran in the freshman race, which had 208 runners. As we waited at the finish line, the first runners rounded a corner and headed our way. Joe was in 3rd place. His coach was jumping up and down, seeing the Edison High School jersey, yelling, "Who is that kid, who is that kid?" I walked over and told him, "That is Joe Gatel. Not bad for a kid who has only been running for a month."
As the season progressed, Joe moved up to the varisity team as the 7th man. Each week he beat the person ahead of him, until he became the #2 runner by season's end. At the Orange County Championships that year, Joe won the freshman title.
The Gift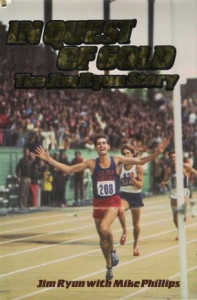 It was easy for me to find the perfect Christmas gift for Joe that year. It was the autobiography of Jim Ryun, In Quest of Gold: The Jim Ryun Story. Ryun was the first high school kid to break the 4 minute mile. In his junior year in high school he made the US Olympic Team, and set the American record in the mile as a senior. Ryun was a senior in high school when I started my freshman year. Unlike many of today's athletes, Ryun was the type of person a parent would like their kids to view a a role model.
Ryun's story would be good for Joe. He would read first-hand what it takes to become an elite runner, should he choose that goal. Distance running requires a lot of hard work and dedication. It is not easy, especially in today's world of peer pressure and adverse media influence on our young people. The difficultly for me was that the book had been out of print for many years. Finally, after considerable search, I was able to find a new copy — but it wasn't cheap.
When I gave the book to Joe, I told him that running was a personal thing. If he wanted to compete at a high level, he needed to do it for himself. He should not run to please me, his mother, his sister, his friends, his teammates, or anyone else. The work and rewards come from within.
The following spring in the track season, Joe became the top distance runner at school and the only distance runner to make it to the Regional qualifying meet; after placing 2nd in the League Finals two mile race, with a time of 9 minutes and 38 seconds. Joe closed his sophomore cross country season as the #1 runner and MVP. Cross country season ended in November and Christmas approached.
The Gift Returned
As parents, we never set the expectation that our children, Joe and Nicole, buy us gifts, and we did not give them money to purchase gifts. It was up to them if they wanted to give gifts, and up to them to figure out a way to get the money to do so. The year after Joe received Ryun's book, his Christmas present to me was a small wrapped package. It looked like a book. Opening it, I saw it was the same book I had given him the year before — the "perfect" gift I had worked so hard to locate — and Joe was returning it as a present.
I was taken a back. Why would he give it back? Rebellion? Guilt for not having the money to purchase a gift? Did he feel I was pushing him to run?
I was confused.
"Joe, is this the book I gave you last year?" I asked.
"Yes," he replied. "Ryun is your hero not mine." His face was stern and serious. I felt bad.
Then he slowly smiled and said, "Open it to the title page."
Turning to the title page, I saw it had been signed by Jim Ryun with a short note.
Today, the book has a place of honor in my bookcase. Joe had found out that Ryun would be speaking at a conference in San Diego, about 90 miles from home. Not knowing if he could even meet Ryun, nor having a car or driver's license; Joe had talked his high school coach into driving him to San Diego on a Saturday and then waited outside the conference hoping for the chance to run into Ryun and to hopefully get him to sign the book. All of which happened as planned. It is one of the best Christmas gift I have ever received — not because of the autograph; because of the thought and effort put into it.