What if you spent your recreation time the same way your grandmother saved money?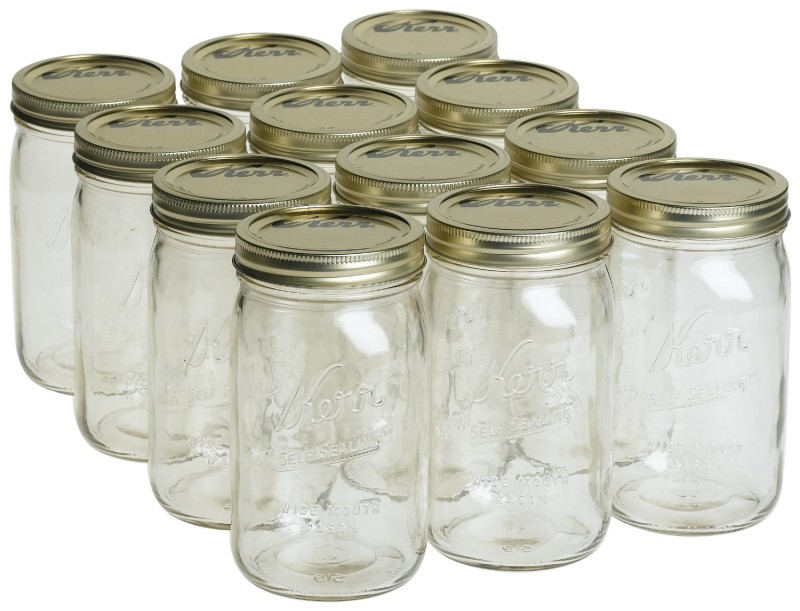 There was a time when many people saved and budgeted money with glass jars. Maybe your grandmother or your great grandmother did this when she was a young parent trying to make ends meet. Jars were set aside, and in each jar she would save some money for future needs. Perhaps a jar for school clothes, another for Christmas presents, one for vacation and so on. Each week or month after the necessities of life were paid for, a bit of money was placed into the appropriate jar to save for the future.
Let's say you did something similar with your free time. For every day off from work, you put time-dollars into a jar the represented how you spent your free time. You might have a Recreation Jar (camping and backpacking for me), a TV Jar, a Household Jar, a Party Jar, or even a Saloon Jar. For each day off from work, you have 24 time-dollars to put in a jar. If you went backpacking or camping for two days, you would but 48 time-dollars into your recreation jar because you even spent your time sleeping in the outdoors.
What would your jars look like at the end of the year, or at the end of your working days just before you retire? Would your TV Jar be overflowing and your Recreation Jar just ¼ full or less?
Time in a bottle (with apologies to Jim Croce)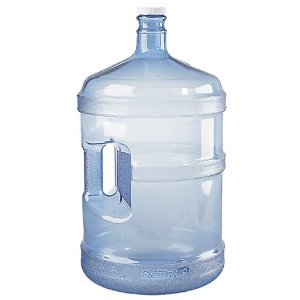 Joyce and I have been married for almost 14 years. Over that period of time, our Recreation Jar is full. Actually we would need a few 5 gallon water bottles to hold all our recreation time-dollars.
Conversely our Household Chores Jar is almost empty, meaning I have deferred a lot of maintenance and household projects in favor of recreation. Now that I am retired, I have a huge resource of personal time-dollars to spend. Most people would envision that I would be tossing a lot of time-dollars into my Recreation Jar. But alas, I have to pay the piper and start filling the Household Chores Jar, along with a couple other deficient jars. This isn't a bad thing; I enjoy spending my time-dollars around the house. But I have diverted a lot of recreation time-dollars in favor of house chore time-dollars over the past few months. For this reason, I haven't been spending as much time outdoors as I did when I was working, and I haven't spent much time on this blog either.
I haven't lost interest in PopUpBackpacker.com, I've just been busy. I enjoy writing and posting my thoughts here, but for the past few months I have enjoyed reading more than writing and hence my lack of activity here. I have diverted blogging time-dollars to my Reading Jar. I'll probably change that soon.
Other Time Bank Considerations
The Marriage Jar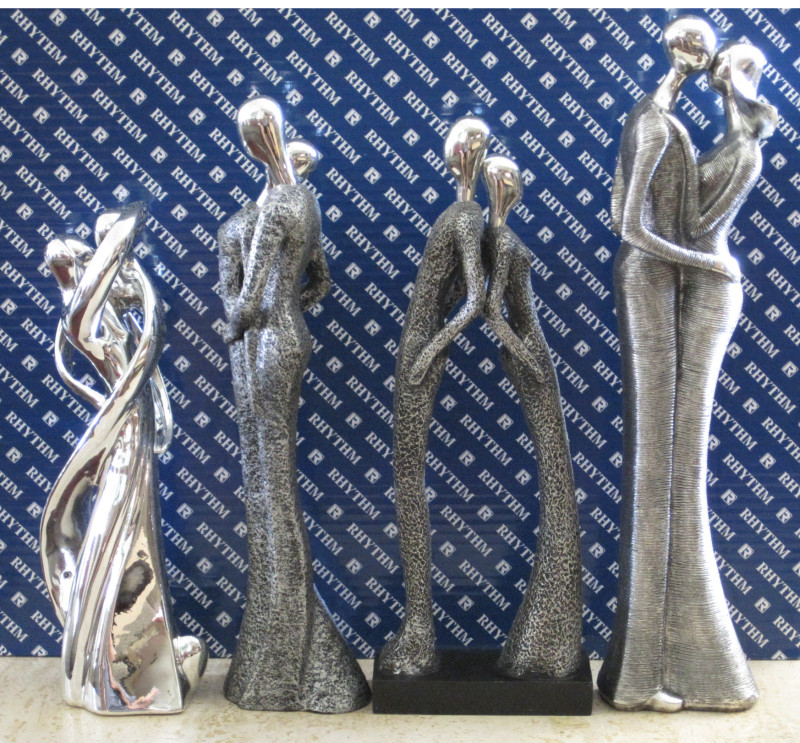 For the first 13 years of our marriage, I spent a lot of time traveling away from home on business. Some years I spent 150+ nights in a hotel room. Joyce has no problem with me going on backpacking trips during the week while she is still has a job. But spending time with her is more important than hiking a lot. I am enjoying our evenings together, rather than frequent trips hiking.
The Pet Jar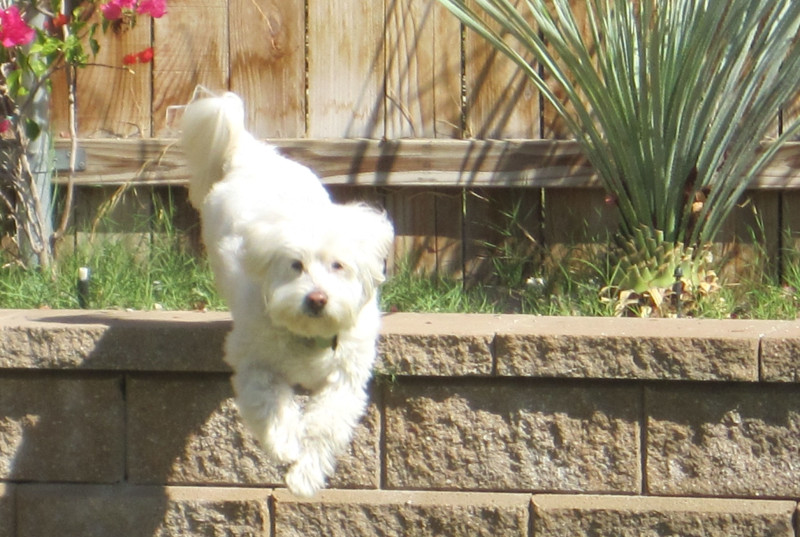 We got Corky from a rescue shelter 10 years ago and he will be 13 next month. Although he doesn't show his age, we know he will probably pass in the next two or three years. Many of the hiking destinations near us don't permit dogs. So I am enjoying our time together, time we didn't have when I had a job. We go for long walks everyday and sometimes hang out at the dog park, and of course he goes on every camping trip.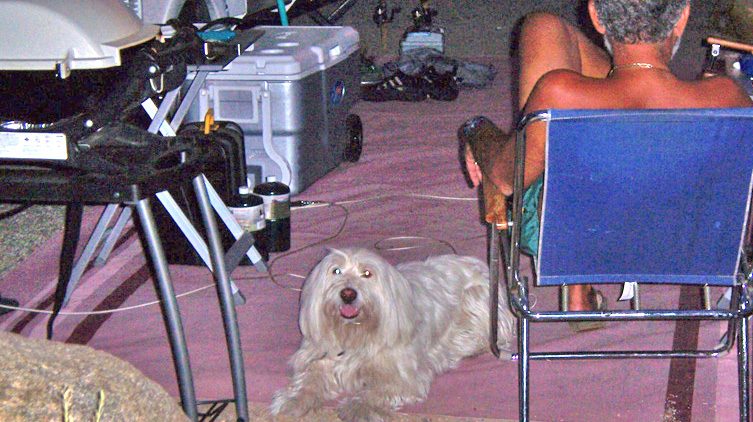 Corky requested a summer hair cut so each day he can supervise the start of the day's tasks around the house.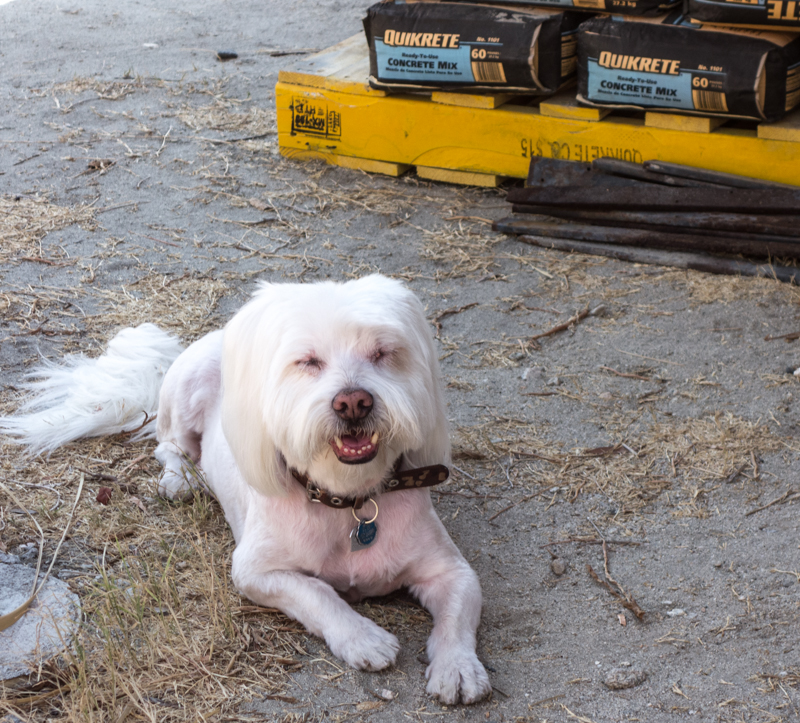 When it gets too hot he goes inside where it is cooler and does dog things. Periodically he comes out to check the progress of the day's plan and ensures I am not goofing off.
Work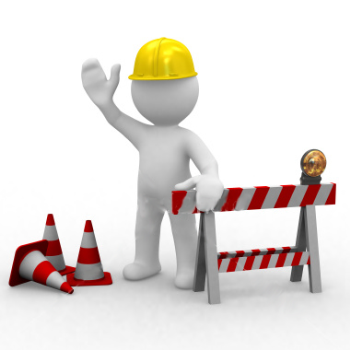 I should probably comment on household chores. Chores often have a negative connotation. I prefer to call chores work.
For me, work is a good thing. Work is productive time. Work is getting important things done.

It doesn't matter if work is your job or at home, we need to work to be truly happy.

If you hate your job, you are doing the wrong kind of work. Get a new job.

If you hate your work around the house, get a new attitude.
Here's a recap of some of the things I have been doing recently. Along with this productive work, I'll share one bad thing that happened.
I have planned the needed household work into two categories; outside work and inside work. The planned outside work is much more extensive and much more physical. The inside work is really just three things: remodeling the kitchen, master bath, and living room. The outside work includes patios, landscaping, cement work, pavers, and much more. I have found, over decades of working, it is best to tackle the difficult tasks first. Get the hard stuff out of the way as soon as possible. Saving the hardest for last can be a motivation killer. In addition, if you try and work on too many projects at one time, you risk a lack of organization or changing priorities that can reduce productivity. So given this, I will finish the outside work first even though it entails several months of outside temperatures often over 110F.  That is what we desert dwellers do, we just deal with heat. We acclimate and adapt. Most of the work I am doing myself other than some of our energy upgrades, a new roof with a backyard patio cover, and the front yard landscaping because I wasn't interesting in moving thousands of tons of gravel and boulders that weighed hundreds of pounds in a timeframe that would make Joyce happy. She didn't like our front yard after I turned off the water during our drought and the grass died.
New Patio
At the beginning of this month, I built a 30 foot x 12 foot covered patio along the West side of our house. I designed and constructed it so it would support a solid roof, but opted to cover it with shade cloth.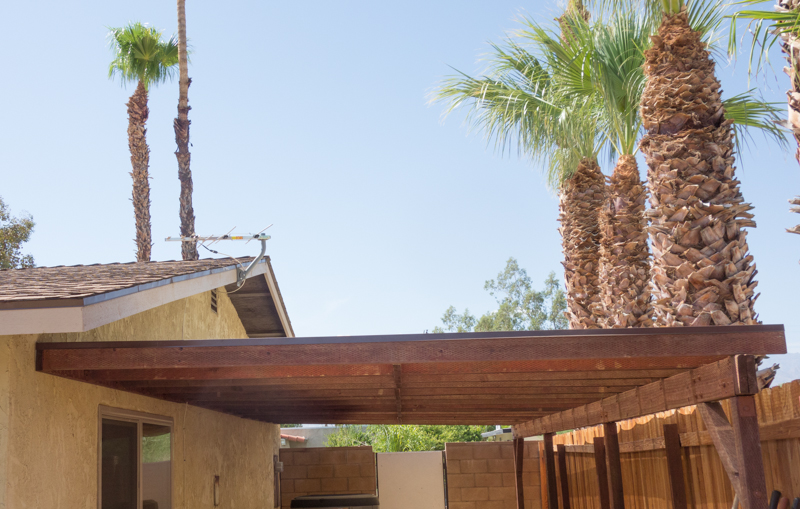 This side of the house gets drenched in afternoon sun, so it will help keep the house cooler, shades the outside A/C condenser (which might reduce A/C costs by a few percentage points), plus it will provide an area where we can plant some tropical plants that cannot survive in the hot direct sunlight of summer.
The shade cloth is manufactured by Coolaroo (got a good deal on Amazon) and blocks 95% of UV radiation, so it should last several years, and we have to option to install a solid roof without changing the supporting structure.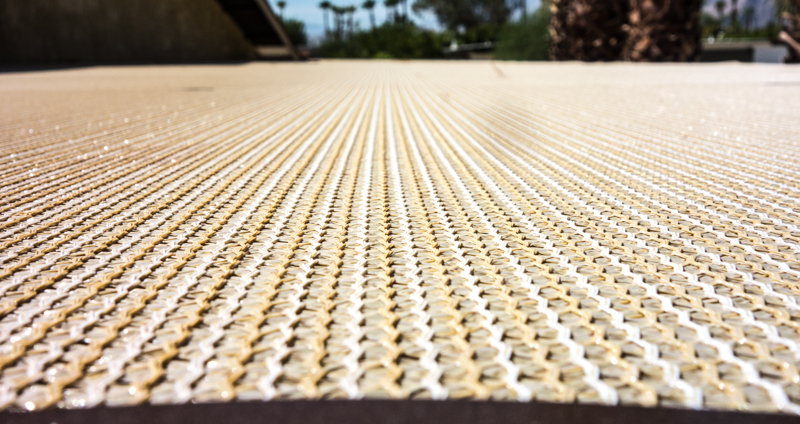 What I really like about the shade cloth is it provides a much cooler environment, but does not make it too dark under the cover, allowing soft filtered light to penetrate the fabric.
Once this patio was completed, I had planned to put in about 800 square feet of pavers for walkways and some patio areas in the backyard. Installing pavers requires compacting the soil, putting down and compacting a layer of gravel, adding an inch of paving sand, and finally topping everything off with the pavers. It takes quite a bit of time to do all of this. Concrete would have been more expensive, since we would need to have concrete pumped into the backyard, and hire several people to finish a large job like this. Another option would to buy bags of cement and mix them myself. However bags of cement are not a cheap option compared to a cement truck that delivers a large quantity of cement at one time. So, I had opted for pavers because I have more time-dollars to spend than real dollars.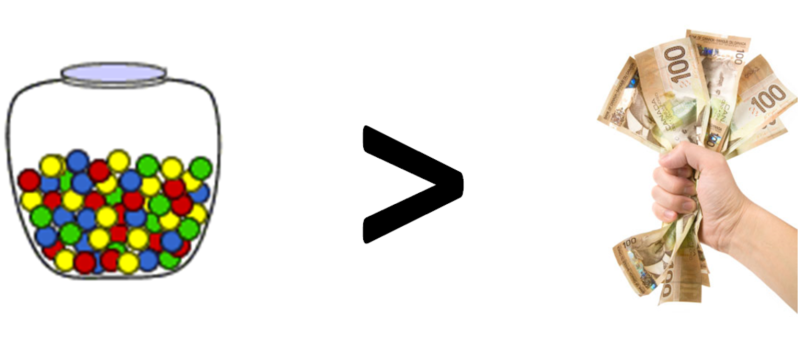 This changed over the 4th of July weekend. Lowe's had a sale on 60 pound bags of cement. A 33% off sale. Plus they gave me an additional 10% off for being a veteran, and an additional 5% off if I used a business credit card. Lowe's considers a Discover Card a business card. In total, I would save almost 45%. Not to mention the 5% cash back Discover will give me. I'm cheap, or perhaps prudent or frugal, you can pick a term. Anyway, we bought 656 bags of cement and Lowe's delivered it on 12 pallets to our front yard on the driveway for an extra $79.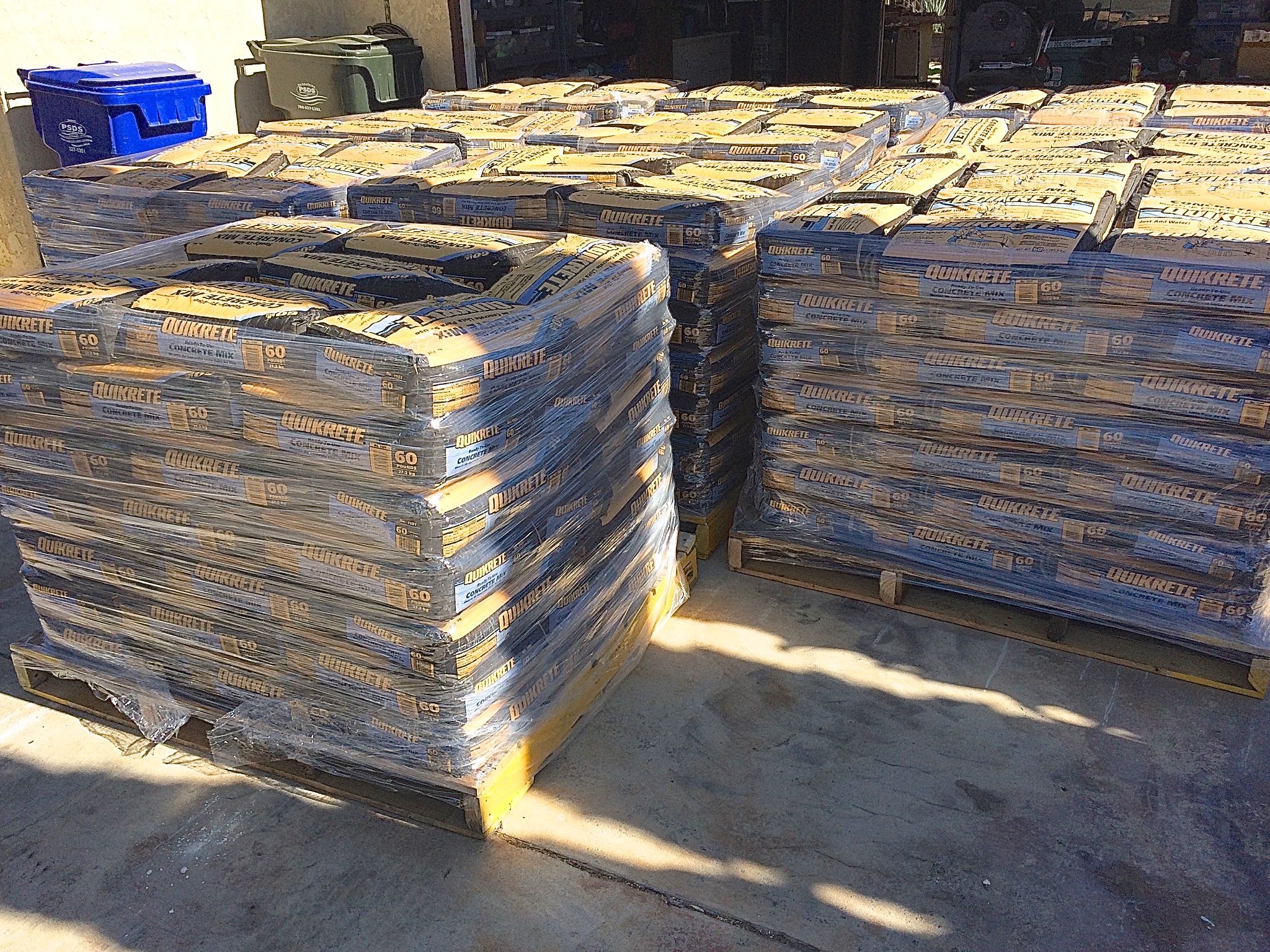 Simple Physics
Here's the problem about cement for the DIYer. It's heavy. Like 39,360 lbs. heavy for the 12 pallets, and I am getting old. I had to first move all the cement to the backyard, which requires lifting each bag twice. Once to put it in a cart and a second time to take it out of the cart and stack it for temporary storage. So over a 3-day period, I lifted 78,720 lbs. of cement before I mixed a single bag, not to mention the temperature each day reached 112F-114F. Sharing this information is not bragging, but a chance to share thoughts about working smart.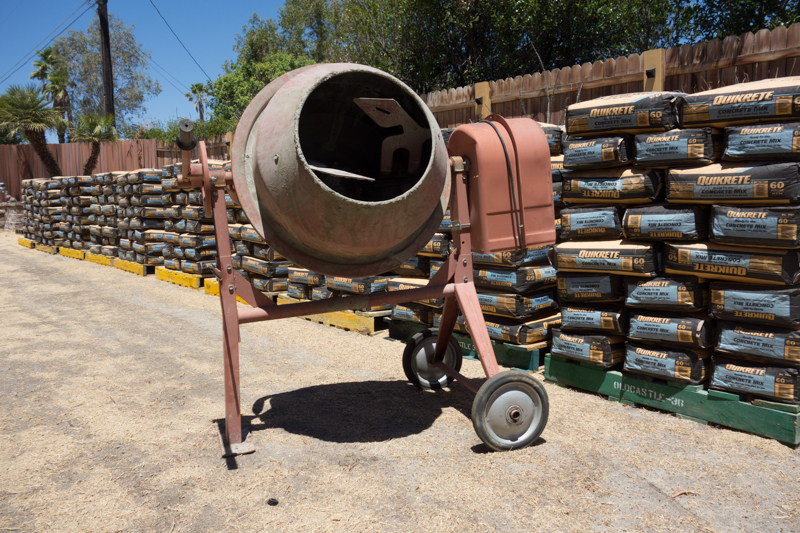 If you're going to mix a lot of cement, do yourself a favor and buy a cement mixer. We bought this one 14 years ago for $99 on sale at Harbor Freight. Did you noticed I said on sale? When you buy stuff on the spur on the moment, you pay too much. Plan, wait, and save money. Heck, be like Donald Trump and negotiate. Yes, for big purchases you can negotiate with the manager at places like Lowe's and Home Depot. Behind our mixer is the cement after I moved it to the backyard.
I've never had much upper body strength. I've always enjoyed running and hiking, not lifting heavy objects – meaning I am skinny. We are always told to use our legs to lift heavy objects, keeping our back straight while squatting to pick up and lift a heavy object. It works, if you do it correctly. My back never got sore through the whole process. I can't say the same for my quads, fingers, wrists, and forearms. They were a little sore from the repetitive lifting, but not to the point of injury.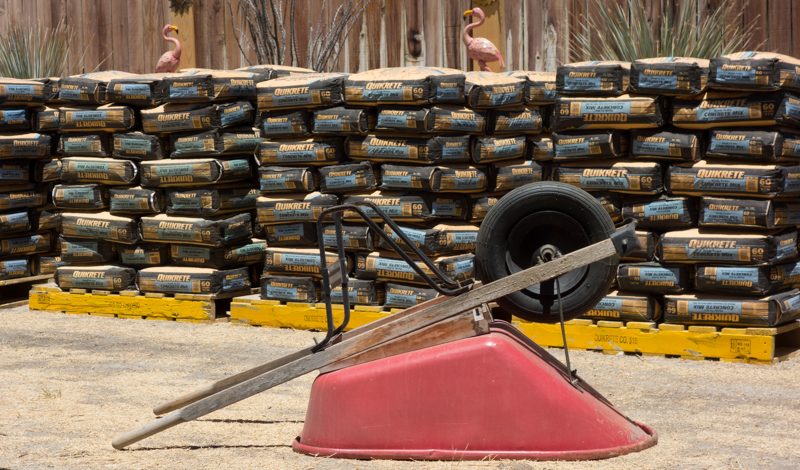 The second thing, wheelbarrows are obsolete for moving heavy items, like cement, sand or gravel, at home.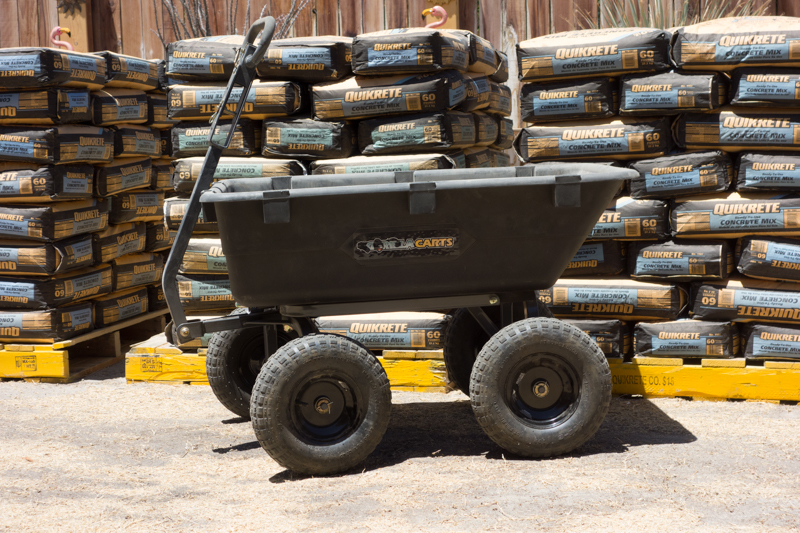 Get a 4-wheel poly cart. Four wheels are easier to keep the load steady, to steer, and dump. My poly cart has a "dump truck" function.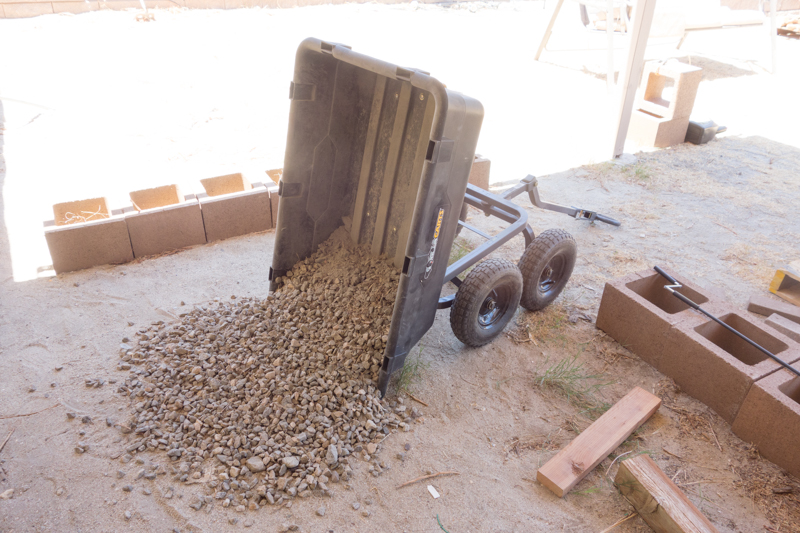 Plus the four pneumatic tires roll much easier over soft ground than a single tire. It also has a greater load carrying capacity. My cart can supposedly support 1,200 pounds. 500 is the practical limit for me. So if you use a wheelbarrow at home, consider a poly cart like mine. I paid around $99 for it, on sale of course.
First cement walkway completed
Each 9 square foot section requires 7 bags of cement. Finishing cement is not easy in hot weather. Once thing I learned is that bags of cement that have been sitting in the sun absorb a lot of heat. The first few sections I poured, I had moved the cement and mixer under the patio and close to the wooden cement forms I built. Later on, I just moved the required cement from the backyard and started mixing as needed. I could feel the heat radiating out of the mixer from the heated cement, and it was even harder to finish. So now, I move the day's cement to a shady area the morning before it is needed.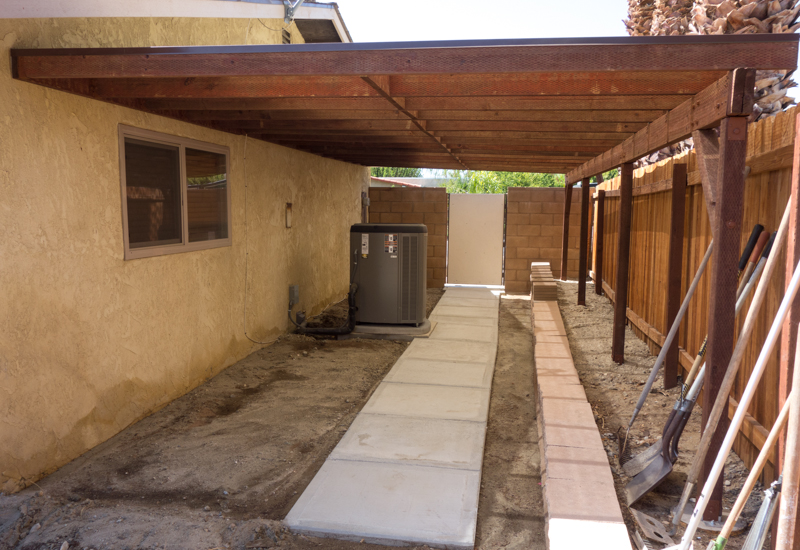 Oh, and the bad thing…
I got a bunch of concrete in my beard while pouring the first sidewalk. I couldn't get it out. So for the first time in almost two decades I have naked face. It is the first time Joyce has seen me without a beard.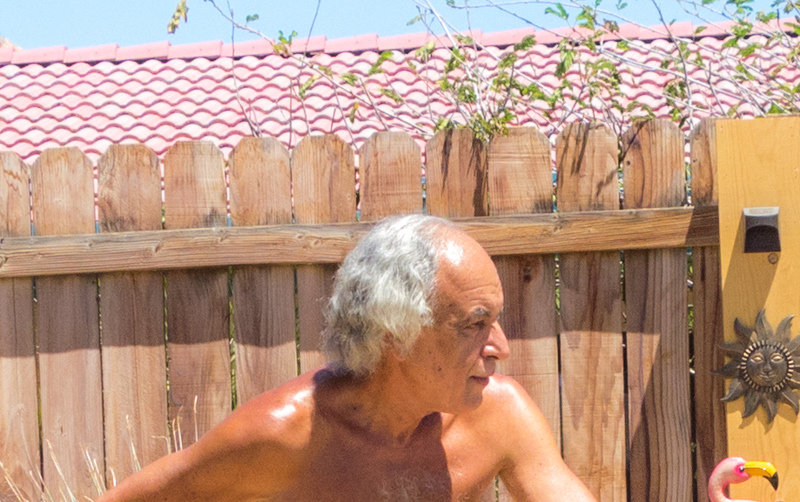 I'll grow it back. Razor blades are barbaric instruments. Shaving is an ecological disaster. Think about it. Think about all the water and the energy used to heat the water that goes down the drain. Not to mention all those razor blades that are simply thrown away. Or the unnecessary use of electricity used to power an electric shaver. Wasteful! Men should avoid all this damage to the environment by growing a beard and buying more gasoline to go camping or backpacking more frequently. Al Gore will thank you for saving his planet.