ANOTHER SHELTER?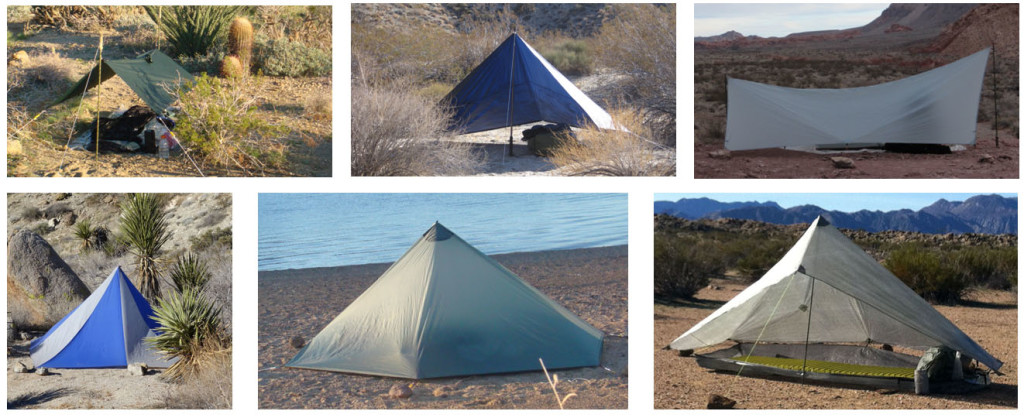 In the spring and fall the wind in our local deserts can get somewhat severe (gusts of 70+ mph). Along with the wind, gritty sand gets into everything: eyes, nose, ears, hair, gear, food, etc. As you can imagine, lighting a stove isn't a simple thing to light or operate in this kind of weather. Over the years, my main shelters have been tarps or variations of a tarp (pre-determined shape without a floor). Above: Top row (L to R) poncho tarp, flat tarp, Gossamer Gear Spinn Twin flat tarp with a catenary cut. Bottom row (L to R) Chouinard Pyramid, Six Moons Wild Oasis, zPacks Hexamid.
Normally I don't set up a shelter unless there is a good chance of precipitation. In high winds all of my tarps are less than satisfactory. Tents suffer with the zippers and Velcro closures of getting clogged up and quickly become non-functional. Usually I can find some sort of natural wind break and will normally camp without a shelter, which might only be the lee side of a sand dune, but in high winds nothing will make life easy. As my gear has gotten lighter, the wind has an easier time of catching it and blowing it away if I am camped without a shelter. Because of this I began a search for a new shelter to see if there was anything new that would solve this wind problem.
My research led me to several blogs of people who backpack frequently in Scotland. These hardy souls are often battling high winds, but instead of sand they must deal with cold rain, sleet, and snow. Over the past two or three years the Mountain Laurel Designs (MLD) Trailstar tarp shelter has become very popular with Scottish backpackers – and there are no zippers or Velcro to deal with. It is surprising that the Trailstar, made by a US based company, first gained popularity in another country. Last year the Trailstar received the "Top Gear of the Year" award from the UK based magazine, The Great Outdoors (TGO).
From the MLD Website:
The original shaped tarp with five equal low angle sides and no doors. Combines the high performance of a traditional pyramid shelter with the open and multi-function pitching options of a tarp at a low weight per user space. No zippers, flaps, vents or anything extra to wear out or break.
We designed and tested this new UL Shelter design over years of development in the early 2000's.
Fast Setup – No Doors, Zippers or Moving Parts
BOMBER ALPINE WIND PROTECTION COMPARED TO A TARP
Five equal size panels blend shelter protection with tarp pitching ease and multiple shape options.
The 7 foot long baseline on each of the five equal sides create a very large pentagon floor plan living space for one or two (three in a squeeze) plus gear and up to four in a lunch-storm huddle.
Pitches with one standard or short length adjustable trekking pole in the center. Longer fixed length poles require a higher pitch and/or one side be pitched open in the standard pitch mode. A found stick works great too.
50+ sq/ft of useable floor space. Lots of room for two hikers plus all gear. -Three in a squeeze.
TEN Perimeter Tieouts All with LineLocks- One at each primary corner and one centered on each side at the edge. Linelocks can be removed to save 1.2oz.
Can be pitched tight to the ground for maximum full sided protection or higher for views, easy entry and great ventilation. Most of the time one side or corner will be pitched off the ground as a door and the center height will be about 44″ – Lots of room to sit up. A tight ground pitch on all sides has a center height of about 36″.
Awesome shelter for hikers with dogs.
Roof angle is moderate for great wind shedding and light snow loads.
Super shelter for day hikers and ski groups for lunch stops and emergencies. Eight people can sit inside and at least four can lie tight together if needed.
We don't advocate cooking in a shelter/tent – but it's pretty large…
Gear hang loops mid position on each of the five seams to rig hang lines or clips up bivy hoods.
Roof Apex is reinforced and has an outside guyline loop and inside has a gear hang loop.
No zippers, flaps, vents or other parts to wear or fail.
Only five straight easy seams to seam seal.
Linelocks can be cutoff to save about 1 oz and our Mini-Line (optional) can be switched for the larger line to save about 1 more ounce on the line system. As is standard on most all UL tarp and shelters – the 18 oz base wt does not include guyline, stuff sack or seam sealing.
This shelter appeared to be exactly what I need. But marketing on a Website versus feedback from actual users are often two separate universes. Scottish hikers confirmed the claims and more. Here are some links:
The Great Outdoors Magazine
Martin Rye
Steve Horner
Andy Howell
Dave Lintern
Colin Ibbotson
All of these gentlemen are well known and experienced hikers. To be frank, it is surprising that all of them had such high praise for the same shelter.
Okay, I was sold that this shelter is what I need for my high wind hikes. Next was the dilemma of what material to pick; Cuben Fiber or Silnylon. At first it seemed the Cuben version would be the hands down winner – much lighter (12 ounces versus 18) and stronger material, although Cuben gear is much more expensive usually 60% or more than other materials. I was willing to pay the premium until I read this review by Chris Townsend: Trailstar Wars, where Chris concludes that the silnylon version is a better choice:
The results were interesting and to me quite surprising as we found it impossible to pitch them the same way even though the only difference is the fabric. It soon became clear the silnylon version is more functional, more versatile and easier to pitch.
So I ended up ordering a silnylon version. Weight is important to me, but function must always triumph. I must communicate one caveat about ordering gear from MLD and many other cottage industry manufacturers. There is a wait time for gear. Many often build gear as they receive orders. Wait times of 8 to 12 weeks can be common. The main page of the MLD website warned that major items "take about 8-12 weeks to ship after an order is placed online." Mine took 12 weeks to ship.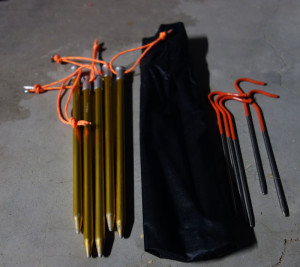 In addition to the Trailstar, I ordered five 6.5" titanium stakes (for the sides) and five 9" Easton 9" aluminum stakes for the corners. I have plenty of stakes in my gear closet, but I like a set packed with each shelter – that way I won't forget to bring stakes! The stakes came in a nylon sack. I added the pull cords to the Easton Stakes. On some trips I will be taking snow stakes instead, they do much better is softer sand.
The shelter arrived with a tube of McNett Sil Net (to seal the seams), a silnylon stuff sack (which I will replace with a lighter Cuben sack), and about 50 feet of heavy duty cord for the guylines. Weights:
Shelter alone: 527 grams = 18.59 ounces
Stuff sack: 19 grams = .67 ounces
SEAM SEALING
The first task was to set up the shelter and seal the seams. I was surprised how well I did on the first try. The shelter was taunt!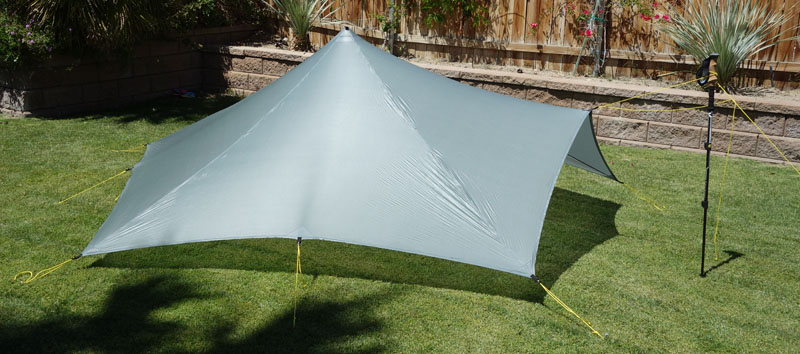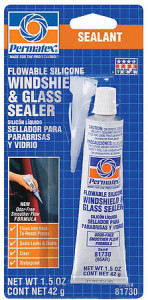 Most silicone-based seam sealers are thick and messy to work with. A lot of people dilute them with mineral spirits (1 part sealer with 2 parts spirits) and brush it on, something I have done in the past. I have always been concerned that thinning the silicone will negatively impact the sealing ability of the silicone, especially over time. However, I have never had a problem. I was intrigued by the success a lot of people have had using Permatex Flowable Silicone Windshield and Glass Sealer, so I bought a 1.5 ounce tube.
The tube comes with an applicator nozzle. I cut the nozzle at the second smallest line, which was just smaller than the seam width. The silicone flowed easily and started to seep into the thread seam holes. Using my finger tip dampened with water, it was easy to smooth the silicone for a professional looking job. Clean your finger tip frequently with a paper towel. The 1.5 ounce tube was enough to seal all five of the seams, but not enough to seal the tie-outs. I used the McNett Sil Net to complete the tie outs sewing. If I were to it over, I would not use the Permatex applicator, the tube had to be held too far away from the seam – instead I would punch a small hole in the top of the tube allowing the palm of my hand to rest on the tarp as I moved the tube from the top of the shelter and moved down along the seam. It took about 15 minutes to seal the Trailstar.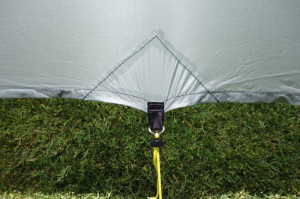 Some hikers may be tempted to remove the linelocks and use a smaller diameter guyline to save weight. I find the linelocks to be quick and very secure, even in wind. Trying to tie a knot in a guyline when the wind is gusting at 70 mph is not an easy task for mere mortals. Also, the purpose of this shelter (for me and many others) is to shed wind, so I would not recommend a smaller cord. There is a lot of stress at the tie-out points, so make sure you seal the threads at each one.
POLES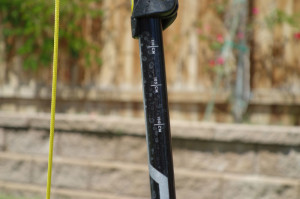 The Trailstar is designed for hikers who use trekking poles; the poles are used to set-up the shelter. This is a conundrum for those who don't use trekking poles, and the typical carbon fiber tent pole is not going to be able to handle the tension of this shelter. I normally don't use trekking poles, but for now am setting up the Trailstar with a pair of Black Diamond Alpine Carbon Cork trekking poles. What are nice about these poles are the built in graduations for adjusting the length. For high pitches I set the length at 125 centimeters (~ 49 inches) and 100 centimeters (~ 39 inches) for a low pitch. I am still experimenting with the optimum heights.
GUYLINE LENGTH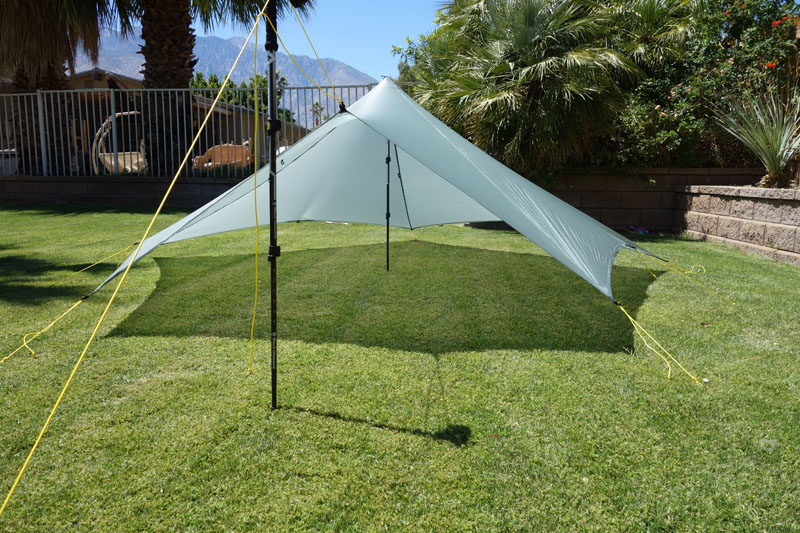 I cut the included cord to 3 foot lengths for each tie out (nine of them) and 13 feet for the shelter opening that is connected to the 2nd exterior pole. I will trim these down as I use the shelter more. I haven't gotten a lot of experience with the shelter yet, as I only take it on trips where I expect very high winds.
FINAL WEIGHTS
Trailstar with seam sealing and guy lines: 641 grams = 22.61 ounces
Stuff sack: 19 grams = .67 ounces
Stakes in bag: 106 grams = 3.74 ounces
Trekking poles (pr): 493 grams = 17.4 ounces
Total weight of shelter: 1.26 kg = 44.41 ounces
Once I come up with a pole solution, trim guylines, and replace the stake bag and shelter sack I should be able to get this down to around 32 ounces. Not bad for a shelter that can handle this kind of wind.
TESTING
Of course before taking it on a real trip, I did some testing. I left it set-up in the backyard for several days exposed to the sprinkler system and wind. For the real test, I took it out to a hill near our house.
So let's get away from all this gear-tech talk for awhile. We live on the edge of the San Gorgonio Pass, one of the windiest places in North America. By windy we are not talking highest sustained wind speeds, but frequency. For over 300 days per year, this pass has winds over 20 mph. 30-50 mph is common and gusts over 70 mph are not uncommon. This wind is created by a funnel that is 9,000 feet high on each side (San Jacinto Mountains and San Bernardino Mountains, and only two miles across at its widest point. Cool air from the Pacific Ocean moves down this funnel and collides with the hot desert air of the Coachella Valley. It is a perfect layout for wind – and a lot of it.
A few miles from our house is a hill that sits in the middle of this wind belt. As the wind barrels down the pass it hits the hill and actually accelerates. There is just the right amount of sand in the air to pound exposed boulders without covering them. The remaining sand flows over the top of the hill and settles on the leeward side. Over the centuries the windblown sand has cut, carved, etched and abraded the rock outcroppings, creating what are called ventifacts.
Ventifacts
Most hikers do not go out looking for high wind, but when you live near a place covered with ventifacts, you have the perfect storm. So I headed out to the hill. This is not a place most people would want to camp out or even hike, but it suited the need at hand. Plus I like strange places. And the Trailstar performed in some pretty serious wind.
PERFORMANCE
So far it has lived up to expectations. For a silnylon tarp I am surprise how little the shelter stretches after a period of time in wet weather and wind. What is nice about the line locks is that you can reach out under the tarp from inside and adjust the guyline tension.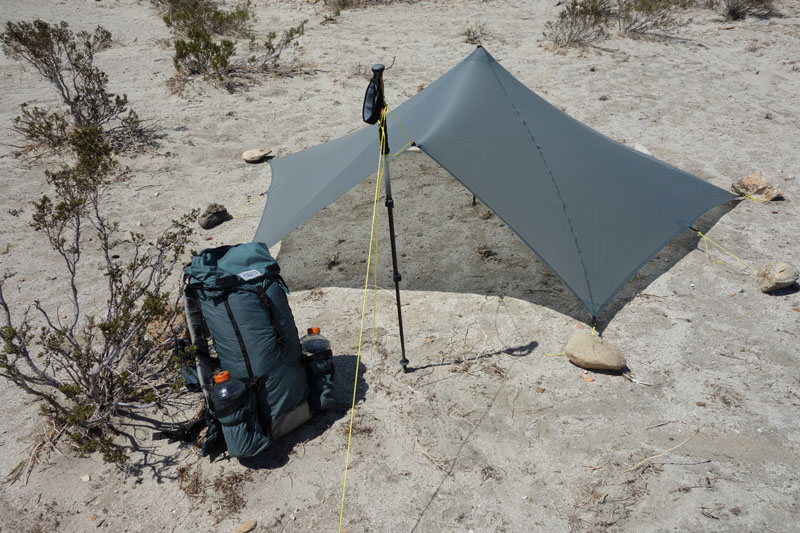 Setting up the Trailstar (above). Plenty of room to safely cook!!
Below: wind died down (thankfully) so it was easy to pack up.