Wow, has time flown by! It has been over a month since the last post, other than my condiments rant a couple days ago. Things have been busy. Three weeks spent all over Pennsylvania, some hiking, my 40th Class reunion at the USAFA, some other stuff to share later, and a new TV.
Buying a new TV was not on my short list of things to do. But apparently it had to be done.
By the way, a TV is a Tow Vehicle, not a television.
After our Niagara was vandalized on the trip From Hell, to Hell, and Back it was obvious to me, although not to the insurance company, that the camper could not be repaired and it would have to be totaled.
So in the interim, while the insurance inspectors were trying to add 1 plus 1, Joyce and I did a little camper shopping. She wanted a travel trailer. An avowed Folding Tent Trailer (popup camper) enthusiast, I was willing to make a switch to what popup owners call the Dark Side. Besides, I picked out the last camper. Now Joyce wasn't totally against a tent trailer, but she pointed out that we are getting older and a tent trailer is more work to set up and take down, plus there are other practical aspects. Bottom line: she would be happier with a travel trailer.
CONUNDRUM
Our tow vehicle was a 2003 Ford Expedition with the factory tow package and a 4.6 liter engine. The maximum it can tow is a 6,000 pound trailer even when utilizing a weight distribution tow-hitch. All of this may sound like mumbo-jumbo, and maybe it is. Bottom line is that a new trailer would need to weigh 5,000 lbs maximum and probably closer to 4,000 lbs. By the time water, propane, food, etc. is added the total would need to be under 6,000 pounds total.
Here was the problem… everything she liked weighed close to 6,000 pounds empty. Every trailer she liked was nice, but there was the weight conundrum.
It was a stalemate.
AN OBVIOUS SOLUTION (for a woman)
Joyce: These are the trailers that fit our needs.
Me: But they are too heavy for our SUV.
Joyce: If we are going to buy a camper, we need to get the one that fits our needs, not a compromise because you are too cheap to buy a proper tow vehicle.
Me: But it is too heavy.
Joyce: Buy a new truck!
Me: Huh?
Joyce: You had planned on buying a new one when you retire, get it now.
Me: Huh?
Joyce: Let's go get one today.
So now I have two tow vehicles in the driveway.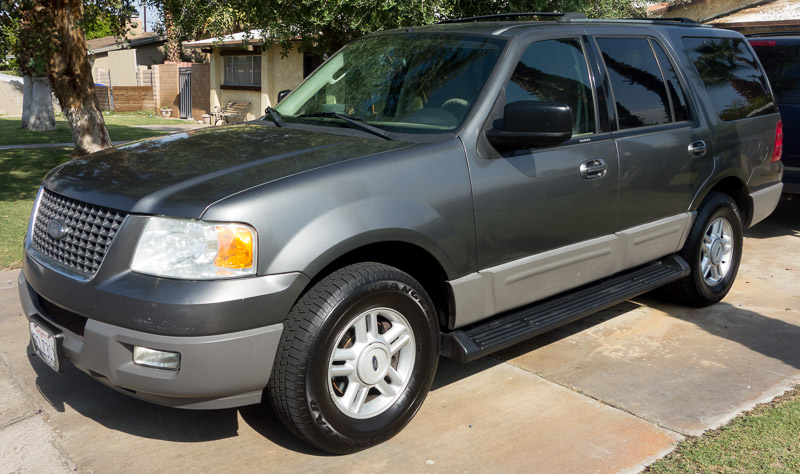 A 2003 Ford Expedition and
a brand new 2012 Ford Expedition with a tow capacity of 9,200 lbs.
I keep vehicles for a long time, so I have no problem with last year's model. It was the only 2012 XLT model with the HD tow package left in California. Joyce negotiated $10,000 off the MRSP.
And here we were with two Ford Expeditions and no trailer.
To be continued…