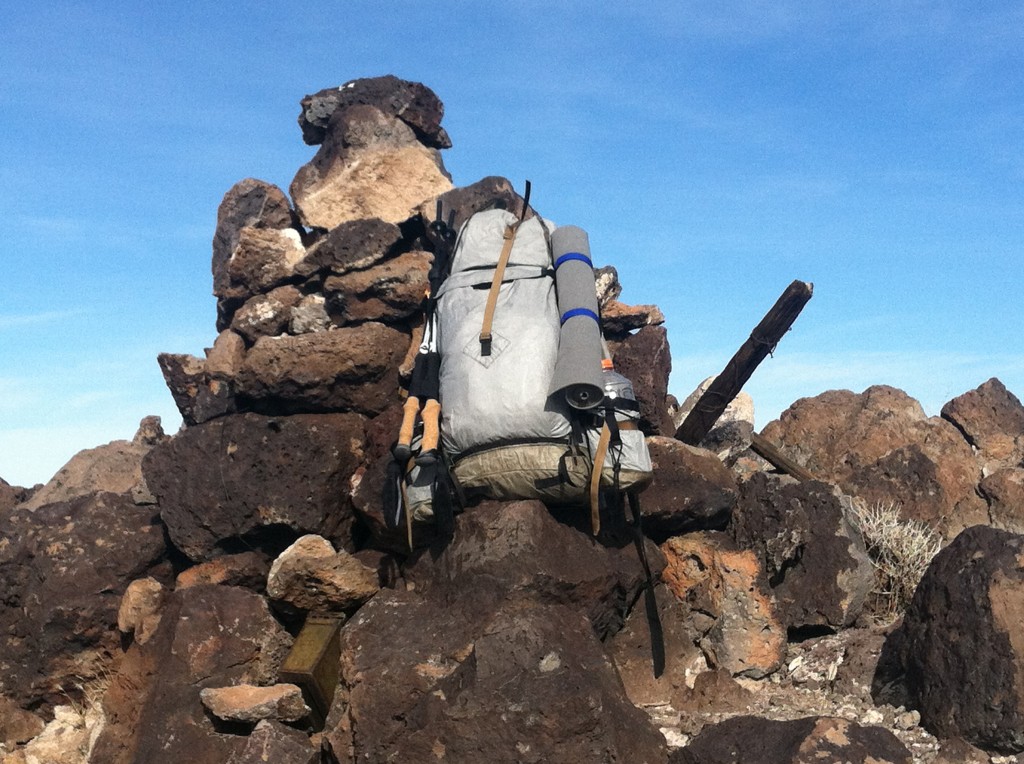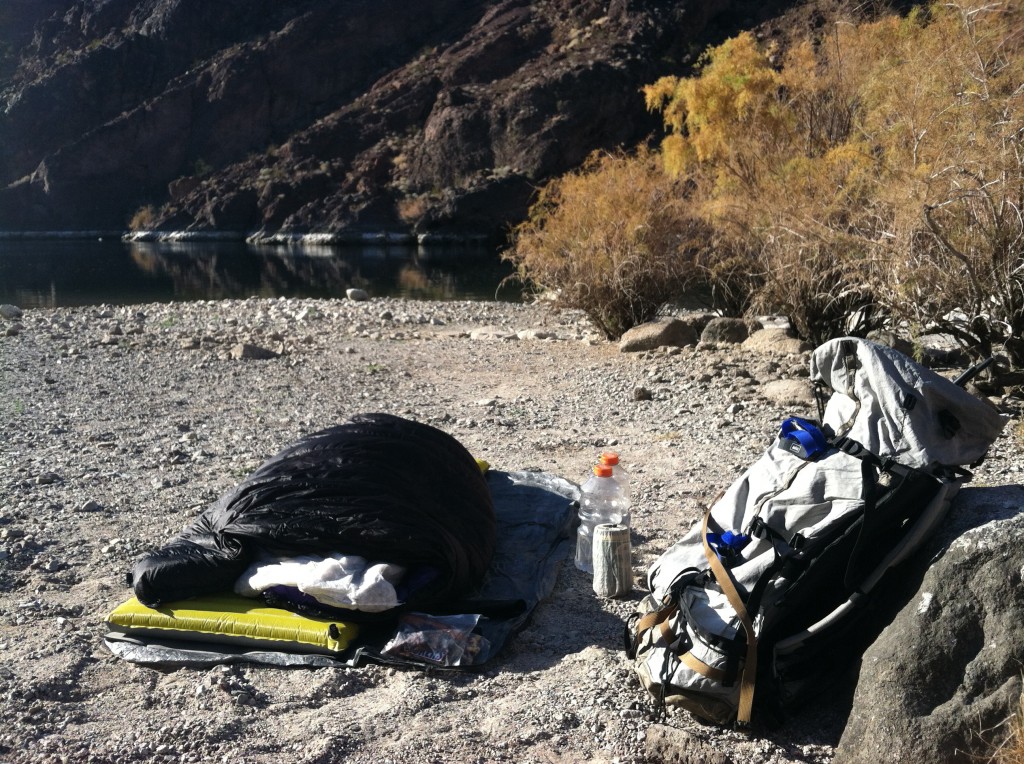 Introduction
Around 2008 my backpacking equipment started moving towards the spectrum of Ultralight and below. I was approaching 60 and lightening my gear would allow me to continue hiking at the same level (speed and distance) I had been doing all my life. Ultralight is a base weight (the total weight of the pack minus consumables such as water, fuel, and food) of 10lbs or less. Over a period of a couple years I did many multi-day trips with base weights  in the 3lb – 8lb range using 4 different cottage company packs. These included two frame-less and two framed (aluminum stays) packs. Total weight with food and water can be anywhere from 12 lbs to 30+ lbs on these trips. When it gets above 12 lbs, it is usually due to the amount of water I need to carry.
On almost everyone of these trips, the packs cause some level of discomfort. Be it the shoulder straps on the small packs or the hip belt on the larger ones. It is not constant discomfort, but at some point on every trip all the packs become a little bit of an irritant. So my thought was, is there a "perfect" pack? Or is it necessary to have a selection of packs for varying conditions. If there is a perfect pack, then why not deal with 3 season base weights of 6 lbs – 11 lbs, a pack for winter trips, and always be comfortable and happy?
The other downfall with some of these light packs is they are fragile. Light materials and construction are not going to last years and years. And some of them can be easily damaged. I had to replace a Gossamer Gear Murmur pack due to damage from cross country travel and many 'errant' trees and shrubs. This was not the fault of the pack, I just took it places it was not designed to go. To me it is crazy to have a collection of packs and to replace them periodically. In addition, it got almost to the point that these packs dictated where and when I go, instead of meeting the needs of almost any trip I want to take.
Along with my inventory of light packs, I had collected an assortment of more traditional packs over the years, all of which were too large for the light equipment I had evolved to in recent years. So I decided to check out McHale packs. I first heard of McHale Packs in Colin Fletcher's The Complete Walker IV, where he said custom gear, "is the sweet stratosphere of McHale Packs and Limmer boots." This did not mean I was going to buy one, but was going to research them. I started out by spending a lot of time on Dan McHale's website. This was rather intimidating, as it was not easy to figure out what was what with all the McHale offerings and options. Dan is a pack builder. He also built his website, but he will tell you his expertise is packs, not website development. After talking to Dan, seeing a pack in person, and reviewing the DVD he sent me, the website quickly  became easily to navigate and understand. More important, I quickly saw that he knew packs… probably better than anyone in the business.
I do want to make one thing absolutely clear. I did not get this pack to impress anyone. I hike alone most of the time, so there is no one to show it to. Also, a McHale pack is a sizable investment. I really want to emphasize the term investment. At first it was "expensive." But considering the advice I received from Dan during the fitting process, the materials used, and the construction; at the time I was certain it was the last pack I would ever buy. For me it was an investment, not a purchase. A year later I purchased a smaller McHale pack… so much for one size fits all!
During my initial website research, I was unsure of which pack might fit my needs, so I skipped the Web order page and just called Dan. Left a voice mail and he called me back within an hour or so. Dan talks to all his customers — each and every one. He takes his reputation very seriously.
I had read that Dan was a very "opinionated" person. But what I experienced was a very knowledgeable man, not opinionated. I get a sense that he is very proud of every single pack he makes. They are not "things" he sells. He customizes every pack to what the customer needs. He asks a lot of questions to determine these needs. However, he will not build a pack to a lesser specification than his standards require. I like his attitude.
So after our first call, it was loosely determined that a LBP (Little Big Pack) with all the trimmings was what I needed. However, he stressed that this determination could only be finalized after I tried out a demo pack. Next step was for me to do all the measurements according to the instructions on the Website, and to mail a deposit for the demo.
After he received my measurements, he called me back and reviewed everything. It is obvious that he is expert at looking at measurements, and he needs many more measurements than just torso length and waist size that other manufacturers use to size a pack. When he looked at all my measurements, he said that I might not have measured my torso accurately… and he was correct. I re-did the measurements and received the demo pack within a week after mailing the deposit. His demos are not necessarily constructed with the exact materials the customer wants, because sizing is the purpose of the demo; and all requested accessories are included.
When the demo is sent out, Dan sends an email with instructions on how to load the pack and take pictures for his review. After he reviews the pictures and talks to the customer, he will either start making the pack, or if the pack does not fit right, send out another demo pack. My fitting process required several hikes with different weights in the pack. After each trip I would send Dan pictures, he would review them then have me make adjustments to the pack and do it over.
The demo pack arrived with an instructional DVD. This DVD included a lengthy section on configuring the bayonet system, plus how to do a lot of other stuff. In the DVD it is suggested to turn the pack inside out to really see how the system works (this is not necessary to adjust the bayonet system; he just wants people to see how it is built). So I did that and inspected the construction. Everything is top quality and "bullet proof." There are so many ways to set-up the pack for specific needs, and the design engineering is quite impressive.
So after spending a couple evenings playing around with the pack, I had to try it out! I removed all the options, except the two water pockets and hip pockets (not sure I wanted them, because hip pockets are usually not very functional for me).
I loaded the pack with 30lbs of stuff, including two 640z bottles in the water pockets (total of 1 gallon), and put a bunch of stuff in the hip pockets. I then went on a 16 mile hike. About 2,000 foot elevation gain in the first 4 miles. Part of the hike was at over 6,000' elevation along a ridge-line, and then down into the high desert with a trail-less cross country section and a lot of brush. Temperature for most of the hike was in the low 90F range. The purpose of the hike was to evaluate the pack, but to be honest after about 4 miles I completely forgot about the pack and just enjoyed the hike. I really forgot to pay attention to the pack. That is because I have never worn a back that just becomes part of the body. And I have owned many, many brands and types of packs.
The first thing you notice about a McHale pack is how comfortable the hip belt is. The belt is tall and not very thick. I don't know why, but the double buckle set-up makes the belt stay glued to your hips. The belt does not slip or work its way down.
The hip pockets are about 7.5" long and 4.5" tall. You can put a lot of stuff in them. I put some snacks and a compact camera in one pocket. In the other I placed a small pair of binoculars and a Garmin GPS (two items I almost never carry). The pockets are very easy to access. A few times I had to reach down to make sure the pockets were still attached, because they never interfered with my hands, like hip pockets usually do.
The morning after the hike, I had ZERO discomfort on my shoulders or hips, like I normally do. As a matter of fact, I pushed and rubbed both to see if there were any after-effects from the hike. None at all.
My Pack Arrives
I was backpacking in Nevada over Christmas vacation in 2010 when the pack arrived. Sure would have been nice to have been able to have received it earlier. But each McHale pack is custom built, and that takes time. My pack is constructed from full Dyneema fabric including a kangaroo pocket, the shoulder straps, and accessories. I chose very subdued colors, so the pack would not stand out. I also got summit flap with a bear canister holder, two hip belt pockets and one should pocket. I will not be using all of these at the same time. One thing about a McHale Pack is all the different configurations of the pack to meet varying trips.
Details
The pack is a LBP36, which is a Little Big Pack with a circumference of 36″
The pack bag is generally cylindrical
The frame (aluminum stays) is 23.5″ but after bending them to the contour of my back it is smaller
It has the P&G Bayonet frame extension system
Full Dyneema construction
Kangaroo Pocket with flap
2 water bottle holsters
2 large hip belt pockets
1 Presto shoulder strap pocket with flap
Summit Lid with bear canister straps
Volumes
Basic pack back w/o roll top extended = 39 liters
Everything including roll top extended = 79 liters
For comparison, my Gossamer Gear Mariposa Plus has a total volume of 59 liters
 Weights
Everything = 4lbs 9.5 oz
Without P&G extensions, by-pass harness straps and canister straps = 4lbs 3.9 oz
Without all the accessories ("day pack mode") = 3lbs 6.0 oz
If I remove all the external straps and extra webbing it will probably go under 3lbs.
For 3 season multi-day use, my base weight will be well under 10lbs using the McHale. Plus I will be able to carry as much food and water as I need. For snow trips, it can carry everything in comfort, including a four season tent for really nasty trips.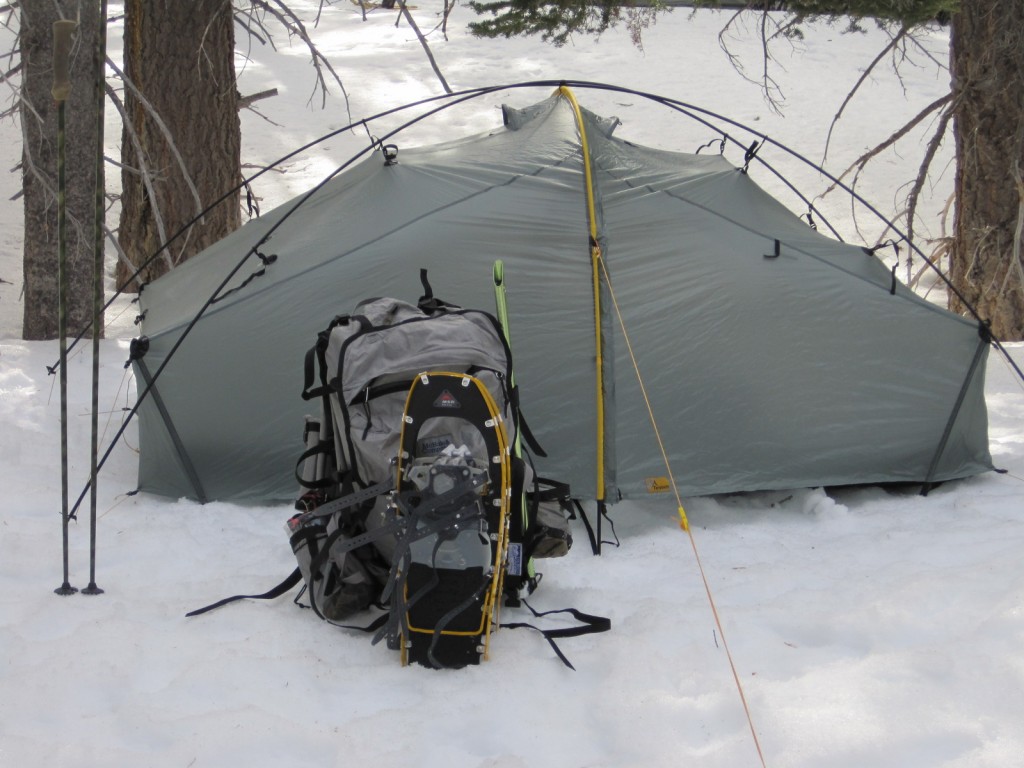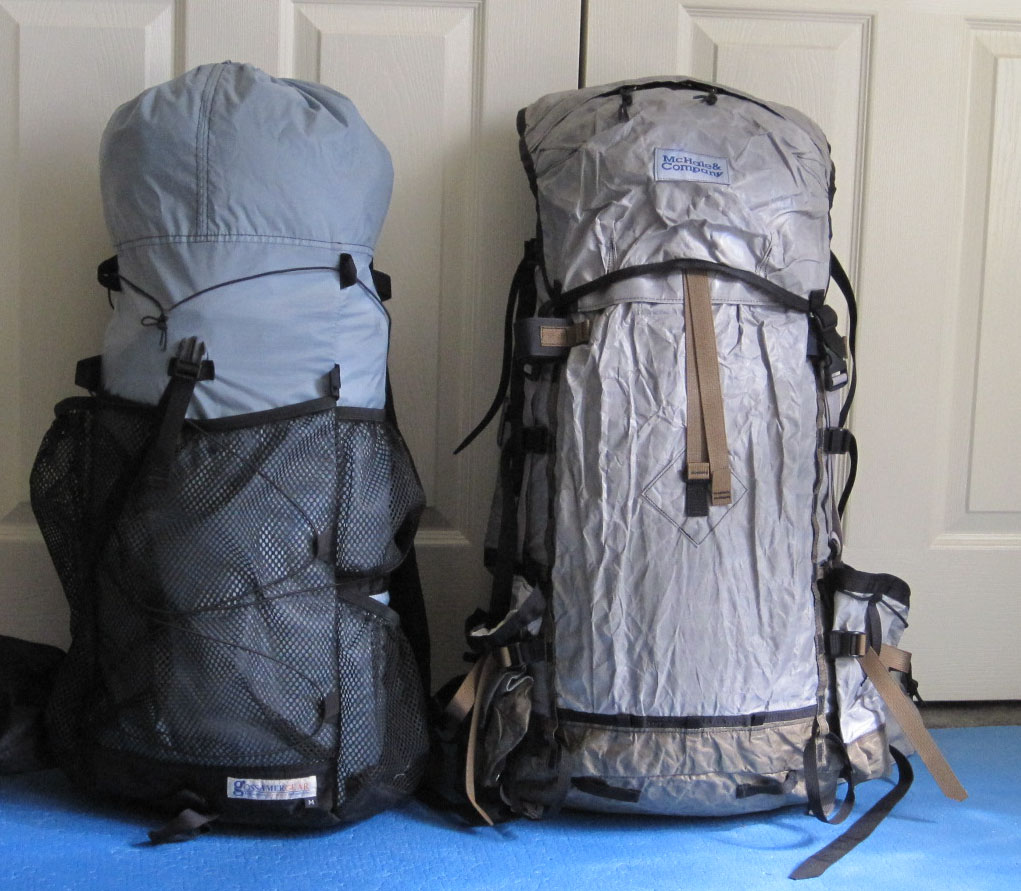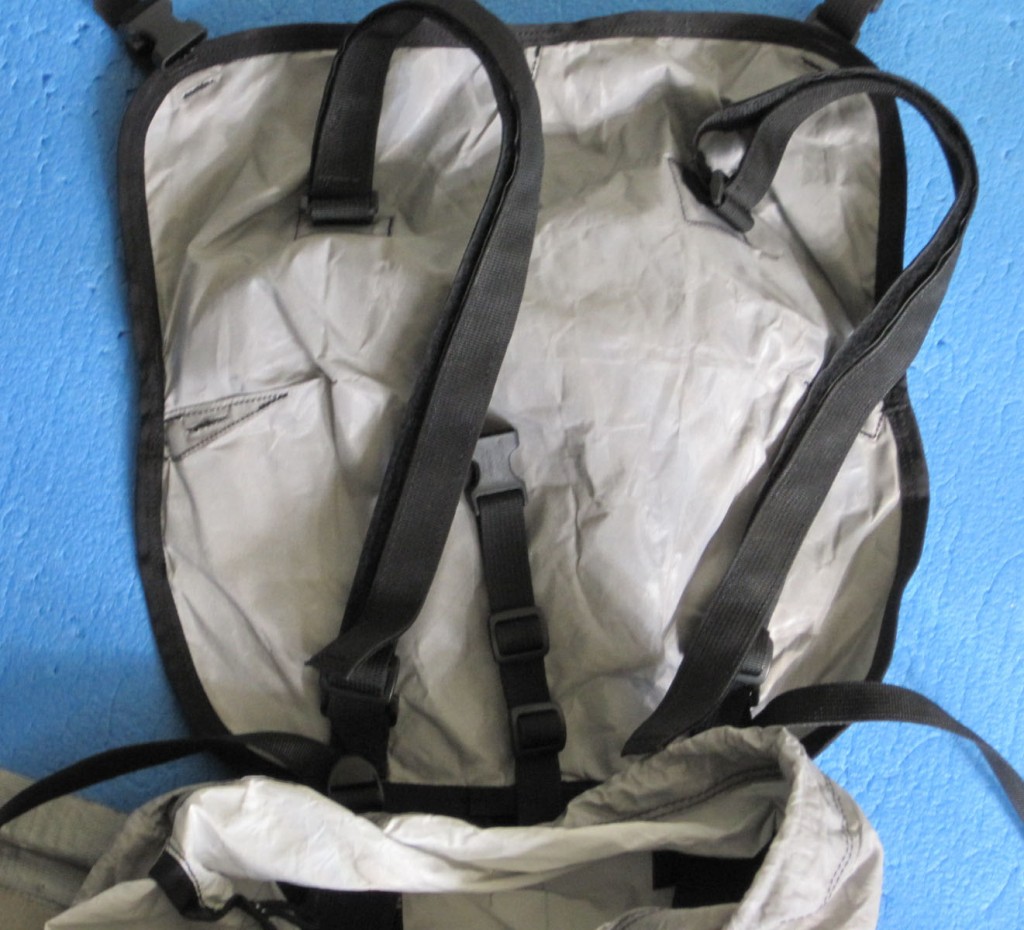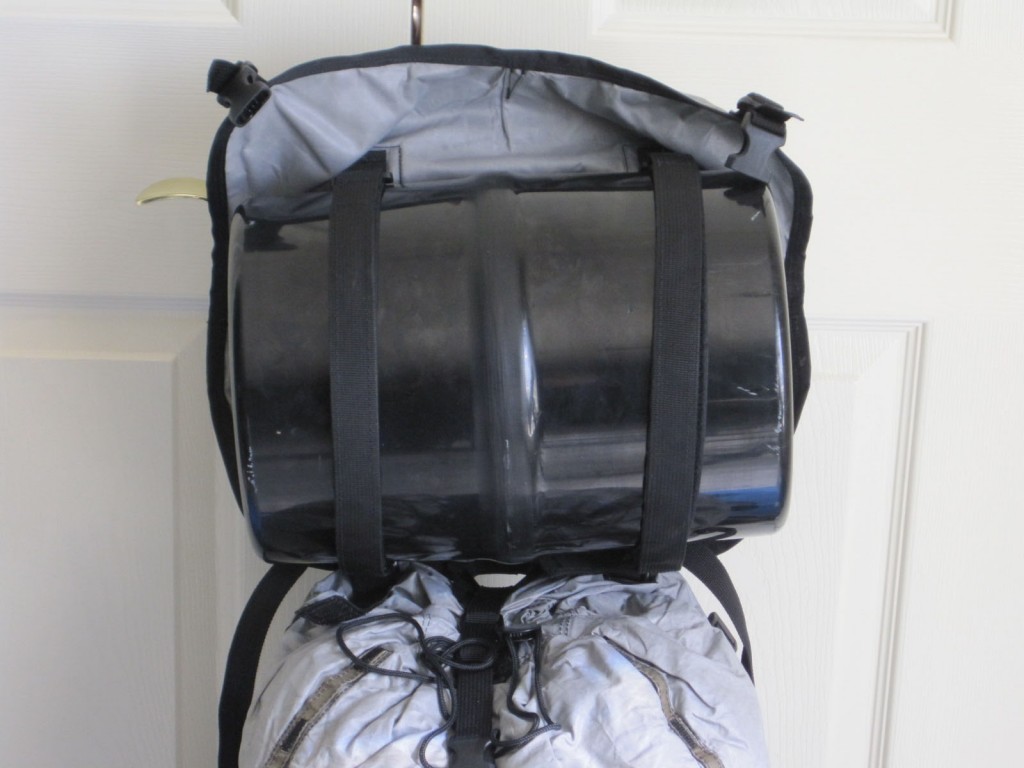 The bottom of the lid has straps for attaching a bear canister. You could also place a hydration bladder here, use the straps for a fanny pack of sorts. The straps can be removed, and still allow you to keep the lid attached to the pack.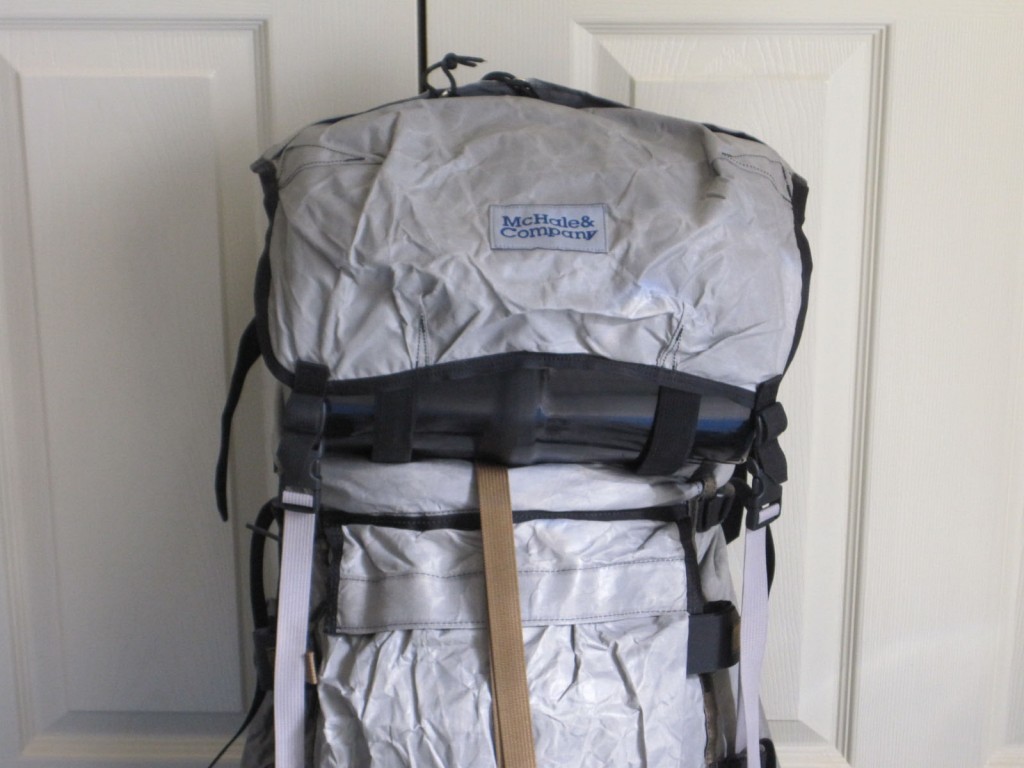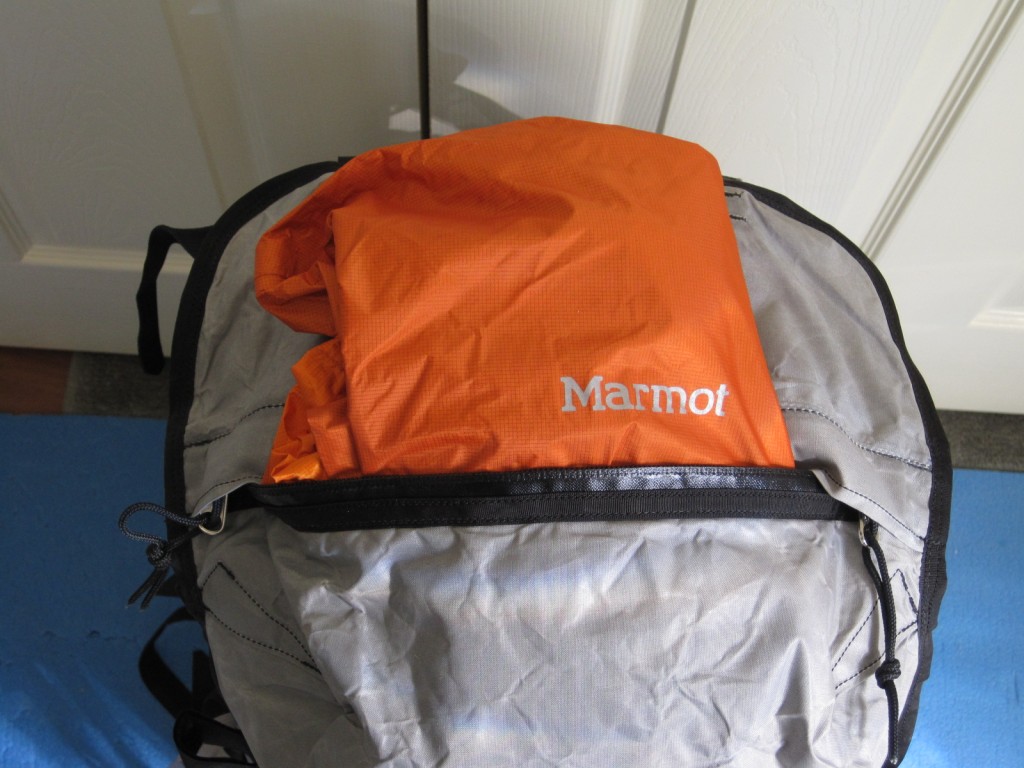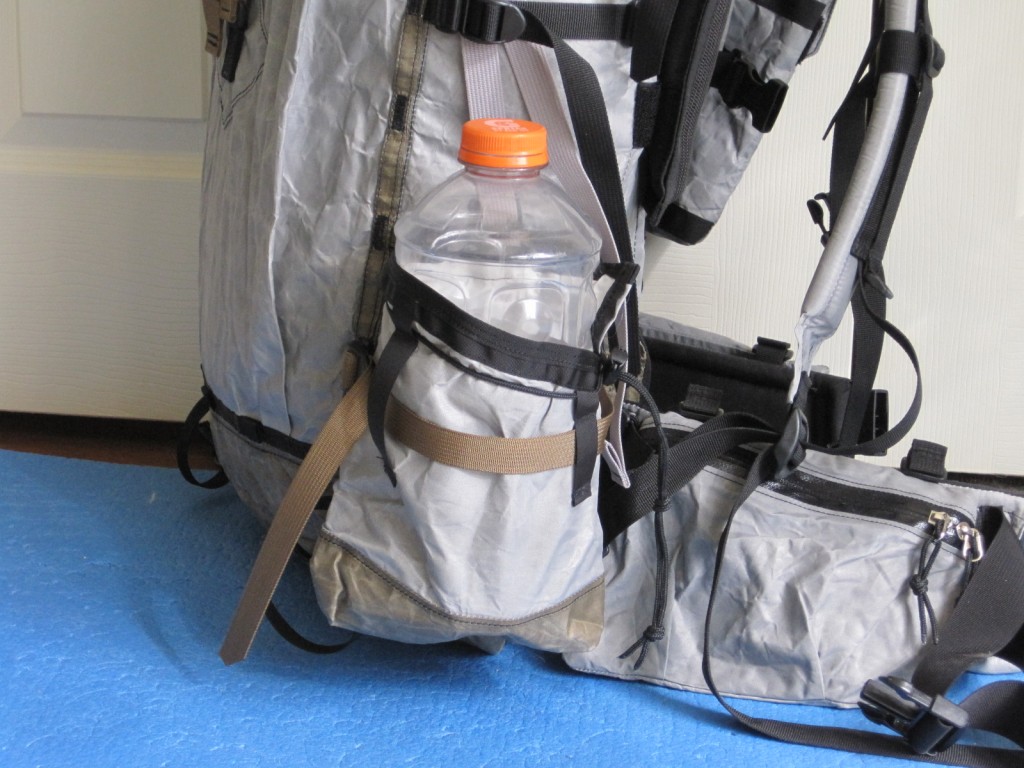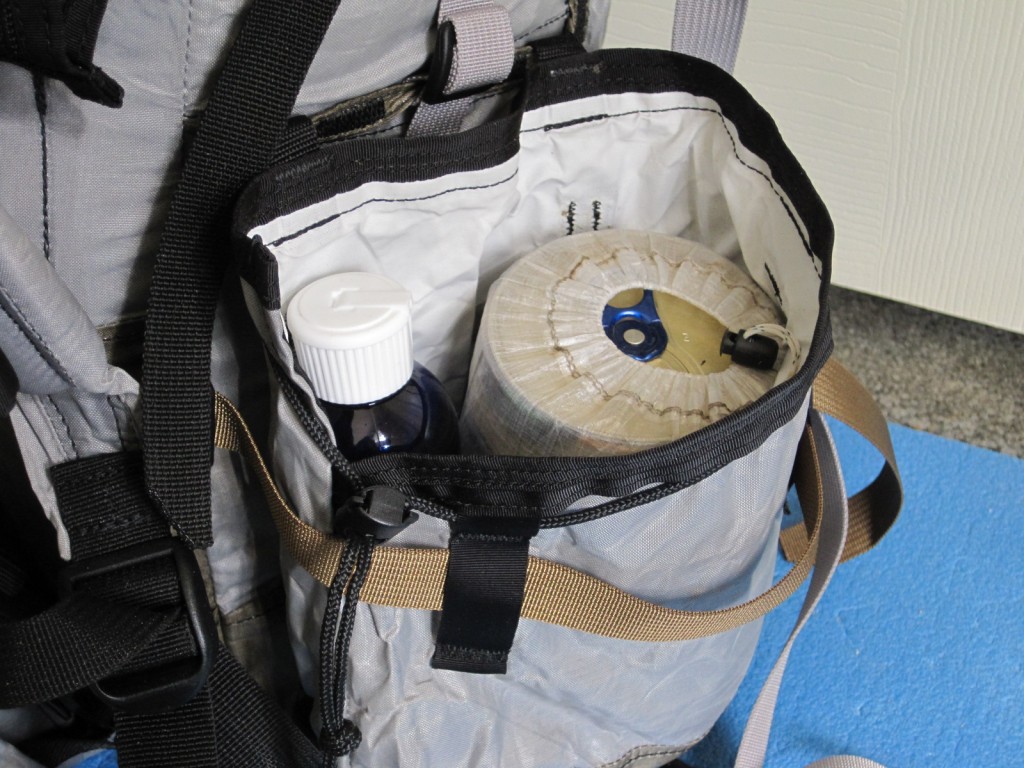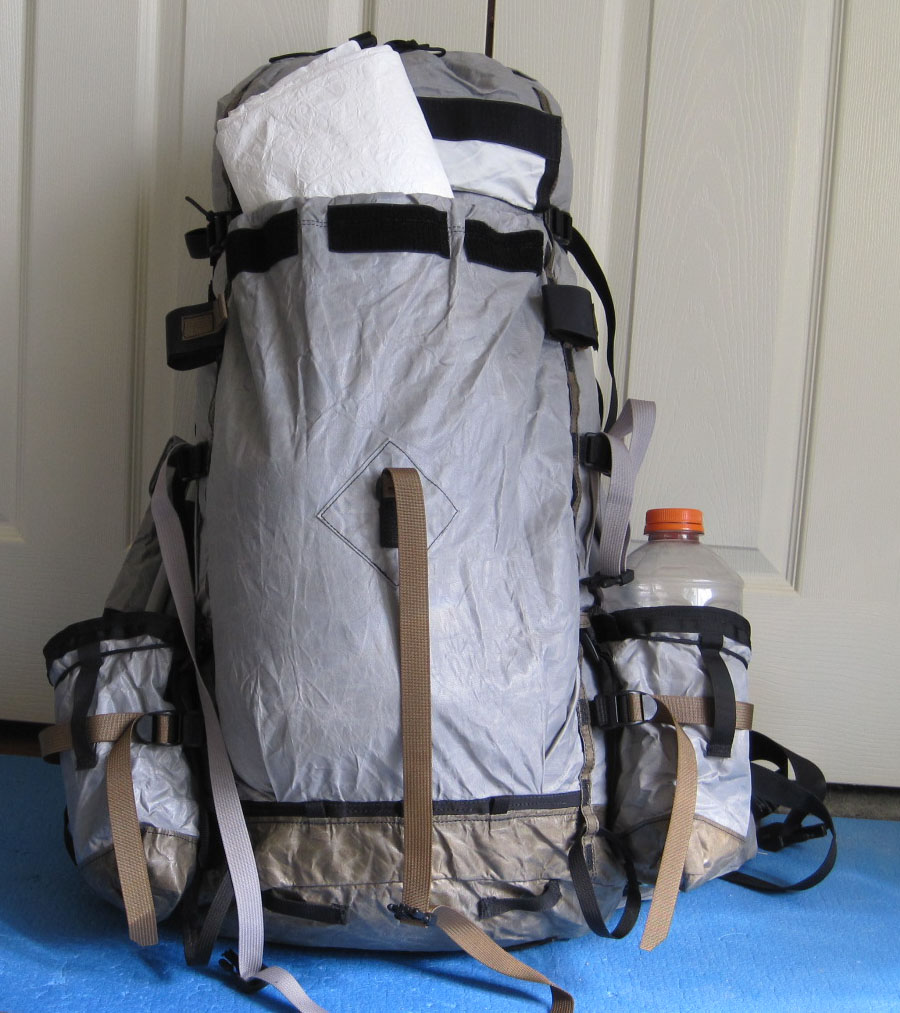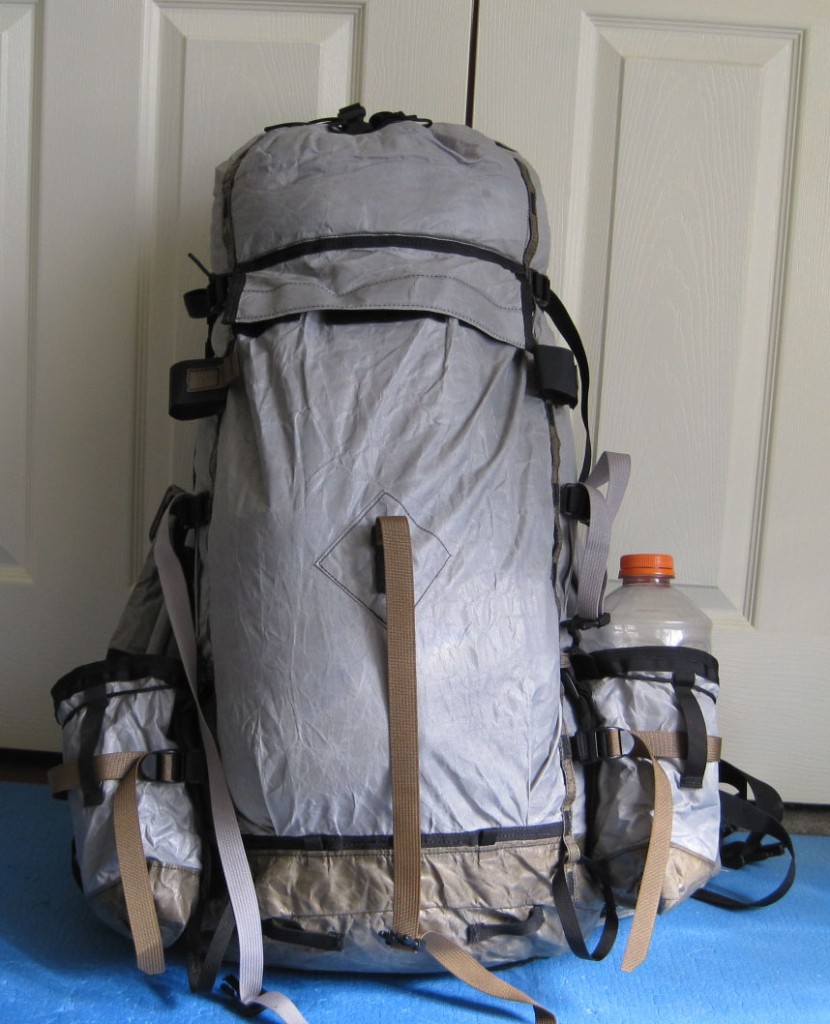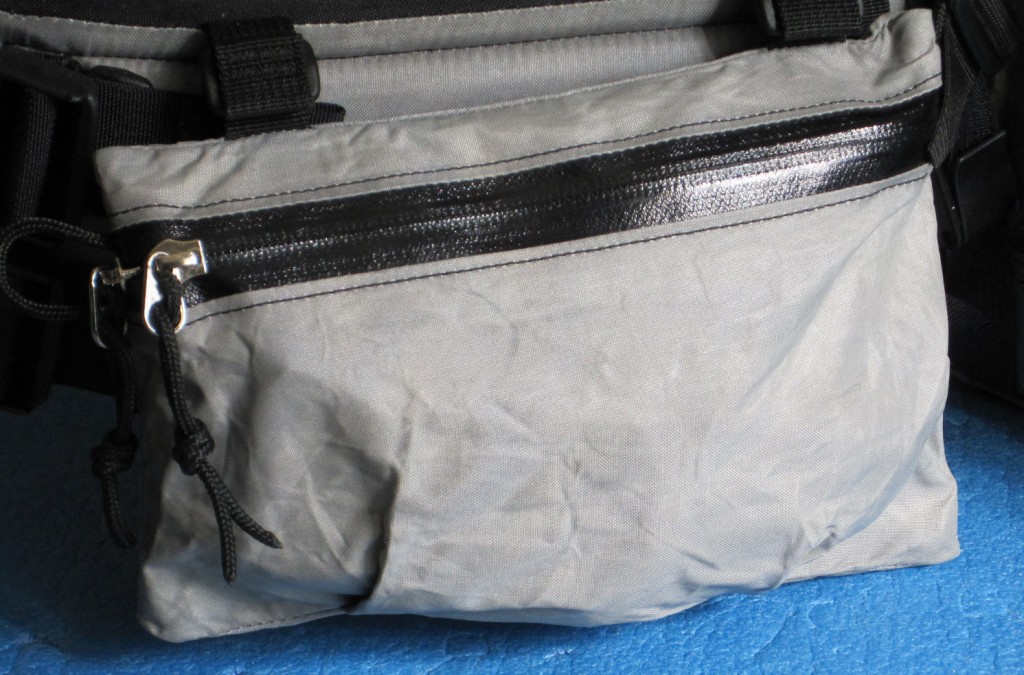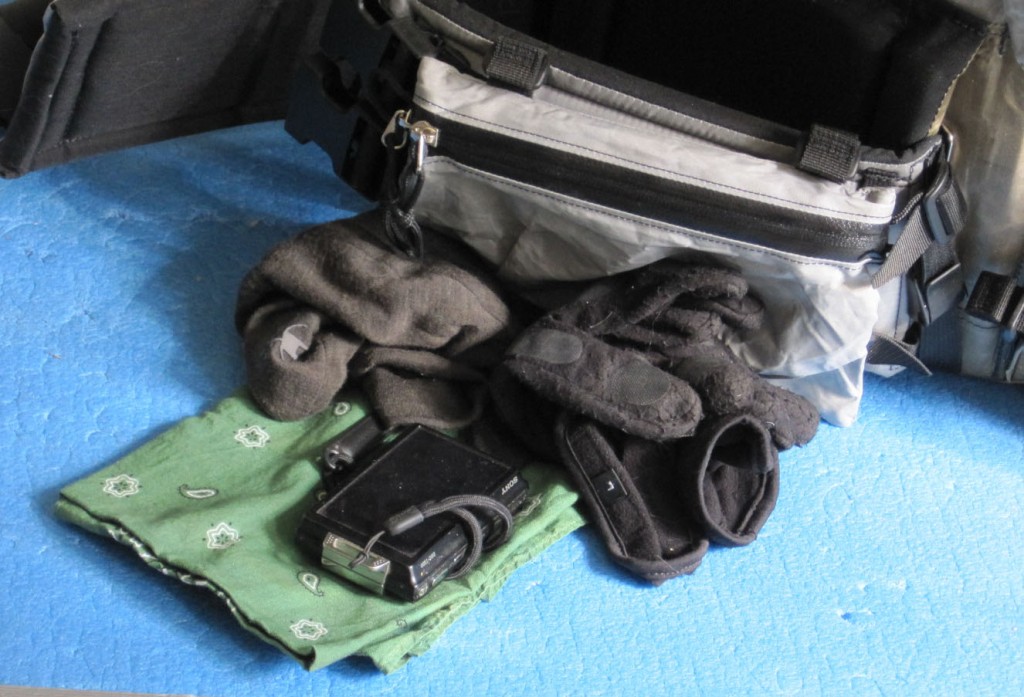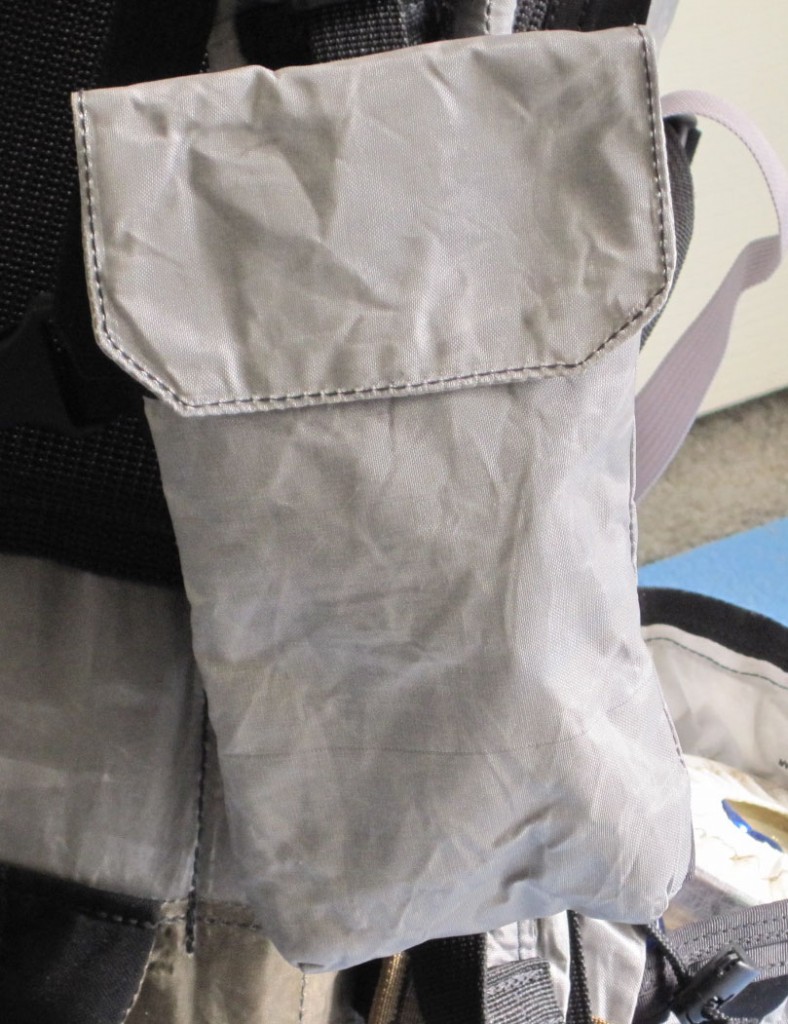 Presto Should Strap Pocket.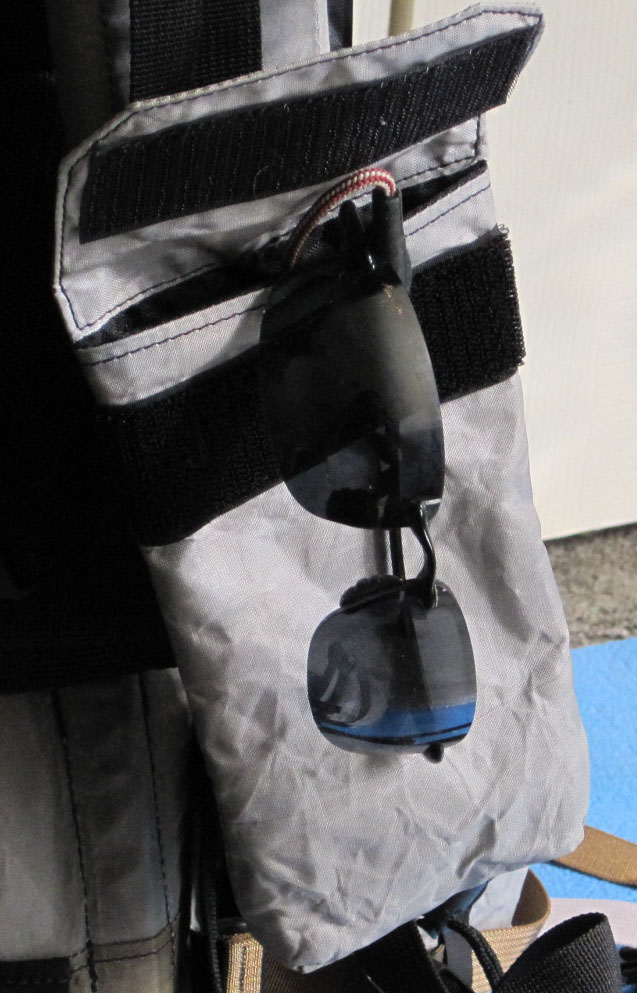 By-pass Harness and P&G Bayonet Frame extension system
From the McHale Website
The Bypass Strap System. Our patented 'Bypass' shoulder system makes shoulder load adjustments easier and more effective than ever.
During the summer of 1991, McHale developed the new shoulder system after concluding that too many people were not getting the knack of the conventional system and were missing out on backpack comfort and performance. He actually invented it while walking down the trail after climbing Mt. Daniel in the Cascades. This of course was after trying to teach thousands of people over the years how to use the industry standard conventional system. The old system simply was not user friendly, especially when the user was tired and fatigued.
In our 'Bypass' system, the upper stabilizer/lift strap adjustment and the lower shoulder pad adjustment are completely independent of each other. Now, the upper adjustments' function is to hold the backpack against the back. It no longer has the dual and conflicting duty of lifting the shoulder pad when the shoulder pad is loosened from below. Now when the shoulder pad adjustment is loosened from below, the pad simply slides upward along the 'monorail' of the stabilizer strap without the stabilizer straps loosening and causing the pack to fall back – as in every other system on the market. When you are ready to pull the shoulder pad back down, simply pull it down; it will slide back down the stabilizer strap without resistance and does not change the stabilizer adjustment. This new ease of adjustment is wonderful and we are sure it will revolutionize your comfort level.
Notes about the 'Bypass' System
At first, many people do not see how this new system could be better. For people not mechanically inclined, the beauty of the system is that you pull on it and it works! The old system, which is used by every company in the industry, is problematic because the shoulder pads will not pull down when you pull – they are held up at the other end of the system. This simple and obvious conflict causes so many problems, it would take four pages to describe them all.
In short, say you want to adjust the load on your shoulders, using our system, you simply pull the pads down or let them up. This entails one step. If you want to put more load on the shoulders with the old system you first have to loosen the top straps and lean forward because the pack will fall back otherwise. Next pull the pads down to the level you want – hopefully you let out enough strap from above – otherwise let more out.
Finally, pull the top strap forward to restabilize the pack. Unlike the 'Bypass' system, the old system requires 3 steps and a lot of patience and practice to master. Another problem with the conventional system that is unnerving is that letting loose either top or bottom strap will cause the pack to fall backward. With the 'Bypass' system, only loosening the top strap loosens the pack against your back, which is its purpose.
The P&G Bayonet frame extension system. They add length to the frame and in the process the shoulder harness converts from our simple guide harness to the Bypass Harness. The Bayonets can be used to stabilize a bigger heavier load without adding the Bypass straps as well. These bayonet stays are just under 12″ long x 1/2″ x 1/8″ and weigh 2.4 oz / set. They overlap the lower main frame for half of the length of the bayonets and make adjusting headroom a snap.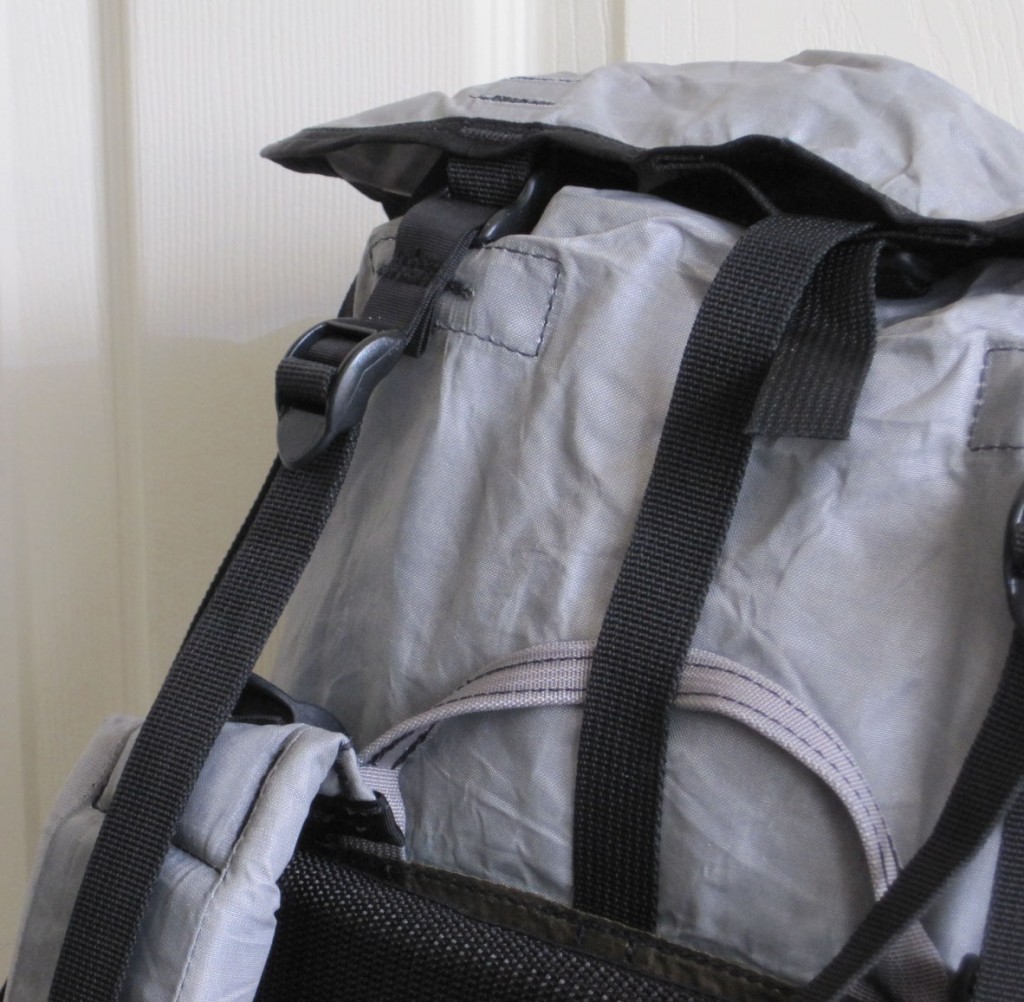 You use the P&G Extensions to carry larger heavier loads. The extension adds several inches to the top of the frame, and then places the By-pass straps at the top to help stabilize loads (see the above picture).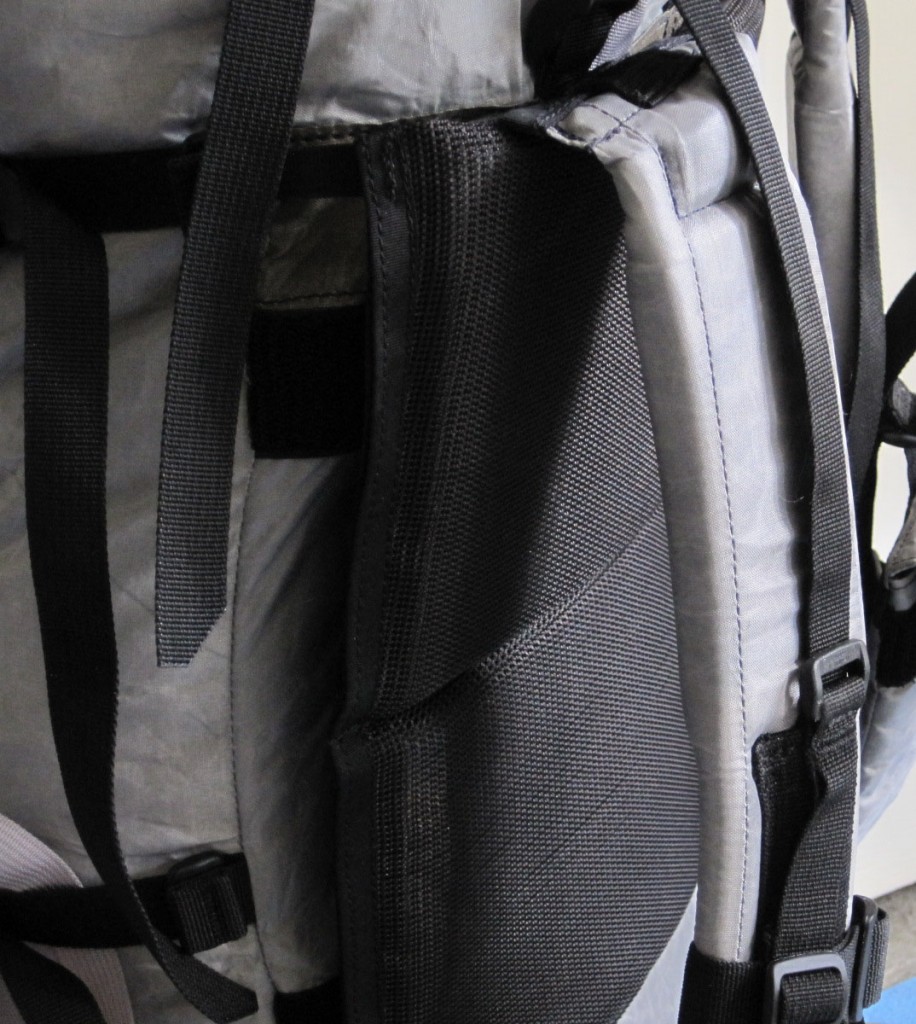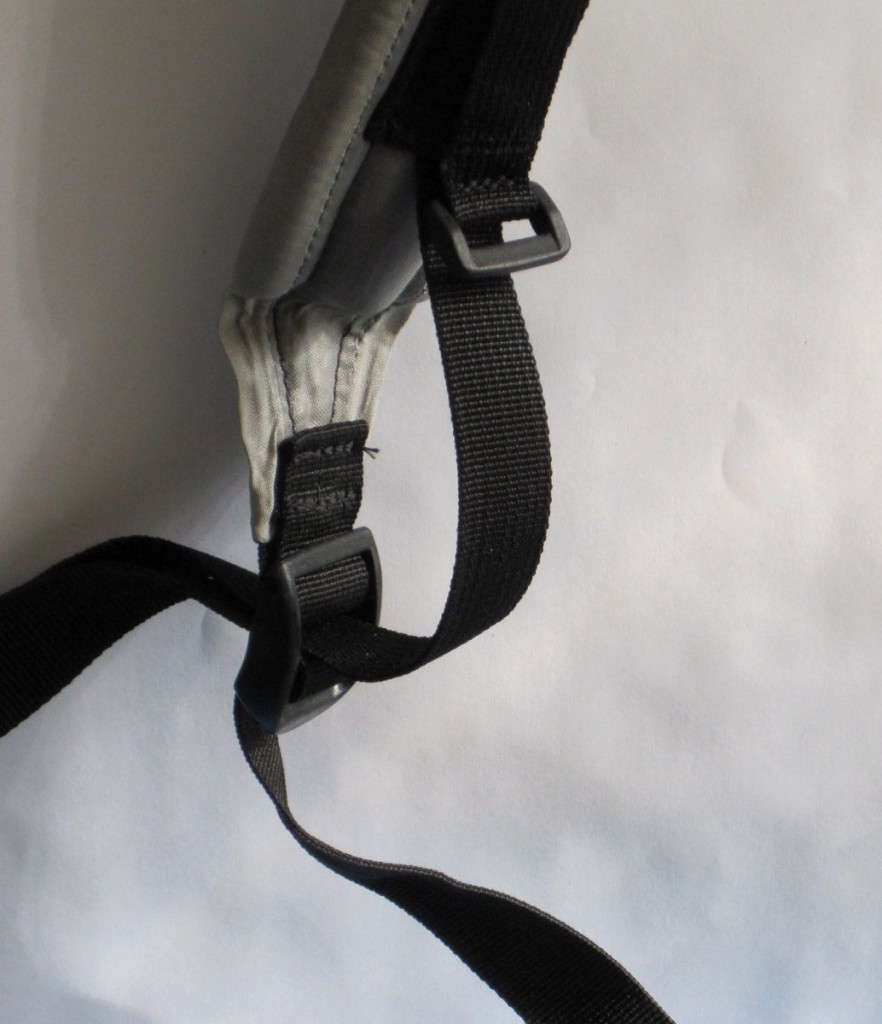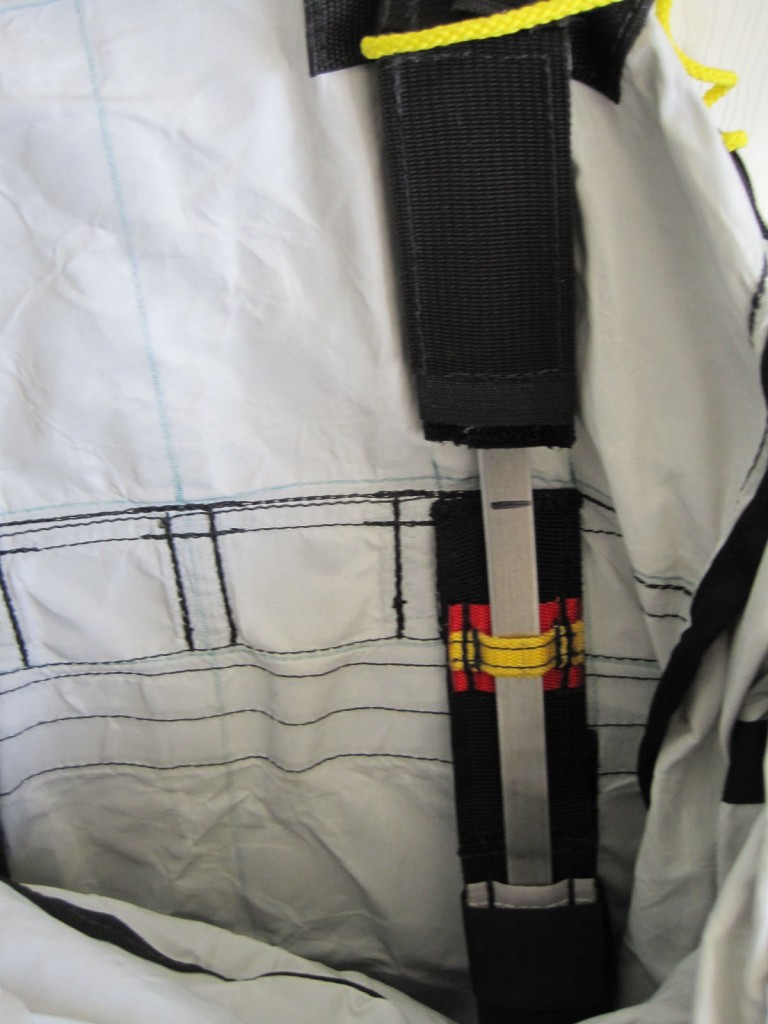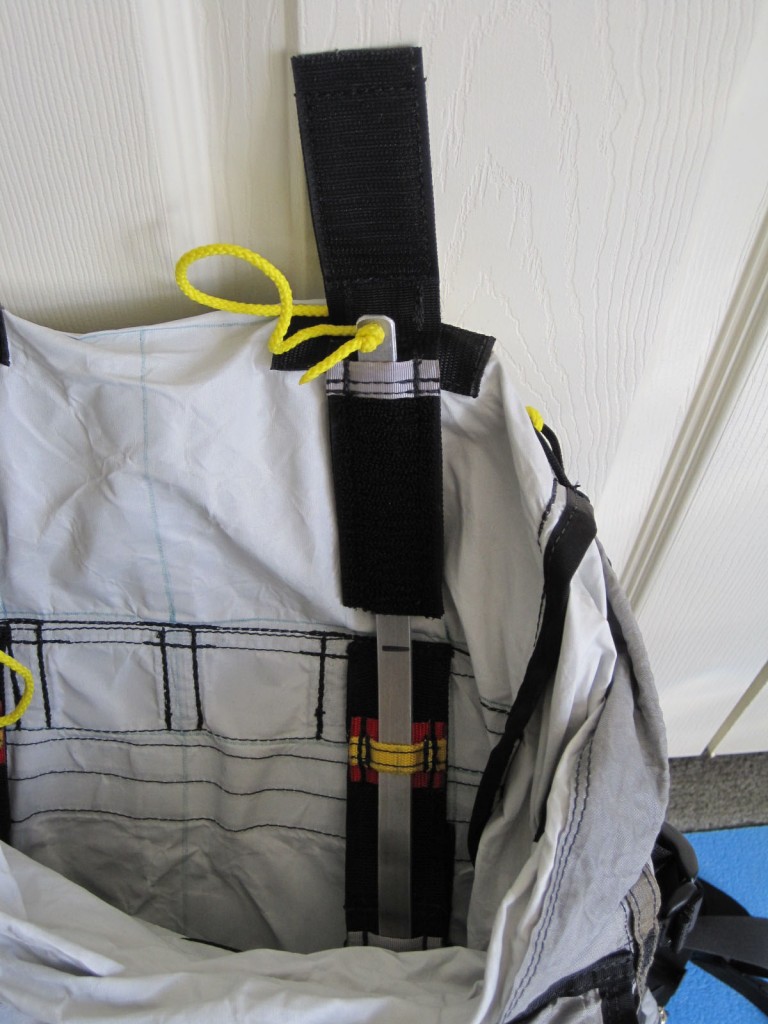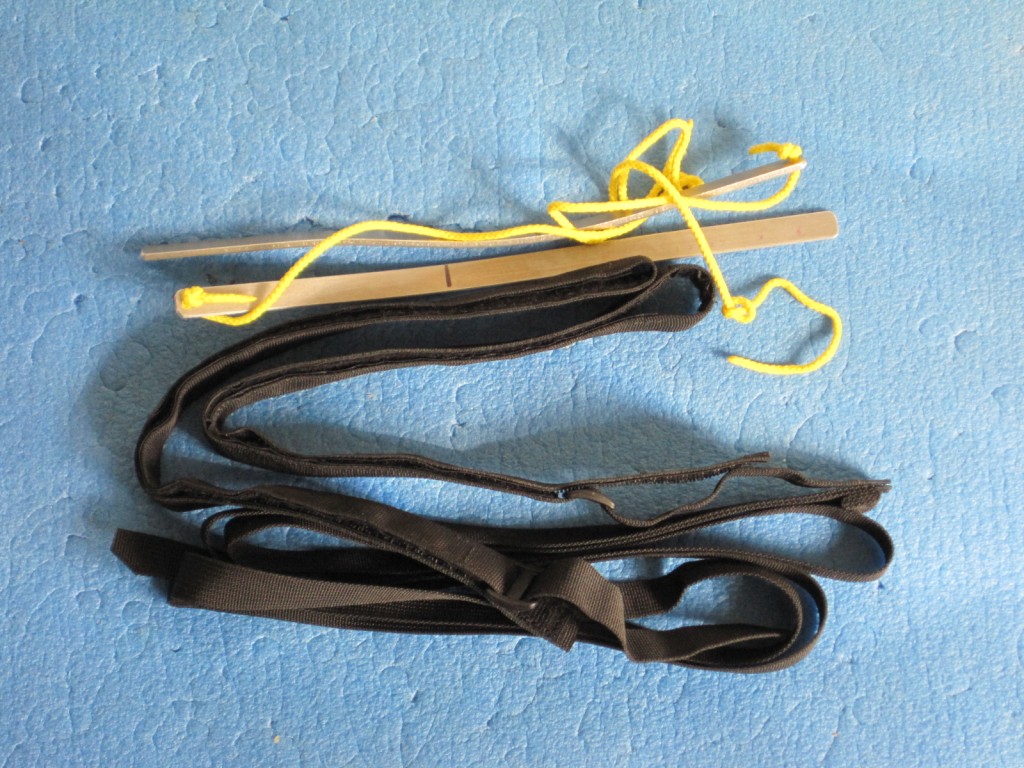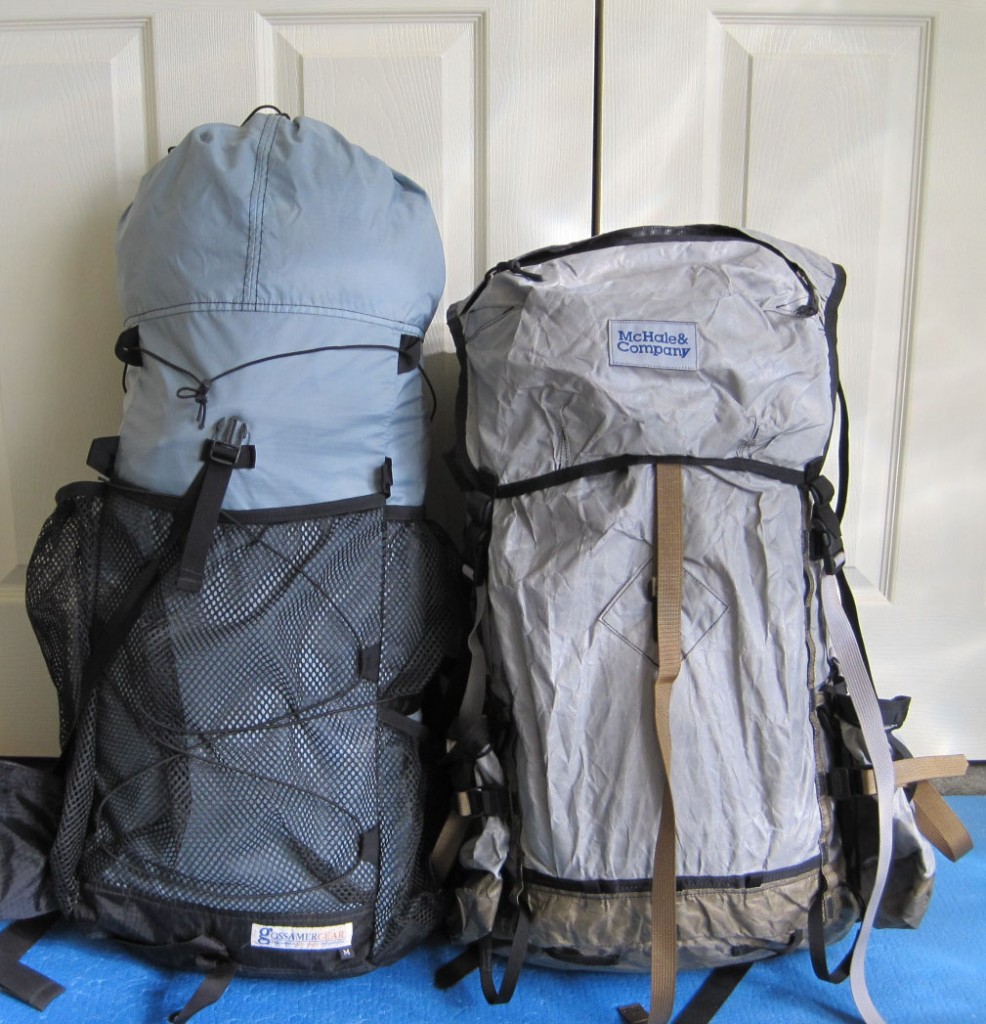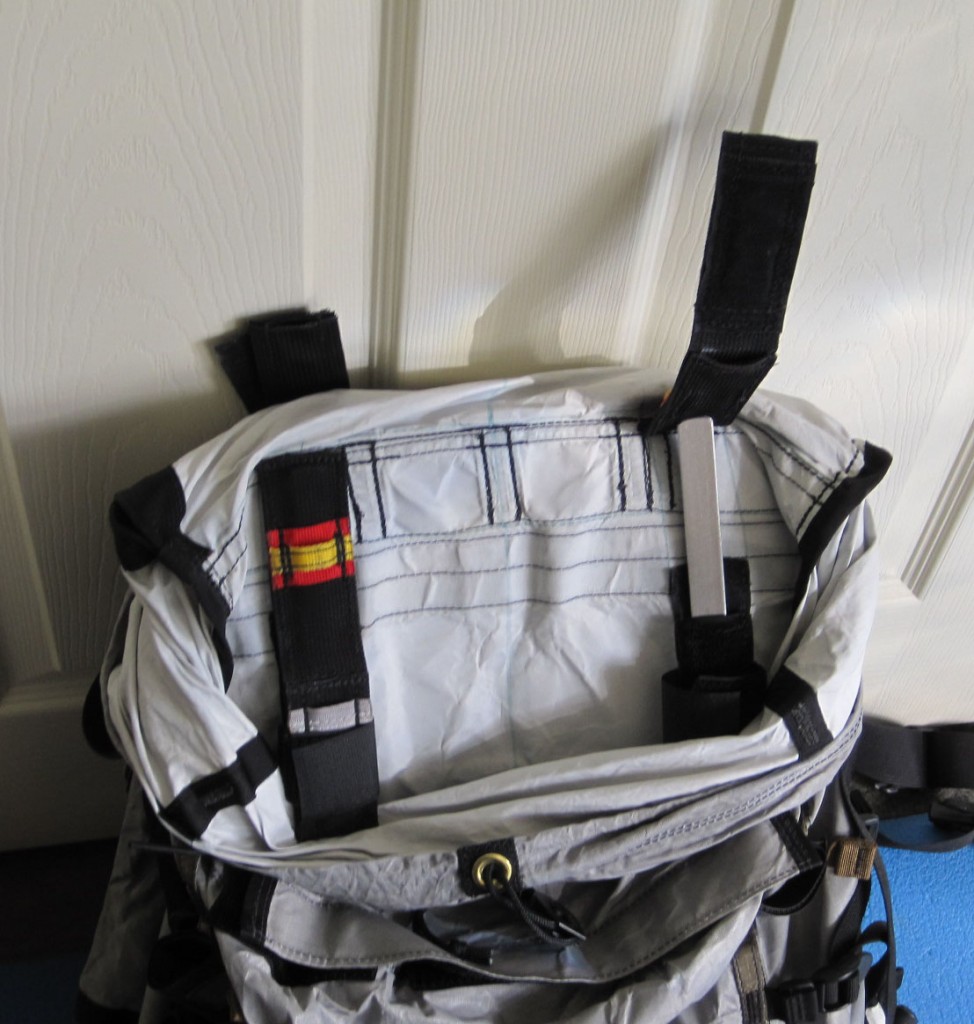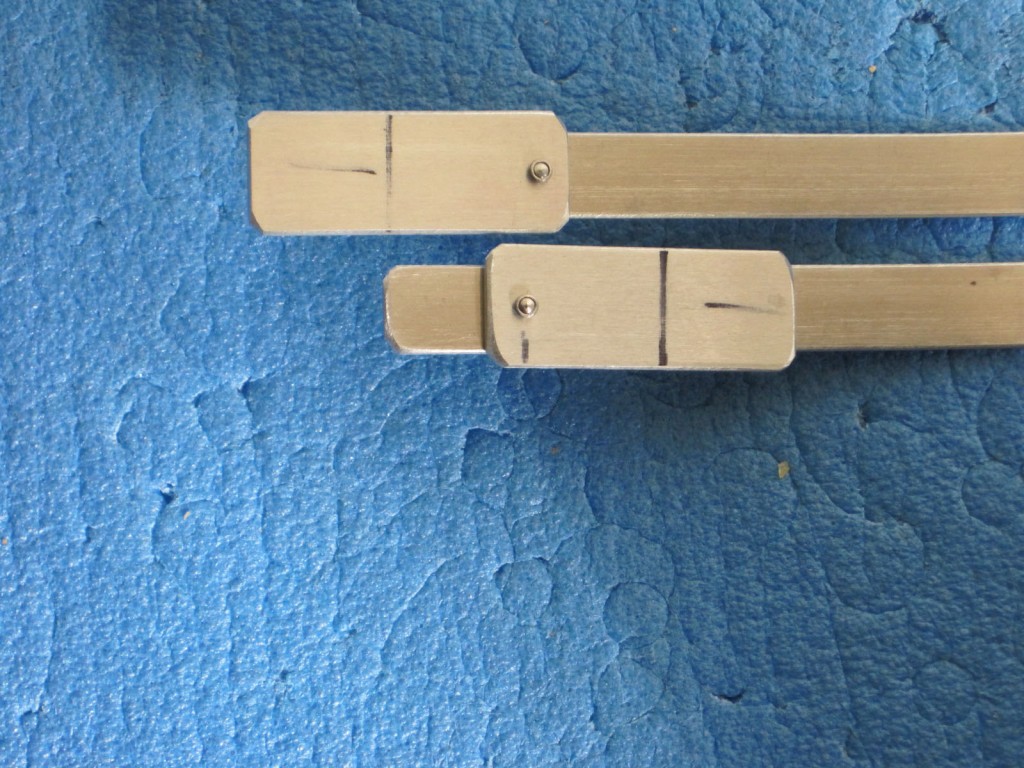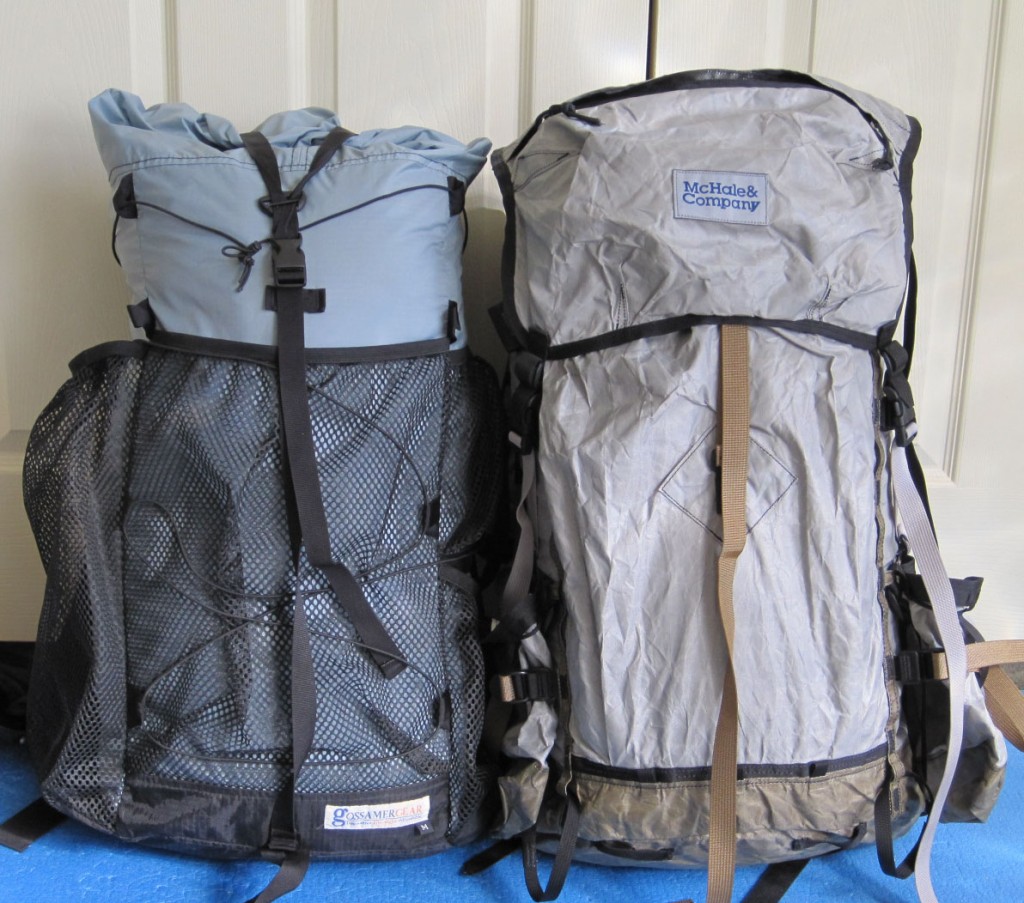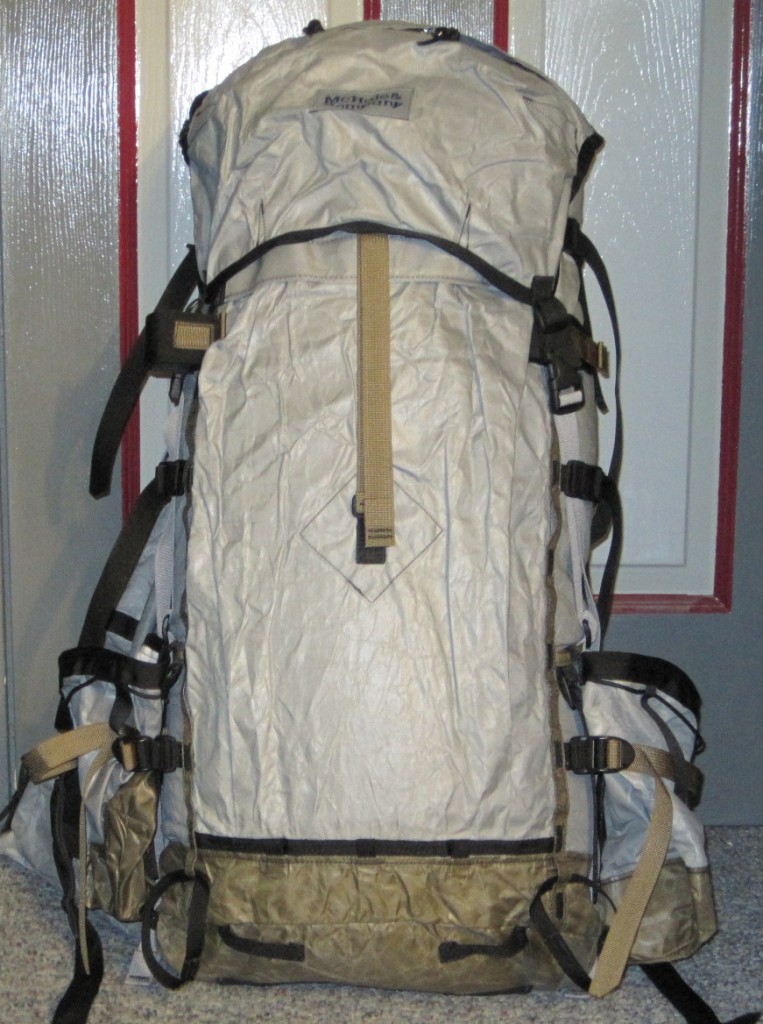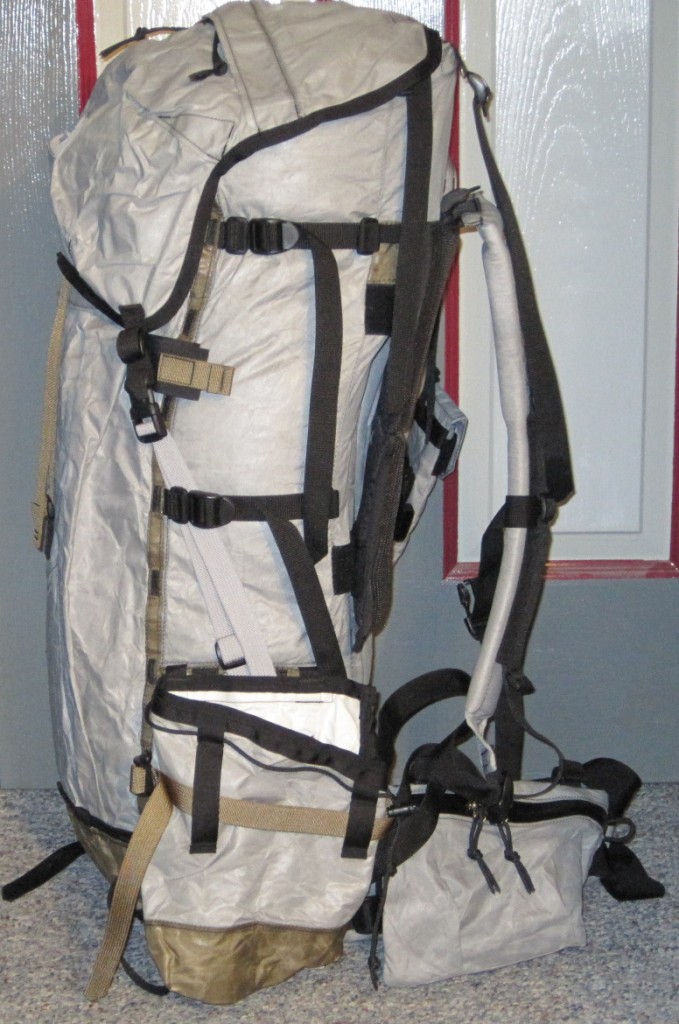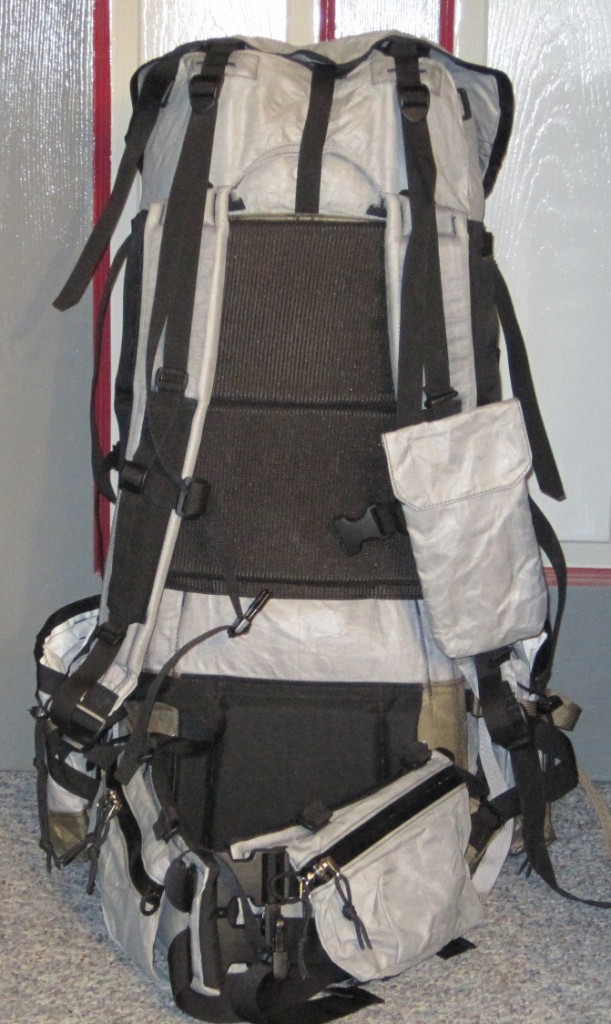 Yes, the top foam pad on the rear of the pack is removable. The lower lumbar pad is not. I can tell you it is great to sit on in snow. Other than that I am not one to fiddle with gear or comfort when hiking. Logs and boulders are great places to sit for me, unless really wet. Here are some pictures: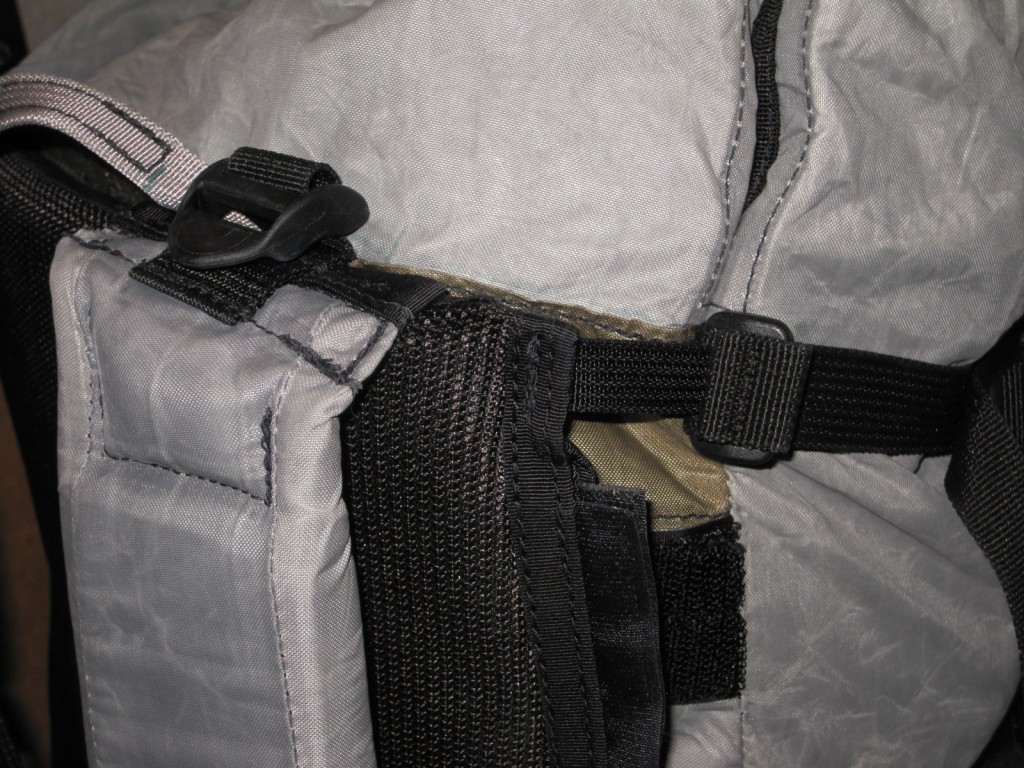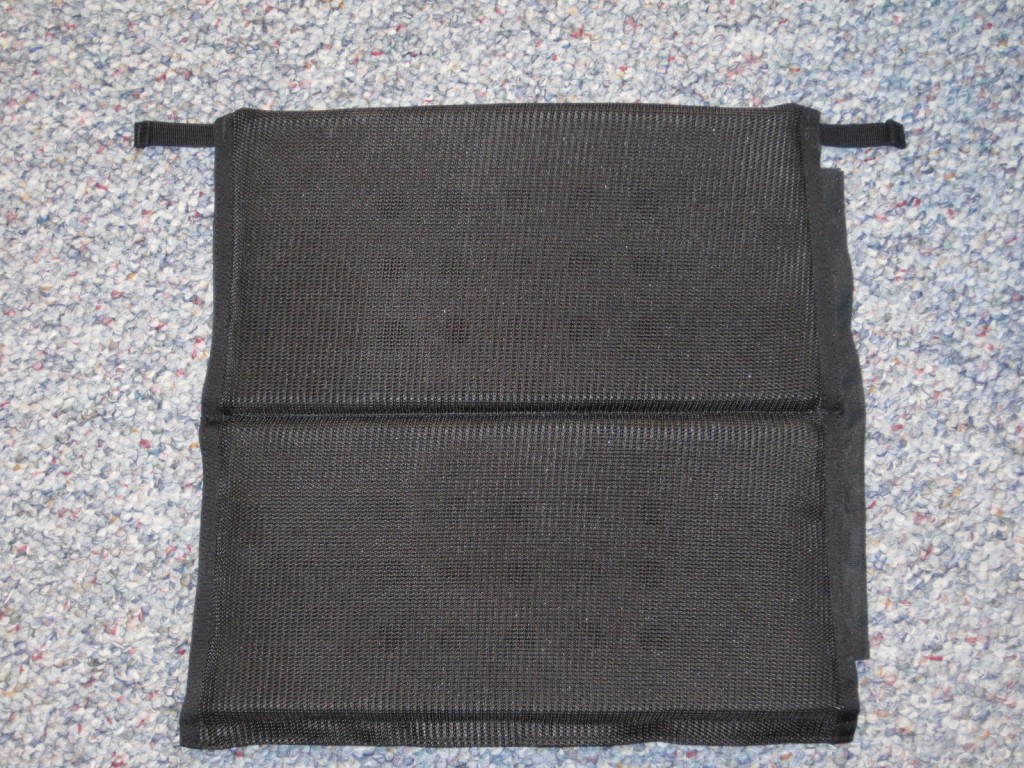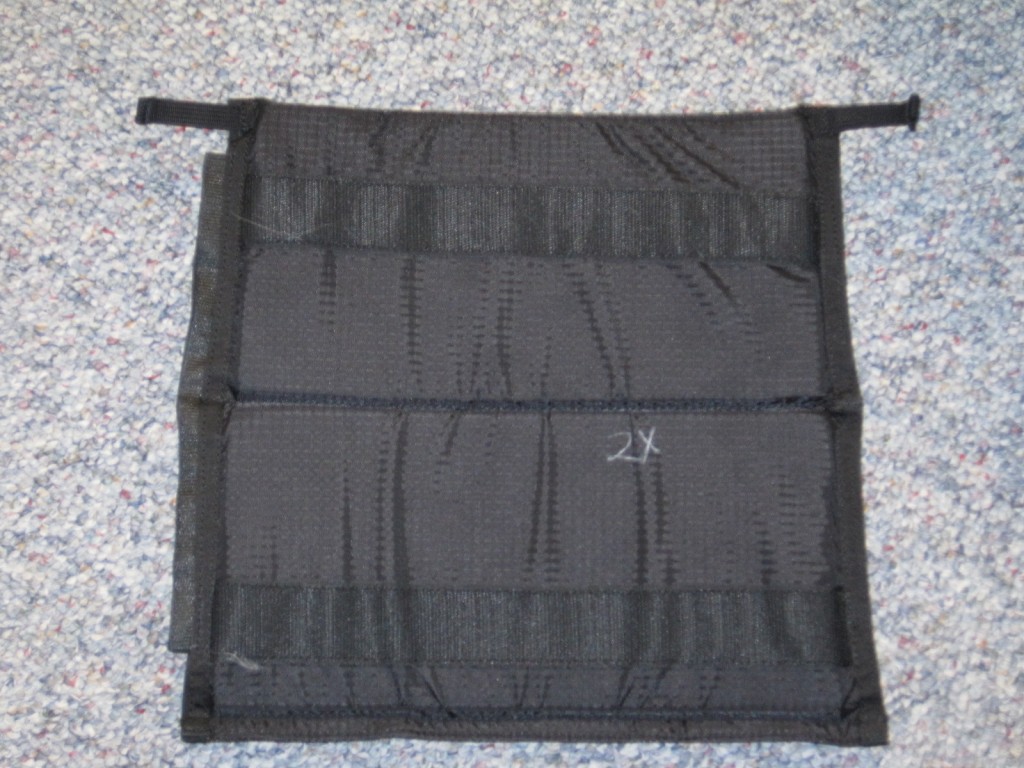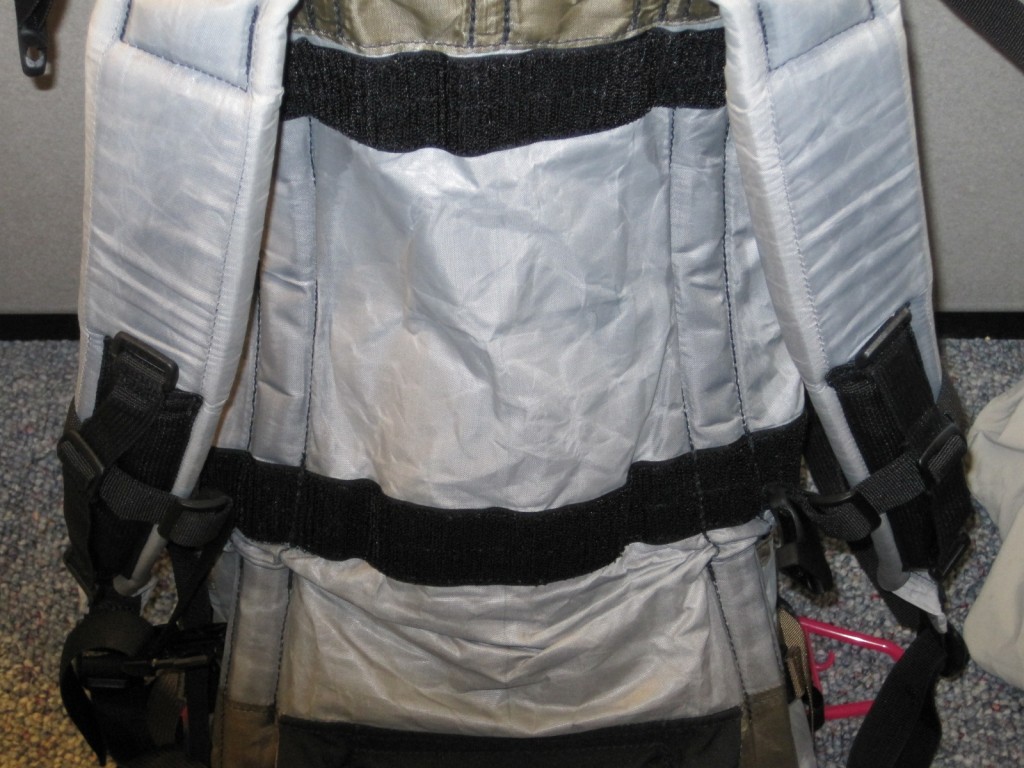 Conclusion
I have to mention that pictures cannot describe the attention to detail, quality of materials, or workmanship. Every single feature and function is well thought out to the tinest detail. Most of the sewing is double sticthed or better. All of this adds weight but you are not going to be worrying about any kind of failure on the trail.
details from the McHale website
Pack Construction
When people ask us about our guarantee we like to say our packs are built so well they don't need one. In an industry where virtually every company has a lifetime guarantee and no company builds gear as reliable as ours, we feel the importance of saying something different. Printing words on paper is easy. To pull off the much more complex task of getting each and every customer an absolutely reliable product is something they can't do. Enter the "lifetime guarantee."
It is important to realize guarantees open the door for companies to compete on price to gain market share and slap a guarantee on the product to make up the difference. Dan McHale grew up building his own gear for big wall rock climbing in Yosemite. All of our gear is that tough. How tough is that? Well you can't measure it in our packs without industrial measuring devices. For instance, you cannot kick out the haul loops on our packs with just your feet and you cannot pull out the compression straps with your hands! You would be amazed at what is out there. Guarantees are worthless in the real world but a reliable product can save your life. "Defect in workmanship" is simply not in our company vocabulary.
Naturally, most people don't know the first thing about pack construction so when a company tells them it uses boot weight thread they're impressed. Did you know our pack weight thread, # 92/16 lb. U.V. treated nylon, is over 30% stronger than # 69 "boot weight" 10-12 lb. thread? Did you know that heavy duty Norwegian welts used in leather boot construction are sewn with threads not nearly as lightweight as #69?!
Companies using # 69 thread generally are using clothing weight sewing machines and have to design their packs to the maximum capabilities of those machines which are the minimum capabilities of our walking foot machines. Number 69 thread happens to be the largest thread size that smaller "needle-feed" machines can hold efficiently. McHale & Co. uses # 69 nylon thread only for bar tacking, rain covers, camera cases and pack seam taping after the seams are multi-stitched with # 92-16 lb. thread. MOST packs are made overseas in contract factories on clothing machines.
Seam Margins
Seam margins are twice as wide as those of other packs. There is real substance to our 5/8-3/4 inch wide main seams. As for the stitching itself, we gravitate toward the excessive in this respect. More is always better than less. Thread doesn't really weigh much but you will get weighted when something fails 2 years down the road. Surprise! Other companies talk about how many times they sew stress areas and the like. Read these claims as; we wish we could sew things as well as you would like but at these price points it's impossible. Here, why don't you take this nice lifetime guarantee instead. Count on our packs having twice as much thread as anyone else even claims.
Pack Frames
Our minimum frame requirements are 2-3 times greater than any other pack. Our packs aren't over kill, either. Other packs are under-engineered. Carbon Fiber; so far, 7075-T6 aluminum is superior in every way especially when the companies that do use carbon fiber don't use an adequate amount for heavy loads. 7075-T6 is used in every sporting goods industry except backpacking. McHale & Co. is the only company to use it exclusively and we stock at least 7 dimensions. Chief advantages; cannot be broken, will not become misshapen with heavy use, and can be reshaped. Carbon Fiber shapes are permanent.
Hardware
Fastex was the original "hammer proof" plastic hardware and after 25 years is still one of the best. Duraflex also has some innovative and very lightweight buckle designs that we use. Our Fixloc brand hip belt cam buckle option is the strongest synthetic buckle in the world and is also distributed by ITW-Nexus-Fastex. Custom Metal Crafters, of Newington, Connecticut, makes our zinc plated metal sliders. We also use selected heavy duty ladder locks, from American Cord & Webbing for shoulder pads and bayonet system. Our light pattern stainless steel sliders that attach non-CM belts are from Cole-Tech of Pennsylvania.
Foam
Evazote; We've been using it from the beginning. It's an English import. It's expensive but has the right structure and compressibility so we can avoid building clumsy and bulky dual density belts. In years gone by it has been known under trade names like Regalite and Cosmic Sleep.
Zippers
YKK # 10 Coil. Zippers are the most vulnerable part of a pack. No other company uses # 10 exclusively. Our zipper flaps are the widest too – they actually cover the zippers! Keeping zippers clean and protecting them from abrasion keeps repair bills down. Also, after 25 years of using self-locking zipper sliders to ensure that zippers don't open by themselves, we're still the only company doing so. Number 9 and # 7 YKK zippers are used in our ultra-light packs.