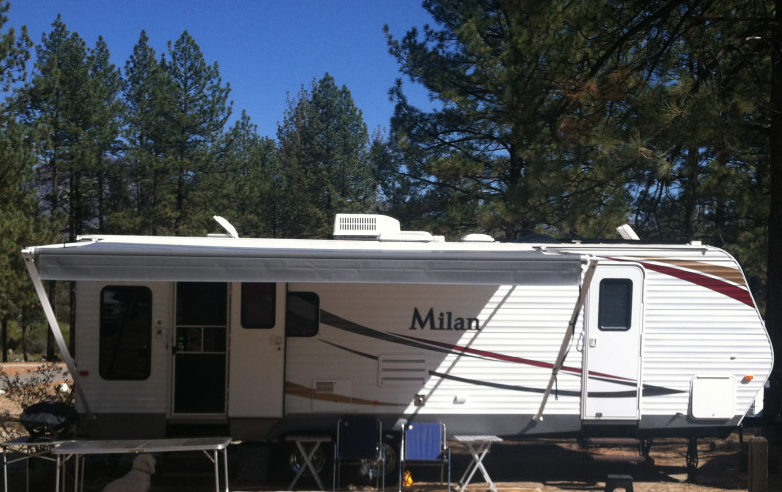 A full time RVer is someone who travels and lives in a Recreational Vehicle (RV) full time. For this post a RV is defined as a motorhome, 5th wheel, travel trailer, tent trailer, truck camper, van, etc. Those who live and travel in a RV will be called Full Timers.
Typically a Full Timer stays in campgrounds (private or public) or remote areas where camping is allowed for a period of time, then travels to the next camping spot often moving where the weather is nicer. Often Full Timers will stay in one place for a week or two, but sometimes may stay for a month or longer. In the US think southern states in the winter and northern states in the summer.
Until recently, the main demographic for Full Timers was retired people who sold or otherwise dispensed of most of their belongings and kept whatever would comfortably fit into their RV.
For a period of time during 1998-2000 I was a Full Timer, living and traveling with a small Ford Ranger pickup truck and my 1992 Starcraft tent trailer – however I was able to work full time too. It was a great time and lifestyle. But more on that later.
Many people who camp dream of becoming a Full Timer; spending all your time on a continuous vacation. What fun!
So now I am retired. Should I become a Full Timer again?
Since that time (almost 20 years ago) little has changed about Full Timing, other than the demographics. More people are doing it and there are an increasing number of families (home schooling their kids) and younger people who can earn an income while traveling and working from a RV.
MY EXPERIENCE AS A FULL TIMER
In 1998 I was working as a consultant traveling to client sites, and managing 13 people who were also consultants. My employer was located in Michigan and we had over 100 remote employees working as consultants throughout the US. I was never home – except on weekends. There were tenants renting my house in Palm Springs and I was based in the Phoenix area, renting an apartment. It was expensive and crazy to rent an apartment that was unoccupied during the week and I was going through a divorce so I had few personal possessions. It was a stormy time that just begged to turn it into a perfect storm. So the apartment was let go, the possessions that could not be loaded into the trailer and pickup were placed in a small storage unit and freedom beckoned. But there were a few things that needed to be worked out. These things are still the same logistics that today's Full Timers have to solve.
A Permanent Address and Mail

Without a mailing address you cannot have a checking account, driver's license, passport, credit card, vote in elections, etc. You cannot work for an employer without an address for payroll withholding purposes.
By 1998 I was paying most my bills online, so I didn't need an address; but my bank and credit card companies did. The Government requirements for a mail address and what they call a permanent domicile could not be circumvented.
One solution was renting a mail box at a US Post Office. However, Post Offices will not accept packages from UPS or Fed Ex. You cannot call or email a Post Office to forward mail; you have to fill out paperwork in person. Bad option.
But a private mailbox worked for me. I rented a box at Mail Boxes Etc. I could call them and they would forward mail and packages (for a fee of course). Since I could retrieve most of my bills on the Internet I received little mail. So once a month or so I would stop by and get any mail or packages.
Today there are companies that specialize in providing these services to Full Timers. South Dakota is a popular place for a domicile via a mail service due to the low state fees for vehicle registration and no state income tax.
Cell Phones and Internet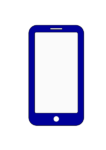 Today few people have landline phones. But almost everyone has a cell phone, and Internet connectivity.
Things were different in 1998. Companies did not expect employees to be available 24/7. Cell phones were expensive. Corporate voice mail (you dialed an 800 number to retrieve and send voice mail) and pagers were the norm. Email was just for important communication and one was not expected to answer right away – a day later was acceptable. Broadband did not exist. Internet access was accomplished via dial-up on a landline phone. My company used an 800 number for Internet dial-up.
What many people today don't know is that in 1998 many pay phones had a data port to connect a computer modem. I would connect my laptop's phone cable to the data port, call the 800 number (no coins required for 800 numbers) and the computer was connected to the Internet at the lethargic speed of 1200 baud. And of course, I could retrieve voice mail and call people from a pay phone. Today pay phones are as rare as cassette tape players.
There were many weeks I was not expected to be onsite at a client location, but was supposed to be in my home office managing the team. My home office was my camper in a campground that had a data port equipped pay phone, or a remote camping spot that was not too far from a pay phone. I didn't need to be connected to the Internet continuously. I would check my email three times a day. If someone needed to talk to me they sent a page or left a voice mail.
Today I don't really need a cell phone. I average less than 60 minutes of talk time a month. Internet is a must, since I handle all my finances on line, but I can schedule payments far in advance so internet access once a month would work, but it would be somewhat inconvenient. However, I can and do use my cell phone as a hot spot to connect my iPad or laptop computer to the Internet. It's old technology.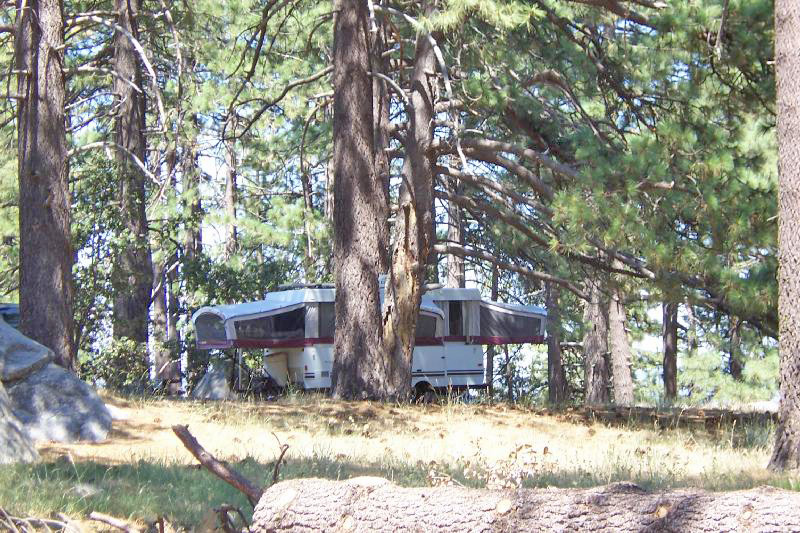 In 2006 I spent a week in the mountains working from our tent trailer. I held conference calls, did email, and used the Internet with a Palm Treo cell phone connected to my laptop.
Internet access every two weeks or so would work well for me. With the improvement in cellular technology things are better today than when I was Full Timing.
Leaving the RV at the Campground
Because I was towing my tent trailer with a truck, it was easy to leave the camper at the campground if I had to go work with a client. If I had only a motorhome, I would have to pack up and move everything. That's why you see many motorhomes towing a vehicle behind it.
Sometimes I would have to work somewhere that wasn't close to any campground at all. In these cases, I would stay in a hotel and leave the camper all closed up in the parking lot. Sometimes I would leave the camper and truck parked in the parking lot at Sky Harbor Airport in Phoenix if I had to fly to a client site.
Back then it usually wasn't acceptable to companies to have employees who Full Timed in a RV. It was perceived the employees weren't working as they should.
In 1999 my company had all 100+ consultants come to Las Vegas for a week of training. We stayed at the MGM Grand. As I pulled into the parking structure my manager, his boss, and the company vice president walked in front of me and noticed the rig. A lot of questions… although my boss and his boss suspected I was a Full Timer, they didn't want the VP to find out. Of course the VP asked me what I was doing. I told him that at the end of the week I was going camping along the Colorado River, which was the truth. Besides, I had checked the employee manual and there was no prohibition against living Full Time in a camper 🙂
Today you would be surprised how many people are working remotely from a RV or running small businesses from the comfort of a campground. It's a wonderful life style and more conventional than it was years before.
In 1998-2000 there were no downsides for me.
The reason I stopped was my house, which was a rental. Without my knowledge the tenant moved out and her father moved in. Then the rent checks stopped. I had to evict him and the damage to the house was so extensive that I could not afford to pay someone to do the work, didn't have time to do it myself and couldn't afford to leave it vacant. So I moved back in and slowly started to fix things.
SHOULD I BECOME A FULL TIMER AGAIN?
The answer is No.
What has changed, you may wonder. Well… I am married and Joyce has no interest in Full Timing. She is okay with camping and traveling for about 50% of the time, but wants a place she can come back to – a home.
She also is unwilling to stay in the camper alone while I go off on my backpacking trips.
For now the conversation doesn't matter. She wants to continue working for a while. Her job is still fun. So there is no need to engage in the dialogue – and there is nothing to debate. I am totally fine with what she wants and it isn't a compromise for me. These are the things that make for a good marriage.
SHOULD YOU BECOME A FULL TIMER?
Perhaps you and your significant other (if you have one) think this is what you want to do. If it is, go for it! However consider this: I have been occasionally following a few blogs of Full Timers for over a decade. Many have just gotten tired of it (after they downsized and sold their homes) and ended up buying a house (the undesirable situation of selling low and buying high), or were not able to afford a house and had to rent a small apartment.  Others have gotten too old or physically unable to drive and had to stop. Something to keep in mind.