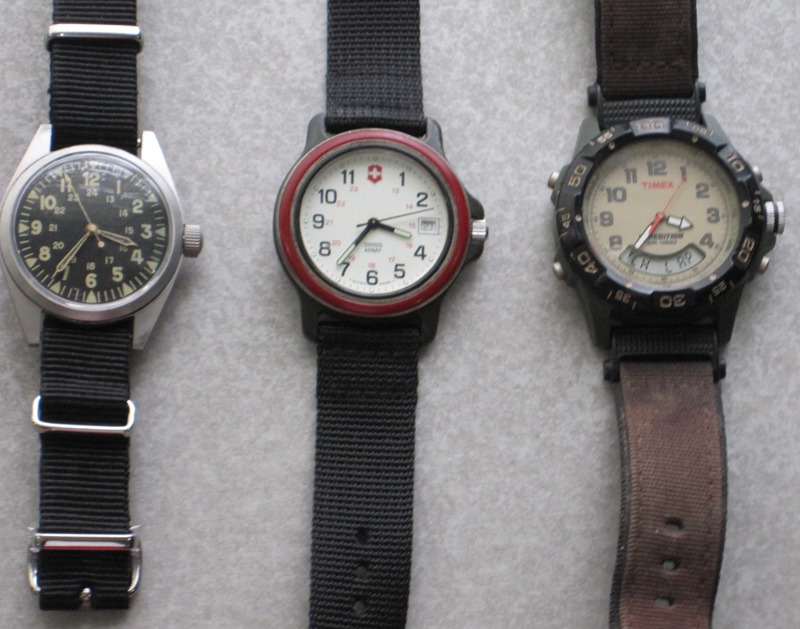 Are they gear? Doesn't almost everyone bring one with them?
Okay, a theme with a lot of gear I talk about is a disdain for technology. I have hiked without a watch and find that I am pretty inefficient. A watch helps me plan distances, keep track of my pace, and ensure I get back in time so my wife isn't worried about my safety. In clear weather it is fairly easy to determine the approximate time without a watch, but in bad weather you lose that ability.

I have had 3 backpacking watches over the years (sort of). A couple years ago I asked my wife to get me a Casio Solar Does-Everything-On-Earth watch, and it is too heavy and too complicated. But I take it once in a while. So here are my favorite backpacking watches.
US Military MIL-W-3818B watch. Benrus 17 jewel movement, self-winding. Still keeps perfect time. It got it in 1970, and I "retired" in 1990 because it was becoming a collector item, and I was tired of winding it every day.
In 1990 I bought a Victronix Swiss Army watch, which is the first model they released (1989). Battery operated with a date wheel. I used this watch until three years ago. Again it was becoming a collector item, and I wanted something with a light and a little lighter. Still keeps perfect time.
2010 an inexpensive Timex Expedition watch. Indiglo light and a couple of other minor features I can't figure out how to use.
Weights
Military Watch 40g or 1.41 oz.
Swiss Army Watch 45g or 1.59 oz.
Timex Expedition Watch 33g or 1.16 oz.
My favorite? Really hard to say. Military for sentimental reasons, Swiss Army is the easiest to read, and the Timex is light, has a light, and surprisingly rugged. Nowadays I always take the Timex.
WATCH AS A COMPASS
One nice thing about an analog watch is that it can be used as a compass. Well actually it does a pretty good job of identifying approximate north and south. Here are the steps if you live in the Northern Hemisphere:
Orient your watch so the hour hand points towards the sun. For a little more accuracy you can use a thin tent stake or twig to cast a shadow on the watch face.
If you bisect the distance between the hour hand and 12 o'clock you can determine the approximate south and north direction.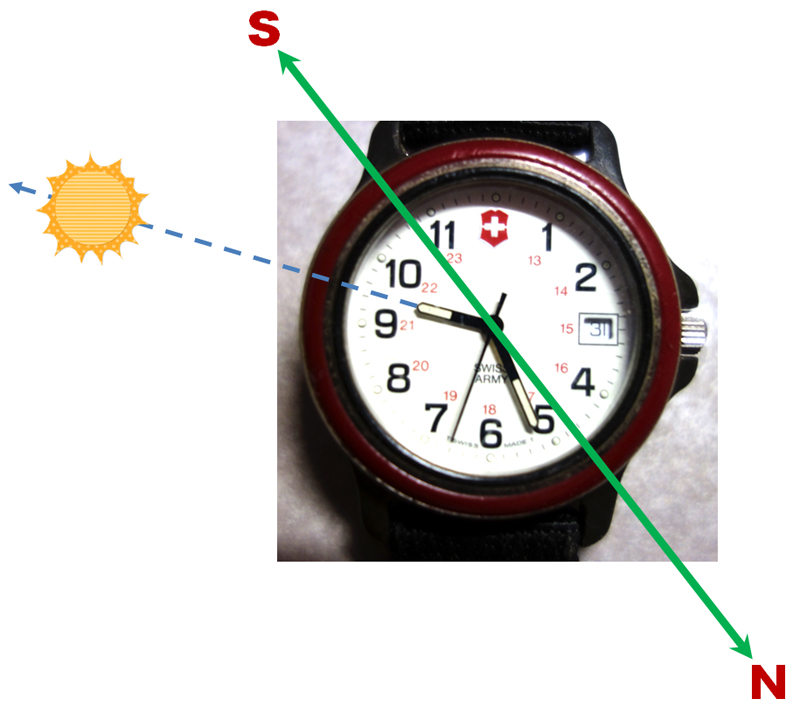 CASIO PAG80-1V PATHFINDER WATCH (model #2894)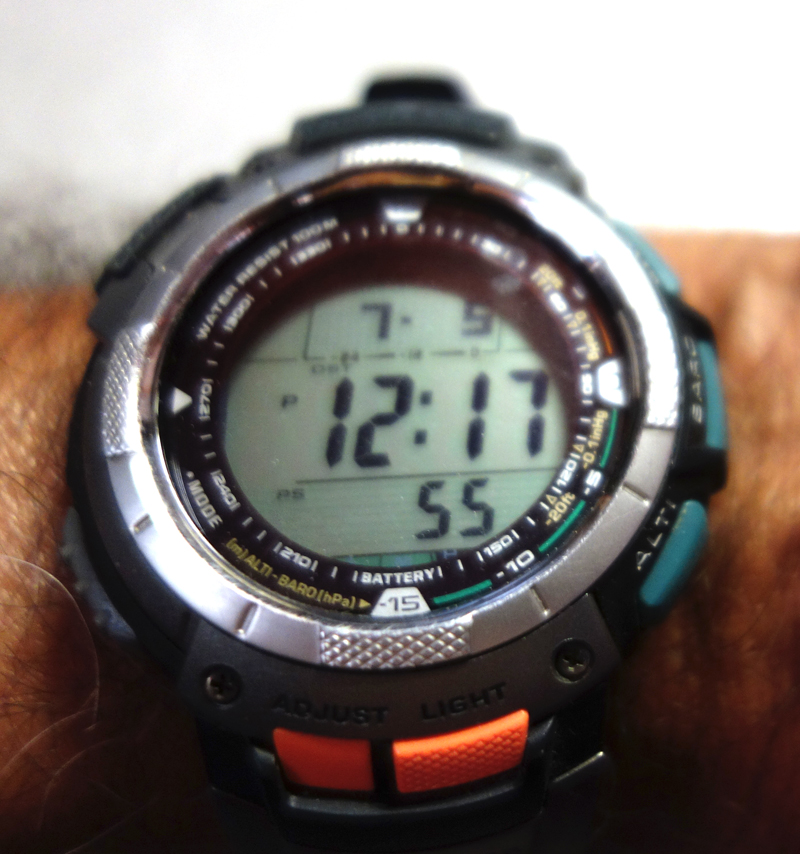 Many hikers like the do everything, high tech backpacking watches. I own a Casio Pathfinder that may fit the needs of many backpackers. It really is to bulky for me and all I really need is something to tell me what time it is. But if you are interested in this kind of watch, I will share the features, benefits, and drawbacks below. Casio makes some really rugged and reliable watches.
Features
watch function (tells you what time it is)
world time
date
alarm
stop watch
count down timer
button to switch from Standard Time to Daylight Savings Time
digital compass
barometer
thermometer
altimeter
solar charger
light button for nighttime viewing
many measurements can be view in several units (i.e., Fahrenheit or Celsius)
The watch has 6 buttons to view different functions and program the watch. Using all the functions requires study, practice, and memorization. If find all of this a lot of over-engineering and a general pain in the ass. However, the 3 large buttons make it fairly easy to switch watch functions.
The solar charging function and battery life is outstanding. If it sits for months the battery is still near full charge. There is a gauge on the screen that shows battery state of charge and a couple hours of hiking if full sun can fully charge a low state of charge.
The thermometer is not accurate while worn on the wrist. To get the ambient temperature, the watch must be removed from your wrist and sit for a few minutes to stabilize. Not very practical for me. Supposedly you can adjust the thermometer to compensate for body heat, seems like a lot of work and I don't feel like taking a thermometer with me to calibrate the thing — plus I wonder how well this works on trips where the temperature can vary by as much as 60 degrees Fahrenheit in 24 hours.
The compass seems pretty accurate, but I almost always take a real compass with me. I would never rely on an electronic devise as my only compass. It is fine for approximate north/south readings.
I think the barometer is accurate. But I have never had the need for a barometer. I can usually figure out what the immediate weather is looking like. Where I live we have storms in the mountains that are caused by air currents, not pressure fronts. The watch will graph barometric pressure over a 30 hours period. An increasing graph indicates improving weather and a decreasing graph means weather is deteriorating. Huge sudden drops in pressure means you might be in for some serious weather.
The altimeter is accurate to within a few feet. But you must calibrate it when beginning your hike. Since the watch uses the barometric pressure sensor to determine altitude, there are times you must re calibrate the watch several times on a trip. But the watch can be very useful in areas where it is difficult to pick out prominent land features. Of course a map shows the exact altitude – assuming you are not lost.
The watch is HUGE. Two inches in diameter and 3/4″ thick. The plastic watch band is not very comfortable and makes me sweat more than other kinds of bands (leather or nylon).
This watch weighs 2.89 ounces, which is about twice as heavy as my favorite backpacking watches.