Noah's Tarp, by Kelty
Tyvek Groundsheet, by DuPont
Adjustable Tarp Poles, by Big Agnes
Mayfly Chair, by ALite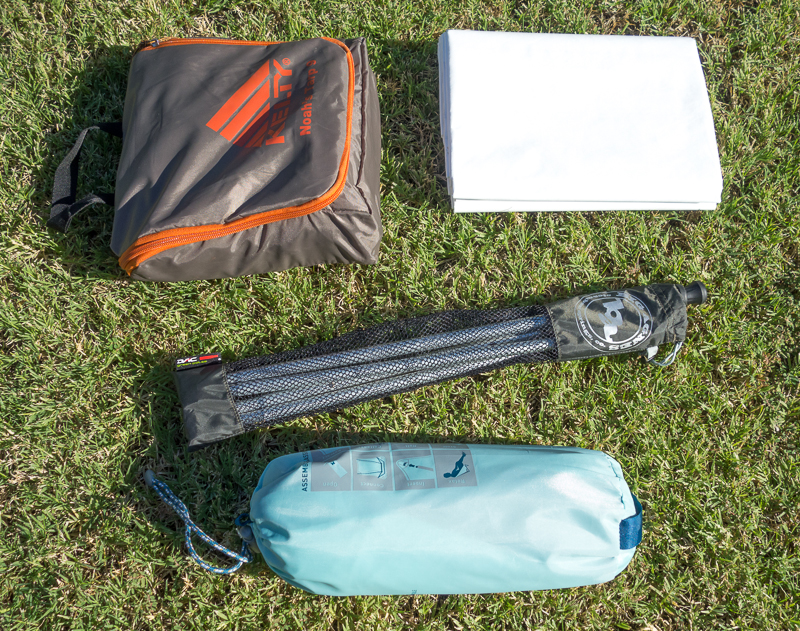 Yes, discussing backpacking gear is still boring.
Yes, this stuff is heavy.
Yes, I bought this stuff.
 No, I am not going to use it for backpacking.
One should not confine themselves to one outdoor pursuit. They should have many. My first choice is backpacking. Joyce and I enjoy camping and boating together. Recently I have decided to replace Rollerblading with bicycle touring, since my fingers have not completely healed from the 2012 Rollerblade accident.
Boating
We limit our boating to lakes and calm rivers. For us it is not about going fast, the adrenalin of rapids, or anything else not connected to taking one's time, looking at scenery or wildlife, fishing for trout in a mountain lake, and sometimes; most importantly – stopping to picnic, lounge, relax, get a sun tan. Sitting in the sun is one of life's greatest luxuries and it is free.
Often, in the heat of the day, there are several items that would be nice (that we have not taken with us in the past):
an awning
a groundsheet
and beach chairs
The reason we haven't taken them in the past was… well, I just couldn't fit it into my To Do List. First I would have to research. See, like a backpack, our boat has limited space and weight is a prime consideration. You can enter "boat" in the little search boxy thing at the top of the page and it will find some articles about our small inflatable boat. Technology is amazing.
Once the research for these nice-to-have items was done, they would have to be ordered, then set-up and tested in the backyard before actually using them on a trip. That is a lot of work and time; time that could be better put to use doing things like camping or backpacking. But I did eventually get around to putting it on the To Do List, and then working through the stages of research, acquisition, setup & testing.
We are now beyond this last (testing) stage. We are readying them for our next boat trip. So I thought I would do a little mini-review of the awning components — or perhaps it is better to call this a preview, not a review. Words, words, words.
 NOAH'S TARP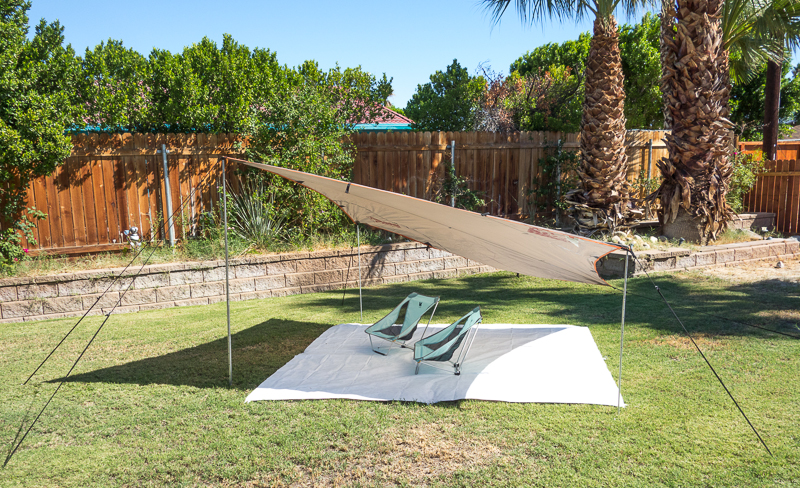 This tarp is marketed as a backpacking tarp first and foremost. This not something I would take backpacking because I have lighter options. But it is one cool tarp. Ours is the 9' X 9' model. As backpacking tarps go, this is an excellent size. The tarp comes with:
Storage bag
6 tent stakes
Guy-lines and line locks
Everything you need. There are lighter options for the included guy-lines and line locks, which I will dig out of my backpacking extras storage area, and dedicate permanently to the boat awning project. The stakes are similar to MSR Ground Hog stakes; I didn't bother to weight them separately. We will probably need to take some snow stakes too, which work well in sand.
The tarp by itself weighs 1lb 7 ounces. Total weight of everything is 2 lbs 1 ounce. Poles are not included.
The seams are factory sealed and overall construction is quite good. There are many tie-out points, so the configuration options are almost limitless; the set-up options can only be limited by the user's imagination (or lack of it to be exact). You can do the Google search thingy to see examples. It seems that hammock users are the ones who use them the most in the backcountry.
What really blows me away is the price. I paid $53 for it. This is what junk rectangular tarps cost. I don't see how Kelty can sell this kind of quality for under $60.
TYVEK GROUNDSHEET
Tyvek is made by the "Better Living Through Chemistry" company, DuPont, and is sold as house-wrap that is used during construction.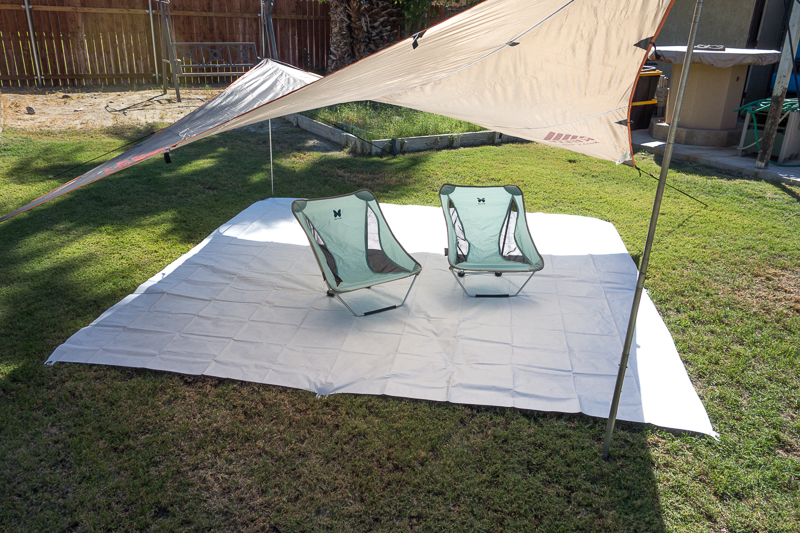 Its purpose is a waterproof breathable barrier. For the backpacker and camper, Tyvek can be re-purposed as an excellent groundsheet. It is waterproof and tough for the weight. The attraction for use with our boat awning is sand won't cling to it, and it will be easy to sweep clean.
I have used Tyvek as a backpacking groundsheet in the past. For me the only drawback is it is a little bit on the heavy side – there are lighter options. For this project I bought a 9' X 9' piece of Tyvek to match the awning. Weight is 1lb 1oz.
We may not use the groundsheet on every trip, but for sandy areas it will make it easier to keep things clean and not lose them.
BIG AGNES ADJUSTABLE TARP POLES

Poles are required to set up a tarp unless you are surrounded by trees. If you rely on tress you limit your options. I wanted something light, strong and adjustable. I found these Big Agnes tarp poles. Weighing only 3.1 ounces each, these shock-corded poles can be adjusted up to 45" in length. For use as a shade awning and not a shelter, I was pretty sure these would be too short to use as the main ridgeline poles, but they would probably work well for the rear or sides. They might work nicely with my Trailstar shelter since I have bucked the trekking pole fad and need dedicated tarp poles. I'll have to try them when there is time.

As expected (in the picture above), the 45" poles alone do not raise the tarp high enough for our use as a convenient shade awning. I didn't bother to finish setting it up properly, because I could see we would need a longer (3rd) main pole.
So I grabbed the pole for my Chouinard Pyramid Tent for testing. This pole is adjustable with a maximum height of around 72 inches, maybe longer — I didn't bother to measure it — it works perfectly with the pyramid tent, so there was no need to measure it, besides the poles are no longer available. However, this length was much better than the original setup using just the two 45″ Big Agnes poles alone.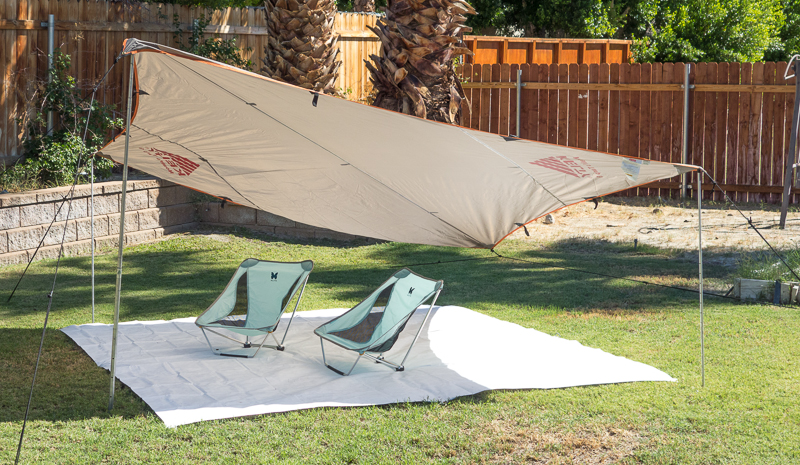 I decided an even longer pole would work better for us in this application. I could have gotten by with the Chouinard pole, but fortunately I have a rule against comingling backpacking gear, so there is no multiple use of backpacking gear for other activities.
KELTY ADJUSTABLE TARP POLE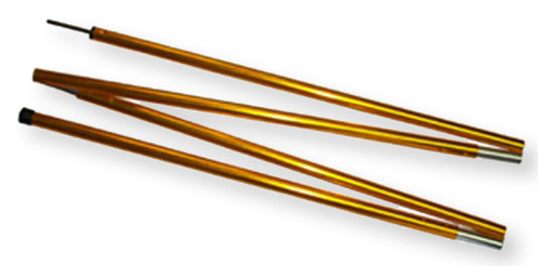 So after the set-up and testing of the Noah Tarp, I bought a Kelty adjustable tarp pole, which adjusts from 80" to 99." I didn't have time to set it up or even weigh it; besides I don't buy gear just to post about it on this site. The Kely website says it is 1 lb 10 ounces. Heavy by backpacking standards, but it should hold up in the wind.
ALITE MAYFLY BEACH CHAIR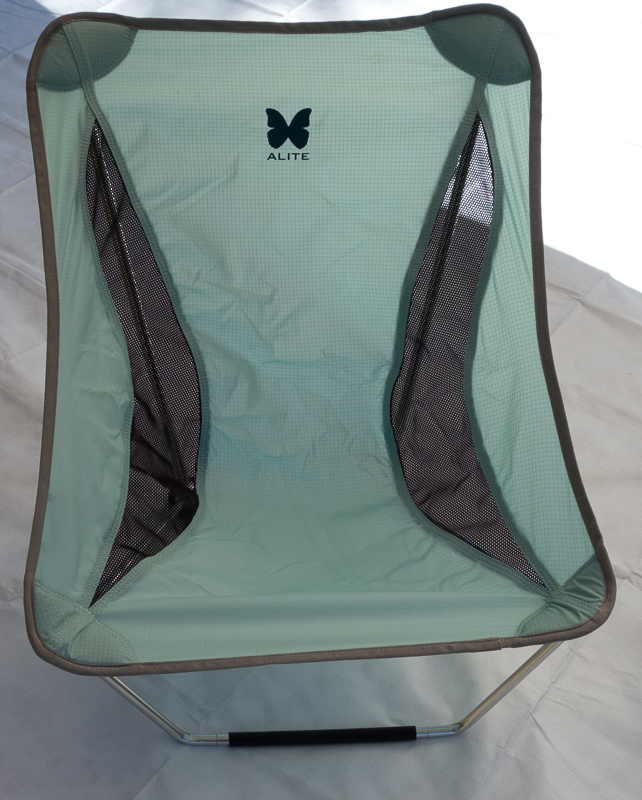 Some people take chairs as part of their backpacking kit. I have never understood this; I can always find a suitable place to sit. However, on backpacking trips I am usually on the move during the day and sleep at night so extended time sitting on my kester is unusual.
Besides, backpacking and camping have different goals, and are different experiences for me. I am completely unwilling to carry over a pound in my pack for a chair. Actually I am unwilling to carry anything over zero grams in my pack dedicated to sit on it.
When boating, finding a nice beach and just sitting around in comfort are required activities for Joyce and me. So I had three criteria in my beach chair search.
Must pack into a compact size
Must be sturdy
Must be as light as possible
The search led me to the ALite Mayfly Chair. Weight on my scale was 1 lb 9 ounces, plus 1 ounce for included stuff sack. All I can say is wow. This is one nice and comfortable chair. I can see us using it for all kinds of outdoor activities. Sometimes Joyce sits in it a home when reading. But, it still isn't going to be taken on any backpacking trips.
The manufacturer says they offer a lifetime warranty. To me, lifetime warranties are questionable; somehow they always have a catch. So time will tell. Hopefully I won't have to exercise a warranty claim.
Anyway, it is one cool chair.
If you want more information, set up instructions, optional set up, etc., then Google is your friend.
The not obligatory disclaimer
Just in case you want to know, I bought all this equipment with my own money. I don't review gear that is provided for free by manufacturers. As a matter of fact, I have turned down every offer of free gear ever made to me. I pay my way through life and owe nothing to anyone. I hate gear whores who review gear in exchange for freebies. Seems people always put some sort of disclaimer in an article when they review gear. I hate the whole gear review business. So yes, I am taking a poke at gear reviewers who benefit from the gear they review.
I'll let you know how the awning solution works soon.