MANAGING YOUR INVENTORY OF FREE TIME WITH AMAZON PRIME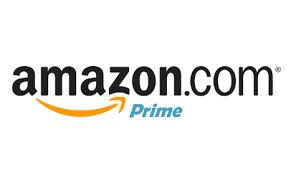 In Managing Your Recreation Inventory, I talked about Time as something that could be banked or managed as inventory, akin to how a warehouse manager manages the physical inventory. To me Time is a valuable commodity to be saved for productive pursuits such as backpacking or camping.
Shopping can be detrimental to your Time inventory. Time wasted by wandering from store to store, aisle to aisle, shopping center to shopping center. Not to mention time wasted driving to and from stores and the fuel consumed.
What makes no sense to me are those people who seem to shop as a hobby. Those who go on shopping sprees looking for something to buy. Shopping excursions for trash and trinkets of little value, stuff that breaks or wears out quickly, and soon is relegated to the garage or trash can. Or people who purchase merchandise that is extravagantly expensive, due to it's brand name, not necessarily it's quality. I classify these shoppers into two categories: compulsive shoppers and conspicuous consumers.
Compulsive Shoppers
These are the people who just go out and buy "stuff." Not things they truly need, but a quest to obtain goods that somehow make them feel better. We can call this compulsive behavior, or even an addiction. Instead of saving money for the future or preparing to handle the potential financial crisis of a lost job or serious illness, these shoppers often squander their own security by constantly buying things they don't need. The net result is a negative financial impact and lost time, which could have been put to better use; both are lost forever.
Conspicuous Consumption
Traditionally this is buying things to impress others, normally engaged by people who can afford the purchases, but the goods are obtained to communicate their financial status. The stuff they buy tends to be luxury items, items that often are extravagant in price and not necessarily superior in quality to similar products. This behavior has trickled down to folks who cannot really afford them, and they forgo important essentials to buy these status symbols. This desire to impress others has spawned an industry of knock-offs, which are counterfeit goods, usually of lesser quality, whose purpose is not function, but to exclaim to the world, "look, I can afford this."
I HATE TO SHOP
Obviously, to me, time spent shopping is Time I could have applied to other, more productive, endeavors. But there are I things I do need to buy from time to time. When I need something, I know what it is, so I don't have to wander around stores trying to figure out what I need. For me, shopping is a blitzkrieg event; a quick trip to a store, pick out the one item I need, then quickly pay for it, and escape the hordes of shoppers.
For someone like me, Internet shopping is attractive. No time wasted driving to and from a store. However, you cannot get an item immediately, and by the time you add shipping costs to the normally less expensive Internet item, the overall cost is often the same as what you can purchase locally and in person; of course excluding your valuable time driving to and from the store. And you often must wait several days to get your Internet purchase, unless you want to pay a premium for expedited shipping. The exception here is if the buyer needs expert help to determine the best product to fit their needs and wants.
There was a time that most "brick and mortar" stores offered a distinct advantage over Web-based retailers: Customer Service. Retail stores used to employ sales people with outstanding product knowledge, who could explain the features and benefits of competing products and guide you to a purchase decision that met your needs. But those days are mostly gone. For example, if you go into a shoe store, the salesperson knows little about the product, materials or construction. They can't even properly measure your feet with a Brannock foot device; the store probably doesn't even have one. Typically they ask you, "What shoe do you want and what size do you wear?" Sorry, this isn't service — so why should you pay a premium by going to a retail store?
Try to find a suit salesperson to assist you in accessorizing your purchase, or a suit store than can tailor your purchase on-site.
Need to fix something at your home or undertake a home improvement project? – you can't even get someone at Home Depot or Lowes to wait on you, and if by accident you do, they usually cannot provide any level of advice or consultation; in fact they are often hard-pressed to locate an item that is actually in stock.
One of the last times I went to Walmart, I asked an employee dressed in a Walmart red vest for help finding an item. Her answer to my inquiry was, "No speekie English."
And the ultimate disgusting thing about shopping is that most stores these days carry cheap, inferior products.
The Last Straw
I am done with shopping at stores, with a couple of exceptions – two local specialty stores I have done business with over the years.
The last straw happened last month.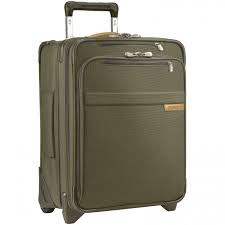 Close to where we live is a specialty luggage store. They sell high-end quality luggage. Because I travel often, I need quality, rugged luggage with a good warranty. So Joyce and I only buy Briggs and Riley products. A top of the line Briggs and Riley suitcase costs between $400 – $600, but they are truly guaranteed for life, no matter what happens to them. I know, I have had a couple repaired for free.
There are few places that sell this brand, and over the past 13 years we have bought 10 pieces of Briggs and Riley luggage from this store, at a premium price.
As a Christmas gift, Joyce bought me a Briggs and Riley duffle, something I needed.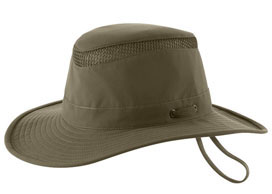 While she was at the store, she also bought me an olive color Tilley LTM6 AirFlo Hat. Tilley makes some of the best hats available, and for years I have been wearing a light tan Tilley LTM6 for backpacking, and even wear it around town, although it is usually dirty and sweat stained. Joyce figured the olive color would not show the dirt and I could use this hat for around town wear most of the time – as usual, she made a great choice.
One problem though – she bought the wrong size. So on December 31st, we drove to the store to exchange it, and also stop by the optometrist for new glasses. The store did not have the correct size hat in stock, but said they would order it and it would take 7 days to get it. Good deal! Seven days later we had to pick up Joyce's new glasses and stopped by to see if the hat had arrived. Nope, no hat. The store owner said winter storms were delaying shipments and it should come in any day. So we waited.
Not having heard back for several weeks, we called on Tuesday, January 28th to check on the hat. After several minutes on hold, the salesman informed us that the hat had indeed arrived, but someone had put it on the shelf instead of calling us. The next day another person called to say the hat arrived. On Friday, Jan 30th, I drove down to pick it up on my lunch break. Opps… wrong color. The new hat was light tan. I pointed this out the sales person, and he told me that when they ordered it, they did not specify the color and Tilley sent a light tan, their most popular color. I told the salesman that this was unacceptable service; we had spent several thousands of dollars with the store over the years, and I asked to speak to the owner, who unknown to me was standing behind me listening to the entire conversation. And this was the conversation between me and the owner of the business:
Owner: We don't stock Tilley hats. The one you bought was special ordered by a customer, and he died and could not pick it up. We sold it to your wife as a favor. I don't want to deal with you or the hat; I'll give you your money back.
Me: Okay.
Owner: Give me your credit card.
Me: I don't have the card it was purchased with on me.
Owner: Just give me any card!!
I handed him a card.
He ran the credit and threw the receipt at me.
This was not a unique situation. It happens all the time. Like most people, I have dozens of stories about horrible customer service. You just can't get service anywhere, so why even bother shopping at a store? And it does no good to mention the name of the store, we simply won't spend another penny there.
Aftermath
When I got home from the store it was around 1 PM. I went online and ordered it from Amazon.com. Since I had joined Amazon's Prime Program in December, the hat purchase includes free two-day shipping. When Amazon says two-day shipping, they mean two-day shipping. It arrived at our house on Sunday, while we were out camping!
Most people have just given up and accept poor service. Not me. I don't patronize businesses that provide sub-standard service. I don't complain, I don't call headquarters, I don't write letters. I simply just don't spend my money with them any more.
BUYING QUALITY PRODUCTS
I learned a long time ago that one should buy the absolute best quality product they can afford. In the long run, quality goods work better and last longer. The problem with most brick and mortar stores these days is that they sell cheap inferior products, unless you shop at a specialty store. Specialty stores tend to charge full retail price, a consequence of the overhead costs to operate the store. This in itself isn't bad, if the store employs knowledgeable staff that can provide outstanding customer service. Outstanding customer service results in customer retention and loyalty, eventually allowing the business to grow and prosper. In this day and age, retailers have lost their competitive edge by losing focus on customer service.
AMAZON PRIME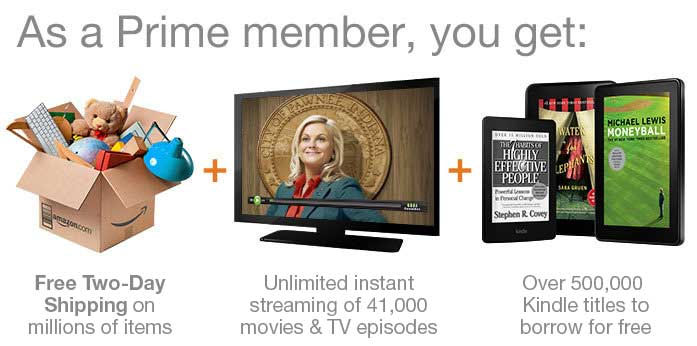 Last year I purchased an Amazon Prime Membership for $79 (per year). This entitles me to:
Free Two-Day Shipping
Amazon has millions of products for sale. If there is something you need, Amazon probably sells it. And many of these products qualify for free two-day shipping. Notable exceptions are products sold and shipped by third parties.
Other online retailers offer free shipping if you purchase a certain dollar amount, typically around $50, and the shipping is usually UPS ground, which is not two days.
With Amazon Prime
There is no minimum purchase amount for free shipping
Shipping is two-day shipping, and sometimes I get it on one day
You can share the free shipping with up to 4 household members.
Competitive Pricing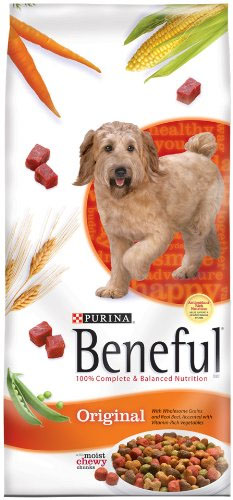 Amazon is known for low prices. Of course as a knowledgeable shopper you should check the competition, but in most cases I have found Amazon to be very competitive on almost everything I buy. As a comparison I checked a heavy item from Amazon, versus the same product from Walmart: a 31 pound bag of Purina Beneful Dog Food:
Amazon: $26.98 + $0.00 Shipping = $26.98
Wal-Mart: $26.98 + $4.97 Shipping = $31.95
Notes:
Item can be purchased at most Walmart stores for $26.98

Estimated shipping from Wal-Mart is 10 days for $4.97
Amazon Prime shipping is 2 days for $0.00
Unlimited Streaming of Movies and TV Episodes
I really haven't explored this much. There over 40,000 titles, but most are older programs. I'll keep my NetFlix account.
Borrow Free Kindle Titles
Amazon advertises over 500,000 titles. I haven't checked it out either because my Kindle broke a couple years ago due to rough handling and I now use the Kindle app on my iPad, iPhone, or computer. You can only access this service on an actual Kindle device. Titles can be borrowed for 30 days.
Customer Service
I've never needed to contact Amazon with an issue. So I don't know how well they handle customer concerns, but given the other attributes of their service, I am confident they quickly resolve problems. Some things I like about Amazon:
Easy to order online
Can save items in a "wish list" for future purchase
Can securely store your credit card information for quick check out
Can store the mailing addresses of people you frequently shipp gifts to
Merchandise is well packed to prevent damage or breakage
Every step of the purchase is documented and communicated via email and/or text message to include:

Confirmation of order and invoice
Ship notice with tracking notice
Notice of intended delivery on the day of delivery
Confirmation of delivery