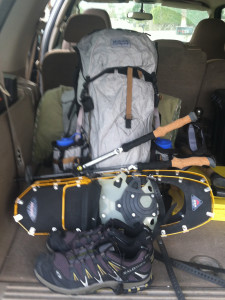 Okay, I am not a big fan of snow. But almost every year I do at least one winter backpacking trip in the snow. It is pretty easy to get to high altitude and snow when you live at the base of Mt San Jacinto and are within an hour's drive of the San Gorgonio Wilderness. But my favorite place, mountain-wise, is the Southern Sierras. Easy access and less populated with hikers than other parts of the Sierras.
Last week we had a fair amount of snow in the San Jacinto's at 8,500 feet, so I figured there would be even more snow in the Sierras. Silly me…
Backpack, snowshoes, and crampons thrown into the SUV and I am off for a winter adventure. I should have checked.
I don't often do winter hiking in the Sierras because you have to deal with tire chains, vehicles stuck in parking lots adjacent to un-plowed roads, and similar ilk. Plus it is more than a 500 mile round-trip drive; versus a quick jaunt over to the Palm Springs Tram. However… no people, versus lots of people in the San Jacinto's… easy choice. You can find solitude in the San Jacinto's, but you have to pick the right time, which is usually mid-week during a snow storm – something I highly recommend. So I am off to the Southern Sierras.
From southern California there are many ways to get to the Southern Sierras. The biggest decision is whether to enter from the west or the east. For me that would be entering via Bakersfield on the west, or one of the more distance routes on the east along Highway 395. I chose the west option because it is shorter and the roads are more reliable in winter. Highway MR99 is maintained (plowed) in winter up to Johnsondale. Beyond this point, MR99 is closed for the winter, which is only a 7 mile stretch that connects to the Western Divide Highway.
Plan A
Park at the trailhead at Fairview. Take the footbridge across the Kern River, hike a short distance down the Kern, and hike up the Tobias Creek drainage to Lower Tobias Meadow. From Lower Tobias Meadow, hop over to Flynn Canyon and back to Fairview. A difficult trip most of the year, but much easier in winter snow – at least the terrain is easier to cover. I had done part of this loop in the winter of 1971-72, however it had been re-routed due to a territorial dispute with the local resident black bear just below Lower Tobias Meadow.
I always enjoy the point where Bakersfield disappears when the road enters the bottom of Kern Canyon. This trip was no different. City becomes canyon. And today was big blue sky and temperatures in 50's. Time to sit back and enjoy the twisty road. Soon I was in Kernville. That is Kernville — sans snow. No snow in town, no snow in the mountains surrounding town. Well, this isn't something I had experienced before in winter. But Kernville really isn't that high in elevation, only around 2,700 feet elevation; a high desert town.
Tobias Meadow sits at 6,500' and has always been covered in snow on my winter trips. So I drive the twenty or so canyon miles to the Fairview Trailhead, and there is no snow to be seen on the mountains. Undaunted, I quickly devise Plan B.
Plan B
Drive up past Johnsondale to the point MR99 is closed. Normally there is a big wall of snow where the snow plows turn around at the end of their run. This is at a junction where a paved forest service road (NF22S82) intersects MR99, and NF22S82 runs about 25 miles somewhat paralleling the Kern River, only the road steadily climbs a couple of thousand feet above the Kern. Normally there is plenty of room to park a vehicle in the vicinity of this intersection.
So off I go and in about 30 minutes or so, I am at the road barricade, and the road is – sans snow. Well…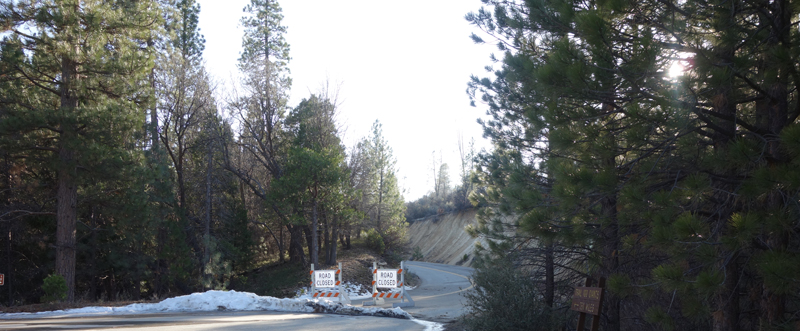 Above: the normally inaccessible section of MR99 that is 7 miles below the Western Divide Highway.
I could drive around the barricade had head up to the Western Divide Highway, but it would probably result in a traffic ticket. And I don't know if there is even much snow up there. The other option is to drive down the forest service road; it is open. Also, a short distance down this road is a dirt road that connects to the Western Divide Highway and that dirt road is only 4 miles long and much more fun than MR99. I have taken the dirt road many times over the years. I seem to remember one of those metal barrier gates on the service road and hope the road is not barricaded. Soon I pass the opened gate and zip down NF22S82 towards the dirt road. And soon there I reach it – barricaded! Closed for winter. I guess I need to develop Plan C, as I am not going to get up to the Western Divide Highway on this trip.
Plan C
Well, I'll just drive down the road to Lloyd Meadow, where the road dead ends about 23 miles ahead. From Lloyd Meadow I will hike down to the Forks of Kern and enter the Golden Trout Wilderness. Obviously there will not be any snow, but it sounds like a fun trip.
So off I go, and then approximately 20 miles short Lloyd Meadow is a tubular metal gate and it is closed; locked and bolted. I get out and scout around. Take a picture of Dome Rock – sans snow.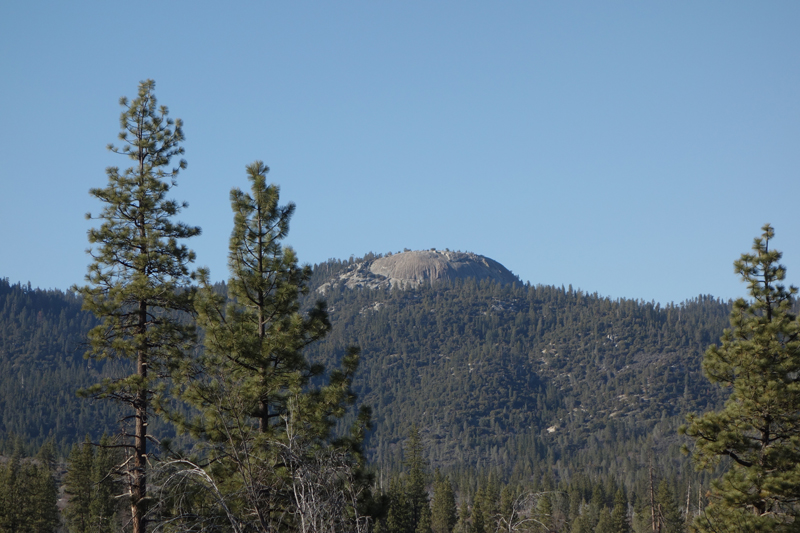 Above: Dome Rock at 7,200 feet elevation. The Western Divide Highway is about 1/4 mile behind Dome Rock. This is no snow up there either.
Plan D
I decide to hike towards the Kern River gorge. I am familiar with the area and don't expect much difficulty and it should be easy to complete some sort of loop. I pull my vehicle onto the shoulder of the road. Since snow or a scenic descent into the Kern Canyon are pretty much out of the picture, I change the goal of the trip – it is now a photographic objective. I will concentrate on locating and taking pictures of game. Not something I have ever done before — that is picture taking as the trip's objective. If I take a camera on a trip, pictures are hit and miss. If something captures my attention, I'll take a picture. If one does enough trips, sheer luck will present enough photo opportunities; I don't have the patience to compose scenes. So I hoist my backpack and with my camera hanging around my neck I start off with my Galen Rowell photographer strut.
A few bad things I did (again for the umpteenth time…)
Didn't even tell Joyce I decided to take a trip
No one knows where I am, or what my itinerary is
No map (I am a long ways from Tobias Creek)
Oh well, these are the best kind of trips and often well worth the risk.
Of course, since I am looking for wildlife I don't find much. A few deer is all.
and this lost lady…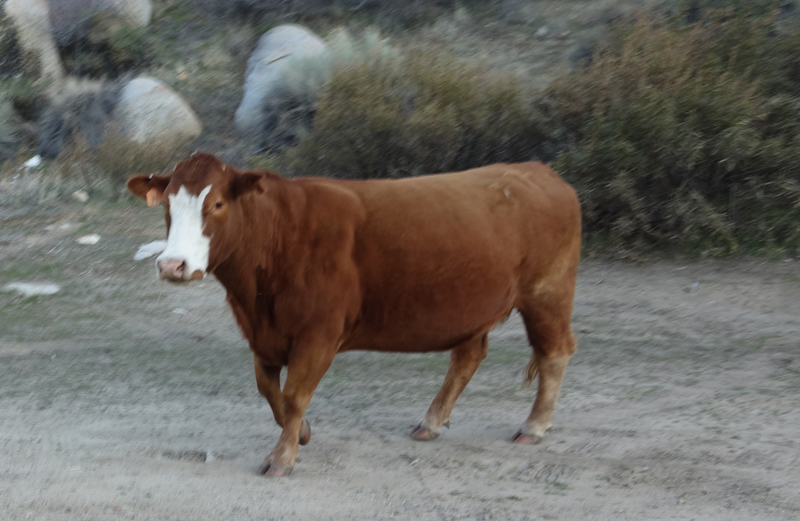 But the trip is a success. A loop is completed, which means I did not walk any real estate twice. And I make it back safe.