Some thoughts on rain gear…
There is no perfect rain gear. 
What works for me may not work for others. Of utmost importance is the fact that each of us have a different physiology, hike at different speeds; and each trip varies in weather, temperature, and terrain. Each of these variables contribute different kinds of rain gear solutions. Like so much other backpacking gear, the hiker will need to learn from experience what works best for them. You won't learn it here, or anywhere on the Internet, or in a book.
So I decided to share what I have learned over the years — what has worked and what has not worked. Your experience may be different.
IMPORTANCE OF RAIN GEAR
There are 3 things the backpacker always needs to pay attention to:
staying dry
staying warm
staying safe
Becoming wet and cold can lead to hypothermia, at which point the backpacker may no longer be safe.
As most people know, our bodies normally operate at around 98 – 100 degrees Fahrenheit. Should the body's core temperature drop below 95 degrees, hypothermia occurs. Surprisingly, more people die from hypothermia in summer than winter, a fact that makes proper rain gear selection critical.
Three things are prime contributors to hypothermia: cold, wet, and wind. I won't go into details with a bunch of data; but cold, wind-blown rain is often the perfect combination for hypothermia. Extended time at 50F in rain can lead to hypothermia. You need to stay dry.
Backpackers, especially those who hike in the mountains, should have adequate rain gear and insulation to avoid getting too cold. Don't trust the weatherman! Weather can change quickly, especially in the mountains. For extended trips, plan on the worst historical weather. A few years ago I set out on a 3 day trip with foretasted lows in the high 40 degree F range, no rain, and a light breeze. Because I was leading a hike with three other backpackers who I did not know personally. I checked the weather an hour before we left. Eight hours later a freak storm hit the mountain with rain, sleet, snow and wind gusts around 100 mph — a far stretch from the several weather forecast sources I checked!
And don't underestimate deserts. I have spent many a day hiking in the rain when temperatures were in the 30's and 40's.
Now don't think I am paranoid about getting wet. In warmer weather I often hike without rain gear, and in summer rain can be a welcomed break from the heat. In colder rain I often hike in shorts with nothing to protect my lower legs and feet. By moving (hiking) my feet and lower legs are fine. In 3 season weather (not winter) I don't wear waterproof foot wear.
Rain gear should be one of your most important pieces of gear, and it should be something that is carefully chosen.
Unfortunately, rain gear seems to be an item that many backpackers skimp on. They look for the lightest items, without a focus on functionality or durability. Many opt for cheap jackets and pants made by Frogg Toggs or Dri-Duck, which are not much more durable than paper. I know, I tried them on a couple trips, and they failed miserably. I feel it is false economy to make weight the prime focus when it comes to rain gear.
Other backpackers rely on the recommendation of gear reviewers (so called experts) who chant the marketing spin of the miracle waterproof breathable fabrics on the market today.
I do not always take the same rain gear on every trip, but I am prepared for the what may reasonably happen. The gear reviewers and marketing claims were wrong. I had to learn from experience — trial and error.
I will share what has and hasn't worked for me.
THE PROBLEM WITH MOST RAIN GEAR
If rain gear is waterproof it doesn't breathe and the hiker becomes drenched in sweat.
If it is made from one of the "waterproof breathable" (WPB) materials on the market today, the hiker sweats and the eventually the gear wets out and is no longer water proof.
I won't go into the details of how these WPB fabrics work and the need to constantly clean them and renew the DWR (durable waterproofing layer) coating. You can do your own research. The most popular fabrics on the market today are Gore-Tex and eVent.
Marketing 101 — Don't Believe What Manufacturers Say Their Gear Can Do
If you hike for extended periods of time in cold rain, most rain gear will leave you cold and wet. Waterproof breathable fabrics are not waterproof nor are they breathable.
The waterproof breathable materials will wet-out, plus you will become soaked in your own sweat. Add some cold wind and you have a potentially dangerous situation. WPB materials will eventually fail to keep the rain off your body.
Truly waterproof garments will cause you to overheat in your own sweat because they don't breathe. To get rid of the internal vapor caused by sweating, many rain gear manufacturers incorporate "zip pits," zippers in the armpit area to help relieve the vapor caused by sweating. Some use other venting mechanisms; but all can result in rain getting inside the garment – they become the weak points in the garment.
The one exception, in my experience, is a poncho. A waterproof, flat piece of material with a hood in the center; it is folded in half and the sides create a large area to vent perspiration. Most are large enough that they also cover the backpack, keeping your gear dry. A couple problems with ponchos are
in high wind, ponchos can flap around like a sail (although a cord used as a belt around the waist works well)
in areas of thick brush they tend to catch on branches and shrubs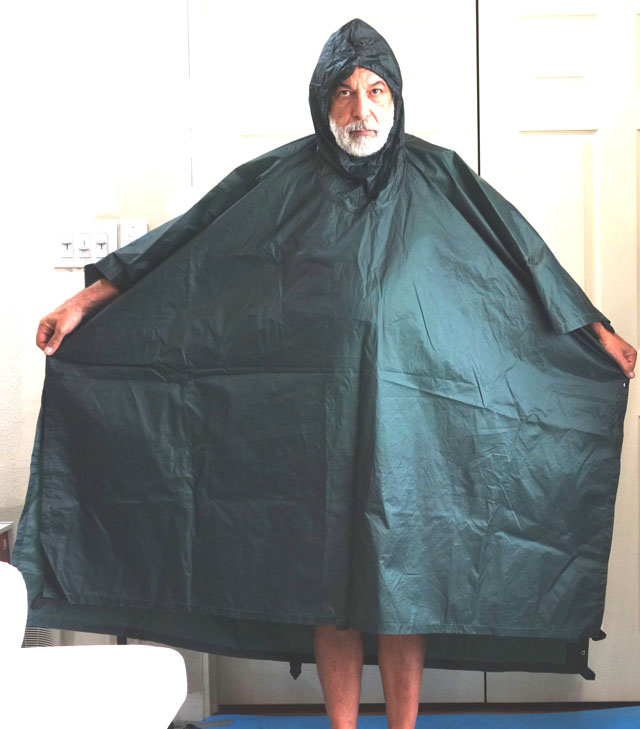 Above: GoLite Poncho/Tarp. In wind or brush it can be a troublesome piece of gear. However, the sides are completely open for venting with a few snaps to keep the front and back together and help reduce flapping in wind.
THE THREE LAYER SYSTEM
Experienced backpackers dress in a layering system.
a base layer to wick perspiration from the body
an insulating layer to keep warm
a shell to block wind or rain
The hiker may use all three layers at once, or mix and match according to the conditions. Should the insulating layer get wet or damp, it becomes less effective (or worthless in the case of down). Smart hikers vary these three items depending on the weather expected or time of year. Again, this is a subject the reader should research, as I only want to concentrate my comments in this article on rain gear, except for a quick comment about fleece insulation layers.
Fleece
Years ago fleece was very popular as an insulation layer. It is heavier than most of the popular insulation jackets made from synthetic or down fill. But when wet, fleece doesn't lose as much of its insulating properties as the synthetic or down filled garments. When I expect cold and rain, I take fleece. It works best.
MY RAIN GEAR JOURNEY
My first rain gear was a military poncho. It was waterproof and the open sides allowed perspiration to vent out the sides. It also could be used as an emergency shelter or awning if needed, although it wasn't very big – I think it was about 4.5' X 5' and weighed around 1.5 pounds. I no longer have it. It was heavy and too small for a proper shelter. But it never failed to keep me dry when hiking.
In 1978 Sierra Designs came out with a parka made from 60/40 cloth; 60% cotton and 40% nylon. It soon became a common item in the back country. Around the same time, W.L. Gore came out with their first iteration of the "waterproof breathable" Gore-Tex fabric.
The Sierra Designs 60/40 parka was almost affordable; Gore-Tex required a King's ransom. Both the Sierra Designs parka and Gore-Tex garmets were too expensive for me. Soon REI came out with their version of 60/40 parka, and was something I could afford. But I soon found it was not waterproof – water resistant yes. It would keep me dry in a light shower, but wetted-out in real rain. It breathed, but poorly. Eventually I relegated the parka to my car camping gear closet and went back to a poncho, this time a lighter and larger nylon version that could actually be used as a shelter – though still heavy by today's standards – about the same weight as my old smaller but heavy military poncho. By the way, I still have that REI 60/40 and often wear it when camping.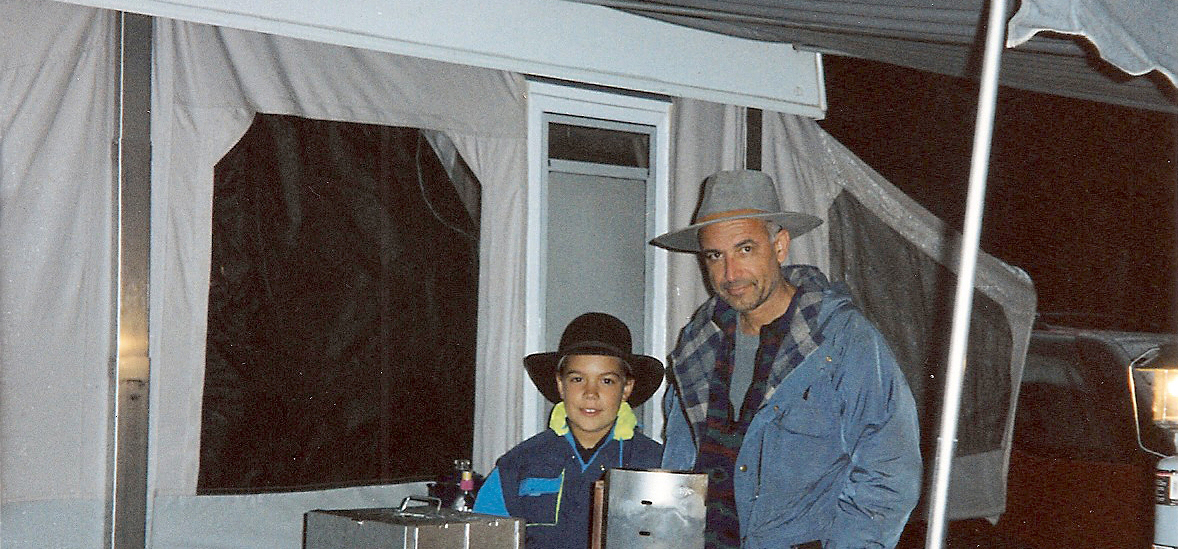 Above: July 1997. REI 60/40 Parka. We were camping above Mammoth Lakes in the Sierras. Later that day it would snow — contrary to what most backpackers will tell you about weather in the Sierras. Notice I am wearing 3 layers – base, fleece insulating layer, and the rain shell.
By the mid 1980's Gore-Tex became more affordable and I was making more money. So I bought a Gore-Tex parka from REI and a pair of Gore-Tex pants from Campmor. A few things I quickly learned
I needed a rain cover for my pack to keep gear dry. This was additional weight and water still seemed to leak in.
A trash bag inside the pack with my gear in it would keep gear dry, but the pack absorbed water and became heavier.
I needed a separate shelter, my rain gear could only be used for rain protection and it made a poor wind shell, given it limited ability to breathe – in spite of Gore's marketing AND the gear reviewers.
In substantial rain, Gore-Tex does not breathe and it does not keep you dry – bottom line is that I was often cold and wet!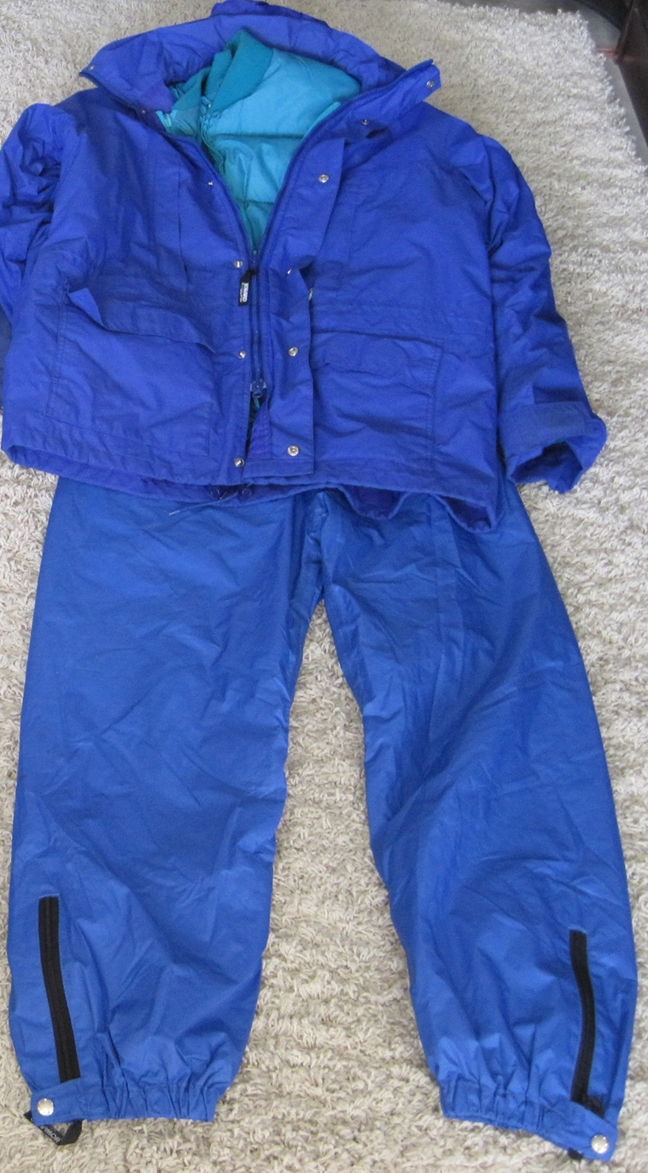 Above: (1980'a) REI Gore-Tex Parka (has a zip out 600 FP down insulating layer) and CampMor Gore-Tex pants.
RETURN TO SIMPLICITY
So I went back to a poncho/tarp for most trips. Kept me warm and dry and doubled as a shelter.
I was done with waterproof breathable clothing.
Thoughts about poncho/tarps as shelters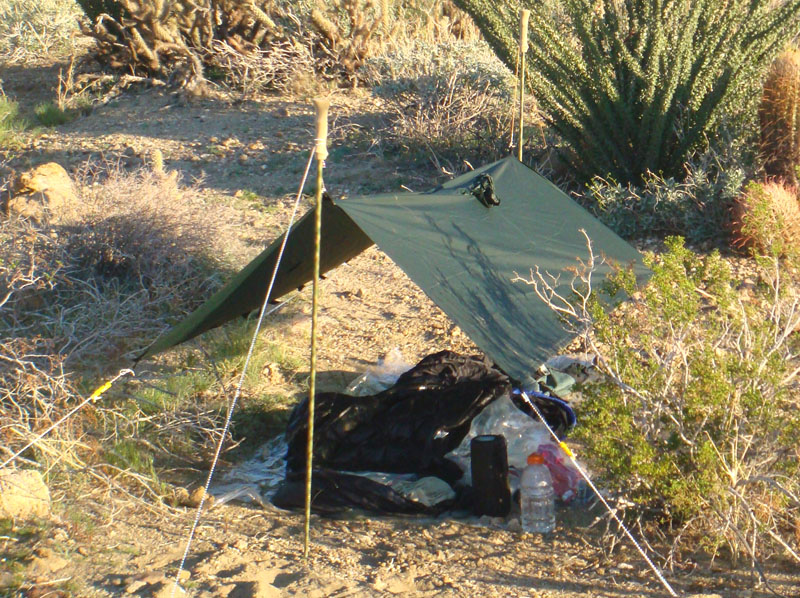 Poncho/tarps are not large shelters. Site selection and set-up become essential skills. Also, in wind-driven rain, your sleeping bag will get wet. The only solution for this is to use a water resistant or "waterproof breathable" bivy. Essentially it is a sack you put your sleeping bag or quilt inside to keep the spray off your sleep system. Even though the backpacker is not exerting himself, as when hiking, bivys are prone to condensation from water vapor generated during sleep. Same problem as rain gear. But with experience the skilled backpacker can minimize this problem to some degree.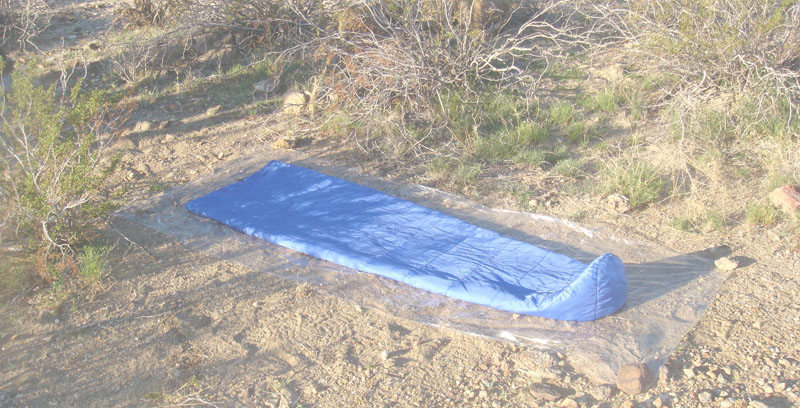 Above: Quilt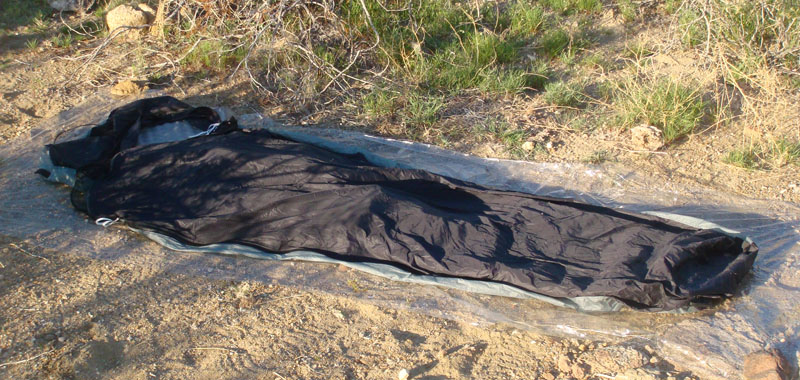 Above: The quilt has been placed inside a Mountain Laurel Designs Soul Bivy.
And for the next 20+ years the poncho/tarp/bivy solution worked best for me.
THE THIRTY YEAR WAR
Around 2008, I had a brain fart and decided to try the newest Gore-Tex jacket, made from Gore-Tex's PackLite material. I figured that after 30 years, maybe Gore had gotten it right. Many reviewers say they had. Well… same problem. Poor breathability and it wetted-out in long down pours. So much for gear reviewers.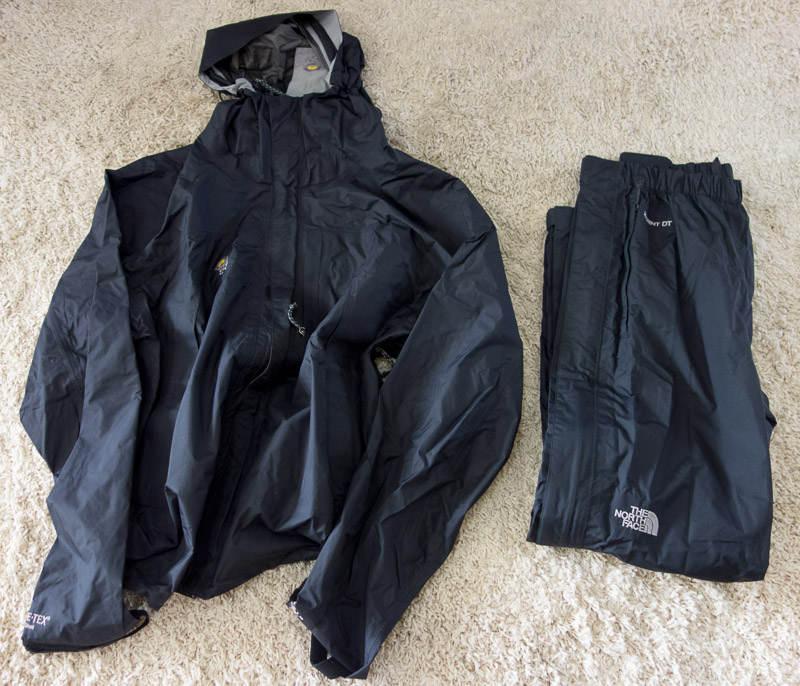 Above (L to R): Mountain Hardware Typhoon Gortex Packlite Jacket (size large at 14.1 ounces) and a pair of The North Face Venture Side Zip Rain Pants with HyVent DT "WPB" material (size medium at 12.8 ounces). Neither breathe well or are truly waterproof.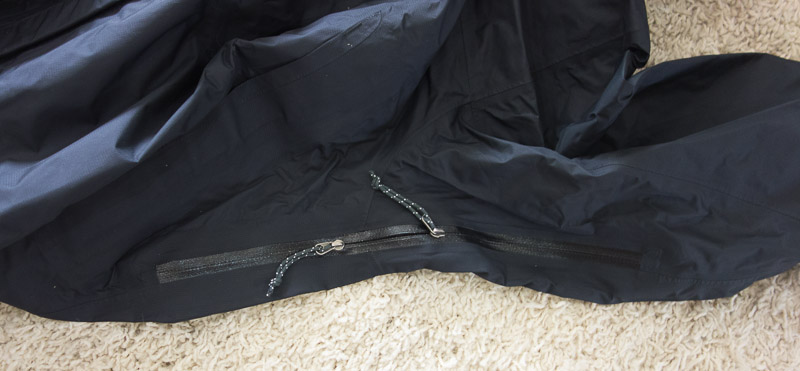 Above: Zip Pit in the Mountain Hardwear jacket. If the material was truly breathable it would not need this to vent.
I also tried a Marmot Essence rain jacket, made from their Membrain Strata material. What appealed to me was the light weight at only 6.7 ounces for a size large. At the same time I replaced an old full size nylon tarp (8' X 10') with a 5 ounce Cuben Fiber full size tarp. This set-up allowed me to leave my bivy at home. I now had a raingear/shelter system that weighed less than 12 ounces!
On one particularly long day of hiking in temperatures around 40 degrees and constant rain, the system really showed its weakness. My torso was cold and wet after a few hours, my thighs were cold (I was wearing shorts) and I became dangerously cold.
Shivering, I set up my tarp, not an easy job when your hands are shaking and aching from cold. I climbed into my quilt until I was warm enough to cook something warm to eat. I had never gotten this cold in similar weather with my poncho. Even in this kind of weather I can hike in shorts under a poncho. I find that constantly moving with wet shoes and lower legs is not a problem, as long as my thighs and torso stay dry and warm.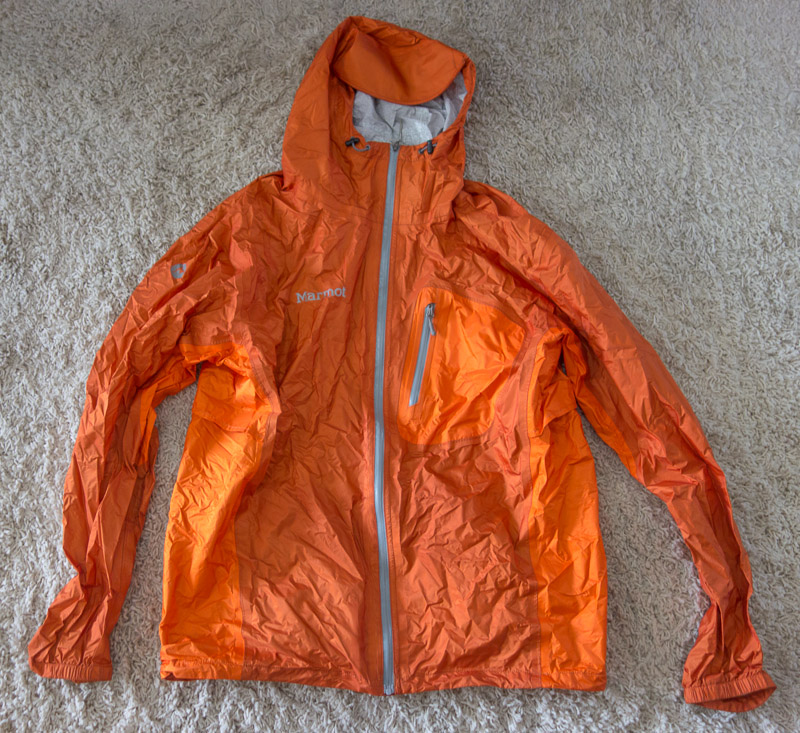 Above: Marmot Essence Jacket with Membrain Strata "WBP" material (size large at 6.7 ounces). Doesn't breathe well and will eventually wet-out.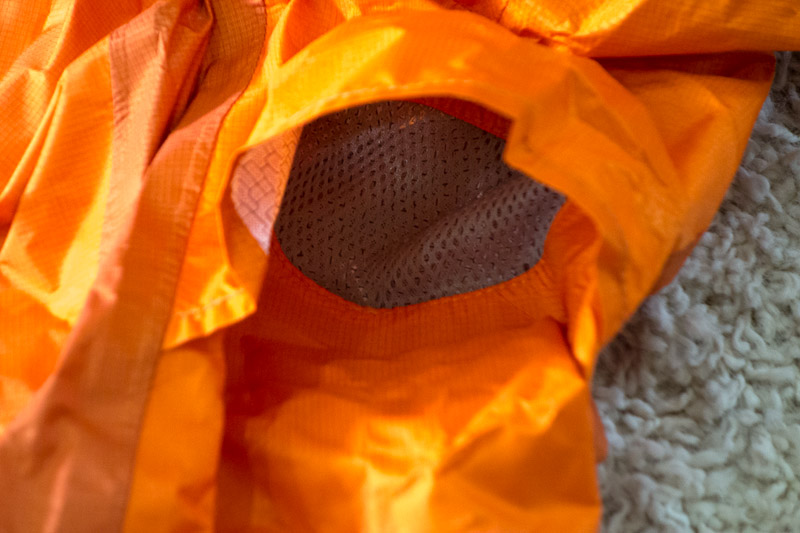 Above: Armpit vent flap in the Marmot Essence. Vents mean that the manufacturer knows the garment is not truly breathable!
FULL CIRCLE
Today, and for the past few years, I am back to a poncho. Until a couple years ago I used a GoLite Poncho/Tarp and then a Mountain Laurel Designs Silnylon Pro Poncho/Tarp. The GoLite was reasonably priced and weighs 10 ounces. The Mountain Laurel version is lighter at 8.8 ounces, provides better coverage as a shelter, is more difficult to learn to pitch (has a catenary sloped ridge), and was twice as expensive as the GoLite. My model of the GoLite poncho is no longer made, and GoLite now advertises a waterproof breathable poncho tarp — buyer beware.
I have moved from a poncho/tarp to a zPacks poncho/ground sheet, weighing 4 ounces with clips to convert it into a ground sheet and attach it to a zPacks Hexamid shelter. The poncho does not double as a shelter, but can be used as a groundsheet. Keep in mind that using a poncho every day as a ground sheet will probably cause it to develop holes, so I don't use it much as a groundsheet.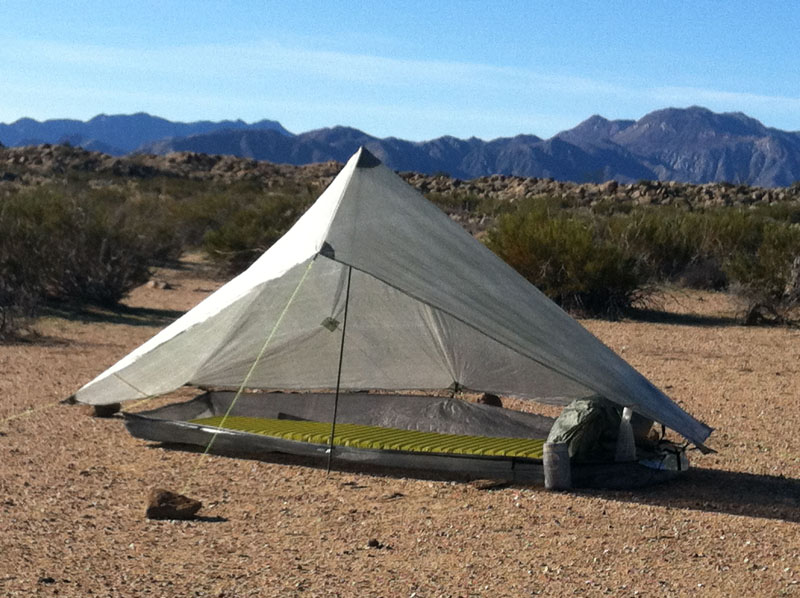 Above: The Hexamid with guy lines, tent stakes, and a Ruta Locura Carbon Tent Pole, weigh right at 8 ounces.
What I like about this poncho is the ability to adjust the amount of venting on the sides using a zipper. It can be zipped up almost to the armpit or adjusted open as needed.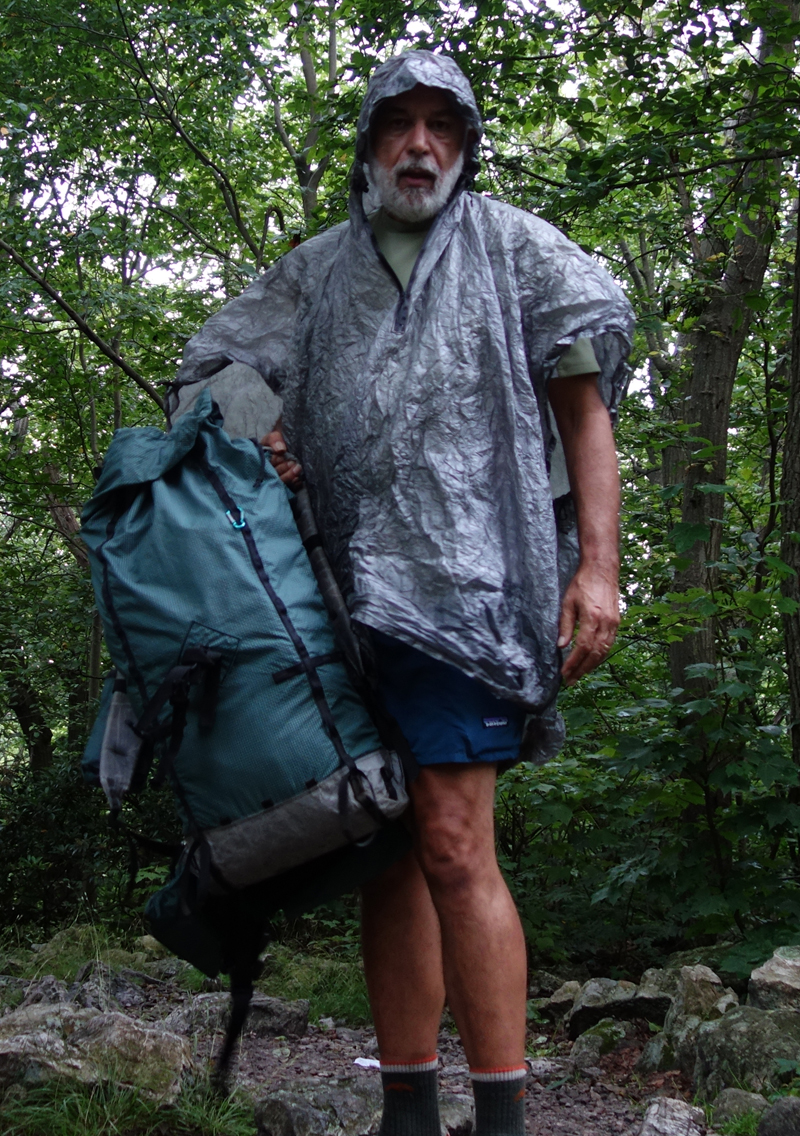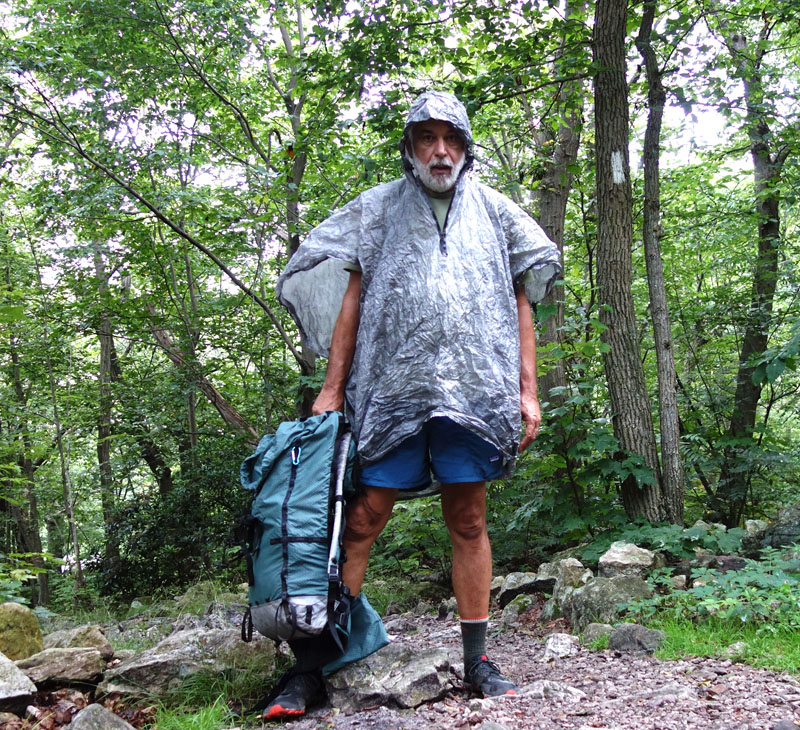 The zPacks poncho is smaller than the typical poncho/tarp so it rarely catches on brush, even when descending desert canyons off-trail. However, it does not reach all the way down to my knees causing cold thighs in some wind-driven rain. I solved this with a zPacks Cuben Fiber rain skirt at 1 ounce.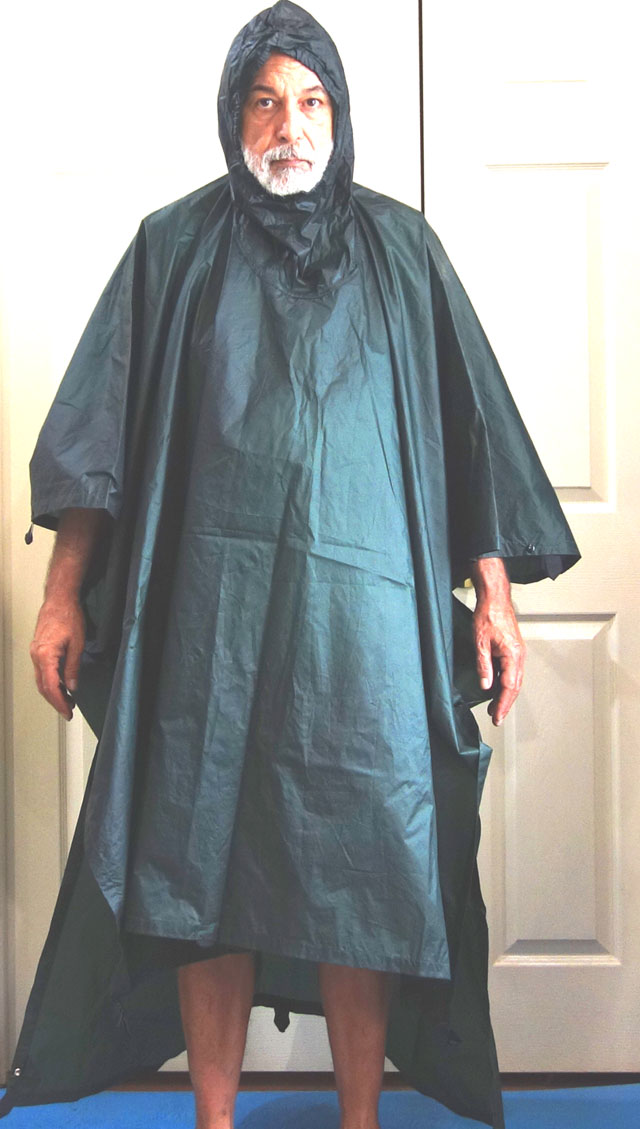 So now my rain gear and shelter system comes in at 13 ounces, keeps me dry and when hiking and dry when sleeping. For trips that encounter cold rain, it is a perfect system for me. The waterproof breathable rain gear doesn't work.