Reader Beware: this is a product review. After 20+ years of using this product it is safe to say it has been tested thoroughly and long enough.
When my kids were young we did a lot of tent camping and most trips were 1 – 2 weeks long. When they were 5 and 7 years old (in 1992) the tenting experience was becoming somewhat of a hassle and a small camper was an obvious solution. Owning a 4 cylinder Dodge Caravan, with a modest towing capacity, trailer choices were limited. And being 1992, the Internet as we know it today didn't exist and neither did Yahoo or Google. Plus camping was such a simple thing to do, it didn't dawn on me to check and see if there was such a thing as a trailer-based camping magazine – so I decided to purchase a trailer the old fashioned way… go look at campers and figure out own my own what was best without asking anyone for advice  — what a concept! After visiting several RV dealers I ended up buying a small Starcraft Meteorite tent trailer, which turned out to be an excellent decision. It was a great little trailer.
Anyway… let's get back to the title of this post.
After the first couple of trips with the Meteorite, it became apparent  a solution to minimize the amount of dirt that was making its way into the camper was needed. We required some sort of a mat or rug. Again, without magazine articles or Google or Internet Forums or Facebook or Twitter to guide me, I was on my own. A Needs Assessment determined that the answer to the dilemma would include:
Lightweight and compact
Allow dust and dirt to pass through the mat/rug
Easy to sweep with a broom
Somewhat fireproof
Not absorb water
Hopefully not too expensive
Checking a few local hardware stores I found lots of "outdoor" rugs and even artificial grass, none of which met the requirements on the list, except some of them were pretty cheap.
Not finding the solution locally, it was time for a road trip to San Bernardino and Ontario (a 120 mile round trip), to a couple of RV supply stores. Each store had a section containing RV Awning Mats or RV Patio Mats, so I now knew there was a name for what I was looking for. But most of the offerings weren't any better than what my local hardware store was selling – with a couple of exceptions. I found a selection of mats made by A&E called the Patty 'O Mat and some other brands that at first looked similar to the Patty 'O Mat, but much less expensive. These mats were an open weave material that would fit the bill. But why the great price differential? Why was the A&E brand three times as expensive? The answer was on the boxes. The Patty 'O Mat was made from a woven polyester material, the others were made from polypropylene.
Polyester is stronger, more abrasion resistant, much more UV resistant, has a much higher melting point, but normally absorbs some water. Inspecting the Patty 'O Mat, it appeared the material had some sort of coating on it that would more than likely not absorb much water. I opted for the more expensive option, the Patty 'O Mat. It is available in four colors: Blue, Burgundy, Coffee and Teal. There are three length options: 8, 12, and 16 feet. All the mats are 7 feet wide. I bought the 8' X 7' Coffee mat.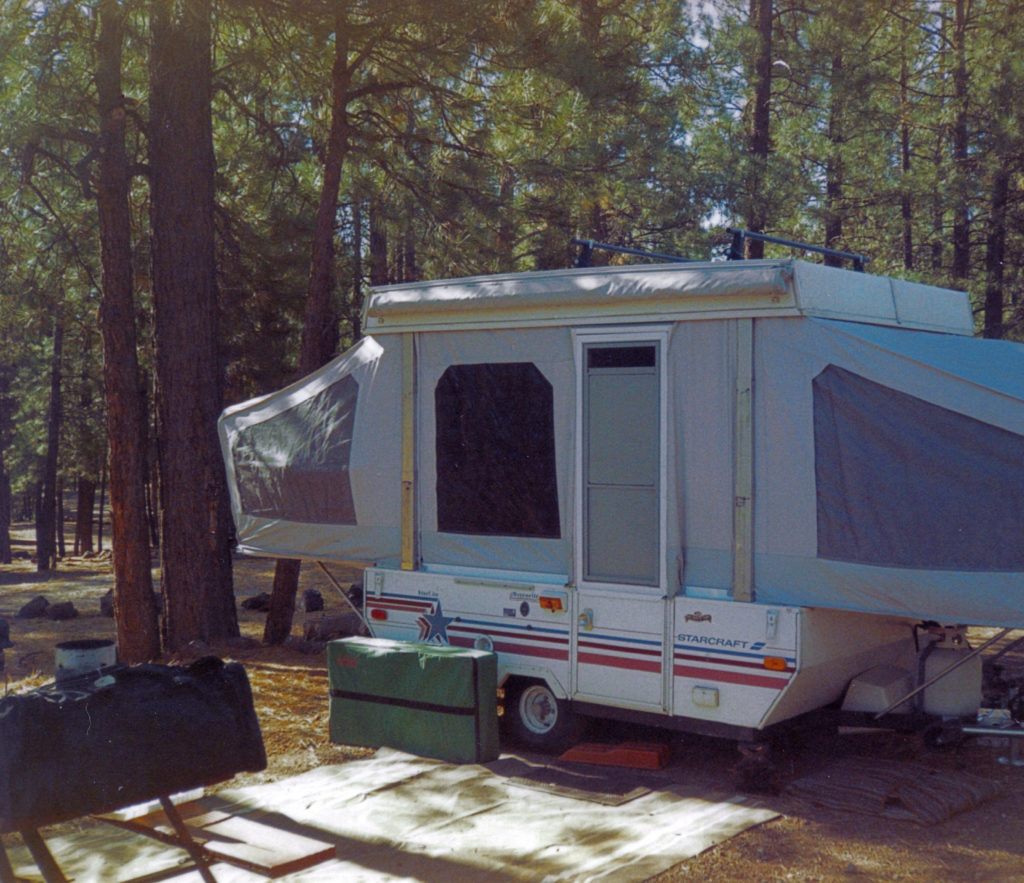 In use it was easy to keep clean, most dirt and water simply drained through the open weaves, it was comfortable on bare feet and helped control crawling bugs and ants. It was simple to fold and roll into a compact package for storage.
In 2005 we bought our 2006 Fleetwood Niagara, which was 6 feet longer than our Meteorite so we bought another Patty 'O Mat that was the next size up: 12' X 7'. Note that the new mat is color coordinated to the camper, not my decision 🙂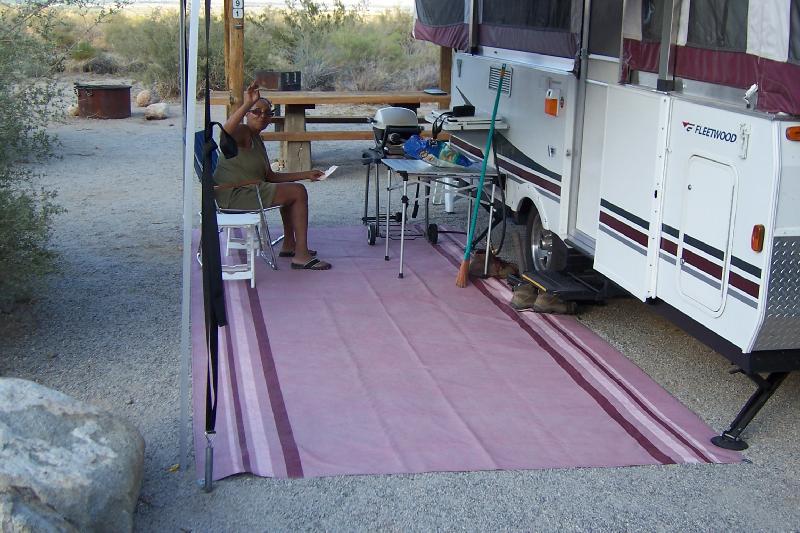 Joyce decided to place the original 8′ x 7′ mat on our patio at home under an outdoor dining table, which is an extreme environment in our desert abode (think summers with temperatures exceeding 120F or 49C for those of you who dislike tradition).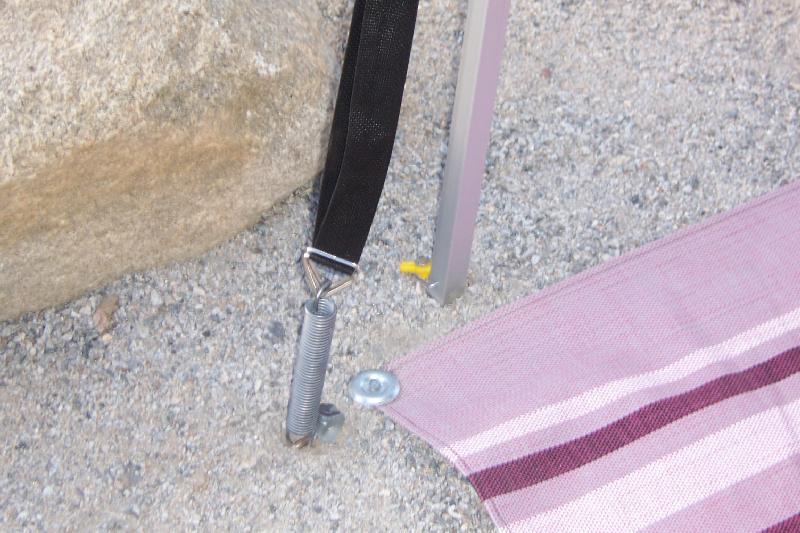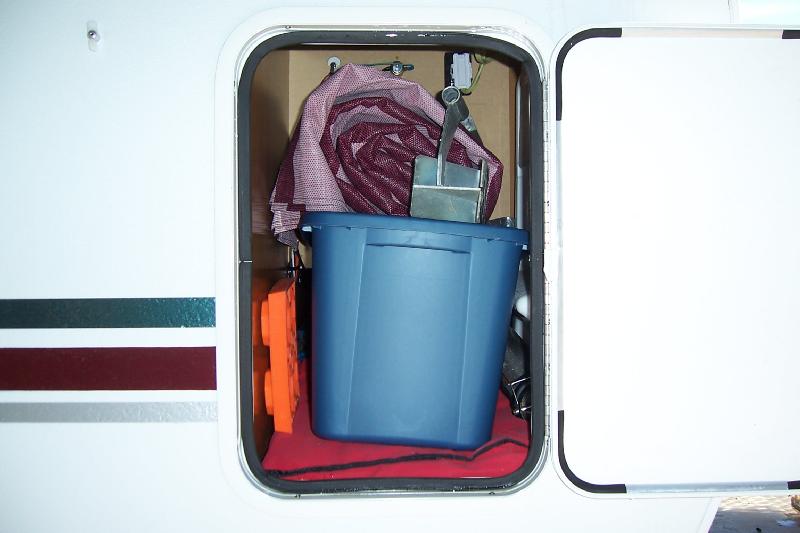 About a year after we bought the Niagara, we adopted our dog, Corky. As you can see in the picture at the top of the page, Corky is pure white and a dirt magnet. The first year we owned him he kept going under the camper to nap. Unable to break him of this habit we retrieved the original Patty 'O Mat from our patio and started placing it under the camper for Corky, and it was long enough to become a nice mat for the water fill area on the other side of the camper, keeping the ground dry and clean when I re-filled the water tank during our camping trips.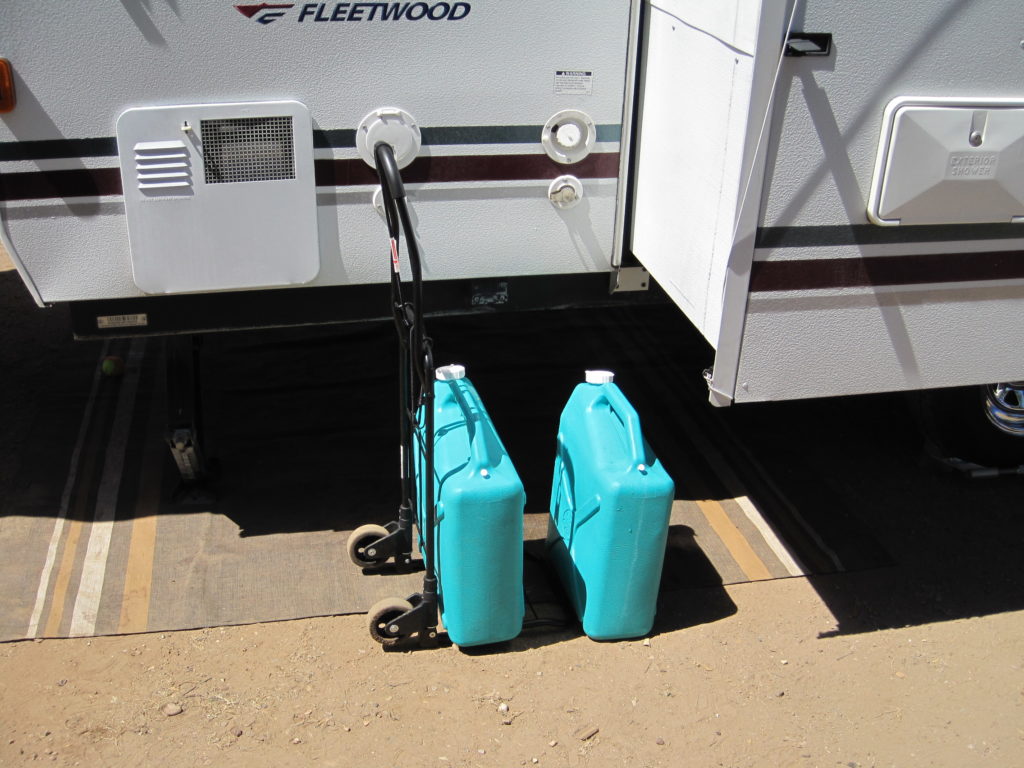 In 2013 our camper was vandalized and both the mats were stolen, including that 21 year old original mat that had spent a few thousand days and nights outdoors. After the insurance company totaled the camper, we bought a new one. Before we even took delivery of our 2014 Eclipse Milan, I bought our 3rd Patty 'O Mat; this time the largest (16' x 7') mat.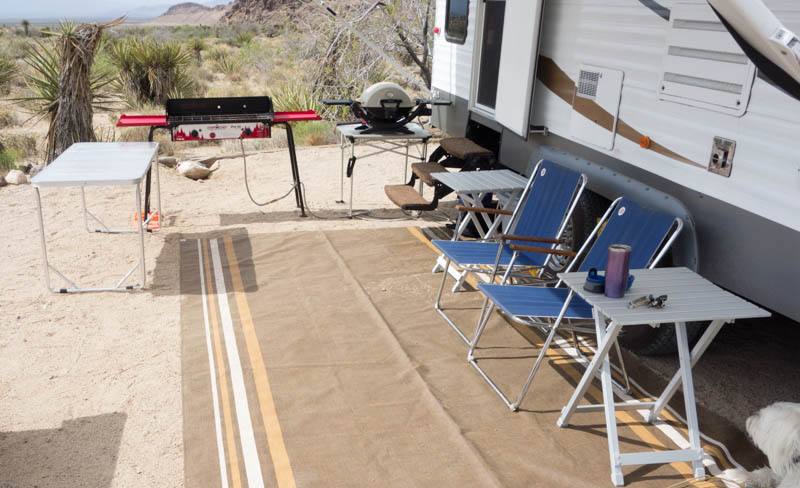 If you are in the market for an Awning Mat, spend the extra money and get the A&E Patty 'O Mat. Where to get it? Google is your friend.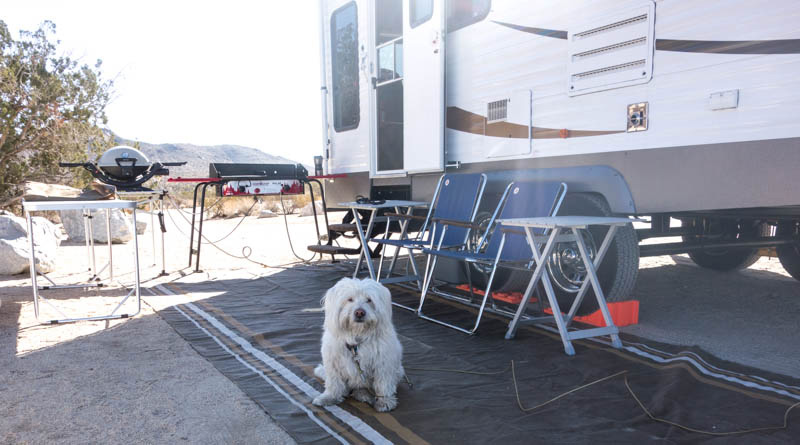 Corky approves the newest Patty 'O Mat too.